Beware! AlphaFXC is an offshore broker! Your investment may be at risk.
RECOMMENDED FOREX BROKERS
Don't put all your eggs in one basket. Open trading accounts with at least two brokers.
AlphaFXC is an exposed scam, and you'll be ripped off if you send those criminals money. We say so because a European regulator issued a warning against this fraudulent entity, and we won't be surprised if the website gets taken down any time soon. Nevertheless, in this review, we'll show you multiple red flags and describe what makes the so-called broker a scam scheme that should be avoided.
AlphaFXC REGULATION AND SAFETY OF FUNDS
AlphaFXC is apparently trying to present itself as a UK entity by providing a contact number in the country. However, to call it a legitimate British broker, the entity needs to be authorised by the local regulator FCA. Well, we researched but found a warning instead of a license, so AlphaFXC is an officially exposed scam, and your funds will be in danger if you deposit. A massive red flag! For more information, have a look at the screenshot at the bottom of this section.
As AlphaFXC is a scam, you can check the high-rated EU brokers and British brokers by following the links provided. We recommend these companies because Europeans confer high-grade security and protection guaranteed by deposit insurance funds created to reimburse clients in case of insolvency. Thus, CySEC brokers' traders can claim up to 20 000 EUR in compensation, while the British guarantees are up to 85 000 GBP per person. So if you are eligible to open accounts with European companies, you can safely go for it.
AlphaFXC TRADING SOFTWARE
AlphaFXC's trading software is web-based and fraudulent because of the instruments provided and the Buy/Sell differences we encountered. First of all, AlphaFXC is a crypto broker, but FCA already banned those instruments, so AlphaFXC can't in any way be legal. Worse, though, the BTC/USD buy/sell difference is only 10 US cents, which means that fraud and price manipulation takes place. At the same time, a reliable broker like Dukascopy provides BTC/USD for $80, a price that's pretty much in line with the rest of the legit offers on the market. A red flag!
That said, the high-rated MetaTrader4 brokers and MetaTrader5 brokers on both lists deliver the best platforms and won't dupe you. Both MTs are packed with advanced tools such as Expert Advisors, many complex indicators, sophisticated charting tools and a marketplace featuring more than 10 000 apps.
The default leverage provided by the software is 1:50 and can get up to 1:100 if you put more money. Well, both ratios are suicidal for cryptocurrency pairs due to the naturally extreme volatility. As a comparison, due to regulations, EU brokers can't provide more than 1:2 for crypto CFDs, which irrefutably proves how risky and fraudulent AlphaFXC's offers are. A red flag!
In fact, leverage is extremely dangerous and many financial regulators even agreed on restricting its usage. Consequently, EU, British and Australian brokers' clients are limited to 1:30, while Canadian brokers and US brokers can't provide more than 1:50. On the other end, most of the high-leverage FX companies are unlicensed or poorly regulated, so you'd better be careful with such entities.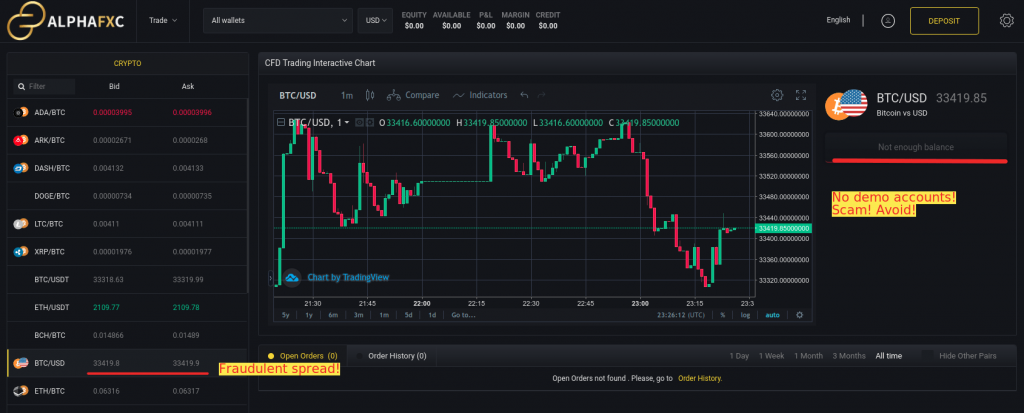 AlphaFXC DEPOSIT/WITHDRAW METHODS AND FEES
The minimum deposit is $250, which is slightly higher than the regulated brokers' demands on average- around $100 to let traders begin with real money. At the same time, though, there are loads of regulated companies offering services for deposits as little as 5 to 10 dollars, so you shouldn't deal with this otherwise fraudulent scheme anyway.
The funding methods are PerfectMoney and Wire Transfers, which is weird. Frankly speaking, we expected AlphaFXC, as a crypto broker, to accept digital coins only, but that's not the case. Anyway, both methods are significantly unsafer than Credit/Debit card funding because the latter allows disputing transactions and eventually getting a refund.
Nevertheless, we'd like to suggest our lists with Skrill brokers, Neteller brokers, FasaPay brokers, Sofort brokers, and Bitcoin brokers if you have a preferred payment system. The companies on top of both lists are adequately regulated, and you won't face scammers.
The minimum withdrawal is 50 UST for Credit/Debit cards and 100 UST for Wire Transfers, and those requirements reveal even more evidence of a scam. First of all, the broker doesn't accept Credit/Debit card funding but allows withdrawals via this method. That's fishy! Then, why did they choose UST only, a cryptocurrency traded around 1:1 against the US dollar? It's getting even fishier! Not to mention that it's impossible to transfer this crypto to bank accounts or cards directly. Money conversion is inevitable, so if AlphaFXC actually sends funds, they'll probably cut a big chunk of your withdrawal amount. A red flag!
The inactivity procedures are no less fraudulent. According to the clauses, an account becomes dormant after two months only and will be charged 10% of the balance or 100 UST. A red flag!
Overall, AlphaFXC is an officially exposed fraud, so you need to stay away from this swindler broker.
HOW DOES THE SCAM WORK
The Forex scam is a popular type of fraud and it's actually a process. In the typical scenario, the victim clicked on a fraudulent ad, then received a phone call, and at some point got convinced to deposit money. To make people accept fraudulent offers, scammers would present deals that sound too good to be true, bonuses, get-rich-quick schemes, and so on. Their imagination is rich and would invent as many stories to get the craved deposits.
Unfortunately, the first deposit is not the end but the beginning. Gradually, scammers would manipulate victims and would urge them to invest repeatedly. For example, con artists may not allow people to trade themselves but would pretend to manage the accounts. Forged results would show victims massive profits, and scammers would ask for more money, promising to secure more gains.
However, the problem starts when people ask for withdrawals. Scammers would make excuses to refuse withdrawals and even require additional deposits to let people take their money out. Those criminals won't stop asking for funds, no matter what. In the worst case, the victim would believe in the scammers' falsehood and deposit again and again. However, sooner or later, the scam would become evident, the fraudsters would cut the communication and eventually disappear. They would drop the website, create a new one and carry on with their criminal business untouched, while people would be left with losses almost impossible to recover.
WHAT TO DO WHEN SCAMMED
Unfortunately, no one is immune to scams. If this unfortunately happens, the first thing to do is to protect yourself from further risk. Contact your bank and explain what happened so that they can give you instructions and help, if possible, recover your money.
Report what happened to you, file a complaint, contact the financial regulator, contact other government institutions related to trading and investing, call the police if you feel necessary. Seek help actively!
Remember, it's crucial not to rush to recover funds because many scam chargeback agencies and individuals are trying to double scam the victims. They ask for upfront payment, take the money but won't do anything to help you!
Share online your experience; it's important to protect others, as well. Be responsible!