Company information
IronFX is an excellent Forex broker, and an established name in the industry, trusted by over 1 200 000 clients around the world – that is because the company is firmly regulated in Cyprus. In over ten years of activity, the broker has managed to win over 40 prestigious industry awards, among which MENA's Best Forex Broker 2013, ForexExpo's Best ECN Broker 2014 and many more.  The company also offers some truly excellent trading conditions, with spreads as low as zero pips. The assets the company provides access to are quite varied – FX majors and minors, commodities and stocks, there is something for everyone to trade on its remarkable platform.  In an industry so full of scammers and incompetent brokers, IronFX is truly a breath of fresh air!
Regulation
IronFX is the trading name of Notesco Financial Services Limited, a company dully regulated by the Cyprus Securities and Exchange Commission. Below you can see the license IronFX holds: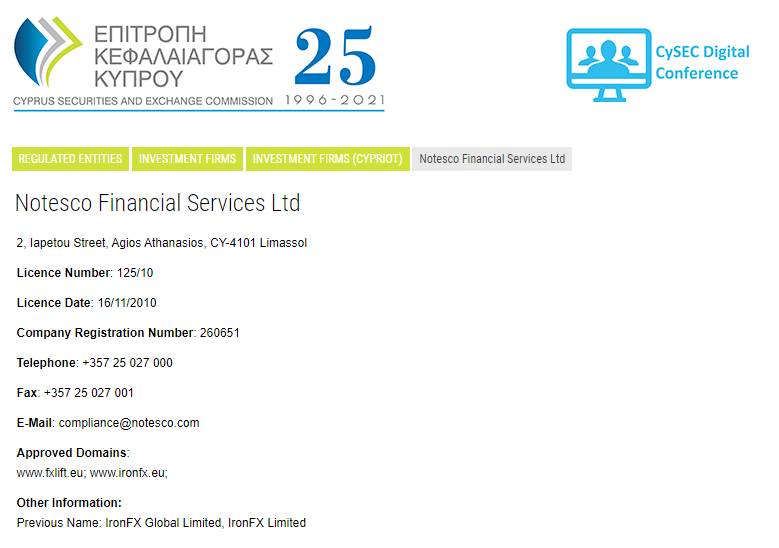 Regulation is an incredibly important aspect of a broker and the only way a company can prove it is worthwhile – and when it comes to it, IronFX definitely delivers, as the CySEC is one of the strictest regulators out there. Here are just some of the rules that brokers under its banner need to comply with:
First off, these companies are required to hold over 730 000 euro in liquid funds to be issued a license – this means that if a firm cannot withstand the volatility of the markets, it is not allowed to access them. Secondly, there is a requirement that all brokers under its jurisdiction report on a daily basis, which makes scams impossible. This means that traders can be certain their money is held by qualified and stable companies.
The EU is so concerned with the safety of the funds of the retail client that it has also instituted a Negative Balance Protection policy – that means that no trader can lose more money than they have invested with a broker. Coupled with the access to guarantee funds, which pay out up to 20 000 euro to any affected client in the case of broker insolvency, it is quite safe to say that IronFX and other European brokers are safe, even if they fail to survive on the volatile FX markets.
However, the European branch is not the only IronFX there is – Notesco Limited is a subsidiary of the Cyprus firm, registered in Bermuda. It runs the ironfx.com domain, which allows traders outside the Union to enjoy some higher amounts of leverage at the cost of the protections mentioned above. Fledgling traders are advised to stick with the European branch, while more experienced ones might enjoy the higher risk and higher rewards of the offshore branch's trading conditions.
Trading conditions
IronFX offers some truly compelling trading conditions – the broker has several account tiers available to its tiers, based on the spreads these accounts come from. The minimum deposits with it are, innovatively enough, not tied to the type of account, but rather the mode of payment. They are therefore discussed in the relevant section of the review.
Below is a table with a comparison between the trading conditions of the different trading accounts the European division of IronFX offers:
| | | | | |
| --- | --- | --- | --- | --- |
| Account type | Commission | Minimum trade size | Maximum leverage | Spreads |
| Standard | No | 0.01 Lot | 1:30 | 1.8 |
| Premium | No | 0.01 Lot | 1:30 | 1.6 |
| Zero Fixed | No | 0.01 Lot | 1:30 | 0 |
| VIP | No | 0.01 Lot | 1:30 | 1.4 |
And below you can see the trading conditions for the offshore branch of IronFX – once again, the higher leverage comes at the cost of lessened protection for your funds:
| | | | | |
| --- | --- | --- | --- | --- |
| Account type | Commission | Minimum trade size | Maximum leverage | Spreads |
| Standard | No | 0.01 Lot | 1:1000 | 1.8 |
| Premium | No | 0.01 Lot | 1:1000 | 1.6 |
| Zero Fixed | $18 on EUR/USD | 0.01 Lot | 1:500 | 0 |
| VIP | No | 0.01 Lot | 1:1000 | 1.4 |
Trading Software
IronFX provides access to a desktop distribution of the Metatrader 4 platform – the revered piece of software is largely considered to be the industry standard. That is because it features many powerful charting tool, hundreds of indicators and automated trading, all packed in an incredibly intuitive UI. Here is what the platform looks like:
Opening a demo account on it is incredibly easy and allows new and inexperienced traders to practice in a safe environment. 
If you are a trader on the go, however, IronFX has a platform for you as well – the broker's distribution of Metatrader 4 is available on Android and IOS. Additionally, there is a web platform based on it. 
IronFX also offers access to PMAM – a service that allows traders to easily manage multiple accounts on IronFX's trading platform. What's more, the broker provides access to VPS – a personal server on its platform, segregated from the rest of the client accounts, which allows for a much faster and safer connection. This service is available to all traders who deposit over $5000 with IronFX. Clients are also required to have executed trades of over 5 lots in the past month to use the service – but if they do not meet these criteria, they can also make use of the service at the cost of $30 monthly. 
Promotions 
IronFX offers some attractive promotions – at the time of writing, these are the following:
The Iron Worlds championship is an opportunity for traders to test their mettle – they are invited to register and deposit a minimum amount. The ones among them who reach the highest trading volume will move up in the tournament, until the best trader with IronFX is found! That person will receive a cash prize of $500 000. The tournament will run from June 14th till December 16th. 
The 100% Unlimited sharing bonus – when non-European clients deposit with IronFX, the broker can double their initial investment. The bonus is not eligible for a withdrawal and is to be used for trading purposes only. Once again, clients of the European branch of IronFX are not eligible to receive it!
Deposit methods 
IronFX accepts deposits via credit cards, wire transfers and the Neteller and Skrill e-wallets. The minimum deposit with IronFX depends on the method used – for credit cards that is $50. For Skrill the minimum amount is $75 and Neteller deposits have to be at least $100. The broker does not charge any deposit fees either. 
Conclusion 
IronFX is a great broker, and one you can form a lucrative partnership with. With its favorable trading conditions and strict regulation, this company is quite competitive – and it has been recognized by traders and industry figures alike for it!