Beware! ApexPrime Investment is an offshore broker! Your investment may be at risk.
RECOMMENDED FOREX BROKERS
Don't put all your eggs in one basket. Open trading accounts with at least two brokers.
ApexPrime Investment is a messy brokerage from the bottom to the top, and we aren't really sure if it's a Forex provider or not. As you can see, it offers several uncommon products such as investment plans, trading bots and cannabis (CFDs, stocks, ETFs or whatever else it could be). Nothing wrong with that, but the brokerage needs various licenses to offer such products- a spoiler; it has none. ApexPrime Investment is a scam, and we'll show you why we claim so in the following review.

ApexPrime Investment REGULATION AND SAFETY OF FUNDS
Our research showed that ApexPrime Investment isn't associated with licensed companies, so it's unregulated; therefore, your funds will be at risk if you deposit. Now, let's elaborate a bit.
First of all, as seen from the picture below, ApexPrime Investment pretends to be headquartered in the USA, but that's not true- there is no such entity on the address shown. Searching for a license was useless, but we need to note that ApexPrime Investment needs to be registered with CFTC and regulated by NFA or SEC to offer financial services to the public. Well, it isn't. Not to mention that a US license is overly costly- 20 million to obtain authorisation. We can't even believe that ApexPrime Investment has got such a sum at its disposal, given its broken website, but we'll talk about the registration failure in the following paragraph.
So, ApexPrime Investment is unregulated, meaning that it's dangerous because it operates anonymously and follows no financial rules whatsoever. To put it into perspective, if you deposit with the broker reviewed, you'll send money to some people who deliberately hide their identities while bearing no responsibility for their actions. Not to mention that you may as well be exposed to identity theft risks or other cyber security threats if you share personal details or grant these people access to your computer. And if something happens, they'll get away with it, simply because ApexPrime Investment is unregulated. Beware!
That's why we recommend only brokers licensed by trustworthy authorities like CySEC or FCA, for example. Due to regulations, the European brokers should keep deposits segregated, which guarantees that clients won't lose their money if a company goes bankrupt. The segregation also improves transparency, speeds withdrawals up and makes chargebacks easier, to name just a few of the additional benefits. On top of all that, though, European brokers are covered by deposit insurance funds laid down to reimburse clients in case of unforeseen events- CySEC brokers' clients can get up to €20 000 in compensation, while the British guarantees are even up to £85 000.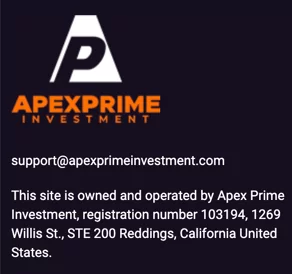 ApexPrime Investment TRADING SOFTWARE
The registration was a failure, but the broker is to blame for it. As seen below, they should have sent us some confirmation e-mail, but it never came, so we couldn't access the Client Area and see what they are actually offering. In any case, though, ApexPrime Investment offers some questionable investment plans and trading robots, which immediately raises the alarm.
For one thing, the starter investment package is said to yield a 5% interest rate weekly, which is impossible to happen. Such returns on investment are simply impossible when it comes to fixed-income products. That's a scam!
Also, trading bots, robots or any other automated trading system provided by fishy unregulated brokers will just blow your account before you know it. In fact, Forex robot scams were overcrowding the retail market before, but their numbers went down recently. Nevertheless, there are still too many fake robots, and the ApexPrime Investment's ones are most probably among them.
Finally, we can't prove that ApexPrime Investment can offer anything whatsoever- nonetheless an excellent reason to avoid it.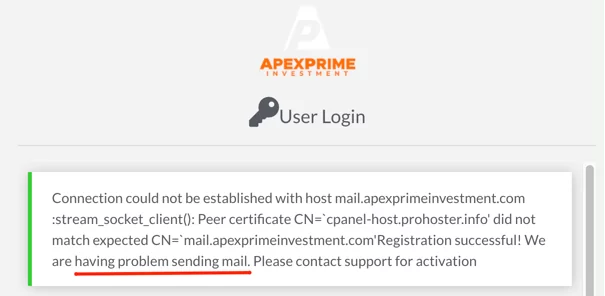 ApexPrime Investment DEPOSIT/WITHDRAW METHODS AND FEES
The minimum deposit is $200, allegedly via Credit/Debit cards and Bitcoin, but we can't validate this. Nevertheless, the former method mentioned is much safer as it allows chargebacks for up to 540 days, while the latter is anonymous and non-refundable.
As for withdrawals, there is no minimum requirement designated, but the conditions will change for the worse if clients accept bonuses. Accordingly, clients should execute a 1/4 of the bonus in terms of lots, so for $200, they need to reach 50 lots (5 million USD in turnover). Too challenging, nonetheless.
But then, the brokerage doesn't even mention that standard CFDs and self-trading are offered, which makes the bonus clauses totally irrelevant and basically worthless in this case. ApexPrime Investment is a scam!
HOW DOES THE SCAM WORK
We exposed ApexPrime Investment as fraudulent in this review, and now we'll quickly relate how fraudsters usually work. So, when they get hold of your contact numbers, you'll be approached immediately, promised the moon and the stars to make you begin investing. To gain your trust, those criminals usually pretend to work for governments, financial authorities, banks, reputable companies etc. Scammers will be confident in what they are saying, and if you don't recognise the warning signs, you may end up depositing. However, just then, the Forex fraud actually begins. Once they have your money, the cons will distort prices and forge fake reports to make you believe that you are on the winning side, manipulating you to start thinking big and consider more deposits.
Gradually, the fraudsters will ask you to increase the size of your investment and will make up stories claiming that you need to fund your account for whatever reasons. Sooner or later, you'll get determined to withdraw your money, and then scammers will ask you to deposit again because, according to their words, there are taxes and fees that you should pay. At this point, you'll probably realise that there is something wrong, and when the scam becomes too apparent, the fraudsters will simply cut the communication and disappear. Later, the whole website will be brought down, replaced with a new one so that the scammers can carry on with their criminal activities.
WHAT TO DO WHEN SCAMMED
It would be best if you first call your bank to inform it and deactivate your card to avoid getting exposed to additional risks, as the scammers may as well have obtained your details.
Then, call the police, inform the financial authorities, file complaints and don't forget to spread the word online so that other people can find out about the fraudulent scheme. Still, it's crucial not to rush trying to reclaim your funds as numerous scams are disguised as chargeback agencies set up to double-scam victims.
Finally, we know it's an awful experience to get scammed, but please share your story to help protect others!