Beware! Nullivo is an offshore broker! Your investment may be at risk.
RECOMMENDED FOREX BROKERS
Don't put all your eggs in one basket. Open trading accounts with at least two brokers.
Nullivo is coming on the scene trying to look like an innovative crypto exchange, but beneath the surface, it's just another anonymous broker with a poor Webtrader. Nullivo is most likely fraudulent, and in the following review, you'll see if we are right to claim so.
Nullivo REGULATION AND SAFETY OF FUNDS
Nullivo claims that it always comply strictly with regulations, but European clients like ourselves opened a real trading account with 1:200 leverage (the maximum allowed in the EU is 1:30). So, Nullivo breaches strict financial regulations and indeed makes fraudulent claims that it's a law-abiding entity. In fact, it's totally anonymous as it doesn't reveal anything about itself except for an address in New York, USA, but it's fraudulent. Nullivo is a scam, and you'll lose money to fraud if you deposit.
Now we need to talk about regulations because the retail market grew immensely in the last decade and indeed became too attractive for scammers like the one running Nullivo. Initially, regulators around the world recognised the Forex brokers as financial services companies and put them into a licensing regime as they accept deposits and offer trading services. The regulations imposed served to reduce risks and guarantee ethical business behaviour, but some rules effectively prevent fraud.
For example, trustworthy regulators CySEC (Cyprus) and FCA (Britain) require account segregation, ensuring that clients won't lose their funds if a broker gets insolvent as deposits are not commingled with the broker's money. The segregated accounts improve transparency, speed withdrawals up, make chargebacks easier etc. On top of all that, European companies are covered by deposit insurance funds laid down to reimburse clients in case of unforeseen events- CySEC brokers' clients can get up to €20 000 in compensation, while the British guarantees are even up to £85 000.
As you can guess, Nullivo is unregulated, and as such, it shouldn't follow any rules whatsoever, so it can freely put clients' money at risk or right away steal it. What's more, the brokerage is totally anonymous, so when things go wrong, there will be no one to take responsibility for what happened. Think about it: if you deposit, some people who don't reveal their identity will handle your money while bearing no responsibility for their actions. Avoid!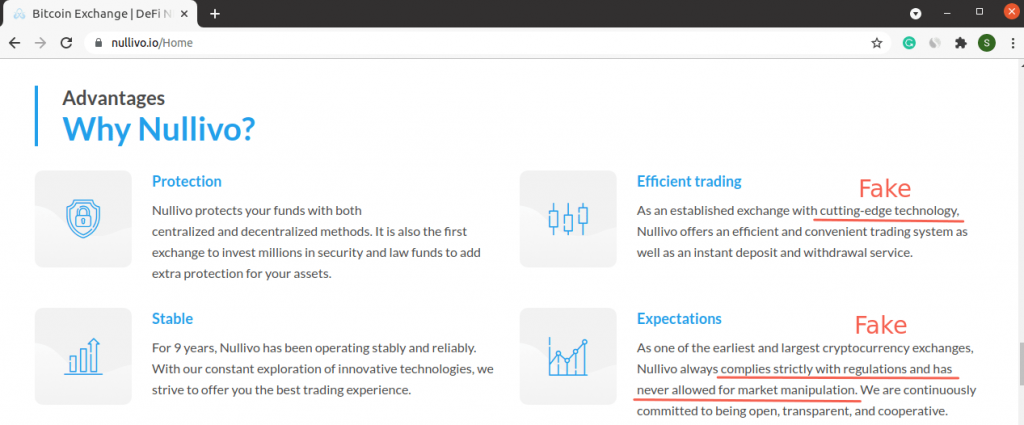 Nullivo TRADING SOFTWARE
As you can see from the screenshot above, Nullivo claims to offer cutting-edge technology, but the one below reveals that the brokerage has only a Webtrader, which can't in any way compare with industry leaders like MetaTrader 4 or MetaTrader 5, for example. We drew a comparison with the latter two as they are packed with advanced features like Expert Advisors allowing automated trading, complex indicators and excellent charting tools. Nullivo's Webtrader can't offer anything significant, so the broker's ranking gets even lower.
The trading costs also aren't inspiring- 3 pips spread for EUR/USD, meaning that clients pay $30 per lot traded, while the industry standard is $10. Nullivo is too costly- a good reason to avoid it, regardless of anything else.
The leverage is 1:200, but we already discussed it in the previous section. We just need to add that clients are not allowed to change it themselves, so Nullivo intentionally put clients at risk- a red flag nonetheless.
Nullivo DEPOSIT/WITHDRAW METHODS AND FEES
Information about deposits, withdrawals, funding methods or fees is nowhere to be found- the so-called broker doesn't even have legal documents to display, which comes as strong evidence of a scam proving that we are correct to dismiss Nullivo as fraudulent.
Still, upon registration, it became clear that the brokerage accepts only cryptocurrency deposits, as you can see from the screenshot below. In any case, though, Bitcoin deposits are anonymous and non-refundable, so Nullivo deliberately limits Clients' chargeback options. Beware!
HOW DOES THE SCAM WORK
In this review, we exposed Nullivo as a scam, so make sure to avoid it no matter what. It pretends to be a leading cryptocurrency exchange, but it's just a fraudulent broker offering costly Forex services that are too risky indeed. So, we'll now concisely relate how scammers usually work while trying to steal as much as possible from unfortunate customers who believed in their lies.
When fraudsters get hold of your contact numbers, you'll be approached immediately, promised the moon and the stars to make you begin investing. To gain trust, those criminals usually pretend to work for governments, financial authorities, banks, reputable companies etc. Scammers will be confident in what they are saying, and if you don't recognise the warning signs, you may end up depositing. However, just then, the Forex fraud actually begins. Once they have the desired deposit, the cons will distort prices and forge fake reports to make you believe you are on the winning side, manipulating you to start thinking big and consider more deposits.
Then, the fraudsters will gradually ask you to increase the size of the investment and invent stories to make you deposits again and again. Sooner or later, though, you'll get determined to withdraw some money, and then scammers will ask you to deposit again because, according to their words, there are taxes and fees that you should pay. At this point, you'll probably realise something wrong is happening, and when the scam becomes too apparent, the fraudsters will simply cut the communication and disappear. Later, the whole website will be brought down, replaced with a new one so that the scammers can carry on with their criminal activities.
WHAT TO DO WHEN SCAMMED
It would be best if you first call your bank to inform it and deactivate your card to avoid getting exposed to additional risks, as the scammers may as well have obtained your details.
Then, call the police, inform the financial authorities, file complaints and don't forget to spread the word online so that other people can find out about the fraudulent scheme. Still, it's crucial not to rush trying to reclaim your funds as numerous scams are disguised as chargeback agencies set up to double-scam victims.
Finally, we know it's an awful experience to get scammed, but please share your story to help protect others!