Beware! Whale Inc is an offshore broker! Your investment may be at risk.
RECOMMENDED FOREX BROKERS
Don't put all your eggs in one basket. Open trading accounts with at least two brokers.
The first thing we notice upon opening this broker's website is that it does not provide a secure connection. As your browser will tell you if you click on the "Not secure" notice in the URL bar, you should not enter any sensitive information on this site, because it could be stolen by attackers.
Although we do not advise our readers to submit personal information on a not secure site, we decided to explore further – the registration form asks for first and last names, email address, phone number and country. At providing those we were prompted to enter a one-time password sent to our email address which was supposed to give us access to the client area – no matter how long we waited and how many times we refreshed this did not happen; the site remained inaccessible with the message below – check it out:
Whale Inc is an offshore broker advertising trading in Forex, Stocks, Commodities and Cryptocurrencies. They do not offer different types of accounts and as we saw the Live account we registered for was not working. There is no Demo account also, which is another red flag, since every respectable broker offers one.
Whale Inc Regulation and Safety of funds
The broker has a US phone number and email address on their website. In the Customer Agreement, however, we read that "Whale Inc, using the trading name Whale Markets Limited, [is] registered in Vista Corporate Services Centre, Suite 23, 1st Floor, Eden Plaza, Eden Island, Mahé, Republic of Seychelles". There is also a page on Fund Security and Regulation where Whale Inc. claims they are "licensed in multiple jurisdictions under international regulatory bodies":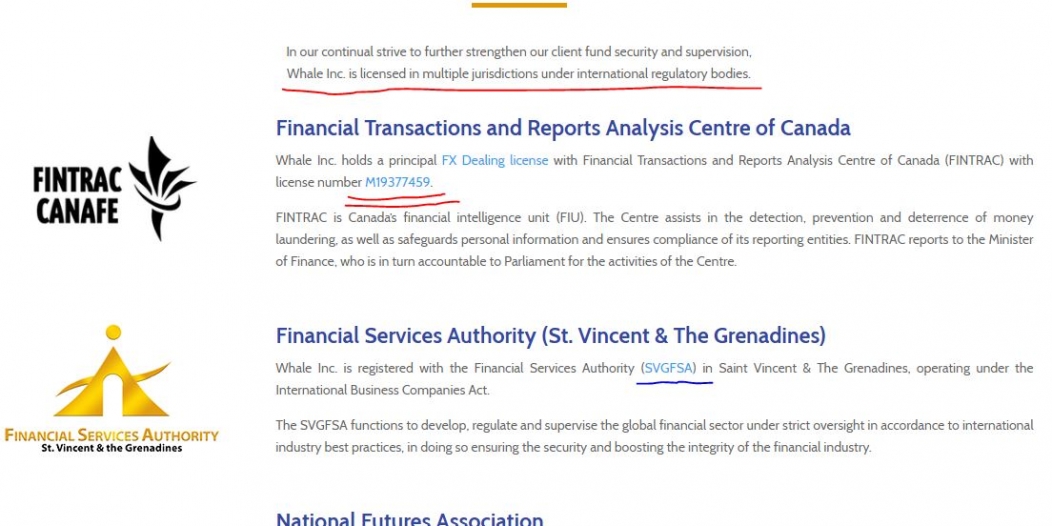 The National Futures Association (NFA) is the US regulator and on the screenshot above the text in blue under it is the only one that is NOT a hyperlink. We made a quick check in their database and found out what we expected – Whale Inc is not an NFA Member! The FINTRAC license number hyperlink is also misleading since the broker's registration status is Ceased – see for yourself: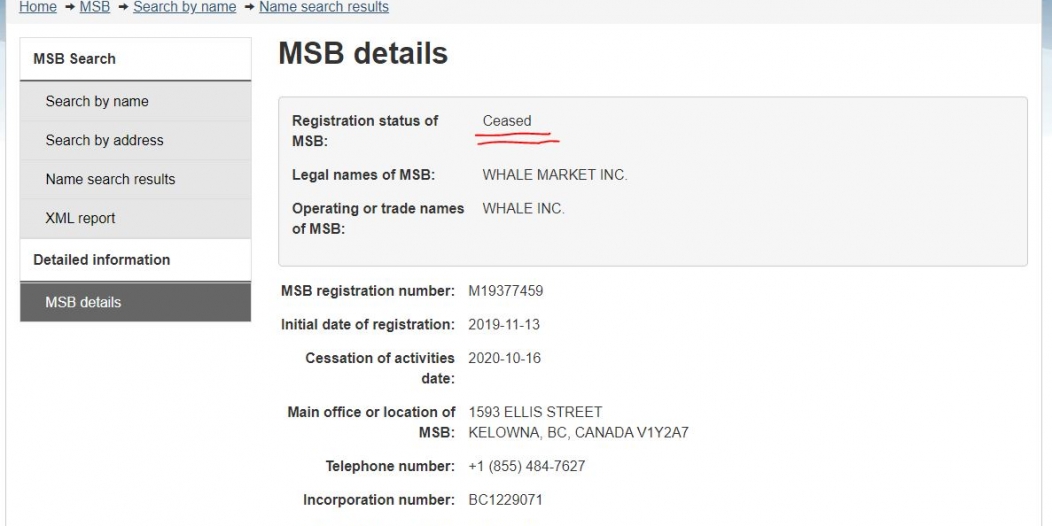 Only the Saint Vincent and the Grenadines (SVG) Financial Services Authority certificate seems legit, but we have to note that the "FSA does not issue any licenses to carry on the business of FOREX Trading or Brokerage or Binary Options Trading nor does the FSA "Regulate, Monitor, Supervise or License" International Business Companies (IBCs) which engage in such activities" – a direct quote from an Alert the FSA issues earlier this year.
Both SVG and Seychelles are offshore jurisdictions, but compared to SVG the requirements for Forex Broker License in Seychelles are a little tougher – there are capital requirements of $50,000 plus 2 local directors and a physical office are mandatory. The time to receive the license ranges from 4 to 6 months, as opposed to 2-3 weeks in SVG. So we made the effort to check on the Seychelles FSA's website – there is no Whale Inc Securities Dealer listed there.
The brokerage may claim their clients' money is safe because they work with highly reputable and regulated liquidity providers and tier-1 banks and the funds are kept in segregated bank accounts, but in the absence of any regulation this should not be taken at face value. These statements are clearly misappropriations of the policies regulated brokers must adhere to.
We always advise traders to avoid offshore companies and to invest with brokers regulated by reliable authorities such as the Financial Conduct Authority (FCA) in the UK or the Cyprus Securities and Exchange Commission (CySEC). These watchdog agencies impose strict rules on the brokers they license – Client Account Segregation requires that clients' funds are kept separate from the broker's operating funds. while Negative Balance Protection ensures that traders cannot lose more money than what they invested. Other policies include a Minimum Capital Requirement of 730,000 EUR in order to guarantee the broker's good financial standing and participation in Compensation Schemes, which provide additional assurance for investors' funds up to a certain amount (85,000 GBP in the UK and 20,000 EUR in the EU).
Whale Inc, however, is an unregulated, offshore broker and they are not bound by the rules and policies imposed by recognized regulatory bodies. We advise our readers not to invest with them as there is no guarantee for the safety of their funds.
Whale Inc Trading Software
Similar to the client area fiasco, the broker does not have a trading platform either. They advertise some shady CryptoColt plugin proprietary software, supposedly "a world-class trading platform". We could not find any other info about it and by its description it looks more like a crypto exchange than a trading software.
In contrast, respectable brokers offer established trading software to their clients. The MetaTrader 4 (MT4) and MetaTrader 5 (MT5) trading platforms are available as Desktop, Web and Mobile (Android and iOS) applications.
MT4 is the world's number one platform, preferred by more than 80% of users worldwide. It offers an intuitive and user-friendly interface, advanced charting and analysis tools, as well as copy and auto-trade options. It can be further customized to create different trading strategies using its proprietary MQL4 programming language. Its successor, MT5, has some advantages – it allows traders to execute trades on different financial markets through a single account and there is a hedging option.
Whale Inc Trading Conditions
Whale Inc claims they are a Straight through Processing (STP) broker, which would mean there is no conflict of interest between them and their clients because orders are sent automatically directly from the trader to the liquidity provider without passing through a dealing desk. Unlike market makers, which profit from the Buy/Sell difference (spread) they offer to the traders, STP brokers usually advance lower spreads, but charge commission on transactions. This cannot be confirmed, however, since neither their client area nor the trading platform is working.
The broker offers leverage of up to 1:100. Offshore brokers enjoy no restrictions on leverage, but leveraged trading entails significant risks, especially to inexperienced traders. High leverage provides huge profit potential, but also presents great risks to the traders because any losses incurred will be multiplied. That is why, most regulatory authorities impose leverage caps for non-professional traders: in the USA it is 1:50, while for brokers licensed in the EU and the UK it is 1:30. The Australian Securities and Investments Commission (ASIC) also started restricting leverage for major currency pairs to 1:30 from March this year.
Whale Inc Deposit/Withdrawal Methods And Fees
The broker has a number of payment method logos on their website, including credit cards (VISA and MasterCard), Bank Wire Transfer, Skrill and Neteller. We again cannot confirm if these options are available, however.
The minimum deposit amount is $100 and they claim there are no deposit fees. There is no information on commissions or withdrawal fees the broker charges. Probably the most disturbing is the clause on Insolvency – Non-segregated Funds: although they claim that ALL client money are segregated here we see that Non-segregated Funds will not be protected:
Considering all of the above, we warn again that Whale Inc is not a regulated broker and investing money with them is a huge risk!
How does the scam work?
The usual scam operates on a multi-level, though very basic model. The users will be tempted to click on an Internet ad promising quick and easy profits. If they do, it will take them to a website that will ask for their personal details, including email address and phone number. Once they submit this information, an avalanche of emails and phone calls will be unleashed. Scammers will promise the world to these potential traders in order to induce them to make an initial deposit between $200 and $300.
These "brokers" will get a fat commission from the deposited sums and will transfer the unsuspecting users to "senior" scammers. The latter are smooth talkers who will try to persuade users to invest more funds, using phrases like "now is the right time" and "the moment is perfect for making hefty profits". Of course, these are empty words, and traders will soon have doubts whether they have not been played.
When they try to withdraw their money, these doubts will be confirmed: the con-artists will do anything to deny or at least delay their withdrawals. From trying to convince the traders that they are making a big mistake to withdraw funds now because they will lose big profits, to asking for additional documents or citing clauses in the accepted agreements, to transferring you to another department, there is a single objective to delay the users from filing for a chargeback with their financial institution and lose any chances of recovering their money.
What to do when scammed?
Anyone can fall prey to such a scam. In the unfortunate event this happens to you, there are a few things you can do. If you deposited using a credit card you should immediately file for a chargeback. In an effort to combat online fraud VISA and MasterCard have extended the period in which one can file a chargeback to a year and a half, so there is a big chance that you may be able to recover your funds. If however, you used a bank wire or bitcoin to deposit, chances to get your money back are almost none.
We should also warn against "recovery agencies" who prey on victimized traders by claiming they can recover their funds. These scammers will ask you to pay a fee for this service, but will only take your money and do nothing.