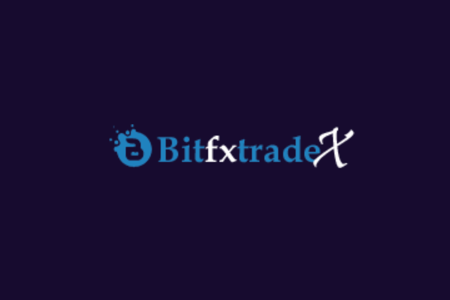 Beware! BitFxTradex is an offshore broker! Your investment may be at risk.
RECOMMENDED FOREX BROKERS
Don't put all your eggs in one basket. Open trading accounts with at least two brokers.
BitFxTradex pretends to be a distinctive Crypto investment company offering investors access to high-growth opportunities in Bitcoin markets by implementing the best practices through operations. The so-called broker also claims to offer Forex trading services, but that's not true. In fact, BitFxTradex is just a fraudulent HYIP, and we'll explain what this actually means in the following review.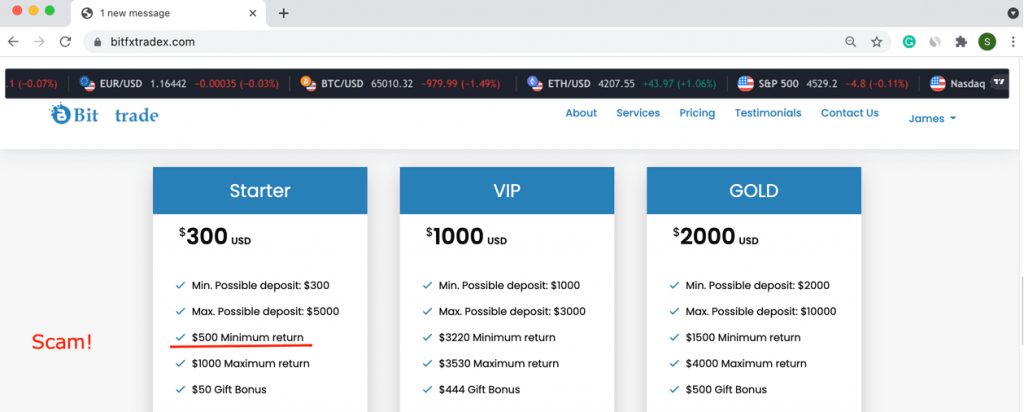 BitFxTradex REGULATION AND SAFETY OF FUNDS
BitFxTradex is unregulated, and it can't ever get regulated, actually. It's an HYIP scheme that stands for High-Yield Investment Programme, and no regulator anywhere around the world will license such a business. That's because each HYIP is a Ponzi scheme at its core, and as such, it will sooner or later just collapse. Still, in the beginning, some investors will take their money back, but many others will be left defrauded after the programme eventually disappear. HYIPs are offering unrealistically high returns, and as you can see from the screenshot above, if you deposit $300, you are guaranteed to get another $500. Guaranteed profitability of almost 200% is just impossible.
Even more so, BitFxTradex pretends to be specialised in cryptocurrency investments and also to provide Forex services. Two problems here. First of all, digital coins like Bitcoin and Ethereum are highly volatile and can't guarantee anything whatsoever. In fact, no trustworthy financial firm or a bank can currently offer fixed-income products based on Bitcoin trading. But BitFxTradex claims that it can deliver almost risk-free 200% profitability. That's a scam!
Secondly, the Forex market itself, be it currencies, commodities or cryptos, also can't guarantee profitability. In fact, FX is very dangerous, and indeed most of the clients lose money, so talking about a broker offering fixed-income products is just worthless. BitFxTradex is a scam.
That being said, it's always better to stick with companies authorised by trustworthy financial regulators like CySEC (Cyprus) and FCA (Britain). Both mentioned force brokers to keep deposits segregated, thus ensuring that clients won't lose their capital if something wrong happens. The segregation improves transparency, speeds withdrawals up, makes chargebacks easier and generally helps prevent fraud. What's more, the European FX companies are covered by deposit insurance funds laid down to compensate clients in case of unforeseen events- CySEC brokers' clients can claim up to €20 000 per person, while the British guarantees are even up to £85 000.
BitFxTradex TRADING SOFTWARE
BitFxTradex's trading software is just an informative chart- the broker doesn't have a platform. That being so, if you are genuinely interested in trading and investments, you'd be much better off with brokers offering MetaTrader 4 and MetaTrader 5 to their clients. Both terminals are the most powerful in the retail market as they are packed with unparalleled advantages such as Expert Advisors and a marketplace with more than 10 000 trading apps available.
So, with no real platform, it gets worthless to discuss trading costs (spreads) and risks (leverage levels). And it's indeed impossible as BitFxTradex isn't even a broker but a pure scam instead.
BitFxTradex DEPOSIT/WITHDRAW METHODS AND FEES
The minimum deposit is $300 via Bitcoin only, meaning that no chargebacks are possible as this method is anonymous and final. In fact, it's the least safe of all as people don't even know whom they are sending money to and where it actually goes. Once you deposit your digital currency, you may consider it gone for good. Needless to say, BitFxTradex makes sure to prevent customers from charging back, which is typical for scammers.
The minimum withdrawal is $2000, which is simply too much. We don't know another retail broker imposing the same or even similar requirements. And theoretically speaking, if you deposit $300 and generate another $500, you still won't be able to get your money back as the broker will ask you to deposit again so as to fulfil the withdrawal requests. BitFxTradex is just a scam.
HOW DOES THE SCAM WORK
We exposed BitFxTradex as fraudulent in this review, so make sure to avoid it at every cost. Also, don't ever trust fishy HYIPs offering something that's too good to be true because it most probably is. That being so, we'll now show you what scammers usually do to swindle people out of their hard-earned money.
So, when fraudsters get hold of your contact numbers, you'll get a call, promised the moon and the stars if you deposit immediately. And to gain trust, those criminals will usually pretend to work for governments, financial authorities, banks, other reputable companies and so on. Scammers will be confident in what they say, so if you don't see the warning signs, you may end up depositing fascinated by their fake commitment. However, the fraudulent game actually begins after you send the money. Once they have the desired deposit, the cons will distort prices and forge fake reports to make you believe you are on the winning side, manipulating you to start thinking big and consider more deposits.
Then, the fraudsters will continuously ask you to increase the size of the investment and invent stories to make you deposits over and over again. Sooner or later, though, you'll get determined to withdraw some money, and then the scammers will ask you to deposit again because, according to their words, there are taxes and fees that you should pay. At this point, you'll probably realise something wrong is going on, and when the scam becomes too apparent, the cons will simply stop answering your calls and e-mails.
WHAT TO DO WHEN SCAMMED
It would be best if you first call your bank to inform it and then deactivate your card to avoid any additional risks, as the scammers may as well have obtained your details.
Then, call the police, inform the financial authorities, file complaints and don't forget to spread the word online so that other people can find out about the particular scam, too. Still, it's crucial not to rush trying to reclaim your funds as numerous scams are disguised as chargeback agencies set up to double-scam victims.
Finally, we know it's an awful experience to get scammed, but please share your story to help protect others!