Beware! IGC Markets is an offshore broker! Your investment may be at risk.
RECOMMENDED FOREX BROKERS
Don't put all your eggs in one basket. Open trading accounts with at least two brokers.
IGC Markets is an offshore broker advertising trading in Forex, Stocks, Commodities, Indices and Futures. They have multiple account options with different deposit requirements and other conditions, but no Demo account is not advertised on their website or is available in the client area – something every respectable brokerage offers.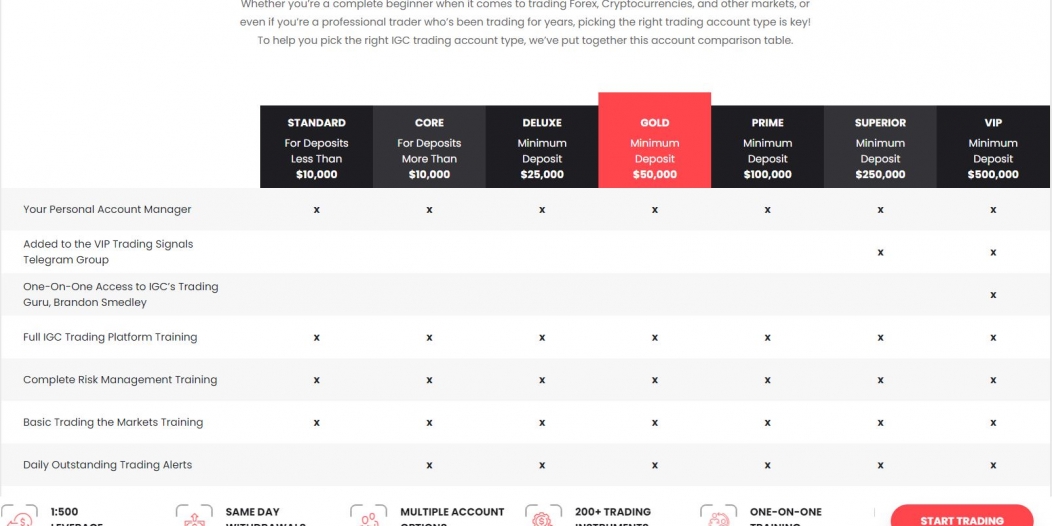 The registration form asked for our names, email address, phone number, address and currency – EUR or USD, and after completing those we were taken straight to a plain looking client area, but no confirmation email was sent to our mailbox. This is a sure sign that not everything is legit with this broker since any provider of online services, especially financial ones, will make sure there is an email engine implemented on their website.
IGC Markets Regulation and Safety of funds
The broker has a UK phone number on their contact page, but in the footer of the website it is stated that it is operated by MaxxMedia LLC, a company registered in Saint Vincent and the Grenadines (SVG). This parent company checks out in SVG's Financial Services Authority database, but we have to note that SVG is an offshore jurisdiction in the Caribbean where registration procedure for forex brokerages as International Business Companies (IBC) is simple and inexpensive and they face limited regulatory supervision, if any. Actually, the SVG FSA itself states that IBCs are not regulated, but duly registered entities, and forex trading is not regulated by them – see below:
To the broker's advantage we must admit that they are at least not pretending to be regulated – check it out:
If we have to answer the question they are posing, however, our answer will be: No, it doesn't mean you can't trade with them but we would definitely advise against that. Carrying out necessary regulatory obligations is not the same as having to comply with them and losing your license if you do not, and "working towards being regulated by a tier one regulator within Europe" is a small consolation if the broker goes bankrupt or simply disappears.
Because of the broker's UK phone number we checked the UK's regulator Financial Conduct Authority (FCA) database, but none of the two entities was there. We also discovered that the Austrian Financial Market Authority (FMA) has recently warned investors that IGC Markets/ MaxxMedia LLC is not authorised to carry out banking transactions in Austria – see for yourself:
Unlike the loose regulatory framework in offshore jurisdictions, established watchdog agencies, such as the FCA or the Cyprus Securities and Exchange Commission (CySEC), impose strict rules on the brokers they license – Client Account Segregation requires that clients' funds are kept separate from the broker's operating funds, while Negative Balance Protection ensures that traders cannot lose more money than what they invested. Other policies include a Minimum Capital Requirement of 730,000 EUR in order to guarantee the broker's good financial standing and participation in Compensation Schemes, which provide additional assurance for investors' funds up to a certain amount (85,000 GBP in the UK and 20,000 EUR in the EU).
On their homepage the broker makes a number of claims trying to convince potential investors that their funds will be safe, but considering the lack of regulation and the warning against the broker it is hard to believe in them. IGC Markets is an unregulated, offshore broker so they are not bound by the rules and policies imposed by recognized regulatory bodies, which means investor funds are not protected and one may very well become a victim of fraud. We advise our readers not to invest with this broker as there is no guarantee for the safety of their funds.
IGC Markets Trading Software
The broker offers an unknown, web-based, most probably proprietary, trading platform, Webtrader. It does not offer even a fraction of the features established platforms do and lacks significantly in terms of design and functionality – check it out:
We recommend investing with brokers that provide access to established trading software, such as the MetaTrader 4 (MT4) and MetaTrader 5 (MT5) platforms, both of which are available as desktop, web and mobile (Android and iOS) applications.
MT4 is considered the world's number one platform, preferred by over 80% of users. It offers an intuitive and user-friendly interface, advanced charting and analysis tools, as well as copy and auto-trade options. Its successor, MT5, although not as popular yet, has some advantages – it allows traders to execute trades on different financial markets through a single account and there is a hedging option. It boasts various features such as additional order types ("Buy Stop Limit" and "Sell Stop Limit") and a built-in e-mail service in which it surpasses the MT4.
IGC Markets Trading Conditions
On the Webtrader screenshot above we see a spread of 0.1 pips for EURUSD which is too good to be true. Considering the nature of the broker and their platform, however, we have serious suspicions it might have been manipulated. Regulated brokers generally provide spreads between 1 and 1.2 pips for this most traded currency pair.
Offshore brokers enjoy no restrictions on leverage, so it is no surprise IGC Markets advertises a leverage of 1:500. Leveraged trading provides huge profit potential, but also presents great risks, especially to inexperienced traders because any losses incurred will be multiplied. That is why, most regulatory authorities impose leverage caps for non-professional traders: in the USA it is 1:50, while for brokers licensed in the EU and the UK it is 1:30. The Australian Securities and Investments Commission (ASIC) also started restricting leverage for major currency pairs to 1:30 from March this year.
IGC Markets Deposit/Withdrawal Methods And Fees
The broker offers the standard payment options for deposit and withdrawal transactions – credit / debit cards and bank transfer. Popular methods such as PayPal and preferred by traders e-wallets, eg. Skrill and Neteller are not supported. What is more, when we attempted to deposit in the client area we received a message that our "account manager will contact", but that never happened: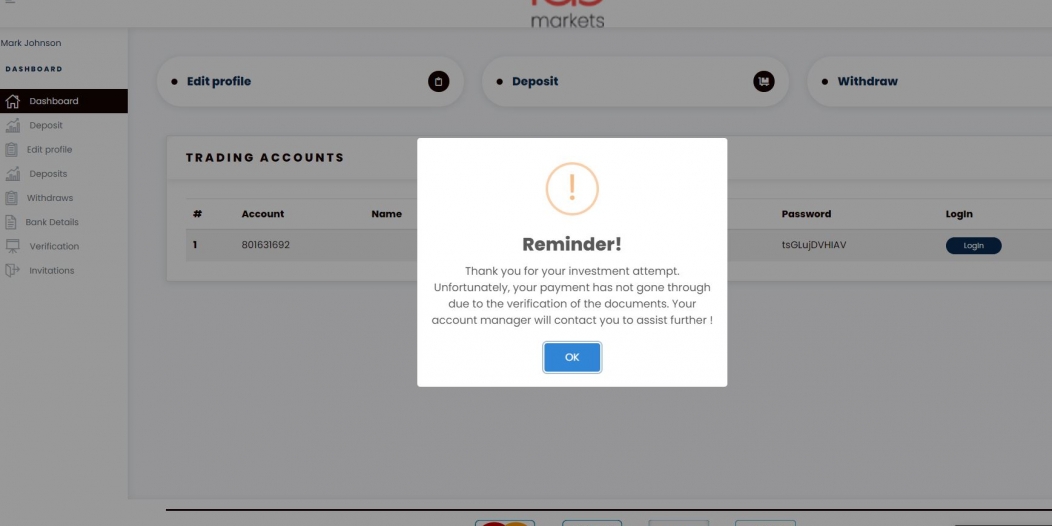 The minimum deposit requirement is not specified, while the minimum withdrawal amount is $100. In the website the broker claims there are no deposit or withdrawal fees associated with the standard payment methods, but in the Terms and Conditions we read that there is a 5% withdrawal fee for credit / debit card transactions and a $25 fee for wire transfers. Although these fees are not excessive, it is the discrepancy that is disturbing.
There is also an inactivity fee of 5% on accounts with no trading activity or a minimum of 3 open positions for the amount of $100 for a period of 30 days or more; respectable brokers usually charge a fixed fee of about $30 after a period of 6 months, if at all. Last but least IGC Markets offer bonuses, a practice which is prohibited by top regulating agencies as they are generally considered to be a part of a con scheme.
To sum up, we warn our readers that IGC Markets is not a regulated broker and investing money with them is a huge risk!
How does the scam work?
Here we will outline the most common scamming scenario. The first step is to capture the users' attention with ads promising fast money. When they click on such an ad, they are redirected to a website that would ask to provide email address and phone number. This personal information is then used by the scam brokers who will start calling and asking to invest with them. The initial deposit is usually around $250 from which these brokers will make a fat commission.
After that, users are transferred to senior brokers. These are expert con-artists who will sweet-talk them into putting even more money. When the traders decide to get out, however, it turns out it is not that simple. The scammers will talk them into postponing their withdrawals or will draw out various reasons to deny the request. All of this is with the objective to miss the limited time period for filing a chargeback with their bank and get their money back.
We should note that VISA and MasterCard have recently taken measures to combat online scams and are classifying all forex transactions as high risk. Furthermore, they have increased the period for filing a chargeback from 6 months to 540 days.
What to do when scammed?
In the event you become a victim of such a scam there are some things you should know. If you used a major credit card to fund the account you should immediately file for a chargeback with your bank or credit card provider. In case you supplied sensitive financial information to the scammers, such as account details and passwords, you should cancel your credit card or change your pass.
If you used bitcoin or bank wire, however, chances of recovering your funds are slim. Do not get hooked by any "recovery agents", who prey on scam victims, using their hopes of retrieving their money. These are just another type of scammers who will ask you for an upfront fee in order to get your money back, but once you pay them, you will not hear from them again.