Beware! 24traderfx is an offshore broker! Your investment may be at risk.
RECOMMENDED FOREX BROKERS
Don't put all your eggs in one basket. Open trading accounts with at least two brokers.
24traderfx claims to be a broker offering trading in currencies, stocks and CFDs. However, the website is full of discrepancies and false and misleading information, which reveals that it is actually just another fraudulent scheme. 24traderfx is not a legitimate and regulated broker and you should not trust them with your money under any circumstances.
24TRADERFX REGULATION AND SAFETY OF FUNDS
The first red light comes on because nowhere in plain sight on the 24traderfx's website is it stated which legal entity is behind this operation. Even the Terms and Conditions don't mention a company, just the name of the site – something completely unacceptable for any legitimate business.
The "About Us" section even includes text that shows the name of another site – FCSMarkets. This is actually one of the many scam sites we have reviewed. The most likely explanation for this is that 24traderfx is a new project of the same scammers behind FCSMarkets, and they simply forgot to change the text when creating the new website.
24traderfx provides a contact address in Dublin, Ireland. A broker who does operate in this EU Member State must be licensed and supervised by the Central Bank of Ireland. However, there is no company of that name on the institution's records.
When signing up for an account, we are asked to agree to a completely different set of Terms and Conditions. There is already a specific company name – "Fort Securities BLR", registered in Belarus.
Although Belarus is not a member state of the European Union and is not subject to the European Securities and Markets Authority (ESMA) rules, the country actually regulates its forex market.
There is indeed a licensed broker with that name on the National Bank of the Republic of Belarus register. The problem is that the listed website of the Belarusian company is completely different. Considering the whole picture, it can be assumed that 24traderfx are just falsely using this name without any real connection to the company.
If you have a desire to start trading in the financial markets, you should avoid shady sites like 24traderfx. Instead you can do so through some of the companies that operate under the supervision of respected regulatory bodies such as Cyprus Securities and Exchange Commission (CySEC) or Financial Conduct Authority (FCA) in the UK. As their customer you will enjoy a number of guarantees including negative balance protection and guarantee for your funds if the broker goes bankrupt, which goes up to EUR 20,000 in EU and 85,000 GBP in the UK. Regulations in the UK and EU include some important measures designed to improve investor protection and promote market integrity and transparency, such as transaction reporting.
24TRADERFXTRADING SOFTWARE
On 24traderfx's website, one can see a claim that it uses the most popular trading platform in the industry, MetaTrader 4 (MT4). However, after logging into the client system, only the web platform is available. Here's what it looks like: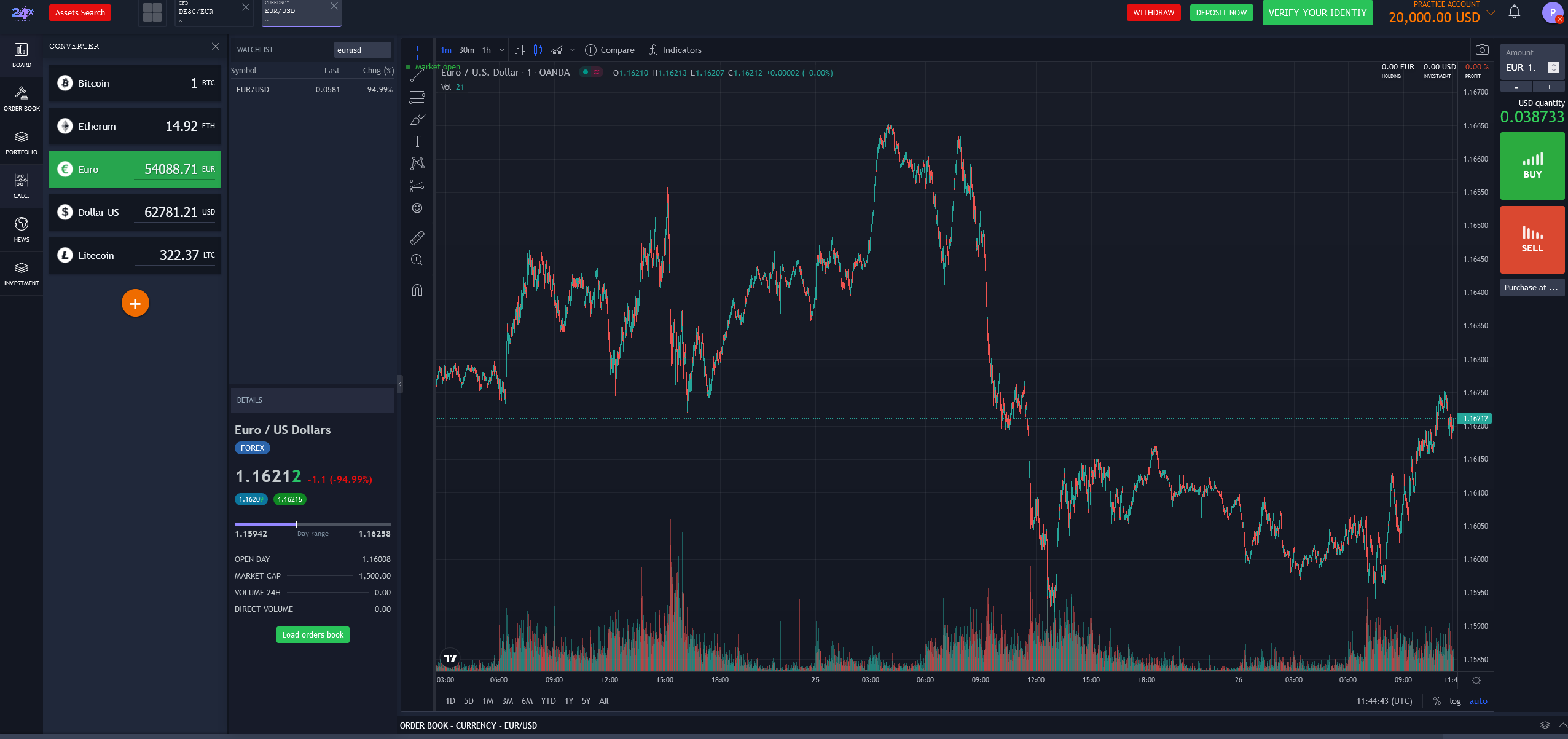 Although the web platform is relatively functional and has all the necessary features for placing orders, customizing charts, using technical indicators, etc., it does not have the advanced features found in MT4. This platform is the most widely used by brokers because along with the basic trading features it allows designing and implementing bots for automated trading and back-testing strategies.
24TRADERFXTRADING CONDITIONS
24traderfx lists three types of accounts – Beginner, Gold and Platinum. The minimum deposit for the Beginner account is USD 250. This is comparable to the usual industry levels, although most legitimate brokers offer micro accounts with a depreciation of just USD 100.
The suggested leverage for the Beginner account is 1:30, which is actually in line with the rules of the European Securities and Markets Authority and UK's Financial Conduct Authority. This level of leverage is also set in the trading platform when logging in with a demo account.
For the other two account types, however, leverage of 1:300 and 1:500 is offered, which regulated brokers can only offer to professional clients. High leverage allows for higher profits, but at the same time increases the risk of losses significantly. This is why leading regulators limit leverage for retail traders. These limits are up to 1:30 in the EU and UK and up to 1:50 in the US.
The website has no information about the spread, but the trading platform shows levels of about 1 pip. This would be very competitive if 24traderfx was a legitimate broker. In the client platform there is a link to four types of "investment plans" starting at USD 275 and offering up to 60% yearly profits. That sounds too good to be true, because it certainly isn't.
24TRADERFX DEPOSIT/WITHDRAW METHODS AND FEES
On 24traderfx's website it is stated that the available payment methods are "Visa, MasterCard, bank transfer, cryptocurrency". However, the deposit menu only includes cryptocurrencies – Bitcoin and Etherium.
While there are legitimate brokers that accept Bitcoin alongside other payment methods, cryptocurrency as the only option is also a big red flag. Scammers like cryptocurrency transfers because they are non-refundable.
24traderfx also offers bonuses to its clients – something not allowed to brokers in the EU, UK and US. Linked to these bonuses is one of the traps that scammers like 24traderfx set for their victims. The Terms and Conditions state that in order to withdraw funds from an account that has been credited with a trading bonus, the trader will be required to execute a minimum trading volume of 30 times the bonus amount plus the deposit. Such high traded volume requirements make it virtually impossible for the customer to withdraw their supposed profits and even their deposit.
HOW DOES THE SCAM WORK
The online space is full of ads promising easy money. They sound too good to be true, because they are not – they are outright scams. Many of these fraudsters pose as brokers and take advantage of the general public's ignorance of the capital markets.
If you give your contact details to one of the flashy sites promising to make you rich, you will be contacted by experienced scammers who will start convincing you to "invest" in their scheme. Initially they will ask for a small amount, say USD 250 or USD 500. If you agree, they will begin to persuade you to give them larger sums.
However, your money will never be truly invested in the market, and you will not be able to receive either the supposed profits or the money from your deposit. Your attempts to withdraw your money will be blocked by deliberately confusing clauses in the terms and conditions. Some of the most commonly used traps are extremely high minimum trading volume requirements or withdrawal fees equal to 10%, 20% or more of your funds.
WHAT TO DO WHEN SCAMMED
It is very important not to rush into trusting people on the internet who offer to magically refund your money for a fee. These are also scammers, and they may even be the same ones who scammed you in the first place.
If you have made the transfers using credit or debit card, you can claim a chargeback. Visa and MasterCard allow this to be done within 540 days. However, such a request may not be approved if you have given the fraudsters documents such as a copy of an ID and proof of address. This will allow them to claim that the transaction is legitimate and approved by both parties. Wire and cryptocurrency transfers unfortunately are not refundable.