Beware! TRFX is an offshore broker! Your investment may be at risk.
RECOMMENDED FOREX BROKERS
Don't put all your eggs in one basket. Open trading accounts with at least two brokers.
TRFX is one of the many sites posing as forex brokers, which however are just a front for scammers.
At the time of writing this review, TRFX's site is clearly unfinished, lacking not only basic information but also basic functionality, including the ability to create an account. However, there is enough evidence to conclude beyond doubt that this is not a real broker, but just typical fraudsters looking to scam you out of your money.
TRFX REGULATION AND SAFETY OF FUNDS
Regulated brokers are required to provide clear information about where they are based and by which regulatory institutions they are supervised. On it's website TRFX claims to have a "branch office" in one of the leading global financial centers, London.
If this were true, the company that is stated as the owner of the site, Trfx Group, would be licensed by the relevant UK regulator, the Financial Conduct Authority. However, there is no broker of that name on the institution's records: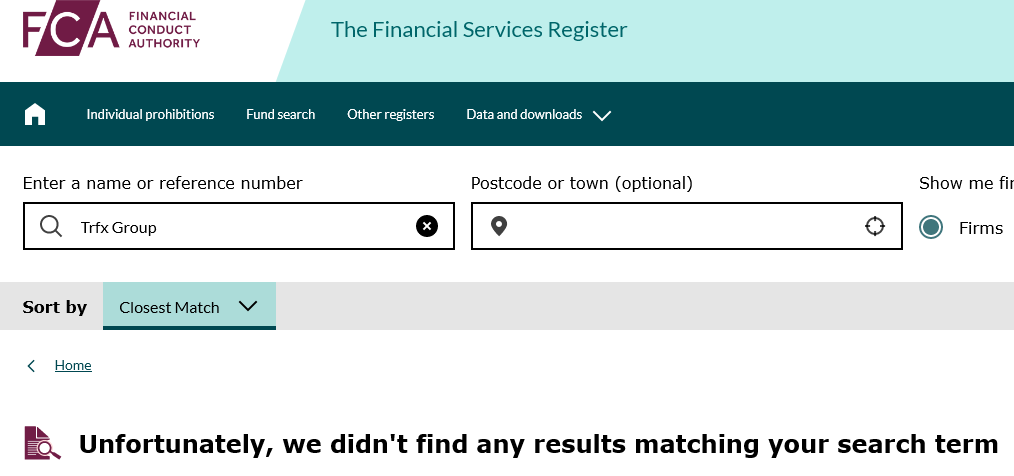 Links to create a demo or live account lead to a contact form. The contact information consists only of a probably fake London address and an email.
The website lacks any other legal information and documentation that can be found even with most scammers. There are not even Terms and Conditions.
There is only a link to a document titled "Privacy & Policy", the contents of which definitively prove that this is a messy scamming scheme. The document mentions two different sites instead of TRFX – LABUAN FX and Hntfxpro:
These are in all likelihood other projects of stitched up scammers. At the time of writing this review these sites are not active. The name LABUAN FX can also be seen on the main page of the TRFX's website: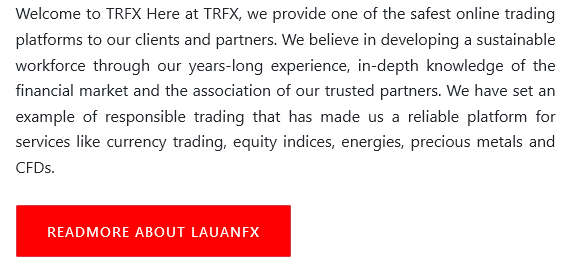 In the document there is a link to a "cookie policy", which is directly taken from a third company, Alpari Group – an offshore broker based in Saint Vincent and the Grenadines:

It is beyond doubt that TRFX is not a regulated broker and your money would not be safe with them.
If you want to try your hand at trading, it is highly advisable to do so through legitimate brokers operating in one of the established financial centres in the UK, EU, USA or Australia. There, the activities of brokers are controlled by powerful regulatory bodies such as Financial Conduct Authority (FCA), Cyprus Securities and Exchange Commission (CySEC), Commodity Futures Trading Commission (CFTC), and Australian Securities and Exchanges Commission (ASIC).
Clients of these brokers receive protections such as negative balance protection and segregation of the client's funds from the broker's funds, as well as guarantee for their funds in case the broker goes bankrupt. These guarantees amount to up to EUR 20,000 EU and 85,000 GBP in the UK. Regulators also have significant net capital requirements that companies must maintain – EUR 730 000 in UK and Cyprus, AUD 1 000 000 in Australia and at least 20 million USD in the United States.
TRFX TRADING SOFTWARE
TRFX claims to offer one of the most widely used trading platforms in the industry, MetaTrader 5 (MT5). An installation file can be downloaded from the website entitled "trfxlimited5setup". However, this file is a generic, non-customized version of MT5, the same one that can be downloaded from the software developer, MetaQuotes.
The links to the supposed mobile versions for Android and iOS lead to the same Windows installation file.
It is not surprising that an unfinished fraudulent scheme like TRFX does not have functioning trading software. But even if this site is completed and activated, it should be avoided at all costs. Instead, you can turn to one of the many legitimate brokers who offer their clients a wide selection of quality trading software, including MetaTrader 5 and the still very popular MetaTrader 4. These platforms provide a variety of options for customization, multiple account usage, designing and implementing custom scripts for automated trading and backtesting trade strategies.
TRFX TRADING CONDITIONS
The TRFX's website describes three account types, Normal, Special and Premium. The information about the terms and conditions is contradictory – in one place it is stated that the leverage for all accounts is 1:400, and only a little further down on the main page levels up to 1:500 are stated.

In any case, these are not levels of leverage that a legitimate broker can offer. The FCA and EU regulators limit leverage for retail traders to 1:30 and in the US the limit is 1:50. High leverage allows for greater profits, but also increases risk significantly, especially for inexperienced traders.
The minimum deposit for the three account types is USD 100, USD 200 and USD 500. But you can open a micro account for USD 100 with most legitimate brokers.
Information on the spread offered is also conflicting, ranging between 0 and 1.4 pips in various places on the website. This is fairly comparable to levels at real brokers.
There is no information available regarding fees and deposit and withdrawal methods.
HOW DOES THE SCAM WORK
The online space is full of ads promising easy money. They sound too good to be true, because they are not – they are outright scams. Many of these fraudsters pose as brokers and take advantage of the general public's ignorance of the capital markets.
If you give your contact details to one of the flashy sites promising to make you rich, you will be contacted by experienced scammers who will start convincing you to "invest" in their scheme. Initially they will ask for a small amount, say USD 250 or USD 500. If you agree, they will begin to persuade you to give them larger sums.
However, your money will never be truly invested in the market, and you will not be able to receive either the supposed profits or the money from your deposit. Your attempts to withdraw your money will be blocked by deliberately confusing clauses in the terms and conditions. Some of the most commonly used traps are extremely high minimum trading volume requirements or withdrawal fees equal to 10%, 20% or more of your funds.
WHAT TO DO WHEN SCAMMED
It is very important not to rush into trusting people on the internet who offer to magically refund your money for a fee. These are also scammers, and they may even be the same ones who scammed you in the first place.
If you have made the transfers using credit or debit card, you can claim a chargeback. Visa and MasterCard allow this to be done within 540 days. However, such a request may not be approved if you have given the fraudsters documents such as a copy of an ID and proof of address. This will allow them to claim that the transaction is legitimate and approved by both parties. Wire and cryptocurrency transfers unfortunately are not refundable.