Beware! Apex Tradings is an offshore broker! Your investment may be at risk.
RECOMMENDED FOREX BROKERS
Don't put all your eggs in one basket. Open trading accounts with at least two brokers.
Apex Tradings is a poorly constructed scam site claiming to be a broker operating in one of the leading global financial markets and serving over 500,000 clients.
At the time of writing this review, the Apex Tradings website is lacking basic information and basic functionality. It may still be under development or already abandoned, as is often the case with rogue platforms. But the available information is more than enough to conclude that this is not a legitimate broker and in any case you should not trust them with your money.
APEX TRADINGS REGULATION AND SAFETY OF FUNDS
For the legitimacy of Apex Tradings, it is probably enough to point out that Spain's financial regulator, the National Securities Market Commission (CNMV), has issued a special warning about the website and the alleged company behind it, Apex Trading Investment Platform:
But let's look at the other obvious irregularities with Apex Tradings. The site lacks Terms and Conditions and any other legal documentation that is required by licensed brokers and indeed any legitimate business. The only contact information is an email and a US address. In the "About" section one can also see a claim that Apex Trading Investment Platform was established in the US in 2012.
The US has some of the most tightly regulated financial markets in the world. Brokers wishing to operate there must meet extremely high minimum net worth requirements of at least USD 20,000,000. These brokers are regulated by the Commodity Futures Trading Commission (CFTC) and must be registered with the National Futures Association (NFA). Unsurprisingly, neither Apex Tradings nor Apex Trading Investment Platform is listed among the members of the NFA:
Curiously, the same "About" section claims that Apex Trading Investment Platform is authorised and regulated by the Financial Conduct Authority (FCA). This is the regulator in another major global market, the UK. Apex Trading Investment Platform is also not listed among the companies licensed and supervised by the FCA:
If you wish to start trading cryptocurrencies or other financial assets, it is advisable to approach a licensed broker that is indeed supervised by a respected regulatory body like the Financial Conduct Authority or the Cyprus Securities and Exchange Commission (CySEC). As their customer you will enjoy a number of guarantees including negative balance protection and guarantee for your funds if the broker goes bankrupt, which goes up to EUR 20,000 in EU and 85,000 GBP in the UK. Regulations in the UK and EU include some important measures designed to improve investor protection and promote market integrity and transparency, such as transaction reporting. Regulated brokers are also required to segregate their operational funds from the client's money.
APEX TRADINGS TRADING SOFTWARE
Despite its name, Apex Trading Investment Platform does not actually have a trading platform. Once you register an account and log into the client portal, you are greeted by a total mishmash of simple charts showing the current prices of Bitcoin and other cryptocurrencies. These charts are not even properly sized for the website. What should probably be the trading platform is actually a gif image, and the buy and sell buttons are not active.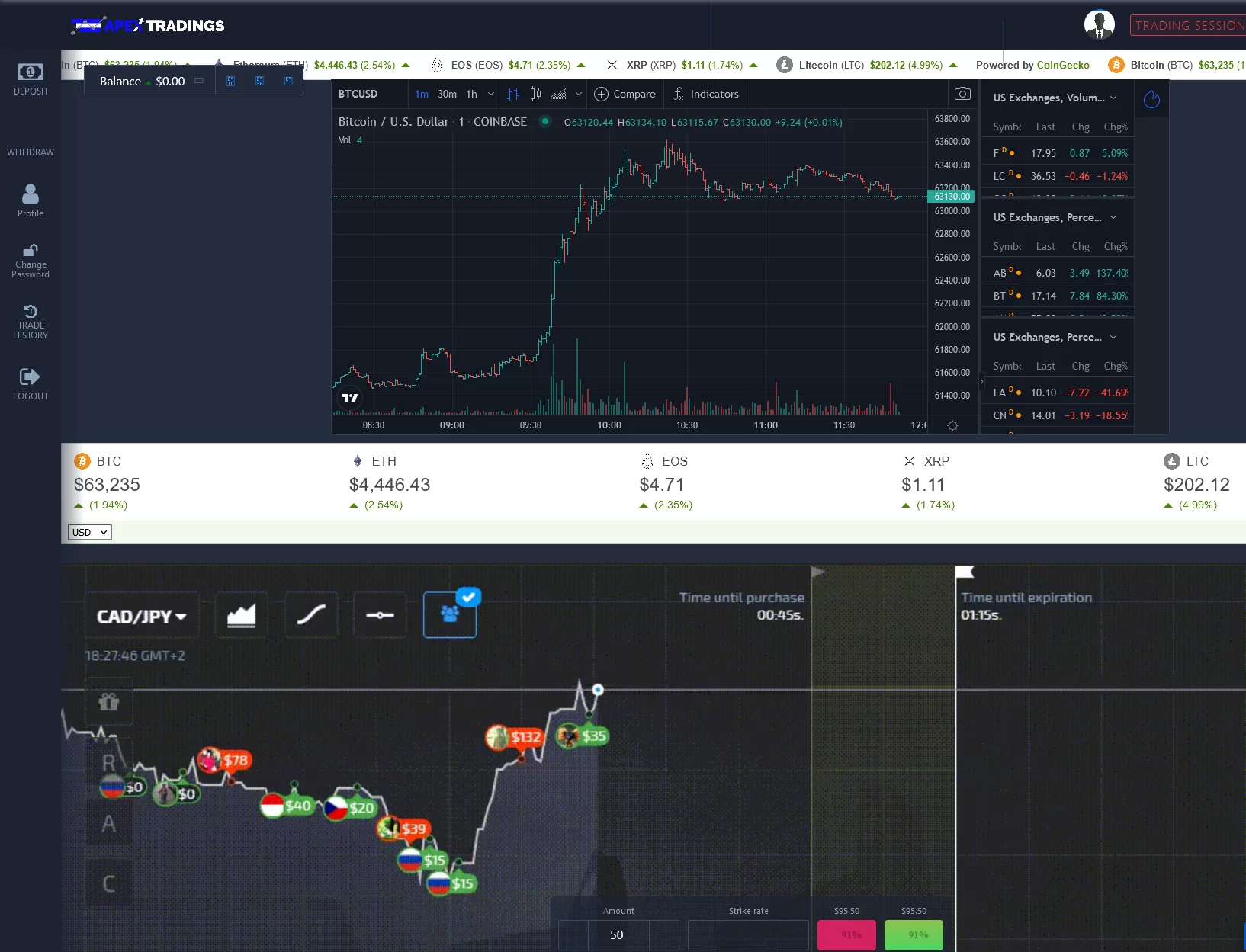 Legitimate brokers that can be trusted usually offer multiple software options to their clients, allowing them to use desktop, mobile or browser apps to trade. Some of the most widely used platforms in the industry are MetaTrader 4 (MT4) and MetaTrader 5 (MT5), which along with extensive customization options allow the design and use of scripts for automated trading and testing of trading strategies.
APEX TRADINGS TRADING CONDITIONS
Apex Tradings does not offer different account types, which is a standard practice with legitimate brokers that is imitated even by most scammers. The website lacks any information on basic trading indicators such as leverage and spread. Due to the lack of a trading platform and Terms and Conditions, there is nowhere else to check.
The only information that can be found is that "the minimum investment amount is USD 300 and the maximum amount is USD 500,000 per transaction". Legitimate, regulated brokers not only provide clear information about the terms they offer, but also usually provide favorable conditions for novice traders, such as micro accounts with a minimum deposit of just USD 100.
APEX TRADINGS DEPOSIT/WITHDRAW METHODS AND FEES
Apex Tradings claims to offer multiple payment methods, including "Bitcoin, Skrill, Ethereum, LiteCoin, PerfectMoney, PayPal, Bank transfer, MoneyGram etc." In the deposit menu, however, the only available option is Bitcoin, and the others require you to contact technical support:
Cryptocurrencies are favoured by fraudsters because transactions with them are non-refundable. Although some legitimate brokers accept Bitcoin, they do so alongside other options such as bank transfer, credit cards, and established digital platforms.
HOW DOES THE SCAM WORK
It is tempting to be lured by the promises of easy money that we constantly come across on the internet. But behind the vast majority of these promises, if not all, are scammers. In recent years, many fraudulent schemes have consisted of websites posing as brokers and trying to cash in on the excitement surrounding cryptocurrencies.
If you give your contacts to one of these scammers, they will start convincing you that they will multiply your money, with nothing required of you but to sit back and take profits. If you agree to an initial investment of a few hundred dollars, they will start persuading you to invest more and more.
But you will never get the promised profits or the money you deposited. Scammers have many ways to ensure this. First of all, they are hidden behind offshore companies, not subject to controls and regulations. For the money transfers they use shady payment platforms, direct bank transfers or cryptocurrencies that make recovering money very difficult and often impossible. The terms and conditions are always riddled with traps that also block your ability to withdraw your money, such as prohibitively high minimum trading volume requirements or withdrawal fees amounting to tens of percentages of your funds.
WHAT TO DO WHEN SCAMMED
When you find yourself scammed and seek advice and help online, you are likely to receive offers from individuals and companies who promise to refund your money for a fee that you have to pay in advance. Don't trust such offers or recommendations from anonymous commentators on the internet – this is also a well established scam.
The best chance to get at least some of your money back is to request a chargeback, but this applies only if the transfer is made via credit card. It is of course advisable to notify the relevant authorities of the fraudsters' activities and to spread the word online to warn other people who may fall victim to the same scammers.