Beware! Royal Chartered Bankers is an offshore broker! Your investment may be at risk.
RECOMMENDED FOREX BROKERS
Don't put all your eggs in one basket. Open trading accounts with at least two brokers.
Royal Chartered Bankers perhaps seems a bit more legit than other scam companies when it comes to its conditions but is in fact the same insolent fraud scheme as many others we have reviewed before. They rely on people's tendency to not double-check and throw around the same claims of grandeur as most scam companies. It would be an incredibly bad decision to take the bait and invest your money with Royal Chartered Bankers because you will certainly become a victim of a scam.
Royal Chartered Bankers REGULATION AND SAFETY OF FUNDS
Royal Chartered Bankers claim to be "An Established and Trusted Broker in the Middle East" and 'Owners of the largest investment account management decision in the Middle East'. They have in fact provided a Kuwait phone number on their website. The registration confirmation email we received stated a different Kuwait phone number.  Kuwait brokers have to follow harsh regulations to obtain a license. The minimum capital requirement is 2 million Kuwaiti Dollars ($6,6 million) and brokers must carefully document all their activity. So we were instantly a bit suspicious and wondered if Royal Chartered Bankers can hold a license in Kuwait.
Royal Chartered Bankers also claims to be "regulated and licensed across the globe". However, a bit further down in the paragraph they specify that they are registered in Comoros Union, Kuwait, Turkey, St Vincent, British Virgin Island, Bulgaria, and Cyprus. The difference between registered and licensed is not to be neglected. While it is fairly easy to register a company anywhere, a license is obtained much harder and comes with many responsibilities and conditions. For example, brokers registered in Cyprus and the EU must prove that they have in their possession a capital of a minimum of €730 000. Clients of such brokers also can take advantage of the negative balance protection – your losses cannot exceed the sum of money your account contains. It is much safer to trade with such regulated brokers.
Furthermore, we checked the CySEC's  register for a company with the name Royal Chartered Bankers and were left empty-handed. This further cemented our conviction that Royal Chartered Bankers is not a regulated company as every broker that holds a license in the EU should turn up in that register.
Another red flag is the fact that Royal Chartered Bankers claims to possess a Legal Entity Identifier (LEI) issued by Bloomberg. This identifier is used to provide more transparency and identify the people behind different financial operations. The name and supposed license number of Royal Chartered Bankers didn't show up anywhere in the LEI database which leads us to believe they outright lied on their website. One should definitely not invest money with people that cannot provide any sort of actual license and lie about legal documentation.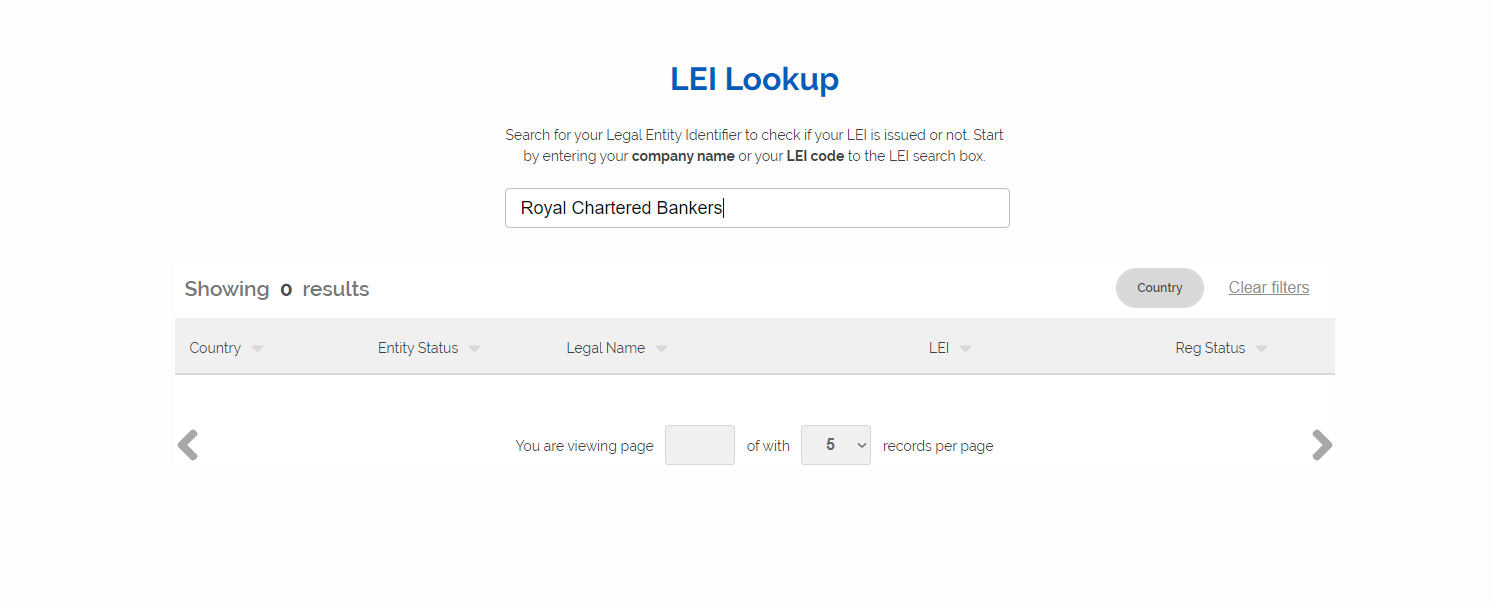 Royal Chartered Bankers TRADING SOFTWARE
Royal Chartered Bankers use the most popular software in the industry – MetaTrader 5. MT5 is a great trading platform that offers a variety of tools – from bots that use algorithms to trade (Expert Advisors) to access to a vast trading community where you can subscribe to other traders` alerts or create your own trading bots. The Royal Chartered Bankers system did not allow us to open a demo account and see what they have to offer. That is quite disappointing because we could not establish if the claims they made on the website are true.
Royal Chartered Bankers TRADING CONDITIONS
Royal Chartered Bankers offers to open up five different types of accounts for you with minimum initial deposits varying from $100 to $20 000. Depending on the type of account, the leverage sticks between 1:1 and 1:200. The leverage of 1:200 is a bit too high and could potentially be dangerous for inexperienced traders. With such high leverage, you can indeed make a good, fast profit but also expose yourself to the risk of losing a lot of money very fast. In comparison, the permitted leverage in the EU and the UK is 1:30.
Royal Chartered Bankers has only announced the spreads for their Pro Account – starting from 0.0 pips. As we could not use the platform, we cannot say if that is true.
Royal Chartered Bankers also makes some quite ridiculous statements. They promise you a Rolex if you achieve 20 000 Lots and a bonus if you bring a friend. Bonuses are something no legitimate broker will offer you because they are not strictly prohibited from doing so.
Royal Chartered Bankers DEPOSIT/WITHDRAWAL METHODS AND FEES
The Terms and Conditions Royal Chartered Bankers have put on their website are a bit too short and a bit too badly structured. Elaborations on what different trading terms mean take up two pages but no information about fees or withdrawal conditions is provided.
They do name some different payment methods – Visa and MasterCard, Neteller, Skrill, Perfect Money, and name a few banks eligible for bank transfer.
HOW DOES THE SCAM WORK?
Usually, such scams start with an ad or banner you see on the Internet that advertises the company in question as offering impossibly high profits. Such scammers want you to see them as the easy way to a luxurious lifestyle and would do anything to get your attention.
The moment you provide them with any sort of personal information or contact details, you will start receiving calls from these cons asking you to pay an initial deposit of a certain amount. With time, you will be asked to invest even more money. To compel you to do that, these experienced frauds can make it look like you are making huge profits. But the moment you decide to try and withdraw your money, they will come up with reasons to prevent you from doing so like making up additional taxes you should pay. This is done to ensure the time period in which you can get your money back through Visa or MasterCard withdraws runs out. Currently, that time period is 540 days.
It is virtually impossible to get your money back if you have paid with some sort of cryptocurrency and for that reason, such payment methods are preferred by scammers.
WHAT TO DO IF SCAMMED?
If you fall victim to such a scam and are using a credit or debit card, you should file for a chargeback right away. If you were paying through bank transfers, you should contact your bank immediately and ask for assistance. As stated, scammers might deny you the chargeback on the basis of the fact that you have verified your account and sent them your personal info. There is little you can do in such cases. If the frauds had gained access to any sensitive information like banking passwords and usernames, it would be best for you to change those.
One last thing you should remember – don't trust any "recovery agents" that offer you a fast refund. Such people exploit scam victims` hopes of gaining their money back by either collecting a fee or asking you to reinvest. Once this is done, you will never hear from them again.