Beware! Meta 7 Trader is an offshore broker! Your investment may be at risk.
RECOMMENDED FOREX BROKERS
Don't put all your eggs in one basket. Open trading accounts with at least two brokers.
Meta 7 Trader is without a shadow of a doubt a complete scam. The moment we opened their website, we were greeted by the following message stating that "all deposits should be made to the company`s Bitcoin wallet address."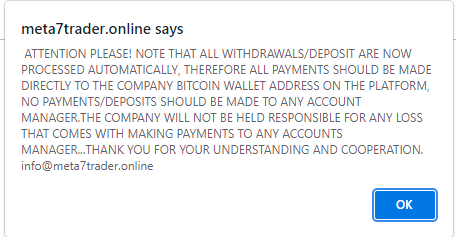 This is quite unusual considering the fact that Meta 7 Trader brags about the many payment methods available later on. A broker urging you so determinedly to deposit in cryptocurrency is never a good thing. There is nothing wrong with cryptocurrencies themselves but scammers adore them for the simple reason that any payment made in cryptocurrency is non-refundable. So our expectations for Meta 7 Trader were lowered from the start.
Meta 7 Trader claims to hold a few awards but when we checked what those were exactly, we found out that all of them have not even taken place yet and the nominee list certainly did not contain Meta 7 Trader as a contestant.
Upon more careful viewing of the website, we found a few more things that are worth mentioning and that confirm the fact that this broker is a total scam and you should avoid them at all costs.
Meta 7 Trader REGULATION AND SAFETY OF FUNDS
Meta 7 Trader claims to be situated in the US and provides a Certificate of Incorporation to prove that.
As we have stated before registered and regulated do not mean the same thing. Everybody could register a company at a certain address, that does not mean that they are answering to some sort of financial authority. Meta 7 Trades has very little to say in terms of license numbers and did not show up in the NFA database.
This proves that Meta 7 Trader could not be a broker legally operating in the US. There are currently very few brokers left on the US market because the rules there are some of the strictest ones in the world. US brokers must maintain the enormous minimum capital of $20 million to prove that they are well-equipped enough to survive on the market. This exceeds the minimum capital requirement in the UK and the EU which is  €730 000. Additionally, legitimate US brokers can offer a leverage of up to 1:50 and must follow strict reporting guidelines. All these things considered, it is very unlikely that a broker like Meta 7 Trader could be one of those few brokers still operating in the US.
Upon checking their address, we stumbled upon another trading company registered there – FX FOX TRADER. Their website looks exactly the same way as the Meta 7 Trader website and even the same bitcoin-only message showed up.
In the broker`s Privacy Policy, it is stated that the owner of the company is situated at an address in St. Vincent and the Grenadines. St. Vincent and the Grenadines Financial Services Authority has announced time and time again that it does not regulate forex brokers which is exactly why many scammers register offices there. The address of the company in St. Vincent and the Grenadines also matches the address of another company we have recently covered – Spartan Liquidity. In that review we explained that there were multiple scam brokers with different names registered on that same address. The common thing between them is all the dissatisfied clients asking to get their money back and posting scam warnings in Google Reviews.
Additionally, we noticed that some of the client testimonials on the website were basically the same as the ones on the website of another broker we have reviewed – HSS Markets. You can also check that review out if you are interested.
Scammers usually like to change names and websites as soon as someone starts getting suspicious. They then disappear and start operating under a different name. This is probably the case here – a scam company trying to lure as many unsuspecting clients as possible.
Meta 7 Trader TRADING SOFTWARE
Meta 7 Trader uses a web-based platform or at least supposedly uses such a platform. When we opened an account, we soon found out that most of the buttons in that platform were not functional so we could not really try it out. This is probably because the software and the website are left unfinished.
If you are wondering what trading platform to choose, make sure to look up brokers offering MetaTrader 4 and MetaTrader 5. These platforms are respected by many and are currently the most popular in the world of trading. This is due to the many useful functions they offer – you can subscribe to other traders` signals or even develop your own trading bots and see how they cope in a demo account or through back-testing.
Meta 7 Trader TRADING CONDITIONS
There is not so much we can say about Meta 7 Trader`s trading conditions. Their Terms and Condition were only five pages long and written in a huge font. No mention of leverage, spreads or minimum deposit was made. Half of the information in the FAQ section also would not load so we did not have a lot to look at here.
Meta 7 Trader DEPOSIT/WITHDRAWAL METHODS AND FEES
Meta 7 Trader offers a welcome bonus. How big of a bonus that is, we cannot say exactly because Meta 7 Trader were not sure themselves – stating $100 dollars in one section of the website and $600 in another. What we do know is that bonuses are strictly forbidden both in the US where Meta 7 Trader is supposedly operating from and in the UK and the EU.
Things got a bit more interesting when it came to the deposit and withdrawal methods. In one section of the website, Meta 7 Traider claims to accept Neteller, Western Union, Money Gram and Bitcoin. In another, it is bank transfer, Money Gram and Western Union. According to the brief Terms and Conditions, we have Payeer, Perfect Money, Bitcoin, Ethereum and Litecoin at our disposal. But the platform itself would only allow us to deposit with Bitcoin. As we elaborated, cryptocurrencies are not a preferable method of transferring money because you won`t be able to get your deposit back. Which is, of course, exactly what the scammers want.
HOW DOES THE SCAM WORK?
Such scams work in a simple but effective way. You see a banner or an ad on the Internet and get redirected to the scammer's website where you get all sorts of promises for earning money the fast and easy way. You get led on by fake license numbers, satisfied customer testimonials and grand words. So you provide your contact details – an email and a phone number.
The moment this happens the first stage of the scam comes into play. You get bombarded with phone calls and emails asking you for a deposit. With time, you might start seeing that you have actually earned a decent amount of money and start investing bigger sums. This is in fact a deliberate trick trying to milk you as much as possible before you figure out something is not quite right.
The problem emerges when you try to get access to that money. The scammers might come up with different reasons why that cannot happen like making up more and more additional taxes. They might claim you cannot draw your money because of some clause in their Terms and Conditions which is why you should always read those carefully and know what you are agreeing to. Finally, they might ask you to verify your account before you get access to your money by sending them your picture next to a personal document or proof of address – something legitimate brokers also do as soon as you open an account with them. But in case you are dealing with scammers, this is done just so they can prove that you are indeed their client. In this way, they can claim that you have invested all your money with them voluntarily and make it impossible for you to demand a chargeback later on.
WHAT TO DO IF SCAMMED?
You should contact your bank or credit/debit card provider right away and ask for assistance. If you have used a credit/debit card to deposit, you could file for chargeback within 540 days. In case you were using a cryptocurrency, there is virtually no way to get your money back. If you have given scammers access to your computer or your banking details, you should make sure to change any passwords right away. You can also contact authorities and try to inform as many people as possible about the scheme you fell victim to.
Finally, you should never trust any companies that promise you a quick way to get your money back. Such "recovery agents" might ask you for a fee to retrieve your investment and run off as soon as they have received that fee. Often enough, they are the same people that scammed you in the first place.