Beware! Coins Leverage is an offshore broker! Your investment may be at risk.
RECOMMENDED FOREX BROKERS
Don't put all your eggs in one basket. Open trading accounts with at least two brokers.
Coins Leverage claims to be a "secure, transparent and fair" cryptocurrency trading platform. However, even a minimal inspection reveals that this is an anonymous, scam website trying to take advantage of the euphoria surrounding Bitcoin and the general public's ignorance about financial markets.
COINS LEVERAGE REGULATION AND SAFETY OF FUNDS
There is no address or phone number listed on the Coins Leverage website, the only way to contact them is by email. The text of the Terms and Conditions states that the company behind Coins Leverage is Digital Trade Zone Trading Solutions Ltd. It is stated to be based in the Republic of Seychelles:

That alone is reason enough to avoid this website. Registering in this offshore zone means that the broker has to meet almost no regulations and requirements, except a minimum capital of 50 000 USD. By comparison, the minimum net capital that brokers must hold in the EU and the UK is EUR 730 000. In Australia the minimum capital is AUD 1000 000, and in the US – at least USD 20 000 000.
However, a check of the Seychelles Financial Services Authority (FSA)  records shows that there is no broker named Digital Trade Zone Trading Solutions. Even the offshore registration of Coins Leverage is a lie, which means they are not subject to even symbolic regulation.
A general internet search for the name of this company turns up another website, Digital Trade Zone, which is completely identical to Coins Leverage, save for the logo. Apparently these scammers use at least two websites for their activities.
If you have decided to try your luck and abilities with trading on the financial markets, you should avoid sites full of false information like Coins Leverage. To avoid being scammed, contact one of the many legitimate brokers operating in the UK, EU, USA or Australia.
There, the activities of brokers are controlled by powerful regulatory bodies such as Financial Conduct Authority (FCA), Cyprus Securities and Exchange Commission (CySEC), Commodity Futures Trading Commission (CFTC) and Australian Securities and Exchanges Commission (ASIC). Clients of these brokers receive protections such as negative balance protection and segregation of the client's funds from the broker's funds.
In the EU and the UK, brokers must also participate in guarantee schemes that cover a certain amount of the trader's investment if the broker becomes insolvent.  These guarantees amount to up to EUR 20,000 EU and 85,000 GBP in the UK. An offshore broker could not provide such guarantees.
COINS LEVERAGE TRADING SOFTWARE
Among the many misleading information on the website, one can also see blatantly false reviews claiming that Coins Leverage is "gradually taking over the crypto derivatives market through its unique and user-friendly platform". On the main page of the website this platform is illustrated with pictures of a standard webtrader.
However, after registering an account and logging into the system, it becomes apparent that Coins Leverage does not have a real trading platform. The charts are taken from the TradingView website and only show current prices of Bitcoin and other assets.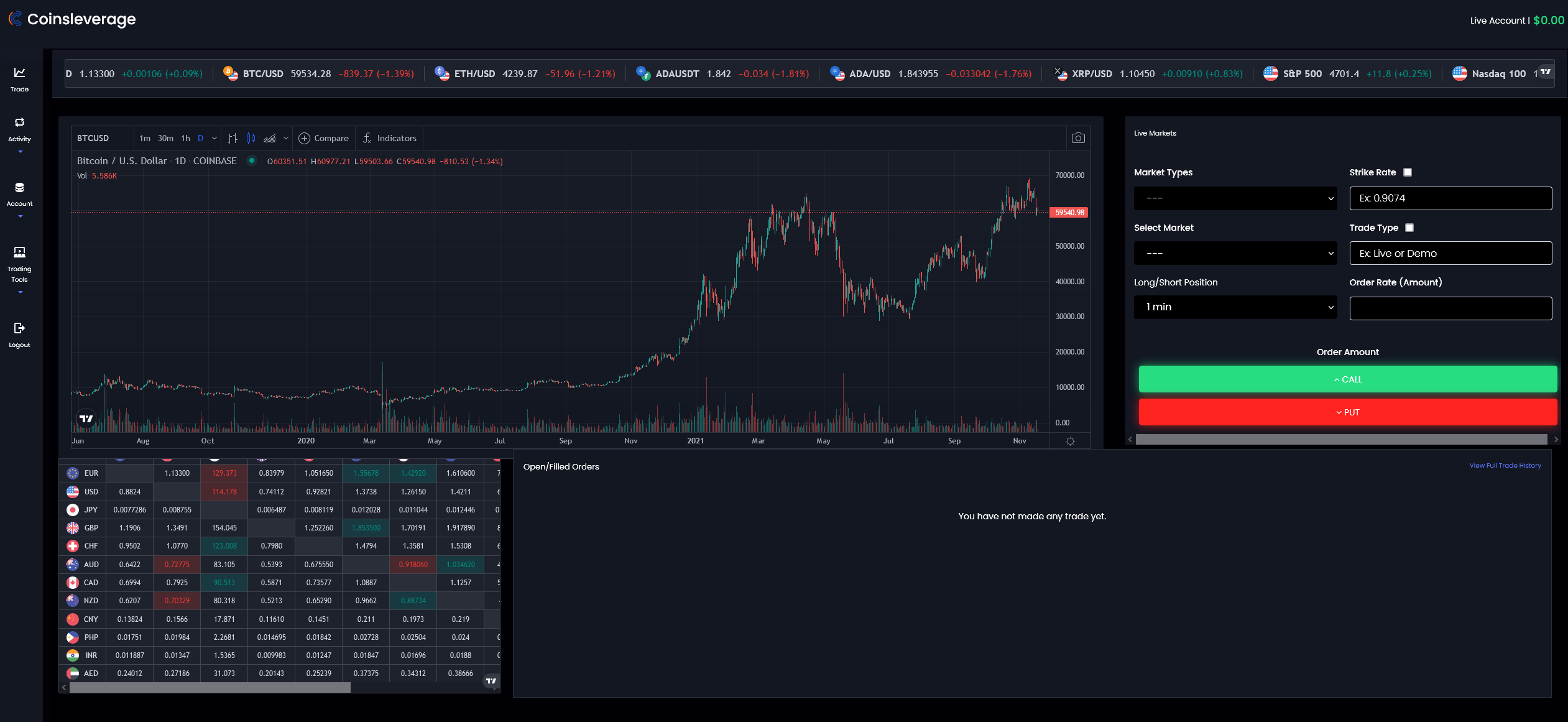 The trading menu is actually for binary options only – something that is not indicated in any way on the website. It allows you to choose any type of asset besides cryptocurrencies, which is supposedly Coins Leverage's only business.
At the time of writing this review, the menu for placing orders was not functional and gave an error whatever value was put in.
Legitimate brokers offer clients a wide selection of trading software, including desktop, mobile apps and web-based platforms.  The most widely used platforms in the industry are MetaTrader 4 (MT4) and MetaTrader 5 (MT5). These platforms have established themselves as industry standard because they offer a wide range of features, including a variety of options for customization, multiple account usage, designing and implementing custom scripts for automated trading and backtesting trade strategies.
COINS LEVERAGE TRADING CONDITIONS
Coins Leverage does not offer different account types. According to the info on the website, the minimum deposit is USD 10. There are many legitimate brokers that also offer micro accounts with a very low deposit.
The website also states that Coins Leverage offers Bitcoin trading with up to 1:100 leverage. These are levels that far exceed those allowed to regulated brokers. Due to the volatility of cryptocurrencies, they are subject to the strictest leverage limits. In the EU and the UK, for example, the permitted leverage for cryptocurrency trading is only 1:2.
The Coins Leverage's website describes an extensive list of fees they charge. First of all, they present leverage as a type of loan for which interest must be paid. This interest varies according to the type of cryptocurrency and whether the position is long or short, and goes up to 0.55%. Interest is charged every 8 hours.

Apart from this, there is a "Maker fee" for placing a pending order and a "Taker fee" for an immediately executed order.  These fees are 0.019% and 0.060% respectively.
There is also no explanation of how these fees relate to the Call and Put orders that are available on the Coins Leverage trading platform for binary options.
Coins Leverage's dubious binary options trading platform lists payout rates between 87% and 90% for different asset types. In theory, these are very good levels for such financial instruments, but in practice it is very doubtful that Coins Leverage offers real trading, be it binary options or otherwise. It should also be noted that due to the many exploits and scams associated with binary options, they are banned in the EU, UK and Australia, and only allowed in a limited capacity in the US.
Coins Leverage also claims to offer a USD 50 bonus for new customers and another USD 50 on a deposit of over 0.004 BTC, which at the prices at the time of writing this review equates to around USD 230. All leading regulators prohibit brokers from using bonuses and promotions to attract customers.
COINS LEVERAGE DEPOSIT/WITHDRAW METHODS AND FEES
When signing up for a Coins Leverage account, it is specified that deposits under USD 150 000 must be processed in cryptocurrency:
However, there is no deposit menu in the customer portal itself. This means that either the platform is not yet complete or Coins Leverage wants you to contact them directly to arrange a funds transfer.
Scammers prefer cryptocurrencies because these transactions are not subject to refunds. While there are some legitimate brokers that accept Bitcoin, they do so alongside other transparent payment methods such as credit/debit card, bank transfer or popular e-wallets like PayPal, Neteller or FasaPay.
HOW DOES THE SCAM WORK
Unfortunately, the internet is full of scammers. In the age of cryptocurrencies, many of them pretend to be brokers and take advantage of people's desire to get rich easily through financial instruments they don't really understand.
Fake brokerage sites lure you in with promises to take on all the difficult and confusing aspects of investing for you. If you make contact with such sites, they will first convince you to make a small, "risk-free" investment of a few hundred dollars. Experienced scammers will then begin to persuade you to "invest" more and more money, and will even deceive you into believing that your initial investment is generating incredible profits.
But you will never see those profits or the money you deposited. These scammers hide behind fake names and offshore shell companies that are not subject to oversight and regulations like regulated brokers. They use cryptocurrencies or other shady payment methods that make refunding money difficult or often impossible. The terms and conditions of these sites are riddled with pitfalls that block withdrawals with impossible-to-fulfill conditions for minimum traded volume and extremely high fees reaching 10, 20 or more percent of the amount.
WHAT TO DO WHEN SCAMMED
If you find yourself in such a situation, you should be very careful not to fall into the clutches of other fraudsters while trying to recover your money. Offers from people on the internet who promise to get you your money back from scammers for an upfront fee are also one hundred percent scammers.
If you used a credit or debit card for the transactions to the scammers, there is some chance you can get your money back by requesting a chargeback. Visa and MasterCard allow this to be done within 540 days. But such a claim can be challenged if you have provided the scammers with documents such as a copy of your ID and proof of address.