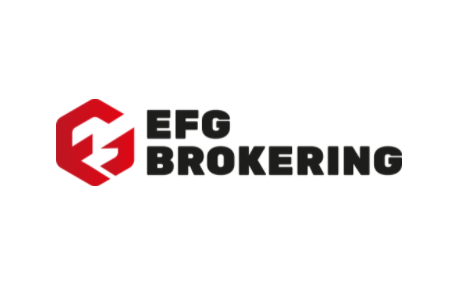 Beware! EFG Brokering is an offshore broker! Your investment may be at risk.
RECOMMENDED FOREX BROKERS
Don't put all your eggs in one basket. Open trading accounts with at least two brokers.
We are not sure how somebody like EFG Brokering could actually convince people that they are not a scam. Their website is highly unfunctional and won't give you any sort of useful information. Currently, it is not even possible to register an account with the broker, or at least it was not for us – but there is no guarantee these scammers don't just prefer to choose their own clients. Even if they by any chance allow you to open an account, you should not waste your time and money on such fake brokers – you will most probably end up robbed and bitter.
EFG Brokering REGULATION AND SAFETY OF FUNDS
EFG Brokering has not provided any license or even registration number. We found a phone number and an address in the UK so we had to assume they are a UK broker. All such brokers fall under the jurisdiction of one of the strictest financial authorities in the world – the FCA but unsurprisingly, EFG Brokering did not show up anywhere in the FCA register.
This means the broker is not answering to any reputable financial authority.
The perks of working with a regulated broker are many and we would definitely look up someone who holds a license in a country where a strict regulatory body is operating – UK, EU and Australian brokers are usually a good idea. Such brokers have to follow countless laws and procedures to remain operating. For starters, they have to keep client deposits in segregated accounts to which they themselves have very limited access. This ensures they cannot reinvest your money at a whim and that a withdrawal could happen relatively fast. Moreover, such brokers have to maintain a minimum capital to ensure they are capable of offering financial services on volatile markets and it won't be easy for them to go bankrupt. Brokers in the UK and the EU have to maintain capital of at least €730 000. The sum is even larger in Australia – A$1 million. So be sure to choose one of these more trustworthy, licensed brokers instead of a scammer.
EFG Brokering TRADING SOFTWARE
As stated, we could not register an account with EFG Brokering so we could not find out what kind of platform the broker uses because. We could not even understand if it is a web-based platform or a MetaTrader.
So they offer a trading platform, supposedly, and that is all they have to say on the topic. Compared to legitimate brokers who tend to advertise and describe their platforms' functions at length, these scammers' attempt at convincing you they are an actual broker and not just a call center somewhere is absolutely laughable.
If you are looking for a good trading platform to try, give industry-staples MetaTrader 4 and MetaTrader 5. There are more than enough legitimate brokers that could offer you those well-known and equally well-respected platforms. Both of the versions of the software offer many useful functions – from advanced charting and strategy-testing tools to the ability to develop your own Expert Advisors and indicators.
EFG Brokering TRADING CONDITIONS
Rarely have we been in a situation where we have absolutely zero information about a broker's trading conditions. No information on leverage, spreads or even minimum deposits these scammers might ask of you was available anywhere on the website. This is something no legitimate broker would allow.
What we can say, is that many regulated brokers are willing to open an account for as little as $10, even $1 in some cases so it is no use dealing with scammers. Additionally, UK-licensed brokers cannot offer leverage higher than 1:30 to retail clients. Leverage restrictions also exist in all of the EU and in the US where the number is 1:50. The reason for that is that most inexperienced traders cannot handle high leverage. They come expecting great profits – something that can actually happen if you have knowledge, experience and sufficient capital – but leave penniless. So if any 'licensed' broker in Europe offers anything higher than 1:30, beware – there is a chance you are not dealing with somebody regulated at all.
EFG Brokering DEPOSIT/WITHDRAWAL METHODS AND FEES
Supposedly, you can use a credit/debit card and bank transfer to deposit and withdraw money. We would not say any sort of deposit is advisable though, and it is not really possible to transfer money to the scammers without an account. All the information regarding payments we got from the FAQ and not from the platform so we cannot vouch for it completely. Furthermore, those FAQs seemed like somebody did not even take the time to finish them, since they were full of gibberish.
The broker supposedly offers bonuses – another red flag since those are banned in all of Europe, including the UK. Under what circumstances, we could not learn. In the Terms and Conditions, we found the almost mandatory clause scammers put in relation to bonuses – you have to reach the huge turnover of 30 times the deposit plus the bonus in order to get access to the bonus. Only this time, we got an interesting addition:
So EFG Brokering did not even bother to change the stock Terms and Conditions they have received from somewhere and put their brand name in them. We hope you have understood by now why this 'broker' is not and cannot be a serious choice.
HOW DOES THE SCAM WORK?
The way such scams work is usually the same.
You are browsing and you see a banner or an ad for the scammer's website promising you enormous profit. So you take a look at the website, think it looks good, and register – after all, who would not want to earn money so easily and quickly. And the scammers promise to make an experienced trader out of you in no time. The moment they acquire your contact info, you will start receiving emails and phone calls asking you to deposit. If you do, you will probably see you are making a lot of money soon – a trick aiming to make you invest more.
Time passes, you have made good money and now you want to withdraw. This is the moment the scammers will start making up wild reasons to delay that withdrawal – usually additional taxes. At some point you will start figuring out something is wrong and at that exact moment, the scammers will stop answering your phone calls.
WHAT TO DO IF SCAMMED?
Remain calm and don't trust any so-called "recovery agents" that say they could retrieve your money if you only paid a small fee. Often enough, these are the same people that scammed you in the first place and even if they are not – that is a whole different type of scam aimed at desperate victims. Your "recovery agent" will disappear as soon as they receive the fee.
What you could do is ask your bank or credit card provider for assistance depending on your deposit method. With credit and debit cards you can file for chargeback within 540 days. Cryptocurrency transactions are non-refundable so don't trust brokers only offering that payment method. Still, be prepared for the worst since such situations are rarely resolved in a happy manner. If you have verified your account, the scammers might use that as a basis for revoking your claim.
Still, make sure to change any passwords or other sensitive information scammers have received. Notify the authorities and spread the word – in your acquaintance circle and online. You can save a lot of people from the awful situation you might have found yourself in.