Beware! Radex Markets is an offshore broker! Your investment may be at risk.
RECOMMENDED FOREX BROKERS
Don't put all your eggs in one basket. Open trading accounts with at least two brokers.
Radex Markets is an offshore branch of Australia-based broker GO Markets. This makes Radex Markets a legitimate broker, unlike the majority of websites we review on. Brokers in highly regulated markets often resort to registering offshore companies in order to compete in emerging markets in Asia and Africa, where they are not subject to the same requirements they have to comply with in their home markets.
But the offshore registration means that Radex Markets has to meet much looser regulatory standards, and that's something you should consider before deciding whether to trust them with your money.
RADEX MARKETS REGULATION AND SAFETY OF FUNDS
The company behind Radex Markets, GO Markets International Ltd, is registered in the Seychelles. This is confirmed by checking the register of Seychelles Financial Services Authority (FSA):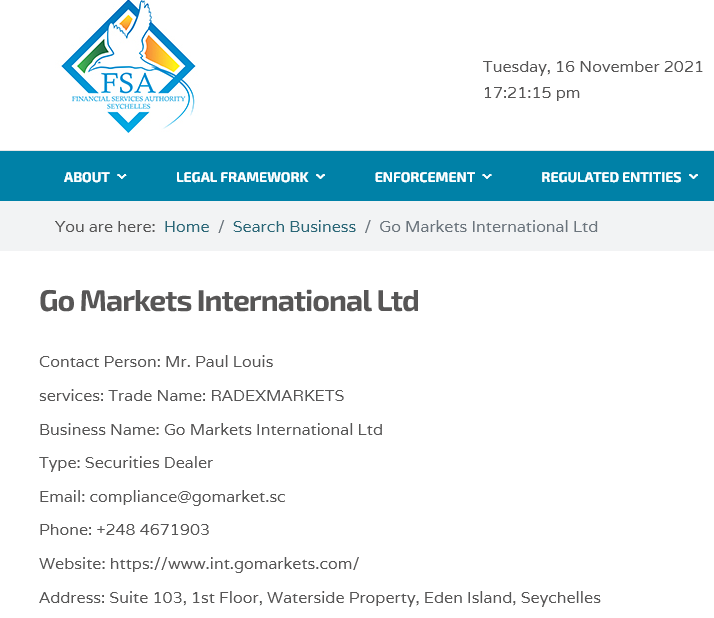 However, brokers licensed in Seychelles must meet significantly lower requirements than brokers in regulated markets such as Australia, the United States, the United Kingdom or the European Union.
In the Seychelles a potential broker is required to incorporate a domestic company with a share capital of just 50 000 USD. By comparison, the minimum net capital that brokers must hold in the EU and the UK is  EUR 730 000. In Australia the minimum capital is AUD 1000 000, and in the US – at least USD 20 000 000. The Seychelles Financial Services Authority also allows these funds to be used in day to day business activities of the broker.
On top of that а broker in the Seychelles can use the same bank account to store clients money, which means that clients money will not be segregated as is the requirement with all brokers regulated in the EU or the USA.
In the EU and the UK, brokers must also participate in guarantee schemes that cover a certain amount of the trader's investment if the broker becomes insolvent.  These guarantees amount to up to EUR 20,000 EU and 85,000 GBP in the UK. An offshore broker like Radex Markets cannot provide similar guarantees to its clients.
RADEX MARKETS TRADING SOFTWARE
Radex Markets offers the most widespread trading platform in the industry – MetaTrader 4 (MT4). Only recently has the newer MetaTrader 5 managed to overtake MT4 in number of users, but the older platform remains the leader in trading volume.
These platforms have established themselves as industry standard because they offer a wide range of features, including a variety of options for customization, multiple account usage, designing and implementing custom scripts for automated trading and backtesting trade strategies.
Here is what Radex Markets MT4 platform looks like:
The platform is available for Windows, Mac as well as Android and iOS mobile devices. According to the Radex Markets website, in the future the broker will also offer a social trading service – the ability to copy the trades of a trader of your choice.
RADEX MARKETS TRADING CONDITIONS
Radex Markets offers two types of accounts – Standard and Raw. The minimum deposit is USD 200, which is comparable to usual industry levels. But it should be noted that there are also many brokers on regulated markets that offer accounts for beginner traders with a low minimum deposit.
The difference between Radex Markets and regulated brokers is clearly visible in the leverage offered – up to 1:500.
In regulated markets such levels are only allowed for professional traders. For retail traders, regulators impose limits of 1:30 in the EU and UK and 1:50 in the US. The reason for this is that while high leverage allows for more significant profits, it also increases the risk of sudden and excessive losses. But in the absence of such regulations in many Asian and African countries, brokers must register offshore companies to compete effectively in these markets.
For the standard account on Radex Market, a spread of 1.1 pip is specified. In the MT4 platform we saw slightly higher levels of 1.2-1.5 pips, but this is still well within the industry norm.
The Standard account description states that Radex Market does not take commissions and only earns on the spread. The Raw account offers lower spreads of 0.0, but has a fixed fee of 2.5 USD per side on standard lot, i.e. 5 USD to open and close a position.
Radex Markets also offers bonuses to clients, which is something that can only be seen with offshore brokers. All major regulators prohibit brokers from using bonuses and promotions to attract clients.
RADEX MARKETS DEPOSIT/WITHDRAW METHODS AND FEES
There is only one method to deposit and withdraw money from a Radex Market account – bank wire transfer.
Most brokers on regulated markets typically offer a wider choice for payment methods, including credit/debit card and popular e-wallets such as PayPal, Neteller or Sofort.
Radex Markets charges withdrawal fees if certain minimum traded volume requirements are not met. These fees are 2.5% of the amount, but not less than 20 USD. An account with a deposit of up to 500 USD must trade 0.1 standard lots, or 10 000 currency units, to avoid having to pay withdrawal fees. With a deposit of more than 8 000 USD, the requirement now becomes 10 lots, or 1 000 000 currency units.
In comparison, with a spread of 1.2 pips, when trading 0.1 lots, the trader will have to pay Radex Markets 1.2 USD. So for a trader with a deposit under 500 USD, it would be more economical to open and close positions for 10 000 currency units than to pay the 20 USD minimum withdrawal fee.
The same applies to an amount of 8000 USD. The withdrawal fee for an 8 000 USD would be 200 USD, which is also almost double the 120 USD the trader would pay to trade 10 lots at that spread.
There is also additional 5 USD bank fee for withdrawals under 100 USD.
BOTTOM LINE
While Radex Markets is more secure and transparent than most of the offshore brokers we describe, its terms are not particularly favorable, especially if you trade smaller amounts.
High leverage opens the door to potentially higher profits, but you should consider very carefully whether it is worth giving up the guarantees you will enjoy as a retail trader when working with a regulated broker. And if you have a lot of capital and experience in trading, again a safer option is to apply for professional trader status with a regulated broker.