Beware! WB Forex is an offshore broker! Your investment may be at risk.
RECOMMENDED FOREX BROKERS
Don't put all your eggs in one basket. Open trading accounts with at least two brokers.
WB Forex is exactly the type of broker you should never trust. Their website only has an aura of legitimacy at first glance – within minutes, you will find out that it is not possible to set up an account or gain any sort of relevant information through that website. We were not impressed with WB Forex's attempt to make us believe that they are legitimate – a lot of scammers do a far better job these days and put in a lot more effort. Don't get fooled by the promises of profit, shiny ECN accounts or transparency – these are regular scammers that were to lazy to even set up a proper scam.
WB Forex REGULATION AND SAFETY OF FUNDS
When it comes to regulations, WB Forex claims to be registered in a small island country in the Pacific called Palau. This might or might not be true as the local financial regulator does not have a register of companies available online. And even if it is true, registering a company alone does not mean that you hold any sort of license or follow any sort of rules. The laws imposes on trading in such countries are generally very liberal or non-existent which is exactly why scammers prefer registering offshore companies. There is no way someone like WB Forex could obtain a license in a country like the UK, Cyprus or Australia where brokers must abide by much sterner laws. This broker has not even provided an actual address or a phone number, just an email and a postbox number somewhere in Palau.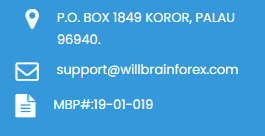 We would not trust someone as anonymous with our money. There is no way of knowing who the people behind this company are or even where it is located. What you should do on such occasion, is ignore the scammers completely and choose a regulated broker instead, preferably one that holds a license somewhere in Europe or Australia. As we mentioned, those brokers have strict regulatory bodies like the FCA (the UK), CySEC (Cyprus) and ASIC (Australia) to answer to. If a broker does not meet certain requirements or do things by the book, they risk losing their license or getting an unpleasant fine. For example, all regulated brokers should keep client deposits in segregated accounts held by third parties. This ensures the broker cannot reinvest your money somewhere else the moment they feel like it. Negative balance protection is a must, as well as the maintenance of a certain minimum capital – €730 000 in the EU and the UK and A1$ million in Australia. This is required of the broker so that they can prove they can survive on markets that are not usually very stable. You should be able to make sure your broker won't go bankrupt the first moment something unfortunate happens and this is why the minimum capital requirement exists.
WB Forex TRADING SOFTWARE
There was some problem with the website so we could not register an account with WB Forex or establish what kind of platform they use. Supposedly, you can trade with 'the world's best trading platforms on your desktop or mobile device' so this might as well be MetaTrader 4 or MetaTrader 5 but there is no way we can be sure of that. We would advise you to look up regulated brokers offering MT if you are interested in that software. Both platforms are more than decent and offer a variety of functions – like Expert Advisors, a built-in economic calendar and the ability to purchase a variety of trading apps on the MT market.
WB Forex TRADING CONDITIONS
Supposedly, WB Forex offers two types of accounts, both of them being a little different from what you would usually expect when it comes to the account types offered by a small broker. They claim to be able to open an ECN account – such accounts grant you direct market access and allow you to see how your offers bring about changes on the market. This is something only top brokers could actually offer you and we have no doubt there is no truth to WB Forex's proposition. The minimum deposit or spreads were not specified but the leverage is said to be 1:100. This is a lot – consider the fact that the leverage allowed in Europe and Australia is currently 1:30. It would be better for you to stick to lower leverage rates if you are still new to trading. High leverage is tempting because it leads to the possibility to make much bigger offers than you would be able to make on your own. This increases the profit you can potentially turn but it is risky – a leverage of 1:100 also increases the possibly of losing a 100 times harder.
The other type of account WB Forex offers is a PAMM account. Such accounts enable you to deposit a certain amount of money and let another person manage your account and decide how to trade. One such manager can manage multiple accounts at the same time. We don't need to explain why letting someone like WB Forex assign a manager to your account would be an awful idea. You won't be able to earn any money this way because the scammers will probably make sure your account is emptied in no time.
WB Forex DEPOSIT/WITHDRAWAL METHODS AND FEES
No information was available on deposit or withdrawal methods or additional fees. We looked through the Terms and Conditions but WB Forex barely gave any useful data on these topics there. And besides, it is an awful idea to deposit with an anonymous offshore broker like WB Forex so make sure to look up a list of licensed brokers and choose one of them instead.
HOW DOES THE SCAM WORK?
The way such scams work is usually the same.
You are browsing and you see a banner or an ad for the scammer's website promising you enormous profit. So you take a look at the website, think it looks good, and register – after all, who would not want to earn money so easily and quickly. And the scammers promise to make an experienced trader out of you in no time. The moment they acquire your contact info, you will start receiving emails and phone calls asking you to deposit. If you do, you will probably see you are making a lot of money soon – a trick aiming to make you invest more.
Time passes, you have made good money and now you want to withdraw. This is the moment the scammers will start making up wild reasons to delay that withdrawal – usually additional taxes. At some point you will start figuring out something is wrong and at that exact moment, the scammers will stop answering your phone calls.
WHAT TO DO IF SCAMMED?
Remain calm and don't trust any so-called "recovery agents" that say they could retrieve your money if you only paid a small fee. Often enough, these are the same people that scammed you in the first place and even if they are not – that is a whole different type of scam aimed at desperate victims. Your "recovery agent" will disappear as soon as they receive the fee.
What you could do is ask your bank or credit card provider for assistance depending on your deposit method. With credit and debit cards you can file for chargeback within 540 days. Cryptocurrency transactions are non-refundable so don't trust brokers only offering that payment method. Still, be prepared for the worst since such situations are rarely resolved in a happy manner. If you have verified your account, the scammers might use that as a basis for revoking your claim.
Still, make sure to change any passwords or other sensitive information scammers have received. Notify the authorities and spread the word – in your acquaintance circle and online. You can save a lot of people from the awful situation you might have found yourself in.