Recommended broker
OctaFX Indonesia is operated by Octa Markets Incorporated, an IBC registered in Saint Vincent and the Grenadines. In this case, the company is taking advantage of the looser regulations outside of Europe (where the broker is also operating and holds a license from CySec) and aims to offer more attractive conditions to clients. This is hardly the only broker that has ever done that – it is more difficult to remain competitive and attract clients when in Europe, there are countless restrictions that prevent brokers from offering the tempting terms offshore brokers could have in store for clients.
These restrictions do exist to ensure the clients safety but if you would still prefer to trade with an offshore broker and get access to high leverage, bonuses and other perks that European brokers could not legally offer you, OctaFX Indonesia is a far better choice than most. Unlike the anonymous offshore brokers OctaFX Indonesia would not just run off with all your deposit money the moment they get access to it – because they are still a brand. So if you want to take advantage of trading with high leverage and get a big bonus on deposit, OctaFX Indonesia is a good choice.
OctaFX Indonesia REGULATION AND SAFETY OF FUNDS
OctaFX Indonesia is managed by Octa Markets Incorporated, a company established as a company in 2011 in Saint Vincent and the Grenadines. This is the location from where their offshore branch is still operating – Suite 305, Griffith Corporate Centre, Beachmont, Kingstown, St. Vincent and the Grenadines. The Saint Vincent and the Grenadines Financial Services Authority does not regulate forex brokers which means the company does not hold any license in the country where it is registered. This would typically be a huge warning sign but such is not the case with OctaFX Indonesia.
The company was licensed by the FCA and started offering financial services on the UK market as OctaFX UK. They are no longer authorized to offer services in the UK since the license has not been renewed but you can still find them in the FCA register as a broker that once has been regulated.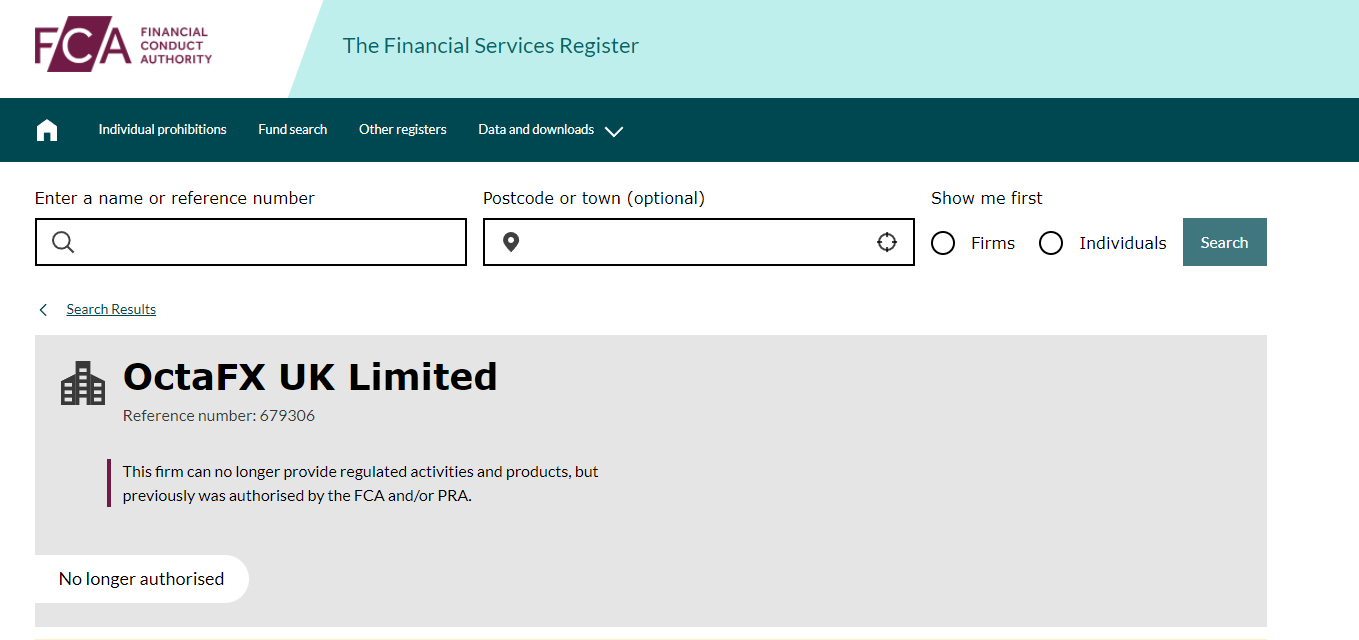 In 2017, they decided to move to Cyprus and obtain a CySEC license. Since than, the regulated branch of the company, OctaFX EU, has been operating exclusively from there.
So unlike scammers, this broker holds licenses elsewhere and does have a good brand reputation to maintain, they just happen to have an offshore branch. They still offer some of the protections available to European clients like negative balance protection and segregated accounts for client deposits. This means the broker cannot do what they please with your money once you have deposited because funds are held by a third party and the broker has very limited access to them.
As we mentioned, working with an offshore broker often comes with better terms, especially if you are an experienced trader, but if you are new to that world and live in the EU, you might still opt for the Cyprus branch of the company. You won't get the same tempting leverage and bonuses but there are some perks. For example, CySEC-regulated brokers participate in compensation schemes and you claim up to €20 000 if a broker goes bankrupt. Additionally, all EU brokers must maintain a minimum capital of €730 000. Consider your situation and what is important to you while trading before choosing where to open an account.
OctaFX Indonesia TRADING SOFTWARE
OctaFX Indonesia offers the two best platforms in the industry – MetaTrader 4 and MetaTrader 5 – as well as their own mobile copy-trading app. The broker made a detailed comparison between MT4 and MT5 on their website to let you decide for yourself which platform would suit you better. Both versions of the software offer both an easy-to-navigate interface and some great features.
On both platforms you will be able to use pre-programmed Expert Advisors or create you own with the platform's respective coding language. You can later test your strategy in a demo account or through back-testing. test Both offer VPSs that keep EAs operating even with you computer turned off. The main difference is that the newer MT5 offers slightly more trading tools and more advanced charting options, as well as a built-in economic calendar. Take a look at MT5 here:
The OctaFX app is still only available for Android but it seams to be fairing incredibly well – it has 5.0 stars by 30 000 traders. It is one of those trading apps that allow you to manage your account on the go and as such, it is pretty easy to use. It is mostly used for copy trading – you can either copy someone else's trades or become a 'master trader' yourself – let people copy your traders and earn money through that. Give the app a try if you are not interested in detailed analysis but still want something functional and good-looking.
OctaFX Indonesia TRADING CONDITIONS
You can choose between two different account types with OctaFX Indonesia, the main difference between them being that one uses MT4 and the other – MT5. The MT4 account ('Regular Trader' account) is swap-free but the company charges an additional commission because of that. As mentioned, it offers fewer instruments – 47 against 53 available on the 'Smart Trader' MT5 account. The maximum trading volume is also lower for MT4 – 200 lots versus 500 lots on MT5.
The minimum deposit for an account is just $25 which is more than fine although the broker does advise you to deposit a bit more.
Leverage on both accounts is 1:500 for forex, 1:200 for metals, 1:100 for energies, 1:50 for indices and 1:25 for cryptocurrencies. Such high leverage would be illegal in the UK or the EU where the permitted rate is up to 1:30 for forex majors, 1:20 for forex minors, gold and major indices, 1:10 for commodities other than gold and non-major indices, 1:5 for individual equities and 1:2 for Cryptocurrencies. This is exactly one of the more attractive conditions we had in mind earlier – many traders would be tempted by the big profits high leverage promises. You can indeed earn a lot of money through high leverage – but you can also lose big time so you should consider your previous knowledge and the capital you have before setting your default leverage to 1:500. The broker does however offer the option of choosing far lower leverage.
The spreads were said to be around 0.6 pips on average for the EURUSD pair. The platforms itself showed 0.7 pips which is a completely neglectable difference is actually a pretty good offer considering the industry average is 1.5 pips. In addition, the website had a part that shows the average and current spreads on every pair.
OctaFX Indonesia DEPOSIT/WITHDRAWAL METHODS AND FEES
There are supposedly multiple deposit and withdrawal methods available with OctaFX Indonesia. You can use Perfect Money, Skrill, Neteller, MasterCard as well as various cryptocurrencies. The problem was that we could only use said cryptocurrencies plus Perfect Money to deposit. This is far from ideal – while cryptocurrency deposits are free from commission, you should also know that they are irreversible which means you won't be able to change your mind about depositing later.
OctaFX Indonesia BONUSES AND PROMOTIONS
Additionally, it is not illegal for OctaFX Indonesia to offer you a 50% bonus upon each deposit as it would be for a UK or EU broker. The bonus can be a bit lower – 20% or 30%. To access the deposit bonus, you would have to reach a certain turnover – if you have deposited $200, for example, and claimed a $100 bonus, you could withdraw that bonus if you reached a turnover of 50 standard lots (500 000 currency units in our example). The required turnover size is said to be the bonus amount/2 standard lots.
There is also a 'Status Program' allowing you to 'level up' your account for a fee – those fees start from $5. With that program, you get access to additional features – like round the clock customer support, faster bonus withdrawal, lower spreads and real-time trading signal by Autochartist – OctaFX Indonesia's automated trading system. The bigger the fee you pay, the more features you get access to.
You can even participate in trading competitions with OctaFX Indonesia and get awards. If you are the trader with the highest balance by the time the competition ends, you can get up to $500.
BOTTOM LINE
If you are looking for a broker offering attractive conditions and great trading platforms, OctaFX Indonesia might be the choice for you. You will get access to high leverage, thigh spreads and far less fees than you would find on an European brokers Terms and Conditions. Don't be put off by their offshore status – this is a legitimate company that opted to offer more opportunities to clients through an offshore branch. Finally, the broker themselves warns against a few scam companies using similar names so make sure you are not dealing with one of them but with the actual OctaFX Indonesia first.