Beware! TRP Forex is an offshore broker! Your investment may be at risk.
RECOMMENDED FOREX BROKERS
Don't put all your eggs in one basket. Open trading accounts with at least two brokers.
TRP Forex claims to be a leading provider of financial services who offers trading in currencies, CFDs and cryptocurrencies. However, a closer inspection reveals that this is not a licensed broker, and that the website is full of false and misleading information. TRP Forex is yet another scam and should be avoided.
TRP FOREX REGULATION AND SAFETY OF FUNDS
According to the "About Us" section of the website, a company called TRP Financial Limited  is behind it. There are no Terms and Conditions, Privacy Policy or other required legal documentation. The only method of contact is via email.
The listed address of the company is in Maryland, United States:
To operate as a forex broker in the United States, a company must be registered as a futures commission merchant and foreign exchange dealer with the Commodity Futures Trading Commission (CFTC) and to be a member of the National Futures Association (NFA). But there is no company named TRP Financial Limited among NFA members:
The "About" menu on the TRP Forex trading platform lists another company address in Hong Kong:
We check the register of this jurisdiction's financial regulator, Hong Kong Securities and Futures Commission (SFC). TRP Financial Limited is not listed there, so it is not a licensed broker in Hong Kong either.
In the footer of the website as well as in the registration form another company name is visible – T. Rowe Price. There is a company with a similar name in the USA – T. Rowe Price Group, but it is not a broker, but an investment management firm. More importantly, the official website of T. Rowe Price Group is different from that of TRP Forex.
Apparently, TRP Forex employs a tactic used by the most brazen scammers – using the name of a legitimate business to fool their potential victims. But it is beyond any doubt that TRP Forex is not a legitimate broker and under no circumstances should you trust them with your money.
You should only trust legitimate brokers operating in one of the established financial centres like the UK, EU, USA or Australia. There, the activities of brokers are controlled by powerful regulatory bodies such as Financial Conduct Authority (FCA), Cyprus Securities and Exchange Commission (CySEC), Commodity Futures Trading Commission (CFTC) and Australian Securities and Exchanges Commission (ASIC). Clients of these brokers receive protections such as negative balance protection and segregation of the client's funds from the broker's funds.
In the EU and the UK, brokers must also participate in guarantee schemes that cover a certain amount of the trader's investment if the broker becomes insolvent. These guarantees amount to up to 20 000 EUR in the EU and 85 000 GBP in the UK. However, the likelihood of such a bankruptcy is low because regulators also have significant net capital requirements that companies must maintain – EUR 730 000 in UK and Cyprus, AUD 1000 000 in Australia and at least 20 million USD in the United States.
Ironically, although TRP Forex hides behind fake names, they are very careful that their potential victims have a proven identity. Registering an account requires attaching a copy of ID. There appears to be some verification of the authenticity of the attachment, which is why our attempts to create an account were rejected.
TRP FOREX TRADING SOFTWARE
TRP Forex states that it offers "an elite trading platform". After downloading the installation file, it becomes clear that it is MetaTrader 5 (MT5) – one of the most widely used software in the industry.
However, due to the inability to create an account, we were unable to verify what parameters were set in the TRP Forex platform. But given that TRP Forex are obvious scammers, they offer no real trading and the values in the trading platform have no real meaning.
It is advisable to contact one of the many legitimate brokers that offer MT5 or the still very popular MT4. These platforms have established themselves as leaders because they offer a wide range of features, including a wide variety of options for customization, multiple account usage, designing and implementing custom scripts for automated trading and backtesting trade strategies.
TRP FOREX TRADING CONDITIONS
TRP Forex website describes only one type of trading account, although it claims that this is the "most recommended" option: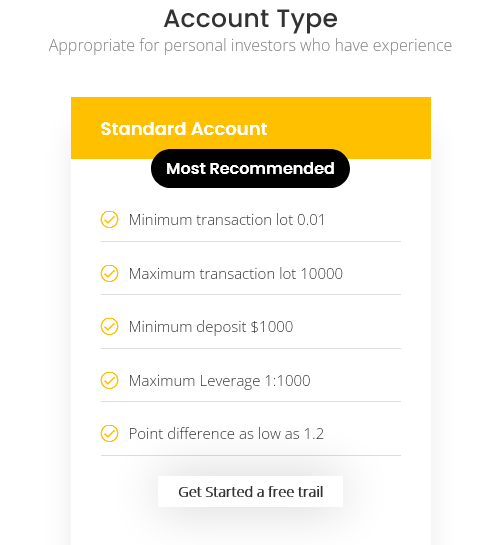 The minimum deposit is 1000 USD. In comparison, many legitimate brokers offer micro accounts for novice traders with a minimum deposit of 100 USD or even less.
TRP Forex claims to offer trading with leverage of 1:1000. These are levels that cannot be seen at regulated brokers and even at most offshore brokerage firms. High leverage creates opportunities for more significant gains, but carries a corresponding increased risk of excessive losses. All leading regulators therefore restrict leverage for retail traders. In the US, the maximum leverage is 1:50 for trading major currency pairs and even lower levels for more volatile assets. In the EU and UK, the maximum limit is 1:30.
The spread quoted on the TRP Forex  website is 1.2 pips, which is in line with usual industry levels. But as already noted, these parameters mean nothing when you're dealing with scammers.
TRP FOREX DEPOSIT/WITHDRAW METHODS AND FEES
According to the information on the website, TRP Forex accepts dollar deposits via bank wire transfer. The other option is to deposit in Chinese Yuan via the UnionPay platform. After the initial deposit of 1000 USD, the minimum amount for subsequent deposits is 100 USD.
As TRP Forex does not have Terms and Conditions and other legal documentation, there is no information available on other fees and conditions for withdrawal.
HOW DOES THE SCAM WORK
With all the buzz surrounding skyrocketing prices of cryptocurrencies, many people are starting to consider investing in the financial markets as a bid to improve their fortunes. Scammers on the internet have taken notice of that and take advantage of the ignorance of the general public by creating countless websites posing as brokers. These websites offer no real brokerage services and only deceive people into believing that their money is really being invested.
If you come across such a scam website and give out your contacts, you will be contacted by experienced scammers who will convince you that they can take on all the frighteningly complex aspects of investing for you. But you will never get any real profits, nor will you be able to get back the money you deposited. The terms and conditions of these websites are riddled with clauses that make withdrawing funds from your account unfeasible – for example, extremely high minimum trading volume requirements or hefty fees of 10%, 20% or even more of the amount.
Scammers hide behind fake addresses and names and operate through offshore companies that are not subject to regulation and scrutiny. So even if all the withdrawal requirements are met, they may simply disappear and move on to their next fraudulent scheme.
WHAT TO DO WHEN SCAMMED
It is very important not to rush into trusting people on the internet who offer to magically refund your money for a fee. These are also scammers, and they may even be the same ones who scammed you in the first place.
If you have made the transfers using credit or debit card, you can claim a chargeback. Visa and MasterCard allow this to be done within 540 days. However, such a request may not be approved if you have given the fraudsters documents such as a copy of an ID and proof of address. This will allow them to claim that the transaction is legitimate and approved by both parties.