Beware! Hui Deli Global Limited is an offshore broker! Your investment may be at risk.
RECOMMENDED FOREX BROKERS
Don't put all your eggs in one basket. Open trading accounts with at least two brokers.
Hui Deli Global Limited presents itself as a broker with "good market reputation" who operates in Asia and Oceania. However, careful inspection shows that this is a very suspicious and unprofessional looking website that does not have the necessary credentials to provide brokerage services.
Hui Deli Global Limited shows many symptoms of a typical fraudulent scheme and should be avoided.
HUI DELI GLOBAL LIMITED REGULATION AND SAFETY OF FUNDS
The default website is in Japanese, with versions in Korean, Russian and English. There is a disclaimer that Hui Deli Global Limited does not offer its services in China, North Korea and Cuba.
However, there is no address listed anywhere on the website. The only contact information provided is an email. Also missing is any legal documentation such as Terms and Conditions and Privacy Policy.
Only in the "About" menu of the Hui Deli Global Limited trading software can an address be seen – in London, United Kingdom: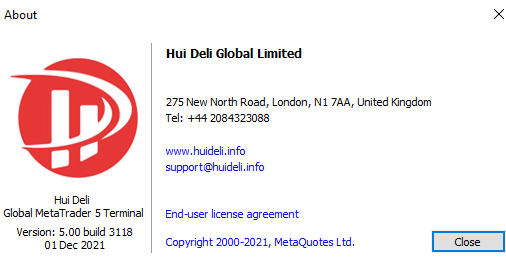 In the general register of companies in the UK, there is indeed a company with that name – owned and managed by a Vietnamese. However, this company is not a broker.
In order to operate a brokerage business from within the UK, a company must be licensed by the Financial Conduct Authority (FCA). However, a check of the regulator's register shows that Hui Deli Global Limited does not have such a licence:
On the website one can read claims that Hui Deli Global Limited ensures the safety of the clients funds through "Australian financial instrument market regulations":
But for this to be true, Hui Deli Global Limited  must be licensed by the Australian Securities and Exchanges Commission  (ASIC). However, the company is not on the Australian regulator's database.
Hui Deli Global Limited claims to work with the Australian Macquarie Bank and to ensure segregation of client funds into a separate account from company money. Another claim on the website is that Hui Deli Global Limited is  a member of an unspecified  investor compensation fund, thus clients are entitled to compensation in the event that the broker is unable or fails to meet its financial obligations.
However, Hui Deli Global Limited's website and the records of the regulators provide no evidence that these claims are true.
If you have decided to start trading in the financial markets, you should avoid questionable sites like Hui Deli Global Limited. If you really want to benefit from such guarantees for your funds, you should turn to one of the brokers licensed and supervised by regulatory bodies such as Financial Conduct Authority (FCA), Cyprus Securities and Exchange Commission (CySEC), Commodity Futures Trading Commission (CFTC) and Australian Securities and Exchanges Commission (ASIC).
In the EU and the UK, brokers are required to participate in guarantee schemes that cover a certain amount of the trader's investment if the broker becomes insolvent. These guarantees amount to up to 20 000 EUR in the EU and 85 000 GBP in the UK. The likelihood of such a bankruptcy is low because regulators also have significant net capital requirements that companies must maintain – EUR 730 000 in UK and Cyprus, AUD 1000 000 in Australia and at least 20 million USD in the United States.
It should also be noted that when registering an account, Hui Deli Global Limited requires not only a copy of both sides of an ID, but even a copy of both sides of a bank card:
This is not a standard practice to say the least. This would give the people behind this dubious website access to even the security code of your bank card.
HUI DELI GLOBAL LIMITED TRADING SOFTWARE
Despite its overall shadiness, Hui Deli Global Limited has actual trading software – MetaTrader 5 (MT5). Since Hui Deli Global Limited does not provide login credentials to a live trading server, we were able to test the functionality of the platform with a demo account only. Here's what Hui Deli Global Limited's MT5 looks like:
It is advisable to contact one of the many legitimate brokers that offer MT5 or the still very popular MT4. These platforms have established themselves as leaders because they offer a wide range of features, including a wide variety of options for customization, multiple account usage, designing and implementing custom scripts for automated trading and backtesting trade strategies.
HUI DELI GLOBAL LIMITED TRADING CONDITIONS
Hui Deli Global Limited does not offer different account types, as is the standard practice among brokers. According to the information available on the website, the minimum deposit is 1,000 USD. In comparison, many licensed brokers offer starter accounts for novice traders with a minimum deposit of just 100 USD or even less.
The leverage levels specified are between 1:100 and 1:200. This is also evidence that Hui Deli Global Limited is not a broker licensed in Australia or the United Kingdom. High leverage creates the opportunity for more significant profit, but correspondingly increases the risk of sudden and excessive losses. All leading regulators therefore restrict leverage for retail traders. The FCA, like EU regulators, limits leverage to 1:30 for trading in major currency pairs and even lower levels for more volatile assets. The same rules currently apply to Australia.
Nowhere on the website is there information on other key trading metrics such as spreads and commissions. The MT5 platform shows a very low spread of 0.1 pip, but as noted, this only applies to a demo account.
HUI DELI GLOBAL LIMITED DEPOSIT/WITHDRAW METHODS AND FEES
There is no information on the Hui Deli Global Limited website about the payment methods available, nor about fees and conditions for depositing and withdrawing funds.
The deposit menu in the customer portal is not active if the customer's identity is not verified – and as noted, the verification process requires excessive bank card information. Such a lack of clarity is also a signal that this is not a legitimate business, but some type of scam.
HOW DOES THE SCAM WORK
The online space is full of ads promising easy money. They sound too good to be true, because they are not – they are outright scams. Many of these fraudsters pose as brokers and take advantage of the general public's ignorance of the capital markets.
If you give your contacts to one of these scammers, they will start convincing you that they will multiply your money, with nothing required of you but to sit back and take profits. If you agree to an initial investment of a few hundred dollars, they will start persuading you to invest more and more.
But you will never get the promised profits or the money you deposited. Scammers have many ways to ensure this. First of all, they are hidden behind offshore companies, not subject to controls and regulations. For the money transfers they use shady payment platforms, direct bank transfers or cryptocurrencies that make recovering money very difficult and often impossible. The terms and conditions are always riddled with traps that also block your ability to withdraw your money, such as prohibitively high minimum trading volume requirements or withdrawal fees amounting to tens of percentages of your funds.
WHAT TO DO WHEN SCAMMED
Recovering money you have given to fraudsters is difficult and often impossible. Fraudsters always want you to provide them with documents such as a copy of your ID and proof of address so that they can claim that it is a legitimate transaction, agreed voluntarily between both parties. If the transaction is made by credit or debit card, you can request a cashback and hope for the best, but transactions via wire transfer or cryptocurrencies are not refundable.  It is important not to trust online offers from people who offer to recover your money in exchange for an upfront payment, because this is also a well-known scam.