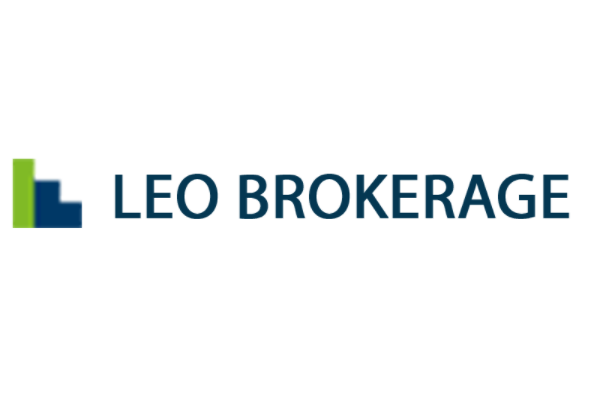 Beware! Leo Brokerage is an offshore broker! Your investment may be at risk.
RECOMMENDED FOREX BROKERS
Don't put all your eggs in one basket. Open trading accounts with at least two brokers.
To be completely frank, Leo Brokerage's website looks like someone woke up one day and decided to create a supposed broker's website without providing any sort of essential information or even bothering to put together any sort of Terms and Conditions, and was curious to see how many people would trust such a scheme. There is literally nothing on the website other than Leo Brokerage's boasting – they claim to be " World's Leading investment network" offering "cutting-edge, intuitive investment platform", copy-trading and trading crypto. That is all you will be able to learn about the company – a few short sentences meant to attract inexperienced people. Leo Brokerage could not be further away from a legitimate broker and you should not, under any conditions, trust these scammers with your funds.
Leo Brokerage REGULATION AND SAFETY OF FUNDS
You will find no possible way to get in touch with Leo Brokerage other than an email and a phone number in Texas. If you want to know their address, they would kindly let you know that they don't have one – because they are an international broker.
We have reviewed many international companies and all of them have provided an address – sometimes multiple.
If you are curious about the people behind Leo Brokerage, their CEO is supposedly called Albert Duffo – and signs as Petterson. We could not find any records on such a person which leads us to believe they are completely made up.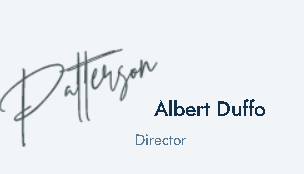 In some sections of the website, Leo Brokerage claims to be a leading US broker – which, we can assure you, is impossible as there are only a handful of brokers operating on the US market due to strict regulations in the country. Working with a reliable, licensed US broker is indeed a good idea – since the US regulator, NFA is one of the strictest in the world. US companies have to maintain a minimum capital of $20 million – an enormous amount considering the fact that the minimum capital requirement in the EU and the UK is just €730 000. If an unexpected event takes place on the markets, licensed brokers should be well-capitalized enough to prove that they would be able to survive. Client deposits are to be kept in segregated accounts – which means the broker cannot reinvest your money if they for some reason decide to do so. US brokers are subject to the FIFO rule (first in, first out) which basically makes hedging impossible. Simply put, this means that a client cannot have more than one open position of the same size on the same pair and the same time – if they do, they are obligated to close older positions.
Working with a regulated broker is the safe, smart thing to do – otherwise, you might be sorry later. Make sure the broker you have chosen is licensed by a reputable financial authority – you can easily check the registers of regulators like the NFA, the FCA, ASIC, and CySEC.
Leo Brokerage TRADING SOFTWARE
On the website, Leo Brokerage claims to be using the established platform MT4. We could not find a download link for MT4 anywhere though – even after registering an account. We only managed to get access to the broker's client area and to TradingView – hardly a trading platform, as you might imagine.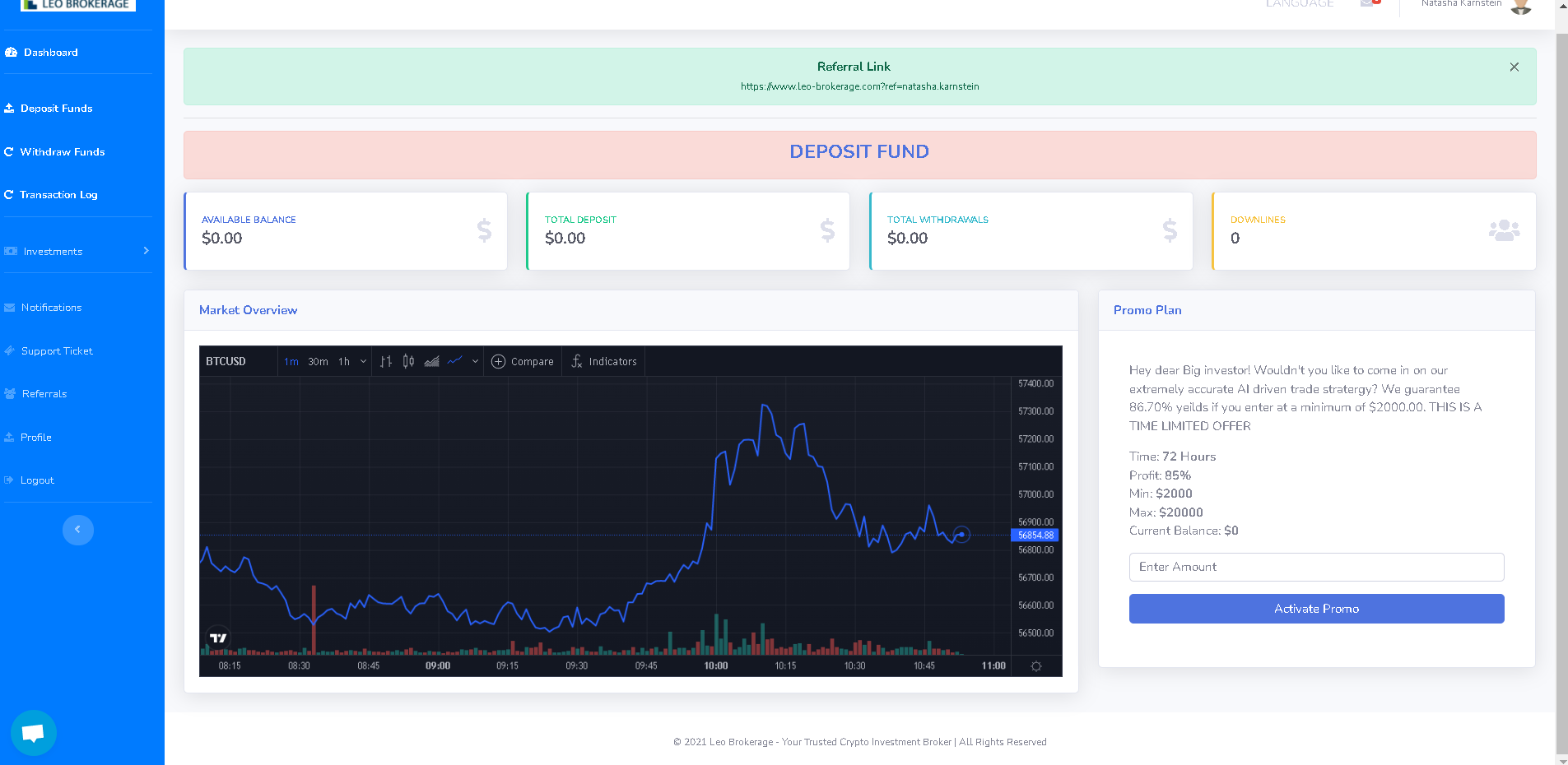 Better choose a broker that can offer you some kind of actual trading software – preferably MetaTrader 4 or MetaTrader 5. Both platforms offer a variety of great features – from Expert Advisors and the ability to subscribe to successful traders' signals for a monthly fee of around $30-$50 to the possibility of creating your own trading bots and indicators with the platforms' coding language. It is not surprising that MT has become such a trading staple and if you are looking for some functional, easy-to-use trading software, don't hesitate to look up brokers offering MT4 or MT5.
Leo Brokerage TRADING CONDITIONS
We don't have a lot to talk about regarding Leo Brokerage's trading conditions – because they literally said nothing. We only figured out that the initial deposit is $50 upon manually trying to deposit different sums to see which one would not be too low – otherwise, they made no mention of deposits or account types. $50 is a very reasonable amount for a basic account but there is a ton of legitimate brokers that could offer you a price of that sort – or an even better one.
Spreads and leverage were not mentioned anywhere either. Usually, with a legitimate US broker, we would expect to see leverage of up to 1:50 – since this is the ratio permitted by law. This number is not even that low considering the leverage restrictions in the EU and UK – 1:30, in Japan – 1:25, and in Turkey – 1:10. Restrictions on leverage exist to protect clients from the risks high leverage could pose –  your capacity to make offers grows immensely with high leverage and this could mean one of two things – huge profits or huge losses. So it might be smarter for inexperienced traders to set their leverage lower – since most legitimate brokers let you choose what leverage you trade with as long as it corresponds with local laws and the broker's own conditions. But since Leo Brokerage is not a legitimate US broker, we can only make guesses here.
We also found an interesting promo offer Leo Brokerage has in store for you – invest at least $2000 in their AI-driven strategy and they could guarantee returns of 86.7%. A ridiculous offer considering the fact that no legitimate broker would ever guarantee you such a fixed returns percentage.
Leo Brokerage DEPOSIT/WITHDRAWAL METHODS AND FEES
The only way to deposit and withdraw money with this broker is via two cryptocurrencies – Bitcoin and Ethereum. This is a huge red flag as legitimate brokers usually have far more payment methods – and it is never just crypto. Cryptocurrency transactions are practically irreversible which means that if you have invested any money with the scammers, you would have to rely on their goodwill if you ever want to see that money again. And that, as we have already established, would not be an option since Leo Brokerage was created with the very aim to free you of your savings.
HOW DOES THE SCAM WORK?
It is amazing how simple such scams are and how alike they work.
It all starts with you are casually browsing on the Internet and seeing an ad for the scammer's website. You are quickly impressed by the promises of an additional income and the possibility to make your life a little more like those of the rich and powerful. So you make a registration – after all, who would not want to earn a little extra so easily and without a lot of effort. The moment the scammers get access to your phone and email, they won't leave you alone before you deposit. If you do, you will probably see you are turning into a master trader soon, beating all odds and earning even more than you expected – a trick aiming to make you invest more.
Time passes and you decide to withdraw. This is the moment one of two things will happen – the scammers will start making up additional taxes and reasons why you cannot withdraw just yet. If they don't stop answering your phone calls immediately, that is – and that always happens at some point.
WHAT TO DO IF SCAMMED?
Don't trust any so-called "recovery agents" that claim they could get your money back in no time. They will require a fee for that and disappear as soon as they receive that payment. This is a whole other type of scam taking advantage of desperate victims.
The reasonable thing to do is to ask your bank or credit card provider for help. With credit and debit cards, chargebacks are possible within 540 days. Cryptocurrency transactions are non-refundable so beware of any broker urging you to use that specific payment method. And don't get your hopes up because unfortunately such situations rarely get a happy ending. If you have verified your account by sending a picture of a personal document or proof of address, the scammers might try to revoke your claim and say you have done everything voluntarily.
Make sure to change any passwords the scammers have received, notify the authorities, and let other people know about such scam – post about it online and don't let others get lied to in the same way.