Beware! TNXTrade is an offshore broker! Your investment may be at risk.
RECOMMENDED FOREX BROKERS
Don't put all your eggs in one basket. Open trading accounts with at least two brokers.
TNXTrade's website greets us with the grandiose claims that it is "the world's #1 broker," with more than 15 years of experience and serving more than a million clients in 170 countries. Such implausible boasts are always cause for doubt.
Claims that this is a "truly global broker" are self-refuting – the website does not open from countries with more serious regulatory requirements. Careful inspection quickly reveals that TNXTrade is nothing of what it claims to be. Behind this website is a shady offshore company whose goal is to cheat you out of your money. This is why you should stay away from TNXTrade.
TNXTRADE REGULATION AND SAFETY OF FUNDS
In poor English, the website states that the legal company behind it is called Smart Technology Services LTD. This company is said to be registered in the Marshall Islands:
Elsewhere on the website one can see the curious claim that "TNXTrade complies with the industry's strictest regulatory requirements of Marshall Islands Finance Services". The Marshall Islands has no regulatory requirements whatsoever – this offshore zone has no financial regulator. The Marshall Islands is also a jurisdiction where you can register a company online without even having to set foot in the country.
Inexplicably, on the main page of the website can be seen the name and logo of the Financial Services Authority (FSA) of St. Vincent and the Grenadines, the financial authority in another offshore area that also does not regulate brokers.
A UK address and contact telephone number can also be seen on the website. To operate there, a broker must be licensed by the UK's Financial Conduct Authority (FCA). Not surprisingly, no broker with the name Smart Technology Services can be found on the regulator's register.
Obviously, TNXTrade is not a licensed broker, is not subject to any regulation and your money will not be safe there.
You should only trust legitimate brokers operating in one of the established financial centres like the UK, EU, USA or Australia. There, the activities of brokers are controlled by powerful regulatory bodies such as Financial Conduct Authority (FCA), Cyprus Securities and Exchange Commission (CySEC), Commodity Futures Trading Commission (CFTC) and Australian Securities and Exchanges Commission (ASIC). Clients of these brokers receive protections such as negative balance protection and segregation of the client's funds from the broker's funds.
In the EU and the UK, brokers must also participate in guarantee schemes that cover a certain amount of the trader's investment if the broker becomes insolvent. These guarantees amount to up to 20 000 EUR in the EU and 85 000 GBP in the UK. However, the likelihood of such a bankruptcy is low because regulators also have significant net capital requirements that companies must maintain – EUR 730 000 in UK and Cyprus, AUD 1000 000 in Australia and at least 20 million USD in the United States.
TNXTRADE TRADING SOFTWARE
TNXTrade claims to offer a custom, award-winning trading platform called TNX Mobius.  This is just another lie. There is no link to this software on the website, only stock images of other well known trading platforms.
After creating an account and logging into the client portal we also do not find the promised platform. Only after we click on a menu titled "Options" does a web-based binary options platform open up: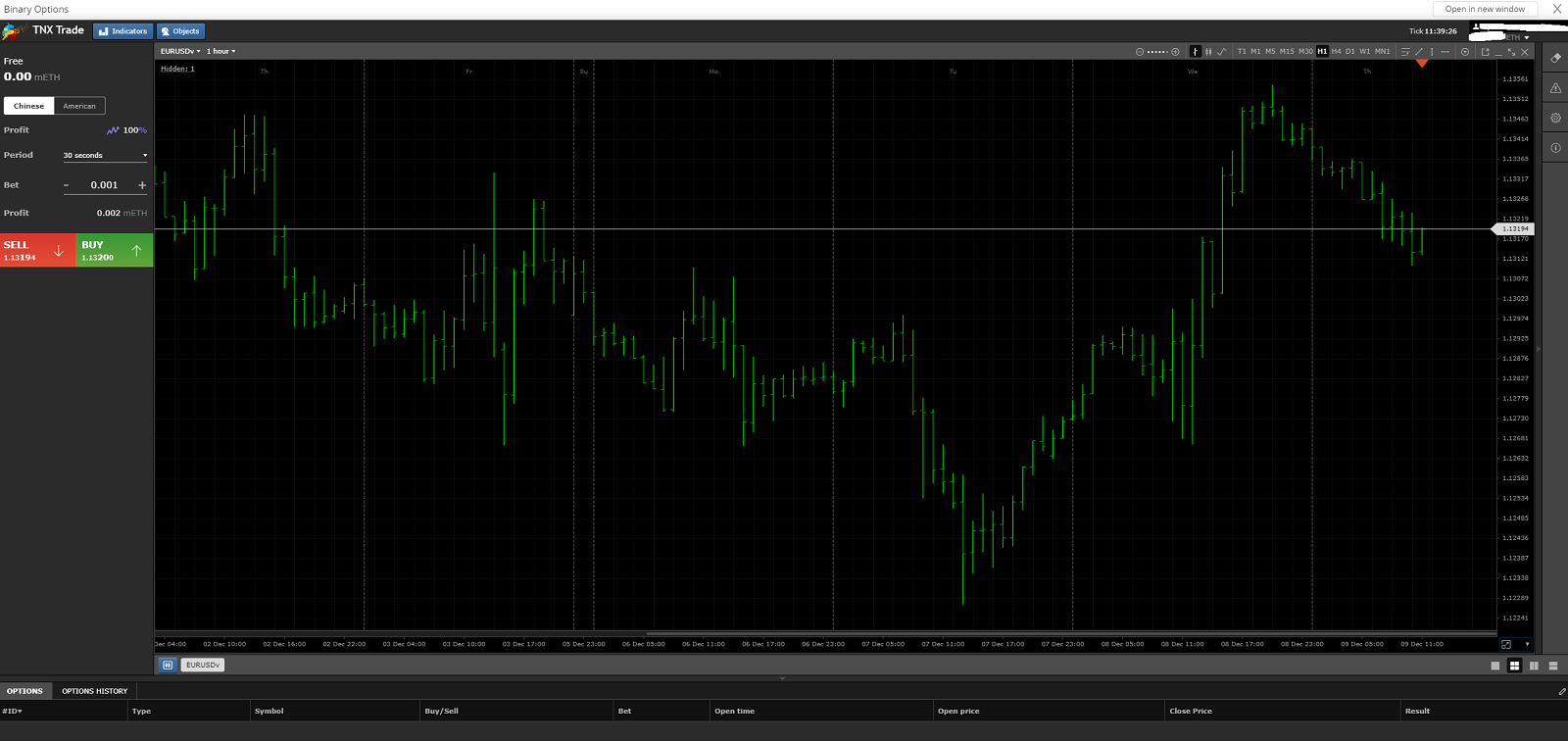 Nowhere on TNXTrade's website is there any mention of binary options – on the contrary, it explicitly states that TNXTrade offers CFD trading. Binary options trading is also banned by regulators in the UK, EU and Australia because it has been linked to a number of fraudulent practices.
The options menu on the platform allows you to change the currency used between Dollar, Bitcoin and Ethereum. There is also an unexplained option to choose between "American" and "Chinese" binary options.
Legitimate brokers offer clients a wide selection of trading software, including desktop, mobile apps and web-based platforms. The most widely used platforms in the industry are MetaTrader 4 (MT4) and MetaTrader 5 (MT5). These platforms have established themselves as industry standard because they offer a wide range of features, including a variety of options for customization, multiple account usage, designing and implementing custom scripts for automated trading and backtesting trade strategies.
TNXTRADE TRADING CONDITIONS
Among the many unbelievable claims on the TNXTrade website is that this alleged broker "is an advocate of the adoption of more transparent and ethical practices across the online trading industry".
There is no information on the website about trading parameters – spread, leverage, swap, commissions, etc. Only from the deposit menu it can be seen that the minimum deposit amount is 100 USD. It would be far more reasonable to open a micro account with a legitimate broker with the same amount.
The strange binary options trading platform shows payout levels of 90% and even 100%. Again, this is implausible – the usual levels for this type of financial instrument are between 80% and 90%. But these rates have no real meaning because TNXTrade offers no real trading, be it binary options or otherwise.
TNXTRADE DEPOSIT/WITHDRAW METHODS AND FEES
Like many other scam websites, TNXTrade uses only cryptocurrencies. A credit card option can be seen in the deposit menu alongside them, but an error message comes up when you select it.
Scammers prefer cryptocurrencies because these transactions are not subject to refunds. While there are some legitimate brokers that accept Bitcoin, they do so alongside other transparent payment methods such as credit/debit card, bank transfer or popular e-wallets like PayPal,  Sofort or WebMoney.
HOW DOES THE SCAM WORK
Stories of people getting rich from cryptocurrencies tempt many to try their luck in the financial markets. But you have to be very careful not to fall into the clutches of the many scammers lurking in the online space. These scammers only pose as brokers and lure you in with promises to take on the confusing aspects of investing for you.
If you make contact with such scammers they will first convince you to give them a small initial sum of a few hundred dollars. They may even fool you for a while that your investment is generating incredible profits to convince you to give them a larger amount. But your money won't really be invested. And when you try to withdraw your supposed profits or even your deposit, you will find that it is impossible.
The scammers may tell you that all your investments have been lost by a sudden change in the market. Or they'll point you to clauses hidden in their Terms and Conditions that say withdrawing your money is only possible after you meet impossibly high minimum trading volume requirements. And they can simply disappear because these scam sites hide behind fake names and offshore companies that are not subject to rules and regulations.
WHAT TO DO WHEN SCAMMED
If you find yourself a victim of scammers, you should inform the relevant authorities in your country and spread the word online to warn other potential victims. However, the chances of getting your money back are not high.
If you used a credit/debit card for the transactions, you could ask for a chargeback. However, such requests can be disputed if you have provided the fraudsters with proof of identity such as a copy of an ID. Under no circumstances should you trust people on the internet who claim they can recover your money for an upfront fee. These too are certainly scammers.