Beware! Trading Option Xchange is an offshore broker! Your investment may be at risk.
RECOMMENDED FOREX BROKERS
Don't put all your eggs in one basket. Open trading accounts with at least two brokers.
Trading Option Xchange claims to be a regulated broker that has won numerous awards for its client services. But these boasts don't hold up to even minimal scrutiny. Trading Option Xchange is in fact just another element of a vast network of scam websites aiming to cash in on the excitement surrounding cryptocurrencies.
TRADING OPTION XCHANGE REGULATION AND SAFETY OF FUNDS
First of all, it should be pointed out that the Trading Option Xchange website is virtually identical to numerous scam sites we have reviewed. Fx Bit Option and SwiftPayOptions are just a few of the most recent examples.
But even if you haven't come across the other clones of this fraudulent scheme, there are ample clues that Trading Option Xchange is not a legitimate broker. First, the website is full of inconsistencies. In one place we read that the broker was established in 2016, and in another place we read that it has over 30 years of experience. Some sections of the website show other brands instead of Trading Option Xchange, such as "Digital finance Global", no doubt copied by mistake from one of the other websites of the same scammers.
The website also pops up messages that a certain person has made a deposit, withdrawal or trade for a certain amount. The public display of such information would be in violation of all privacy standards and laws.

But the most telling sign is that there is no name given for the legal entity behind Trading Option Xchange. This is basic information required of any legitimate business, let alone a broker managing other people's money.
Links to legal documentation do not open, although you must declare agreement to the Terms of service when you register an account.
Trading Option Xchange claims to be regulated by the Financial Conduct Authority (FCA) of the United Kingdom, the Australian Securities and Exchanges Commission (ASIC) and the Financial Sector Conduct Authority (FSCA) of South Africa:
The fact that the Trading Option Xchange does not provide a company name or registration number is proof enough there are no licenses from these institutions. However, we checked the regulators' databases for a broker named "Trading Option Xchange" and predictably found nothing.
If you want to trade on the financial markets without being scammed, you can turn to some of the legitimate brokers that actually operate from established financial hubs like the UK. These brokers have to meet stringent requirements for financial stability and transparency of operations imposed by the Financial Conduct Authority (FCA). They must provide clients with negative balance protection and to participate in a guarantee fund that covers up to GBP 85,000 of a client's investment should the broker go into insolvency. These brokers are also required to keep their clients' money segregated from their own operating funds in separate bank accounts.
TRADING OPTION XCHANGE TRADING SOFTWARE
Trading Option Xchange website promises "world class platform", but after registering an account it quickly becomes apparent that there is no trading software at all. In the client portal we only see a few simple charts with current prices of financial assets, such as can be taken for free from the TradingView website. This scam is obviously low-effort and relies on fooling people who have no knowledge of forex trading and do not know what to expect from a broker.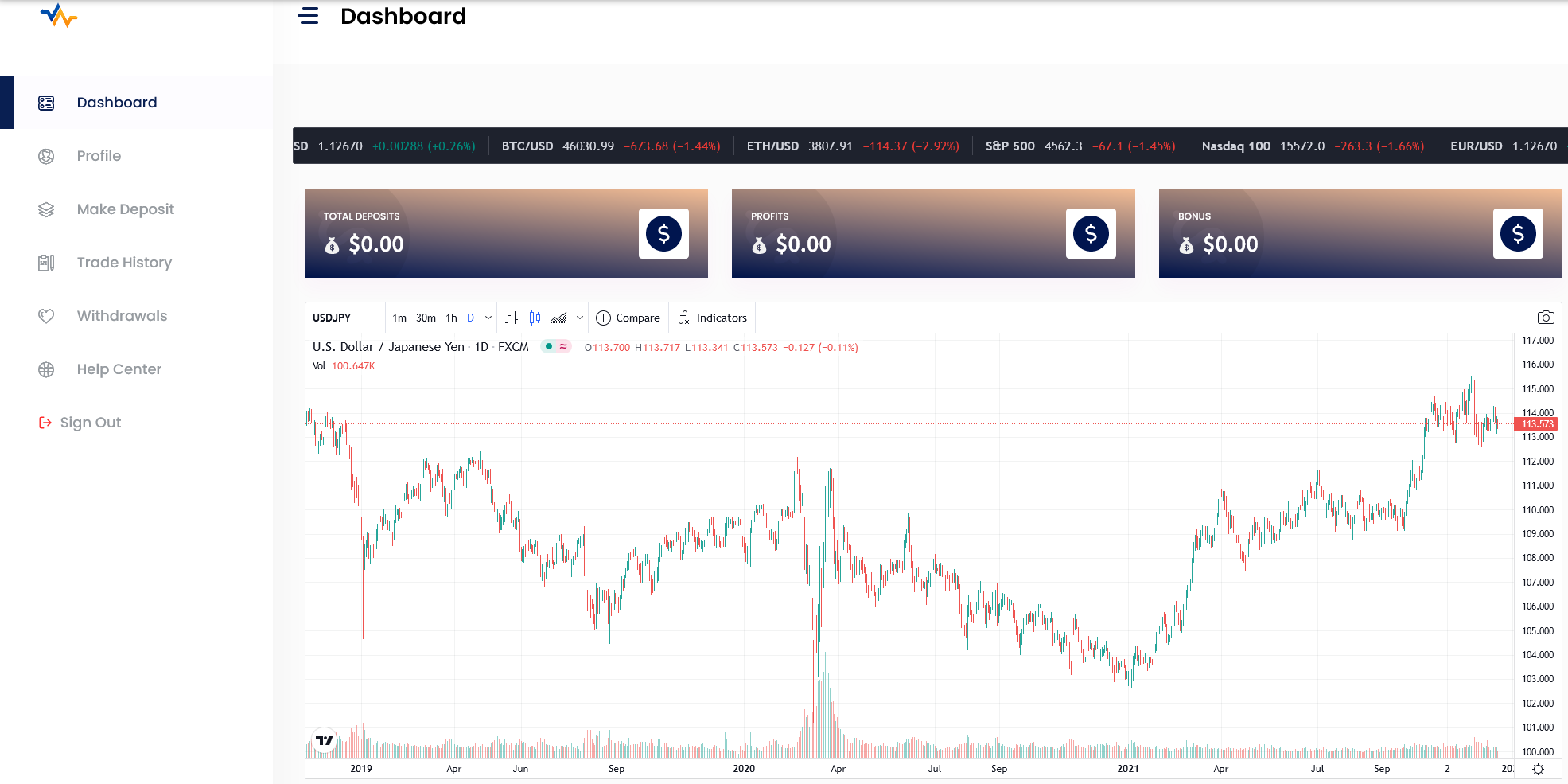 Legitimate brokers offer clients a wide selection of trading software, including desktop, mobile apps and web-based platforms. The most widely used platforms in the industry are MetaTrader 4 (MT4) and MetaTrader 5 (MT5). These platforms have established themselves as industry standard because they offer a wide range of features, including a variety of options for customization, multiple account usage, designing and implementing custom scripts for automated trading and backtesting trade strategies.
TRADING OPTION XCHANGE TRADING CONDITIONS
While Trading Option Xchange presents itself as a forex and CFD broker, there is no description of trading account types on the website, but of some kind of cryptocurrency investment packages promising implausibly high returns.
The minimum investment amount is 300 USD. A far more sensible move would be to use the services of a licensed broker, many of which offer favorable terms for novice traders, including micro accounts with a minimum deposit of 100 USD or even less.
In various places on the website we see mention of a spread of 0.2 pips and a leverage of 1:500. These values have no real meaning because Trading Option Xchange is obviously not a genuine broker and does not offer real trading.
The leverage stated in the website is in fact further evidence that Trading Option Xchange could not be a licensed broker operating in the UK. The FCA, like EU regulators, limits leverage to 1:30 for trading in major currency pairs and even lower levels for more volatile assets. The same rules currently apply to Australia.
High leverage creates the opportunity for more significant profit, but correspondingly increases the risk of sudden and excessive losses. All leading regulators therefore restrict leverage for retail traders.
TRADING OPTION XCHANGE DEPOSIT/WITHDRAW METHODS AND FEES
Only in the Frequently Asked Questions section do we find a mention of payment methods – credit card, bank transfer and Bitcoin. After registering an account, however, we find that the only available option is Bitcoin. The FAQ section states that the minimum amount of a single deposit with Bitcoin is equivalent to 50 USD, but in fact the menu accepts any amount.
Scammers prefer cryptocurrencies because these transactions are not subject to refunds. While there are some legitimate brokers that accept Bitcoin, they do so alongside other transparent payment methods such as credit/debit card, bank transfer or popular e-wallets like PayPal, Neteller or Skrill.
There is no information anywhere about fees, commissions and withdrawal conditions, so it is not clear what traps the scammers behind Trading Option Xchange may have set.
HOW DOES THE SCAM WORK
Scammers who promise easy money without any effort are nothing new, especially on the internet. But given the excitement around bitcoin and cryptocurrencies in recent years, malicious actors have run rampant more than ever, capitalizing not only on people's desire to solve their financial woes with a magic wand, but also ignorance and misunderstanding of how blockchain and complex financial instruments actually work.
If your curiosity is stirred by one of the many flashy websites promising easy riches, and you provide your contacts, you will soon be contacted by skillful and persuasive scammers who will convince you to start with a relatively small and "risk-free" investment. If you agree to this, you will be transferred to even more skilled at convincing scammers, who will persuade you to invest even more. Any money you give to such people is money you are unlikely to get back.
Any attempt to withdraw deposits or alleged profits will be hampered by numerous and significant fees, as well as harsh and often prohibitive conditions written into the terms and conditions – such as high trading volume requirements, unexpected "taxes", or withdrawal fees as high as 10% or even 20% of your funds.
WHAT TO DO WHEN SCAMMED
When you find yourself scammed and seek advice and help online, you are likely to receive offers from individuals and companies who promise to refund your money for a fee that you have to pay in advance. Don't trust such offers or recommendations from anonymous commentators on the internet – this is also a well established scam.
The best chance to get at least some of your money back is to request a chargeback, but this applies only if the transfer is made via credit card. It is of course advisable to notify the relevant authorities of the fraudsters' activities and to spread the word online to warn other people who may fall victim to the same scammers.