Beware! Zeithcoin is an offshore broker! Your investment may be at risk.
RECOMMENDED FOREX BROKERS
Don't put all your eggs in one basket. Open trading accounts with at least two brokers.
Zeithcoin wants us to believe it is "an award winning Forex and Contract for difference broker" licensed by leading regulatory bodies. But even a basic fact check reveals that this is not true. The Zeithcoin is an obvious scam designed to take advantage of people who want to make money online but have no knowledge of financial markets.
Zeithcoin also appears to be just one element of a whole network of scam websites posing as brokers. Under no circumstances should you trust them with your money.
ZEITHCOIN REGULATION AND SAFETY OF FUNDS
The Zeithcoin website claims that this is a broker regulated by the ASIC and FCA, which should stand for Australian Securities and Exchanges Commission and UK's Financial Conduct Authority.
The company behind the alleged broker is listed as ZEITHCOIN International Ltd. A check of the databases of the two regulators showed that there were no registered brokers with this name:
The website also claims that this company trades under the fxproactivity brand, which is also used by the company fxproactivity Ltd., "authorised and regulated by the Cyprus Securities and Exchange Commission". The check again showed that there is no company with that name and registration number among the entities authorised by the Cypriot regulator. The fxproactivity name also pops up behind other scam websites we've reviewed, for example EspaceMarkets.
The efforts of the Zeithcoin to convince that it is a real broker include a series of "testimonials" of anonymous people who recite the phrase that the site is "real and legit".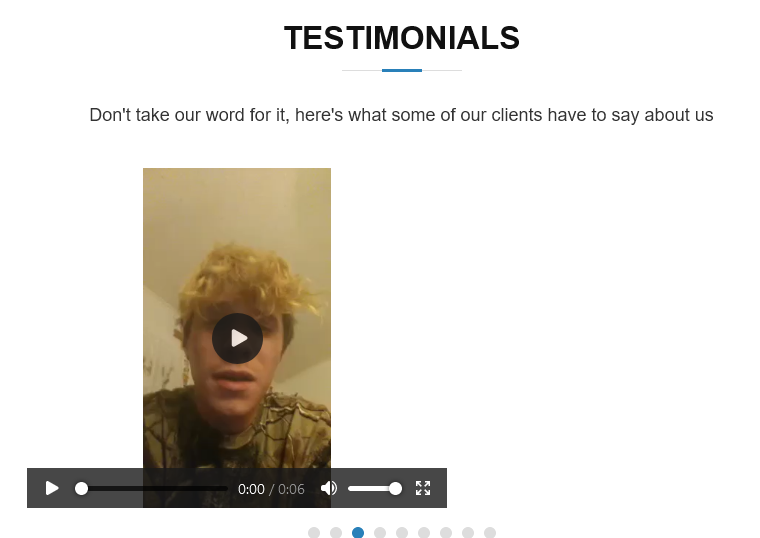 In addition to the fact that this in no way proved legitimacy in the absence of licenses, the anonymous people in the short videos are actually saying the name of another website – zenithbitcoin.com. The website in question is in many ways identical to the Zeithcoin, and is obviously another project of the same scammers.
If you want to test your luck and skills in the financial markets, you should first make sure that the broker you choose is legitimate. Depending on your location, it is advisable to choose a company that is indeed regulated by an institution such as Commodity Futures Trading Commission (CFTC), Australian Securities and Exchanges Commission (ASIC), UK's Financial Conduct Authority (FCA) or some EU regulator like Cyprus Securities and Exchange Commission (CySEC).
Clients of these brokers receive protections such as negative balance protection and segregation of the client's funds from the broker's funds.  In the EU and the UK, brokers must also participate in guarantee schemes that cover a certain amount of the trader's investment if the broker becomes insolvent. These guarantees amount to up to 20 000 EUR in the EU and 85 000 GBP in the UK. However, the likelihood of such a bankruptcy is low because regulators also have significant net capital requirements that companies must maintain – EUR 730 000 in UK and Cyprus, AUD 1000 000 in Australia and at least 20 million USD in the United States.
ZEITHCOIN TRADING SOFTWARE
Zeithcoin claims to offer the two most widely used trading platforms in the industry, MetaTrader 4 (MT4) and MetaTrader 5 (MT5).  However, the installation files that can be downloaded from the Zeithcoin website are not configured for a specific broker – they are the generic versions of the applications that can be downloaded for free from the website of the software developer, MetaQuotes.
After registering an account and logging in we only see simple charts showing current prices for assets. Zeithcoin does not have a platform for forex and CFD trading, although it claims to have been awarded for this.
There is only a binary options trading menu on the dashboard. This type of trading is associated with numerous scams and exploits, and is therefore already banned by many regulators – including in all jurisdictions in which the Zeithcoin claims to operate. But even the binary options platform is just an imitation – clicking any of the buttons redirects to a blank page.
You can always use the services of one of the many legitimate brokers who truly offer MetaTrader 4  and MetaTrader 5 to their clients. These platforms have established themselves as industry standard because they offer a wide range of features, including a variety of options for customization, multiple account usage, designing and implementing custom scripts for automated trading and backtesting trade strategies.
ZEITHCOIN TRADING CONDITIONS
No descriptions of different types of trading accounts or systematic information on the basic parameters of trading can be found on the Zeithcoin website. The FAQ section states that the minimum deposit is 500 USD. In comparison, many licensed brokers offer micro accounts with a minimum deposit of around 100 USD.
On the main page of the website we see the statement that the Zeithcoin offers leverage up to 1:1000. This also shows that the Zeithcoin could not be a genuine broker operating in Austalia, the UK or Cyprus. The FCA, ASIC and all EU regulators limit leverage to 1:30 for trading in major currency pairs and even lower levels for more volatile assets.
High leverage creates the opportunity for more significant profit, but correspondingly increases the risk of sudden and excessive losses. All leading regulators therefore restrict leverage for retail traders.
ZEITHCOIN DEPOSIT/WITHDRAW METHODS AND FEES
Zeithcoin's deposit menu shows multiple payment methods, including cryptocurrencies such as Bitcoin and Ethereum, bank transfer, credit card, and e-wallets like PayPal, Skrill and Neteller. When selecting a method other than cryptocurrency, however, an error message comes up inviting us to use Bitcoin.
So the only option actually available is cryptocurrencies, which is a big red flag. Scammers prefer cryptocurrencies because these transactions are not subject to refunds. If you are interested in licensed brokers that accept cryptocurrencies as a means of payment, take a look at this list.
The minimum amount that can be deposited via cryptocurrencies is equivalent to 100 USD. The website sets a minimum withdrawal amount of 50 USD. The Zeithcoin has no Terms and Conditions or other legal documentation, so it is unclear what  traps the scammers may have set.
HOW DOES THE SCAM WORK
Scammers who promise easy money without any effort are nothing new, especially on the internet. But given the excitement around bitcoin and cryptocurrencies in recent years, malicious actors have run rampant more than ever, capitalizing not only on people's desire to solve their financial woes with a magic wand, but also ignorance and misunderstanding of how blockchain and complex financial instruments actually work.
If your curiosity is stirred by one of the many flashy websites promising easy riches, and you provide your contacts, you will soon be contacted by skillful and persuasive scammers who will convince you to start with a relatively small and "risk-free" investment. If you agree to this, you will be transferred to even more skilled at convincing scammers, who will persuade you to invest even more. Any money you give to such people is money you are unlikely to get back.
Any attempt to withdraw deposits or alleged profits will be hampered by numerous and significant fees, as well as harsh and often prohibitive conditions written into the terms and conditions – such as high trading volume requirements, unexpected "taxes", or withdrawal fees as high as 10% or even 20% of your funds.
WHAT TO DO WHEN SCAMMED
When you find yourself scammed and seek advice and help online, you are likely to receive offers from individuals and companies who promise to refund your money for a fee that you have to pay in advance. Don't trust such offers or recommendations from anonymous commentators on the internet – this is also a well established scam.
The best chance to get at least some of your money back is to request a chargeback, but this applies only if the transfer is made via credit card. It is of course advisable to notify the relevant authorities of the fraudsters' activities and to spread the word online to warn other people who may fall victim to the same scammers.