Beware! OnlineTrading.capital is an offshore broker! Your investment may be at risk.
RECOMMENDED FOREX BROKERS
Don't put all your eggs in one basket. Open trading accounts with at least two brokers.
OnlineTrading.capital does not inspire confidence at first sight. Using such a generic name, as well as domain extensions like .capital or .market is almost a sure signal that you are dealing with scammers. Sure enough, OnlineTrading.capital is just a reincarnation of a scam site we've reviewed in the past – now defunct OnlineTrading.market. We also found many connections to other scam websites.
In short, OnlineTrading.capital  is not the genuine broker it portrays itself to be and it is advisable to stay away from it.
ONLINETRADING.CAPITAL REGULATION AND SAFETY OF FUNDS
The second look doesn't make the OnlineTrading.capital look any more credible. Legitimate brokers are required to provide clear and detailed information about their legal status, where they are based, what licenses they have and what regulations they are subject to. No such information can be found on the OnlineTrading.capital  website – not even a contact address is given, nor is the name of a legal entity mentioned.
It is mentioned in several places on the website that OnlineTrading.capital is "one of the successful brands operating within Exinity Group", without any additional details.
An internet search for the Exinity Group leads to another dubious-looking website. There we found the name of a company based in the UK – Exinity Works Ltd. However, this company is not a licensed broker. Furthermore, the Exinity Group website does not contain any reference to the OnlineTrading.capital.
The trading platform, which can be downloaded from the OnlineTrading.capital website, lists a different brand and a different company, Digital C-Media Ltd, and also a different website – infinitrade.io. This is also a familiar name – we've reviewed a fake broker called DigitalCMedia. Most probably the same scammers are behind all those websites.
Digital C-Media Ltd is stated to be based in Saint Vincent and the Grenadines. This is an offshore zone whose financial authority, the Financial Services Authority (FSA ), does not license or regulate brokers. Even if unregulated, companies that offer financial services should still be listed in the FSA's database. However, we do not find Digital C-Media there. This means that this company and all its associated websites is not even an offshore broker, but just a scam.

If you have decided to start trading on the financial markets, you should be careful not to fall victim to fraud. You should carefully verify that the broker you are working with is indeed licensed. Depending on your location, it is advisable to choose a company that is regulated by an institution such as Commodity Futures Trading Commission (CFTC), Australian Securities and Exchanges Commission (ASIC), UK's Financial Conduct Authority (FCA) or some EU regulator like Cyprus Securities and Exchange Commission (CySEC).
Clients of these brokers receive protections such as negative balance protection and segregation of the client's funds from the broker's funds.  In the EU and the UK, brokers must also participate in guarantee schemes that cover a certain amount of the trader's investment if the broker becomes insolvent. These guarantees amount to up to 20 000 EUR in the EU and 85 000 GBP in the UK. However, the likelihood of such a bankruptcy is low because regulators also have significant net capital requirements that companies must maintain – EUR 730 000 in UK and Cyprus, AUD 1000 000 in Australia and at least 20 million USD in the United States.
ONLINETRADING.CAPITAL TRADING SOFTWARE
OnlineTrading.capital uses the industry's most popular trading software, MetaTrader 4 (MT4). But as mentioned, the platform is actually configured for another brand. However, the credentials that OnlineTrading.capital  gives after registration can be used to log into the platform. Here is what the software looks like:
There are more than enough licensed brokers offering clients the MT4 experience and/or the newer version of the software MT5. These platforms have established themselves as industry standard because they offer a wide range of features, including a variety of options for customization, multiple account usage, designing and implementing custom scripts for automated trading and backtesting trade strategies.
ONLINETRADING.CAPITAL TRADING CONDITIONS
The OnlineTrading.capital website describes five types of trading accounts. The minimum deposit even for the starter account is very high – 5,000 EUR. In comparison, most legit brokers offer micro accounts with a minimum deposit of just 100 USD/EUR and even less.
The spreads mentioned in the description of the accounts are also not at all favorable – 2.5-3 pips for the starter account. In the industry spreads above 2 pips are considered too high. Only for accounts with a minimum deposit of EUR 100,000 are spreads comparable to the usual levels offered by licensed brokers. This means that even if the OnlineTrading.capital  were offering a real trade, it would be on unfavourable terms.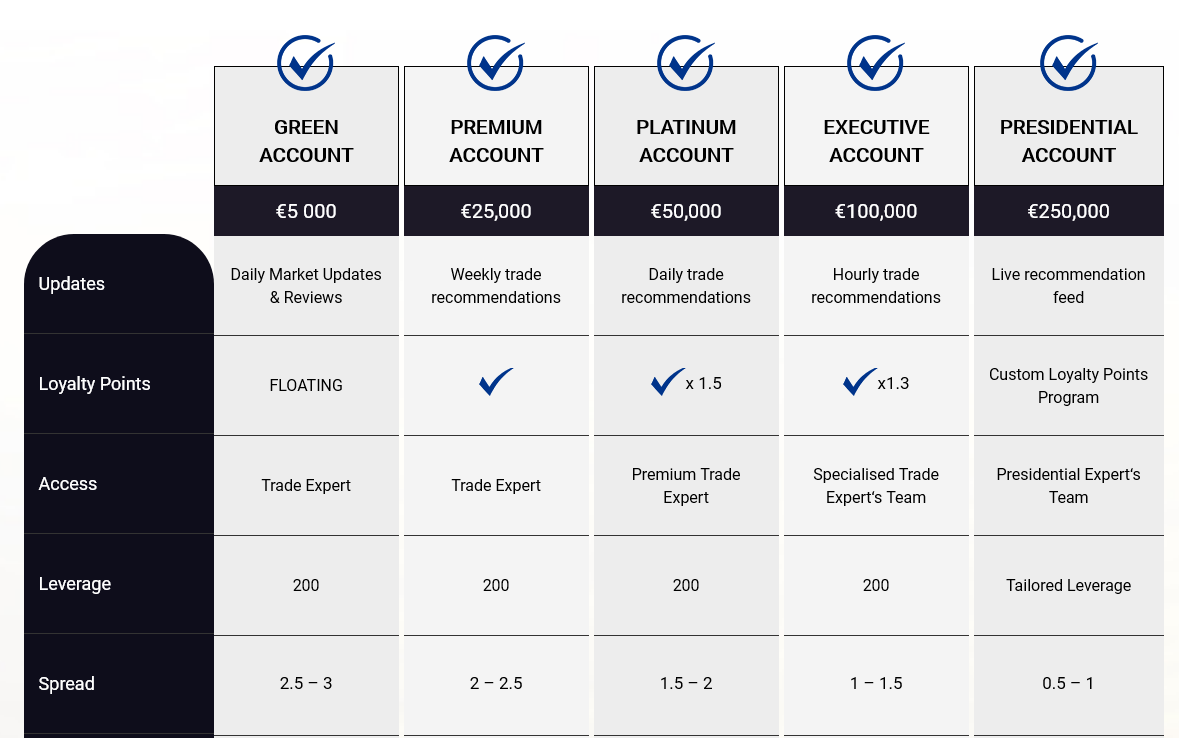 For all account types a leverage of 1:200 is specified. These are not levels that can be seen at regulated brokers. High leverage creates the opportunity for more significant profit, but correspondingly increases the risk of sudden and excessive losses. All leading regulators therefore restrict leverage for retail traders. EU and UK regulators limit leverage to 1:30 for trading in major currency pairs and even lower levels for more volatile assets. In the US, the maximum limit is slightly higher at 1:50.
OnlineTrading.capital also claims to offer various bonuses to its customers. Bonuses, promotions and prize games are practices prohibited by all leading regulators.
ONLINETRADING.CAPITAL  DEPOSIT/WITHDRAW METHODS AND FEES
The OnlineTrading.capital website and Terms and Conditions state that the payment methods used are debit/credit card and bank transfer. However, there are no options to choose from in the deposit menu – you can only enter your credit card details there, including the CVV security code. Needless to say, but it is not at all advisable to give such comprehensive access to your credit card to questionable websites.

Legitimate brokers typically offer clients a wide choice of transparent payment methods, including bank transfer and established e-wallets such as PayPal, Skrill, and Neteller.
The Terms and Conditions state that OnlineTrading.capital reserves the right "to impose withdrawal limits and withdrawal fees at any time". However, nowhere are the exact amounts of fees and commissions specified.
The "Bonus Policy" states that if a client has received a bonus, they must meet high minimum trading volume requirements in order to withdraw money from their account. Again, there is no clear definition – only an "example" is given that if a customer has received a 1000 USD bonus, they must trade 250 lots – i.e. 25,000,000 currency units. Such prohibitive clauses and vague wording are intended to block any withdrawal requests.
HOW DOES THE SCAM WORK
The online space is full of ads promising easy money. They sound too good to be true, because they are not – they are outright scams. Many of these fraudsters pose as brokers and take advantage of the general public's ignorance of the capital markets.
If you give your contact details to one of the flashy sites promising to make you rich, you will be contacted by experienced scammers who will start convincing you to "invest" in their scheme. Initially they will ask for a small amount, say USD 250 or USD 500. If you agree, they will begin to persuade you to give them larger sums.
However, your money will never be truly invested in the market, and you will not be able to receive either the supposed profits or the money from your deposit. Your attempts to withdraw your money will be blocked by deliberately confusing clauses in the terms and conditions.  Some of the most commonly used traps are extremely high minimum trading volume requirements or withdrawal fees equal to 10%, 20% or more of your funds.
WHAT TO DO WHEN SCAMMED
It is very important not to rush into trusting people on the internet who offer to magically refund your money for a fee. These are also scammers, and they may even be the same ones who scammed you in the first place.
If you have made the transfers using credit or debit card, you can claim a chargeback. Visa and MasterCard allow this to be done within 540 days. However, such a request may not be approved if you have given the fraudsters documents such as a copy of an ID and proof of address. This will allow them to claim that the transaction is legitimate and approved by both parties. Wire and cryptocurrency transfers unfortunately are not refundable.