Beware! TowardsSource is an offshore broker! Your investment may be at risk.
RECOMMENDED FOREX BROKERS
Don't put all your eggs in one basket. Open trading accounts with at least two brokers.
TowardsSource claims to offer brokerage services suitable for both beginners and experienced traders. But it's pretty obvious that this is not a real broker, but a typical scam scheme, or at least preparation for one.
At the time of writing this review, TowardsSource's website appears unfinished and lacks not only basic information, but also basic functionality, including the ability to register an account. But the information available is more than sufficient to judge that this website was not created with pure intentions and should be avoided.
TOWARDSSOURCE REGULATION AND SAFETY OF FUNDS
When you open the website of a legitimate broker, you can expect to find detailed information about the company that runs it, where it is based, its legal status, the licenses it has and the regulatory institutions that oversee its activities.
TowardsSource provides no information whatsoever. There is no company name on the website or in the legal documentation, no contact address, and no mention anywhere of which laws govern the agreement with the client.
Even the disclaimer about the risk of trading with leverage is not consistent with the industry standards and does not include information on the percentage of retail traders who have lost money using this provider.
When choosing a broker through which to invest in the financial markets, you should not only make sure that all the information required by law is available, but also that this information is true. Always check that the company is indeed on the records of the specified regulator and that the domain used is among those officially approved for the particular broker.
Depending on your location, it is advisable to choose a company that is regulated by an institution such as Commodity Futures Trading Commission (CFTC), Australian Securities and Exchanges Commission (ASIC), UK's Financial Conduct Authority (FCA) or some EU regulator like Cyprus Securities and Exchange Commission (CySEC).
Clients of these brokers receive protections such as negative balance protection and segregation of the client's funds from the broker's funds.  In the EU and the UK, brokers must also participate in guarantee schemes that cover a certain amount of the trader's investment if the broker becomes insolvent. These guarantees amount to up to 20 000 EUR in the EU and 85 000 GBP in the UK. However, the likelihood of such a bankruptcy is low because regulators also have significant net capital requirements that companies must maintain – EUR 730 000 in UK and Cyprus, AUD 1000 000 in Australia and at least 20 million USD in the United States.
TOWARDSSOURCE TRADING SOFTWARE
While it claims to offer financial instrument trading and training for novice traders, the TowardsSource website does not mention the main trading tool – the trading platform.
Although TowardsSource has an account registration form, at the time of writing this review it was not actually active and gave an error message after entering the details. Because of this, we were unable to verify if there was any type of trading software in the client portal.
However, this is doubtful given the overall state of the website. TowardsSource appears to still be a work in progress. Another possibility is that the website has already been abandoned, as is often the case with scam schemes.
Legitimate brokers offer clients a wide selection of trading software, including desktop, mobile apps and web-based platforms. The most widely used platforms in the industry are MetaTrader 4 (MT4) and MetaTrader 5 (MT5). These platforms have established themselves as industry standard because they offer a wide range of features, including a variety of options for customization, multiple account usage, designing and implementing custom scripts for automated trading and backtesting trade strategies.
TOWARDSSOURCE TRADING CONDITIONS
The website describes seven types of Accounts with a minimum deposit starting from 250, without specifying in what currency. A minimum initial deposit of EUR 200 is mentioned in the text of the Terms and Conditions. It would be a much wiser choice to go with a licensed broker, many of which offer starter accounts with a minimum deposit of as little as 100 USD or even less.
However, in the account registration form there is only one option for the account base currency – the Tether cryptocurrency (USDT):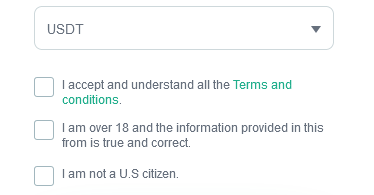 This suggests that, like many other scammers, TowardsSource plans to use only cryptocurrencies for transactions. Scammers prefer cryptocurrencies because these transactions are non-refundable.
Nowhere is there information on major trading metrics such as spread and leverage.
The Terms and Conditions state that TowardsSource "receives a commission for providing the Services to the Customer by entering into transactions at prices containing mark-ups, discounts and/or bid/offer ratios". However, nowhere is the amount of these commissions specified.
The website also mentions bonuses for customers. All leading regulators prohibit brokers from using bonuses and promotions. Therefore, the description of bonuses can only be seen on websites of unregulated offshore brokers or scammers.
In the text of the Terms and Conditions we find a trap related to these bonuses. If the account has received any bonus, the withdrawal of funds becomes conditional on fulfilling high requirements for minimum traded volume. These requirements are described vaguely and confusingly: "Bonus Amount *7 in lots":

Given that one lot is equivalent to 100 000 currency units, however this formula is interpreted, these are prohibitively high amounts. Scammers regularly use such clauses to block any requests to withdraw money.
TOWARDSSOURCE  DEPOSIT/WITHDRAW METHODS AND FEES
The TowardsSource website mentions credit/debit cards, bank transfer and Bitcoin as available payment methods. That the account can only use cryptocurrency as a base currency, as well as the typical practices of such scammers, suggests that TowardsSour in all likelihood only accepts cryptocurrency transactions.
While there are some legitimate brokers that accept Bitcoin, they do so alongside other transparent payment methods, including popular e-wallets like PayPal, Sofort or iDeal.
The Terms and Conditions mention withdrawal fees, but again the amount is not specified.
HOW DOES THE SCAM WORK
The online space is full of ads promising easy money. They sound too good to be true, because they are not – they are outright scams. Many of these fraudsters pose as brokers and take advantage of the general public's ignorance of the capital markets.
If you give your contact details to one of the flashy sites promising to make you rich, you will be contacted by experienced scammers who will start convincing you to "invest" in their scheme. Initially they will ask for a small amount, say USD 250 or USD 500. If you agree, they will begin to persuade you to give them larger sums.
However, your money will never be truly invested in the market, and you will not be able to receive either the supposed profits or the money from your deposit. Your attempts to withdraw your money will be blocked by deliberately confusing clauses in the terms and conditions.  Some of the most commonly used traps are extremely high minimum trading volume requirements or withdrawal fees equal to 10%, 20% or more of your funds.
WHAT TO DO WHEN SCAMMED
It is very important not to rush into trusting people on the internet who offer to magically refund your money for a fee. These are also scammers, and they may even be the same ones who scammed you in the first place.
If you have made the transfers using credit or debit card, you can claim a chargeback. Visa and MasterCard allow this to be done within 540 days. However, such a request may not be approved if you have given the fraudsters documents such as a copy of an ID and proof of address. This will allow them to claim that the transaction is legitimate and approved by both parties. Wire and cryptocurrency transfers unfortunately are not refundable.