Beware! Voytegon is an offshore broker! Your investment may be at risk.
RECOMMENDED FOREX BROKERS
Don't put all your eggs in one basket. Open trading accounts with at least two brokers.
The Voytegon website tries both hard and unconvincingly to convince people that it is a legitimate forex broker. It is quite obvious that this is not a real broker at all, despite all the Voytegon's assurances to the contrary.
It is in your best interest to stay away from the Voytegonand under no circumstances trust them with your money. Let's see exactly why.
VOYTEGON REGULATION AND SAFETY OF FUNDS
When you visit a legitimate broker's website, you can expect to find detailed information on the index page about the company that runs it, where it is based, what its legal status is and which regulatory institutions oversee its activities.
Not even a legal entity name or address can be found on the Voytegon website. The only contact information is emails and phone numbers with a UK area code, which is also used by some British offshore areas.

Despite this, the anonymous people behind this website assure that Voytegon is a "registered company" and "a proper business". The website even has a warning to beware "online websites that  are nothing but websites" who " just want you to sign up with them, deposit your funds, and fill their accounts":

This somewhat amusing attempt at reverse psychology doesn't change the obvious fact that the Voytegon is just such a website. In fact, in the "Regulation" section, the Voytegon states quite directly that while they wish they were regulated, they are not:
If you plan to invest in the financial markets, it really is advisable to first make sure that you choose a broker that is duly licensed and regulated. You can turn to one of the many companies that really work under the supervision of respected regulatory bodies like Cyprus Securities and Exchange Commission (CySEC) or Financial Conduct Authority (FCA) in the UK.
As their customer you will enjoy a number of guarantees including negative balance protection and guarantee for your funds if the broker goes bankrupt, which goes up to EUR 20,000 in EU and 85,000 GBP in the UK. Regulations in the UK and EU include some important measures designed to improve investor protection and promote market integrity and transparency, such as transaction reporting. Regulated brokers are also required to segregate their operational funds from the client's money.
VOYTEGON TRADING SOFTWARE
The main page of the website claims that Voytegon offers a custom trading platform, while in the "platforms" section we see the claim that the two most popular solutions in the industry, MetaTrader 4 (MT4) and MetaTrader 5 (MT5), are used.
After registering an account it becomes clear that Voytegon does not offer any version of MetaTrader. Instead, only a web platform with much more limited capabilities is available:
While the platform has the basic features for placing orders, customizing charts and application of technical indicators, it lacks the more advanced functionality found in MT4 and MT5. These platforms have established themselves as industry standard because they offer a wide range of features, including a variety of options for customization, multiple account usage, designing and implementing custom scripts for automated trading and backtesting trade strategies.
VOYTEGON TRADING CONDITIONS
Voytegon claims to offer seven types of trading accounts, plus an Islamic swap-free account option. The minimum deposit for even the most basic account is extremely high – 10,000 EUR. By comparison, many legitimate brokers offer micro accounts for naive traders with a minimum deposit under 100 USD.
There is no specific information about trading parameters in the account descriptions, except that the Islamic account has a "regular" spread. The trading platform shows a spread of 0.7 pips for the EUR/USD currency pair. Theoretically, this is a very competitive level, but we have no reason to believe that Voytegon offers any real trading.
The FAQ section claims that the Voytegon offers leverage up to 1:200. These are not levels that can be seen at regulated brokers. High leverage creates the opportunity for more significant profit, but correspondingly increases the risk of sudden and excessive losses. All leading regulators therefore restrict leverage for retail traders.
The European Securities and Markets Authority (ESMA) and accordingly all EU regulators limit leverage to 1:30 for major currency pairs, 1:20 for non-major pairs, gold and major indices, 1:10 for other commodities and non-major indices, and 1:2 for cryptocurrencies. The same rules are followed by the regulators in the UK and Australia. In the USA and Canada the maximum leverage is slightly higher, 1:50.
The Terms and Conditions inform us that "there are fees and service charges associated with various actions that you perform on your trading platform". It is stated that "these commissions, fees, and charges might come into effect when you withdraw funds or deposit funds in your account, trade with us, or make other requests". However, nowhere are specific amounts or conditions attached to these fees and commissions specified.
Various promotions, bonuses and loyalty programs are also mentioned on the Voytegon website. All leading financial regulators prohibit brokers from using such practices.
VOYTEGON DEPOSIT/WITHDRAW METHODS AND FEES
The Voytegon website states that deposits and withdrawals are made via Visa and MasterCard credit/debit cards, as well as bank transfers. However, there is no choice of payment method on the deposit menu – instead you are asked to enter your address and postcode. Apparently there is no way to deposit money without contacting the people behind Voytegon directly.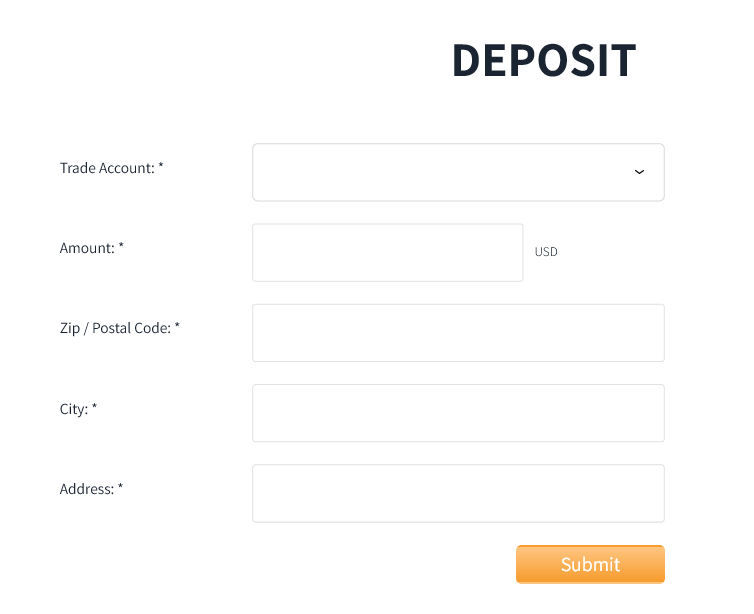 Legitimate brokers typically offer clients a wide choice of transparent payment methods, including bank transfer, credit/debit cards and established e-wallets such as Sofort, QIWI and PayPal.
According to the Terms and Conditions, after the initial funding of a trading account, the minimum amount for additional deposits is 250 EUR.
Voytegon claims it does not charge deposit and withdrawal fees, but we have no good reason to believe this or any other claim on this website.
HOW DOES THE SCAM WORK
With all the buzz surrounding skyrocketing prices of cryptocurrencies, many people are starting to consider investing in the financial markets as a bid to improve their fortunes. Scammers on the internet have taken notice of that and take advantage of the ignorance of the general public by creating countless websites posing as brokers. These websites offer no real brokerage services and only deceive people into believing that their money is really being invested.
If you come across such a scam website and give out your contacts, you will be contacted by experienced scammers who will convince you that they can take on all the frighteningly complex aspects of investing for you. But you will never get any real profits, nor will you be able to get back the money you deposited. The terms and conditions of these websites are riddled with clauses that make withdrawing funds from your account unfeasible – for example, extremely high minimum trading volume requirements or hefty fees of 10%, 20% or even more of the amount.
Scammers hide behind fake addresses and names and operate through offshore companies that are not subject to regulation and scrutiny. So even if all the withdrawal requirements are met, they may simply disappear and move on to their next fraudulent scheme.
WHAT TO DO WHEN SCAMMED
It is very important not to rush into trusting people on the internet who offer to magically refund your money for a fee. These are also scammers, and they may even be the same ones who scammed you in the first place.
If you have made the transfers using credit or debit card, you can claim a chargeback. Visa and MasterCard allow this to be done within 540 days. However, such a request may not be approved if you have given the fraudsters documents such as a copy of an ID and proof of address. This will allow them to claim that the transaction is legitimate and approved by both parties.