Beware! hfxswiftoption is an offshore broker! Your investment may be at risk.
RECOMMENDED FOREX BROKERS
Don't put all your eggs in one basket. Open trading accounts with at least two brokers.
hfxswiftoption is one of the hundreds of scam brokers circulating out there and trying to get their hands on people's hard-earned money – they are certainly not the thoroughly regulated company with 30 years of experience they claim to be. It was not even that easy to open an account with the broker since some of the buttons on their website were not completely functional. That website is undistinguishable from many other scam broker websites – such scammers would always promise to maximize "investors potential by providing advanced tools and mechanisms" while actually only being able to offer false promises and nothing more. You could not trade with this broker since they don't have a functioning trading platform and would have to agree to Terms and Conditions you would not be able to find anywhere if you wish to open an account with the company.
hfxswiftoption will promise you some great returns – all you have to do is deposit a monstrous amount of money and see your investment grow. At least that is what they would like you to believe – what will actually happened is that they will pickpocket you shamelessly. Don't waste time, money and effort on scammers like those ones – there are enough affordable brokers for every taste and customer these days. The common thing between them is that they hold some sort of license and provide some sort of service – which is far more than hfxswiftoption could say for itself.
hfxswiftoption REGULATION AND SAFETY OF FUNDS
The address hfxswiftoption has provided is in Jakarta, Indonesia. However, the broker claims to be regulated by multiple reputable financial authorities – the FCA (the UK), ASIC (Australia) & FSCA (South Africa). However, when we checked the registers of these regulators, we did not find any matches for a broker with this name. This means that they are comfortable with lying about something as vital as licenses – the first and most important thing you should look up when choosing a broker. If a broker is not authorized to offer financial services by a trusted regulator, there is a high likelihood that they are running some sort of scam – or they are at least not doing everything in a perfectly transparent, by-the-book manner.
At another spot on the website, the broker changes their mind about their location and states that they are based in Chicago, the US. This is quite surprising considering the fact that the US financial authorities – the NFA and CFTC – are the sternest in the world. Just compare the minimum capital requirement of $20 million every US broker is obligated to reach before obtaining a license to the $1 million in Australia and the €730 000 in the UK and the EU and you will understand why there are so few brokers operating in the US. That is, of course, not the only law US brokers have to abide by – hedging is not allowed, for example, and there are some rather strict documentation procedures that have to be followed. Data on opened and closed trades has to be reported daily. Negative balance protection – which ensures that you can never lose more money than you have invested – and segregation of client deposits from the broker's own money are a complete must under all the jurisdictions mentioned.
hfxswiftoption states that you could actually lose more money than you have invested – which is pretty absurd for any FCA, NFA or ASIC-regulated broker. That, alongside the high leverage of 1:500 the broker seems to offer, is another sure sign they are lying about regulations.
hfxswiftoption TRADING SOFTWARE
We did not actually get access to any sort of trading software with this broker – when we accessed their client area, we just got a simple chart with no sign of a platform that could be used for any sort of trading.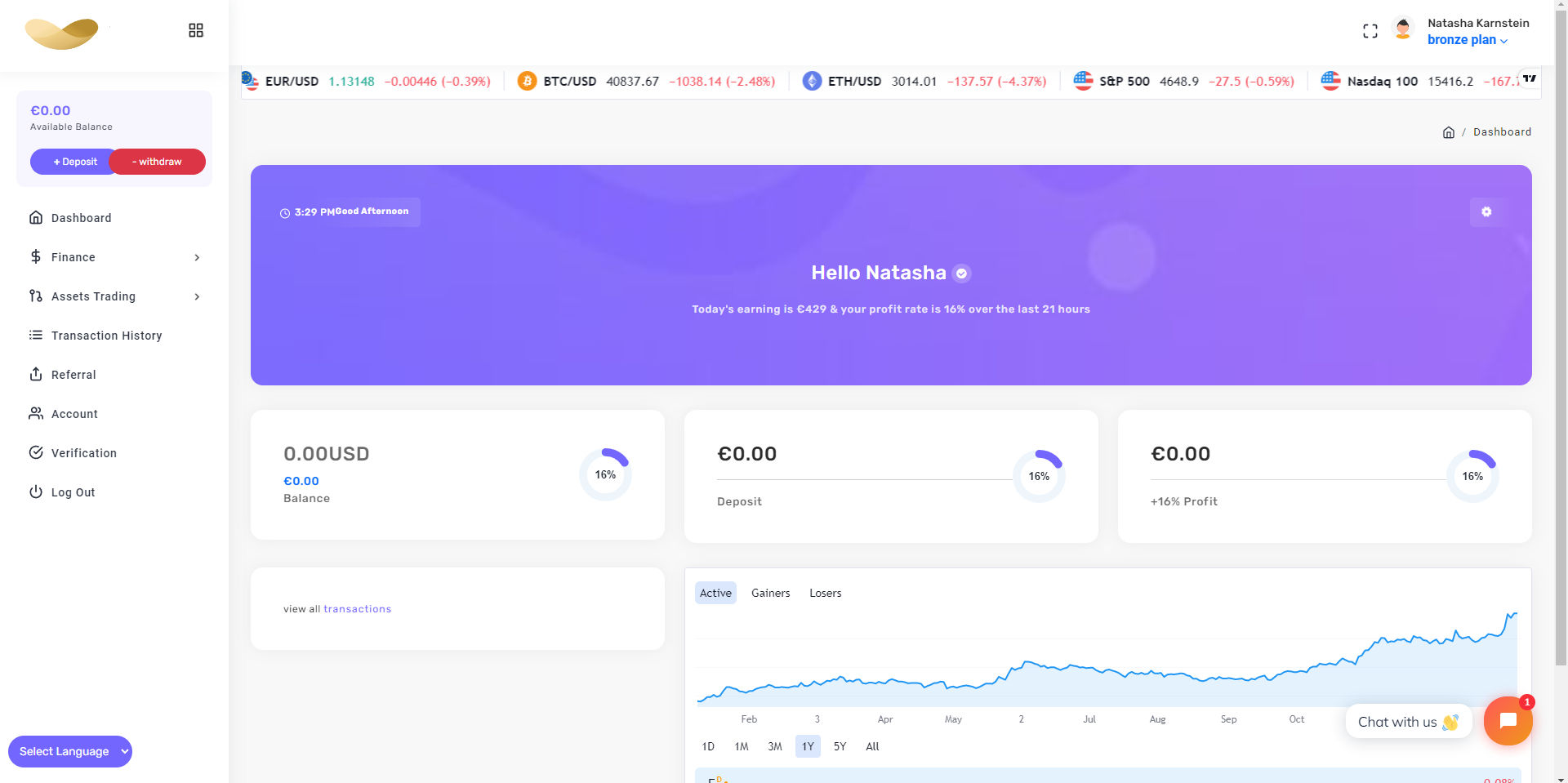 On the platform, the broker dared to guarantee our returns – around 16% a day, from what we could gather. This is a quite impressive daily ROI – and one no legitimate broker would offer because of the simple fact that your returns can never be 100% certain. That is why brokers usually refrain from making such promises – considering how volatile the financial markets are, anything could happen at any given moment and ruin all perfect plans and promises of huge returns. It is even weirder that hfxswiftoption managed to calculate what returns we could reach before we have  deposited or placed any trades – it is clear this is bait for unsuspecting victims.
If you want to try out actual, well-functioning trading platforms, give MetaTrader 4 or MetaTrader 5 a try – there are more than enough legitimate brokers offering one or both platforms. The MT software has been the most popular in the industry for decades – it is also, quite frankly, the best. Discover the many features the platforms have to offer for yourself – from Expert Advisors and VPSs to the ability to create your own bots and indicators and a market for trading apps.
hfxswiftoption TRADING CONDITIONS
Although the minimum deposit amount with the broker was said to be $1500, we were practically able to deposit whatever amount we wanted – which means the broker is pretty desperate and is after each and every cent you are willing to offer them. We should also mention that this is too high of a minimum initial deposit – legitimate brokers would rarely ask for more than $250 to open a basic account.
Without a platform, we cannot speak of spreads or leverage – even though the broker promises to grant leverage as high as 1:500. The problem here is that such high leverage could not legally be offered by an FCA-regulated broker – high leverage could lead to huge losses which is why many jurisdictions around the world, including the UK and all EU member states, have imposed leverage restrictions on it – 1:30 on forex majors and even lower on other assets. US brokers are allowed to go a bit higher – 1:50.
hfxswiftoption DEPOSIT/WITHDRAWAL METHODS AND FEES
The deposit and withdrawal methods we had at our disposal with this broker were the online payment systems PayPal and Zelle as well as transfers with Bitcoin or Ethereum . We would, however, never transfer money to an unreliable broker like that – all funds deposited with them will be permanently lost.
HOW DOES THE SCAM WORK?
The weird thing is that such scams are never very imaginative but they seem to trick a lot of people – you see an ad on the Internet for a broker's website and decide to check their website out. Then you start thinking to yourself "Man, that actually sounds great, I should maybe register an account to find out what they have to offer."
Once the scammers have received your contact details, they won't leave you alone before you deposit – and with time, they will start asking for bigger and bigger sums. You will probably see that you have turned unbelievable profit in no time so you will keep transferring money – just know that it is fairly easy for platforms to be manipulated. At some point of course, you would want to withdraw and this is where it gets complicated. All sorts of clauses in the Terms and Conditions and additional fees will show up – the scammers will try to delay your withdrawal and milk you as much as possible. By the time you figure out something is wrong, your "broker" will be long gone – with your money.
WHAT TO DO IF SCAMMED?
Be prepared that happy endings are not very likely and the chances of you seeing your money again are not big. That is why prevention is key – you should always read Terms and Conditions carefully and make sure that your broker is legitimate by checking if they are actually licensed.
If you got scammed, there are still things you could do. Notify the authorities in your country and share your story with as many people as possible – this way, they would know to avoid such types of scams. Change all passwords that you gave the scammers access to. If you have deposited with a credit or debit card, ask your card provider for assistance – you could get a chargeback within 540 days with both Visa and MasterCard. Bank transfers are a bit harder to reverse but that is still not impossible.
Finally, don't trust anyone trying to pass as a recovery agent and offering to retrieve your money for a small fee – this is just another type of scam, usually conducted by the same people that robbed you in the first place.