Beware! Loyalty FX Markets is an offshore broker! Your investment may be at risk.
RECOMMENDED FOREX BROKERS
Don't put all your eggs in one basket. Open trading accounts with at least two brokers.
The first thing you notice about Loyalty FX Markets is how ugly their website looks. Don't get us wrong – the website functions fine enough considering the fact that many scam brokers don't even bother finishing theirs – but it just looks like it crawled out of 2005. Everything is on one page, there is barely any additional information and no Terms and Conditions – it seems like Loyalty FX Markets has constructed a bare skeleton and added non of the things that would tempt us to open an account with a broker – like thorough company information, educational materials, or even extensive data about their conditions. None of these things matter though – since Loyalty FX Markets is an unregulated broker with a scam warning on its name. Maybe they tried slightly harder than most scammers to look legit but that has no significance – at the end of the day, this brokers will scam you out of your money just like any other scammer you could be unlucky enough stumble upon nowadays. Read our review to learn more.
Loyalty FX Markets REGULATION AND SAFETY OF FUNDS
Loyalty FX Markets has provided a UK address on their website. In the a conformation email we received, the broker claims to be situated at a different address – again, in the UK.
The problem, however, is that if a broker wants to offer financial services in the UK, they have to be licensed by the local regulatory body – the FCA. This financial authority is notorious for its sternness, the many requirements it demands brokers to meet and the huge fines it charges if companies under it jurisdictions are not able to maintain the highest standard. The minimum capital requirement is the same you would find in all EU member states – €730 000. But the compensation you could get if your broker goes bankrupt is much larger – £85 000 compared to €20 000 in the EU. You would be able to get that compensation because all UK brokers are obligated to participate in the Financial Services Compensation Scheme (FSCS) and regularly provide funds for it. Keeping client deposits in segregated accounts is a must, as is negative balance protection – so you could never lose more money than you have in your account at a given point. Because of all of these safety measures, working with a licensed UK broker is usually a sound decision.
Loyalty FX Markets is not a licensed UK broker though. The FCA has issued a warning on the company because they are offering financial services illegally in the UK.
Our advise would be to ignore Loyalty FX Markets altogether and look up regulated UK brokers instead.
Loyalty FX Markets TRADING SOFTWARE
As it turns out, Loyalty FX Markets offers a functioning MetaTrader 5.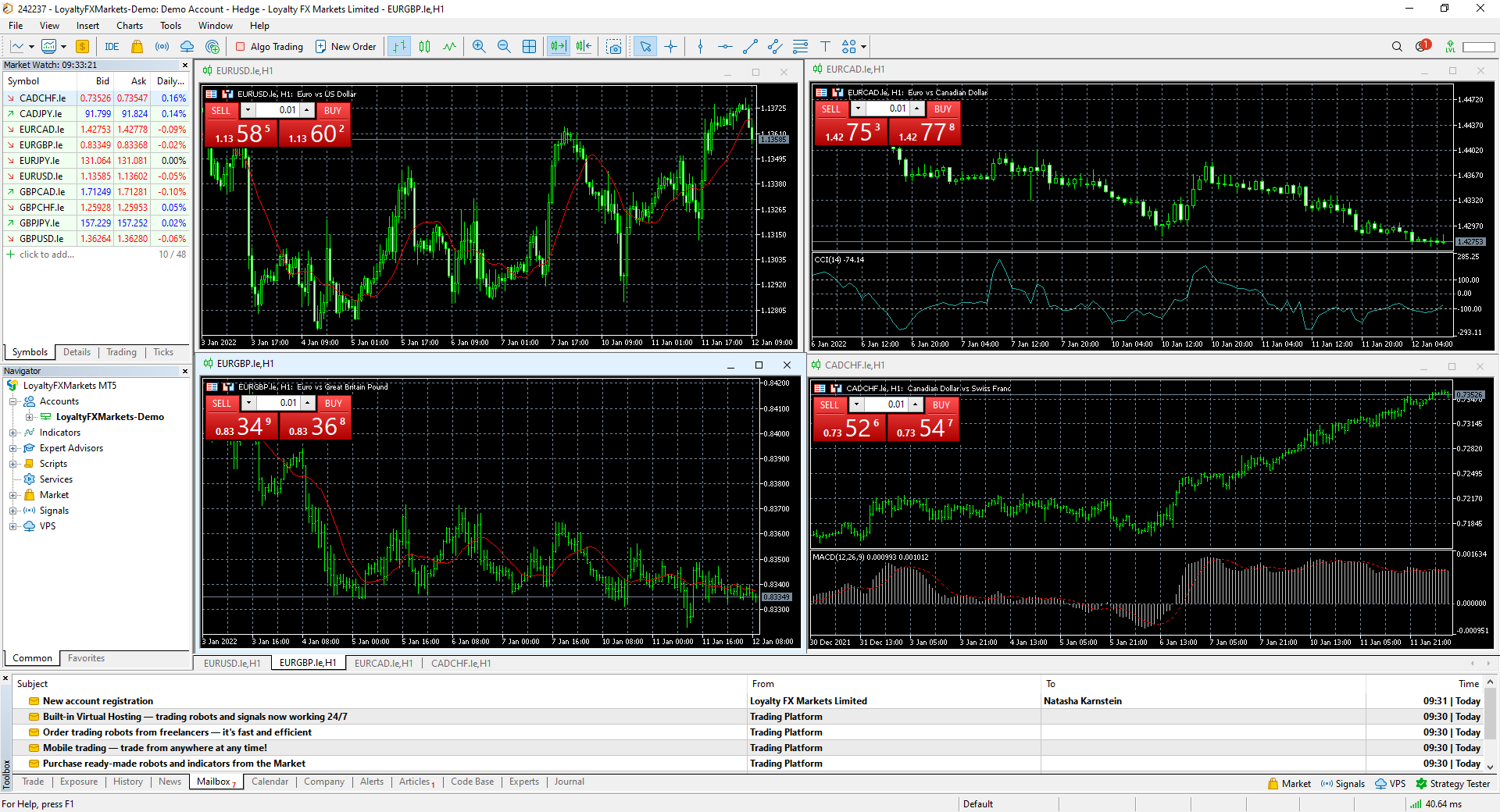 This platform – along with the older version of the software, MetaTrader 4 – is a definite must-try for any serious trader. It is the platform with the biggest number of clients for a reason – it offers many tools and features no other software would be able to provide you with. You could use MT's Expert Advisors, create your own trading bots and indicators, and see how good your strategy is in a demo account or through back-testing. You don't have to worry about your computer suddenly switching off and your trading bots stopping because you could easily purchase a VPS that could keep bots operating at all times.
MT5 is more than great – but make sure that the broker offering it is licensed first. You would not want to trade with a regular scammer that was just willing to invest more money in a good platform.
Loyalty FX Markets TRADING CONDITIONS
Loyalty FX Markets only provides 28 currency pairs, 5 metals, 5 indices and 20 cryptocurrencies to trade in – which is not impressive considering the hundreds of trading instruments some brokers are willing to offer you.
The minimum deposit amount is just $100 – which is great but since the broker is unregulated, you should not be considering depositing with them.
Although Loyalty FX Markets proudly announced that their spreads start from 0.0 pips, we got 1.7 pips on the platform. Such spreads are pretty average, if slightly higher than what most brokers would offer you.
Finally, you could easily set your leverage as high as 1:500 – consider the fact that due to the leverage restriction in the UK (and all of Europe), brokers are banned from offering anything higher than 1:30 to retail clients. High leverage could lead to huge losses in the hands of an inexperienced trader so we would advise you to be careful with your leverage settings.
Loyalty FX Markets DEPOSIT/WITHDRAWAL METHODS AND FEES
On Loyalty FX Markets' website, we saw the logos of a number of payment method providers – mostly credit and debit cards like MasterCard, Maestro, Discover, Solo and American Express but also e-wallets like PayPal. The only actual way to deposit with the broker though, was via bank transfer. This is good – since you can try asking your bank for assistance if you want to get a chargeback.
There was a mention of a bonus in the client area but we got no further information on the matter. However, keep in mind that scammers often use bonuses as a means tp deny you withdrawals – those bonuses are usually related to some clause in the Terms and Conditions that would prevent you from withdrawing altogether. As we did not get access to Loyalty FX Markets' Terms and Conditions (which is pretty bad on its own), we cannot say if that was the case here. An additional issue is that bonuses are actually banned in the UK – a further proof that this broker could not be regulated there.
HOW DOES THE SCAM WORK?
The weird thing is that such scams are never very imaginative but they seem to trick a lot of people – you see an ad on the Internet for a broker's website and decide to check their website out. Then you start thinking to yourself "Man, that actually sounds great, I should maybe register an account to find out what they have to offer."
Once the scammers have received your contact details, they won't leave you alone before you deposit – and with time, they will start asking for bigger and bigger sums. You will probably see that you have turned unbelievable profit in no time so you will keep transferring money – just know that it is fairly easy for platforms to be manipulated. At some point of course, you would want to withdraw and this is where it gets complicated. All sorts of clauses in the Terms and Conditions and additional fees will show up – the scammers will try to delay your withdrawal and milk you as much as possible. By the time you figure out something is wrong, your "broker" will be long gone – with your money.
WHAT TO DO IF SCAMMED?
Be prepared that happy endings are not very likely and the chances of you seeing your money again are not big. That is why prevention is key – you should always read Terms and Conditions carefully and make sure that your broker is legitimate by checking if they are actually licensed.
If you got scammed, there are still things you could do. Notify the authorities in your country and share your story with as many people as possible – this way, they would know to avoid such types of scams. Change all passwords that you gave the scammers access to. If you have deposited with a credit or debit card, ask your card provider for assistance – you could get a chargeback within 540 days with both Visa and MasterCard. Bank transfers are a bit harder to reverse but that is still not impossible.
Finally, don't trust anyone trying to pass as a recovery agent and offering to retrieve your money for a small fee – this is just another type of scam, usually conducted by the same people that robbed you in the first place.