Beware! Gotlon Investment LTD is an offshore broker! Your investment may be at risk.
RECOMMENDED FOREX BROKERS
Don't put all your eggs in one basket. Open trading accounts with at least two brokers.
Gotlon Investment LTD claims to be a UK based broker while providing us with a website in Chinese. We had to play with our settings a little before we could check out the English version of the website and start our investigation into the broker. As it turns out, Gotlon Investment LTD is not regulated by any reputable financial authorities, has very limited payment options and does not provide clients with Terms and Conditions – which you should always read carefully before opening an account with a broker to make sure everything is in order. Everything is not in order with Gotlon Investment LTD – this is just your average scam broker that will run off with your investment as soon as they get the chance to. Read the review below to find out more.
Gotlon Investment LTD REGULATION AND SAFETY OF FUNDS
Gotlon Investment LTD claims to be registered in the UK and even though we had huge doubts about that considering the fact that the broker's website is available in Chinese first, it turned out to be completely true. We did find a company with that name and registration number in the UK companies' house register. However, it is not enough for a broker to be registered in order for them to legally be offering financial services in the UK – they also have to be licensed by the local regulatory body, the FCA. When we checked if such a broker is actually regulated, the answer was loud and clear – absolutely not.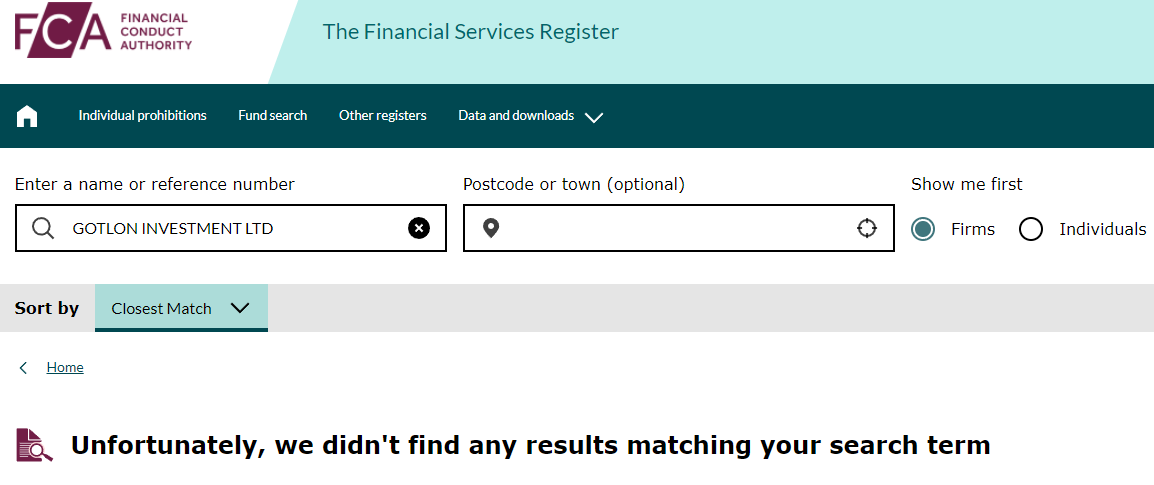 It is fairly easy to register a company but not just anyone can obtain a license by the merciless FCA – there is a reason why UK brokers are generally so established and reliable. They have to answer to one of the strictest authorities in the world that expects only the best by those under its jurisdictions and demands that the highest standards are maintained. UK brokers are obligated to maintain a minimum capital of €730 000 at all times – this money only serves as insurance and cannot be used for other financial operation. The sum can be much bigger for brokers with more clients and could even exceed a few million in some cases.
Your deposits will  be kept in segregated accounts managed by independent third parties – this means the broker cannot reinvest your money elsewhere and speeds up withdrawals.
Licensed brokers are obligated to participate in the Financial Services Compensation Scheme (FSCS) which means that if such a broker becomes insolvent, their clients would be able to receive compensation of up to £85 000.
Some strict restrictions exist when it comes to the leverage brokers are free to offer to retail client – only 1:30 for forex majors and even lower on other assets. The leverage restriction on cryptocurrency trading is even as low as 1:2.
Finally, negative balance protection is guaranteed – you can never lose more money than you have in your account.
Gotlon Investment LTD TRADING SOFTWARE
Surprisingly, Gotlon Investment LTD provided a download link for their own functional MetaTrader 5.
This is a case of a scam broker trying to cash in on the spotless reputation the MT software has among traders. Both MT5 and the older MT4 are great, highly functional trading platform – however, MT5 provides more charting and analysis tools, a built-in economic calendar and opportunities for netting. You can use preprogramed Expert Advisors or built your own on the platform, exchange strategies with a huge community of traders, set up customizable signals or subscribe to those set by other traders for a small monthly fee. Definitely give MT5 a try – but make sure that the broker offering it is licensed first.
Gotlon Investment LTD TRADING CONDITIONS
Gotlon Investment LTD actually did not do too bad when it comes to trading conditions – the minimum deposit amount is just $100 which is quite affordable but considering how unreliable this broker is, we would advise you to check out our list of brokers with low minimum deposit instead.
The spreads we got on the platform were pretty thigh – 0.1 pips on EURUSD. However, the broker did not bother to mention if they charge any sort of commission and if they do, what would be the size of that commission. It might turn out that trading with Gotlon Investment LTD would not be cost-effective at all if they charge some sort of insanely huge commission. Furthermore, platform manipulations are not unheard off – these thigh spreads might be the scammers way of tempting you to open an account with them and not a reality.
Gotlon Investment LTD DEPOSIT/WITHDRAWAL METHODS AND FEES
The only deposit option we got with this broker was to transfer money via different cryptocurrencies – Bitcoin, Ethereum and USDT.
Cryptocurrencies themselves are an absolute innovation and a secure payment method. That is why many legitimate broker have started accepting such payments but always alongside other more conventional deposit methods. The very technology cryptos are built on makes payments irreversible – as an owner of a certain number of coins, you own a part of the blockchain and by making a payment, you transfer that ownership to another person. The only way to get your money back is if the recipient decides to send it back – and that is something scammers like Gotlon Investment LTD would not do. We would advise to use this payment method only if you are completely sure the broker is reliable.
HOW DOES THE SCAM WORK?
The weird thing is that such scams are never very imaginative but they seem to trick a lot of people – you see an ad on the Internet for a broker's website and decide to check their website out. Then you start thinking to yourself "Man, that actually sounds great, I should maybe register an account to find out what they have to offer."
Once the scammers have received your contact details, they won't leave you alone before you deposit – and with time, they will start asking for bigger and bigger sums. You will probably see that you have turned unbelievable profit in no time so you will keep transferring money – just know that it is fairly easy for platforms to be manipulated. At some point of course, you would want to withdraw and this is where it gets complicated. All sorts of clauses in the Terms and Conditions and additional fees will show up – the scammers will try to delay your withdrawal and milk you as much as possible. By the time you figure out something is wrong, your "broker" will be long gone – with your money.
WHAT TO DO IF SCAMMED?
Be prepared that happy endings are not very likely and the chances of you seeing your money again are not big. That is why prevention is key – you should always read Terms and Conditions carefully and make sure that your broker is legitimate by checking if they are actually licensed.
If you got scammed, there are still things you could do. Notify the authorities in your country and share your story with as many people as possible – this way, they would know to avoid such types of scams. Change all passwords that you gave the scammers access to. If you have deposited with a credit or debit card, ask your card provider for assistance – you could get a chargeback within 540 days with both Visa and MasterCard. Bank transfers are a bit harder to reverse but that is still not impossible.
Finally, don't trust anyone trying to pass as a recovery agent and offering to retrieve your money for a small fee – this is just another type of scam, usually conducted by the same people that robbed you in the first place.