Beware! CryptoPro24 is an offshore broker! Your investment may be at risk.
RECOMMENDED FOREX BROKERS
Don't put all your eggs in one basket. Open trading accounts with at least two brokers.
CryptoPro24 is just another shady broker with an ugly website and sketchy Terms and Conditions that will scam you out of your money before you know what hit you. This is not somebody you can trust – a reputable regulator has recently issued a warning on the broker's name and there are clear relations to other scam schemes we have encountered in the past. Do yourself a favor and stay away from CryptoPro24 – there is zero doubt that they are insolent scammers.
CryptoPro24 REGULATION AND SAFETY OF FUNDS
CryptoPro24 provided an address in the UK but does not actually claim to be regulated by the FCA – one of the most respected financial regulators in the world. Indeed, when we checked the FCA's register, the broker did not show up which would generally mean they would not be able to legally offer services in the UK – unless they are licensed by another EEA regulatory body. The only license number CryptoPro24 provided was for Lebrn.com – a sketchy website that you will only encounter in relation to scammers that is in no way authorized to regulate forex brokers. Lebrn.com was created as a cover-up for such fake brokerages – so they would have something to put in their footer and "License" section and pretend that they are regulated by some top financial authority.
One financial regulator did have something to say about CryptoPro24 and the company behind it, CRYPTO SOLUTION LTD, – the Italian CONSOB. The regulator has recently issued a warning on a few scam brokers – CryptoPro24 is one of them.
This should be more than enough to convince you to turn to a licensed UK, EU, or Aussie broker instead – at least if you want to count on transparency and security and if you want your money to be handled with care. Such brokers have to keep client deposits separate from their own funds in segregated accounts – this proves they would not be able to use your investment for their own financial operations. A minimum capital requirement exists in both Australia and Europe- A$1 million for Australia and €730 000 for the EU and the UK – this proves that a broker is financially stable and can tend to the many clients it has. Negative balance protection is a complete must – you could never lose more money than you have in your trading account. Additionally, all European brokers must participate in compensation schemes – if a regulated broker goes bankrupt, their clients would get compensation of up to £85 000 in the UK and €20 000 in the EU.
CryptoPro24 TRADING SOFTWARE
CryptoPro24 promised a web-based platform on their website. That is why we were surprised when we were able to download a fully functional MetaTrader 4.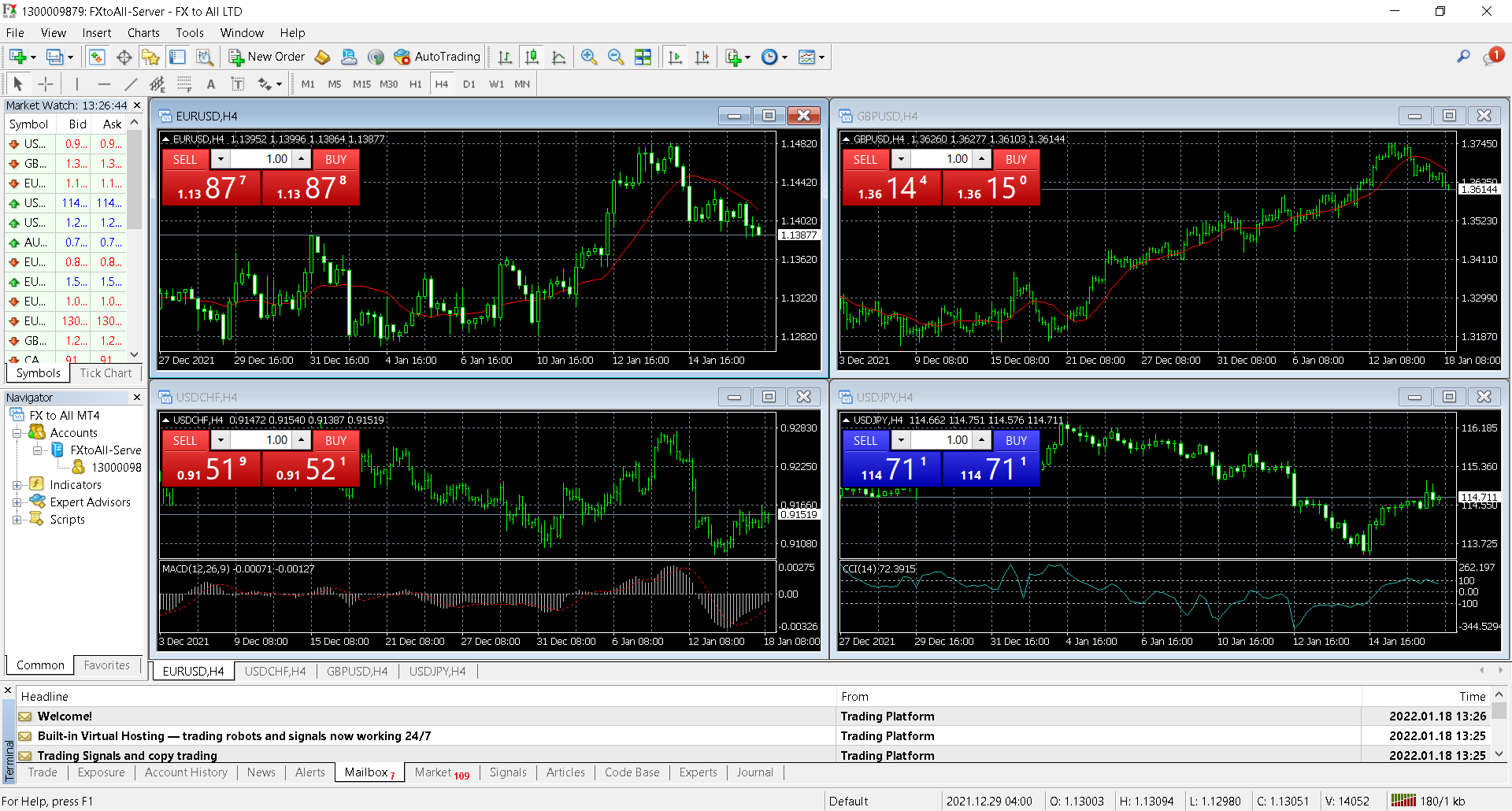 However, there is one big problem with the software and that is that it does not belong to CryptoPro24 but to another broker – FX to All – situated on the Marshall Islands.
This is not the only broker who uses software belonging to FX to All – we recently did a review on AlphaTradePlus who also exploits this company's MT4.
We would suggest that you try out this established trading platform with a licensed broker. MT4 was the most popular trading platform until it recently got surpassed by the newer MT5 in the number of clients using it. The software offers some great features you should try out for yourself – like Expert Advisors, VPSs you could purchase to keep your trading bots operating even when your computer is off, possibilities for creating your own trading bots and indicators with the MQL4 coding language. You will also get access to a huge community of traders where you could exchange strategies or subscribe to someone else's signals for a small monthly fee.
CryptoPro24 TRADING CONDITIONS
The broker offers three different account types with the minimum deposit for the most basic one being $250. For most legitimate brokers, this would be more of an upper limit – you could open an account with enough established brokerages for anywhere between $1 and $100.
The spreads we got on MT4 were around 0.1 pips for EURUSD – however, this MT4 does not belong to CryptoPro24 so this is actually not what this broker offers but what the company that owns the MT4 could promise you. And even so, manipulations of platforms are not unheard of – this way the client will believe they are turning a decent profit while in reality, nothing could be further away from the truth. Just try withdrawing all the money you have earned and you will see how real your profits are.
The maximum leverage available on the Basic account is 1:30 – which is completely in line with the leverage restrictions of the UK and the EU. However, CryptoPro24 promises as much as 1:400 on more advanced account types. This would lead one to believe that the only thing a client should do to get access to higher leverage is to upgrade their account and deposit more money – in this specific case, as much as $50 000. That is not correct – to get access to leverage higher than 1:30 (on forex majors) one must qualify as a professional client and meet two of the following three conditions – to have capital of at least $500 000, to have worked in the financial sector for at least a year, or to have placed at least ten big orders in the past year. Only then would a client be able to access this risky trading tool – because high leverage could lead to huge profits and huge losses alike.
CryptoPro24 DEPOSIT/WITHDRAWAL METHODS AND FEES
Although we saw the logos of a few well-known payment method providers on the broker's website – Visa, MasterCard, OKPAY – we were only able to deposit using PayCent – a not-so-well-known e-wallet and card provider. We would suggest that you stick with Visa and MasterCard and with wire transfers – such transactions are the safest and with a credit or debit card specifically, you could easily get a chargeback within 540 days.
CryptoPro24 imposes a dormant account fee after 6 months of inactivity and it is far bigger than what any legitimate broker would usually ask for – 10% of your account.
Additionally, we found a clause in the broker's Terms and Conditions which suggests that CryptoPro24 offers bonuses – which have been banned in both the UK where the broker is supposedly based, and in all of Europe.
HOW DOES THE SCAM WORK?
Such scams are rarely very elaborate so it is quite surprising that they manage to trick so many people. It seems that scam brokers are not going away any time soon so it would be good to know how to avoid them.
It all starts innocently enough – you see some impressive ad on the Internet promising to make you rich in a matter of months. And you would not have to do much – just invest a small amount of money with broker X. You are tempted so you provide the scammers with your email and phone numbers. After that, they won't leave you alone before you deposit. Some scammers disappear right after you have transferred any sort of money but most of them are greedy – they will keep asking for more and more money. And you will be transferring because you will see that you are turning huge profits soon enough – it is very easy for scammers to manipulate platforms to make it look like you are doing great. Keep in mind that such people are well-versed in the arts of smooth-talking and convincing – they will charm you into transferring thousands before you know it.
But once you want to get access to all this money you have won, you will have trouble. The scammers will keep making up additional fees and clauses that prevent you from withdrawing – yet. At some point, they will just stop answering your calls and emails altogether.
WHAT TO DO WHEN SCAMMED?
Such stories rarely end well so prevention is key – always do your research, check registers of different regulators, and read Terms and Conditions carefully.
If you have already gotten scammed, there is still hope. Change any passwords you have provided the scammers with – that includes cases when you have given them remote access to your computer. Notify the responsible authorities and contact your bank or credit card provider to let them know you have been scammed. If you have used Visa or MasterCard to transfer money, you can try asking for a chargeback – this is possible within 540 days. Don't trust any so-called "recovery agents" that offer to retrieve your money for a fee – this is just another type of scam and it would only lead to you losing more money.
Finally, sharing your story with others is important – this way, fewer people will fall into the same trap.