Beware! Nova FX Options is an offshore broker! Your investment may be at risk.
RECOMMENDED FOREX BROKERS
Don't put all your eggs in one basket. Open trading accounts with at least two brokers.
Nova FX Options tries to convince us that it is a brokerage firm founded ten years ago by a team of market professionals. However, fact checking shows that if the people behind this website are professionals in any field, it is scamming. Nova FX Options is not the regulated global broker it claims to be, but just another fraudulent scheme to be avoided.
NOVA FX OPTIONS REGULATION AND SAFETY OF FUNDS
Nova FX Options's claims of legitimacy seem immediately dubious because nowhere is the name of the entity that operates this alleged broker mentioned. This is basic information required by any business, especially a broker who wants people to entrust it with their money.
The only specific information is the listed contact address in the United States:
This is the jurisdiction with probably the most stringent requirements for brokers. To operate as a forex broker in the United States, a company must be registered with the Commodity Futures Trading Commission (CFTC) and to be a member of the National Futures Association (NFA).
The lack of a company name is itself a telltale sign that Nova FX Options is not a licensed broker. Predictably, we find nothing about "Nova FX Options" in the NFA database:
In the Terms and Conditions we find a completely different version of the legal status of Nova FX Options. There it is claimed that it is a broker based in Luxembourg and authorized by the local financial regulator Commission de Surveillance du Secteur Financier. The text of the Terms and Conditions also mentions another EU regulator, Cyprus Securities and Exchange Commission (CySEC). However, nothing can be found in the registers of the two regulators for "Nova FX Options".
However, the website has attracted the attention of another leading European regulator – the UK's Financial Conduct Authority (FCA). The institution warns that Nova FX Options offers financial services without authorization:
At the time of writing this review, it was not possible to create an account with Nova FX Options. Although the registration form is functional and the website sends a confirmation email, an error message comes up when trying to log in. This scam scheme may have been abandoned after it came to the attention of regulators.
If you invest in the financial markets you should be careful not to fall into the clutches of the many scammers of this type. It is advisable to approach only licensed brokers that are truly regulated by institutions such as CySEC.
There are many advantages to working with such brokers because they must comply with all the requirements of the European Securities and Markets Authority (ЕSМА). They must maintain a minimum net capital of at least EUR 730 000, which guarantees that the company is financially stable and has a serious long-term approach.
Whenever clients deposit money in their trading accounts, it is kept segregated from the broker's operating funds in separate bank accounts. Thus the clients' money remains shielded in case of mishaps like a broker's bankruptcy. All brokers licensed in Cyprus are members of the Investor Compensation Fund, which may cover a maximum of EUR 20,000 per person in the event of broker insolvency. Cypriot forex brokers are required to report their clients' transactions on a regular basis. This requirement is designed to improve investor protection and promote market integrity and transparency.
NOVA FX OPTIONS TRADING SOFTWARE
The Nova FX Options website does not even mention the most important tool for trading financial instruments, the trading platform. Since we were unable to log into the client portal, we were unable to check if Nova FX Options has any kind of trading software.
But even if there were some sort of trading platform, it wouldn't make Nova FX Options any more trustworthy. Many scammers have trading software to fool their victims that their money is being invested.
Legitimate brokers offer clients a wide selection of trading software, including desktop, mobile apps and web-based platforms. The most widely used platforms in the industry are MetaTrader 4 (MT4) and MetaTrader 5 (MT5). These platforms have established themselves as industry standard because they offer a wide range of features, including a variety of options for customization, multiple account usage, designing and implementing custom scripts for automated trading and backtesting trade strategies.
NOVA FX OPTIONS TRADING CONDITIONS
Legitimate brokers provide a detailed and clear description of trading conditions, usually offering different account types tailored to the needs of traders with different experience, capital and investment intentions.
The Nova FX Options website lacks similar information. Nowhere are basic trading parameters such as leverage, spread and commissions mentioned.
We learn from the FAQ section that the minimum deposit is EUR 300. Most real brokers allow you to start trading with lower amounts, often under 100 EUR or USD.
Nova FX Options recommends to invest at least 500 EUR, because such amount "will trigger the deposit bonus". The use of bonuses and promotions to attract customers is prohibited by regulators in all jurisdictions in which Nova FX Options  claims to operate. So this is further proof that this is not a legitimate broker.
The FAQ section also mentions "LT Accounts" with a deposit of over 20,000 USD, which are some sort of time deposit promising an incredibly high return of 10% in three months. Genuine brokers don't offer this type of service, and none can guarantee such returns.
NOVA FX OPTIONS DEPOSIT/WITHDRAW METHODS AND FEES
Nova FX Options makes it clear that it only uses cryptocurrencies. Only Bitcoin , Bitcoin Cash and  Etherum cryptocurrencies can be used as the base currency of accounts. Presumably, all deposit and withdrawal transactions are also in cryptocurrency.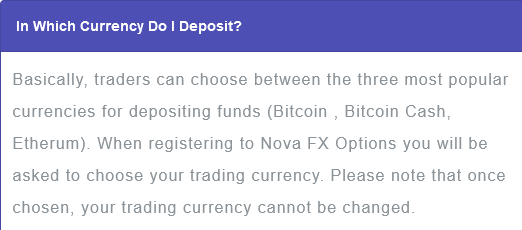 Scammers prefer cryptocurrencies because these transactions are not subject to refunds. While there are some legitimate brokers that accept Bitcoin, they do so alongside other transparent payment methods such as credit/debit card, bank transfer or popular e-wallets like PayPal, Neteller or FasaPay.
Nova FX Options claims that it does not charge any deposit, withdrawal or account. maintenance fees.  The Terms and Conditions mention a "minimum fee" for accounts inactive for more than six months, but do not specify the amount.
HOW DOES THE SCAM WORK
Fake brokers are a type of scam that has spread especially rapidly in recent years, aided by the excitement surrounding cryptocurrencies. People looking for ways to make money online can very easily come across one of the many scam websites of this type. Scammers are very skilled at convincing people to invest – first small amounts of a few hundred dollars, and then larger sums of money. Some of the scam schemes are quite elaborate and even use trading software to convince victims that their money is actually being invested and even racking up profits.
But when you ask to withdraw those winnings, or even your deposit, you'll find it's impossible – you'll be told that a sudden change in the market has wiped out all your money, or that you have to meet impossible minimum trading volume requirements and pay huge fees and commissions hidden in the terms and conditions. Fraudsters can also simply disappear because they use fake names and offshore shell companies for their operations.
WHAT TO DO WHEN SCAMMED
If you find yourself scammed, the first thing you should do is notify the financial authorities in your country about the scammers' activities, and spread the word online to warn other potential victims.
Your options for getting your money back are limited. If credit or debit cards were used for the transactions to the scammers, you have the option to request a chargeback. Companies like Visa and MasterCard now allow such requests to be made up to 540 days after the transaction. But keep in mind that if you have provided proof of your identity to the fraudsters, they may dispute that the transaction was voluntary. In addition, fraudsters typically use cryptocurrencies and shady e-wallets that do not allow refunds.
Victims of scams are often targeted by another type of online fraudsters who promise that their money can be refunded for an upfront fee. Under no circumstances should you trust such offers.