RECOMMENDED FOREX BROKERS
Don't put all your eggs in one basket. Open trading accounts with at least two brokers.
HF Markets is a well-established forex and commodities broker with a worldwide presence. Numerous industry awards are a testament to the high quality of HF Markets's services. The broker offers competitive terms, advanced high-tech solutions and guarantees that exceed regulatory requirements.
HF MARKETS REGULATION AND SAFETY OF FUNDS
HF Markets and HotForex are unified brand names of HF Markets Group. The broker operates through companies registered in the United Kingdom, Cyprus, Dubai, South Africa, the Republic of Mauritius and Seychelles.
The focus of this review is the services for European Union customers that HF Markets provides through the hfeu.com domain. The legal entity responsible for this part of HF Markets' operations is Hf Markets (Europe) Ltd, based in Cyprus and authorised by the Cyprus Securities and Exchange Commission (CySEC):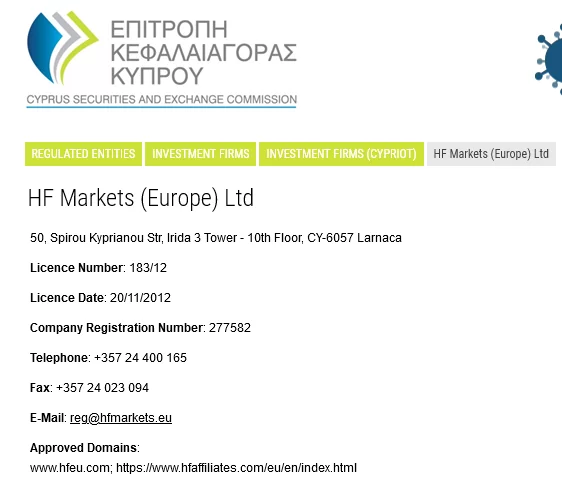 European Securities and Markets Authority (ЕSМА) requirements ensure that clients of  licensed brokers in the European Union enjoy some of the most significant protections in the world.
These brokers must maintain a minimum net capital of at least EUR 730 000, which guarantees that the company is financially stable. Customer funds are kept segregated from the broker's operating funds in separate bank accounts. Thus the clients' money remains protected from any financial difficulties of the broker.
All brokers licensed in EU members like Cyprus are members of Investor Compensation Fund, which may cover a maximum of EUR 20,000 per person in the event of broker insolvency. These forex brokers are required to report their clients' transactions on a regular basis. This requirement is designed to improve investor protection and promote market integrity and transparency. Traders also get negative balance protection.
HF Markets provides clients with additional safeguard with a Civil Liability insurance program for a limit of EUR 5,000,000, which includes market leading coverage against errors, omissions, negligence, fraud and various other risks that may lead to financial loss.
The HF Markets website is available in 14 European languages and has free 24/7 support in English, Spanish and German.
HF MARKETS TRADING SOFTWARE
HF Markets offers the most popular platforms used by brokers worldwide – MetaTrader 4 (MT4) and MetaTrader 5 (MT5). Although it has been on the market for more than 15 years, the MT4 platform remains a favourite among brokers and only recently the newer MT5 has managed to overtake its predecessor in the number of active users.
The main factor in MT4's dominance is its extensive trade automation capabilities, including the design and implementation of Expert Advisor bots and custom scripts for back-testing trading strategies. HF Markets offers MT4 in versions for Windows, Linux, Mac, Android and iOS, as well as a web version accessible through a browser. Here's what the desktop platform looks like:
HF Markets also offers a customized version of MT4 called HF Markets MultiTerminal. It allows the more active traders to manage multiple accounts simultaneously from a single interface.
While MT4's functionality is sufficient for most traders, MT5 is undoubtedly more advanced. It uses 64 bit architecture and offers more technical indicators, timeframes, analytical objects, has a built-in economic calendar and market depth option, which features the volume of bids and offers for a financial security at different prices. HF Markets also offers web, desktop and mobile versions of this platform, but there are no Linux or Mac versions.
HF Markets allows further extension of the both platforms functionality through a wide range of premium trader tools, including sophisticated alarms and messaging, user-configurable news and market data, live sentiment and correlation tracking.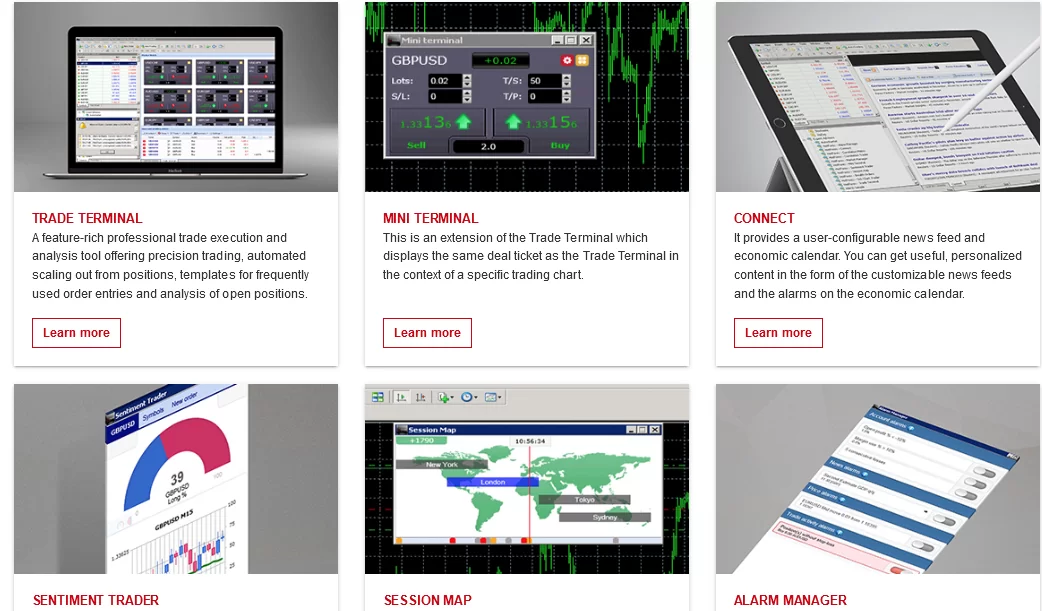 The broker also provides clients with free Virtual Private Server hosting, allowing automated trading tools to be independent of the trader's personal hardware and internet connection.
In addition, numerous educational materials and helpful tools such as trade calculators can be found on the HF Markets website.
HF MARKETS TRADING CONDITIONS
HF Markets accounts can use two base currencies, EUR and USD. After the initial registration, the client can open multiple trading accounts, but one account can only use one of the two trading platforms. The demo account requires only an email and a name, while the registration of a live account requires proof of identity and proof of address, as well as the completion of a survey to establish the experience and investment intentions of the client.
In addition to choosing a trading platform, the client can also choose between two main types of trading accounts – Premium and Zero Spread. Both accounts have access to all of the more than 1,000 trading instruments offered by HF Markets – currencies, commodities, energy, equities, bonds and ETFs.
The premium account has no commissions. The trader pays only the spread, which is variable and starts from 1 pip. The average spread for the benchmark currency pair EUR/USD is 1.2 pips.
Typical spread for EUR/USD
HF Markets EU
HF Markets UK
HF Markets Dubai
HF Markets South Africa
1.2
1.3
0.3
1.3
The Zero Spread  account offers significantly lower spreads of 0.1 per EUR/USD, but there is an additional commission for lot traded. For the most traded currency pairs such as EUR/USD,  EUR/JPY, GBP/USD and USD/CHF this commision amounts to 6 USD per round turn. For other currency pairs the commission is 8 USD per round turn.

This means that trading one standard lot will cost around 12 USD with a Premium account and around 7 USD with a Zero Spread account. So when trading in calm market conditions Zero Spread seems more beneficial.
The minimum deposit for a Premium account is 100 USD and for a Zero Spread account is 200 USD. This makes HF Markets one of the brokerages with a very low minimum deposit.
Minimum deposit
HF Markets EU
HF Markets UK
HF Markets Dubai
HF Markets South Africa
100 USD
100 USD, EUR, GBP
100 USD, 400 AED
5 USD, 70 ZAR
HF Markets allows customers of the Islamic faith to apply for a swap-free account. However, if a position is open for more than 7 days, a Carry fee is charged.
Maximum leverage for retail traders is determined by the requirements of the European Securities and Markets Authority (ESMA) – 1:30 for major currency pairs, 1:20 for non-major pairs, gold and major indices, 1:10 for other commodities and non-major indices, and 1:2 for cryptocurrencies.
Max leverage for retail traders
HF Markets EU
HF Markets UK
HF Markets Dubai
HF Markets South Africa
1:30
1:30
1:30
1:1000
Under ESMA rules, an HF Markets client can apply for professional trader status if it meets two of three requirements – to have made 40 trades of significant size in the last year, to have a financial instrument portfolio exceeding EUR 500,000, and to have worked worked in the financial sector in a professional position for at least one year.
These clients can trade with leverage of up to 1:400, but in return give up the protections and guarantees that retail traders enjoy. HF Markets also states in its Terms and Conditions that it reserves the right to lower a client's leverage to 1:75 in the event that client account equity is equal or exceeds 300,000 USD (or currency equivalent) and there are open trades of 50 lots or more.
For customers resident in Poland, HF Markets also offers an intermediate option called Experienced Retail Clients. This categorisation was introduced by the Polish financial regulator Komisja Nadzoru Finansowego  and has lower requirements than Professional Client status. HF Markets offers such clients leverage up to 1:100.
HF Markets also offers a well-developed social trading service called HFcopy. Social trading allows automatic copying of trades of a selected trader. This allows new market players to benefit from the insight of more experienced investors.
Clients of HF Markets can participate as either Followers or Strategy Providers for a minimum deposit of EUR 300 and EUR 1000 respectively. Strategy providers receive a share of their followers' profits. The amount of this share can be as high as 35% and is determined by the Strategy Providers themselves in their application for such status.
HFcopy is only available with the MT4 platform and the account currency EUR.
HF MARKETS DEPOSIT/WITHDRAW METHODS AND FEES
HF Markets offers a solid choice of payment methods – Visa and MasterCard credit/debit cards, wire transfer and e-wallets Skrill, Neteller, Sofort and iDeal. The broker does not charge any additional transfer fees.

HF Markets highlights as an advantage their automatic transfer system, which allows the transfer of money in seconds to and from the client wallet once the specific method has already been authorized.
BOTTOM LINE
Trading financial instruments is a risky business so you want to give yourself the best chance of making a profit. The safest way to do this is to work with an established, regulated broker that offers competitive terms and technical capabilities for different trading styles. HF Markets meets these requirements, making it an excellent choice for beginners and experienced investors alike.