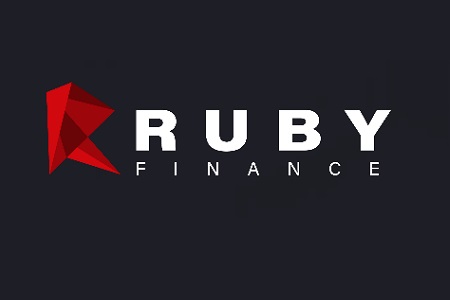 Beware! RubyFinance is an offshore broker! Your investment may be at risk.
RECOMMENDED FOREX BROKERS
Don't put all your eggs in one basket. Open trading accounts with at least two brokers.
RubyFinance presents itself as a forex and CFD broker, offering "finest trading conditions". However, even minimal inspection suggests that it's not a good idea to trust RubyFinance with your money. This website exhibits all the basic symptoms of a typical scam and it is in your best interest to avoid it.
RUBYFINANCE REGULATION AND SAFETY OF FUNDS
According to the information on the website, RubyFinance is managed by a company named Inure Consulting LTD. This company is said to be based in the Commonwealth of Dominica.
This alone gives us sufficient reason to write off RubyFinance as a reliable broker. This offshore zone is popular with financial scammers. Although this country has a financial regulator – Financial Services Unit (FCU), It does not license or supervise forex brokers. This means that if you deal with a brokers registered there, they are completely unaccountable and you have no guarantees about the safety of your money. The Commonwealth of Dominica also allows incorporation of totally anonymous International Business Companies (IBCs) which is very convenient for these scammers.
However, a check of the FCU's database showed that the Inure Consulting LTD does not even have such an offshore registration. Our suspicions that such a company did not exist were reinforced after reviewing the Terms and Conditions. There is no mention of a company name at all. In addition, we find a callout in the text which states that "the Poland courts shall have exclusive jurisdiction to settle any claim or dispute which might arise out of or in connection with these terms and conditions".
Poland is a member state of the European Union and a broker operating on its territory must be duly licensed by the local financial regulator, The Polish Financial Supervision Authority (KNF). But we found nothing on the institution's website about either RubyFinance or Inure Consulting LTD. So even if the anonymous company behind this website is based in Poland, it is not licensed to provide brokerage services.
Under no circumstances should you trust your money to such anonymous sites full of false and contradictory information. Instead, you can turn to one of the many companies that really work under the supervision of respected regulatory bodies like Cyprus Securities and Exchange Commission (CySEC) or Financial Conduct Authority (FCA) in the UK. As their customer you will enjoy a number of guarantees including negative balance protection and guarantee for your funds if the broker goes bankrupt, which goes up to EUR 20,000 in EU and 85,000 GBP in the UK. Regulations in the UK and EU include some important measures designed to improve investor protection and promote market integrity and transparency, such as transaction reporting. Regulated brokers are also required to segregate their operational funds from the client's money.
RUBYFINANCE TRADING SOFTWARE
The RubyFinance website promises a custom trading platform with extensive capabilities. After registering an account, however, we only get access to a fairly standard and limited webtrader: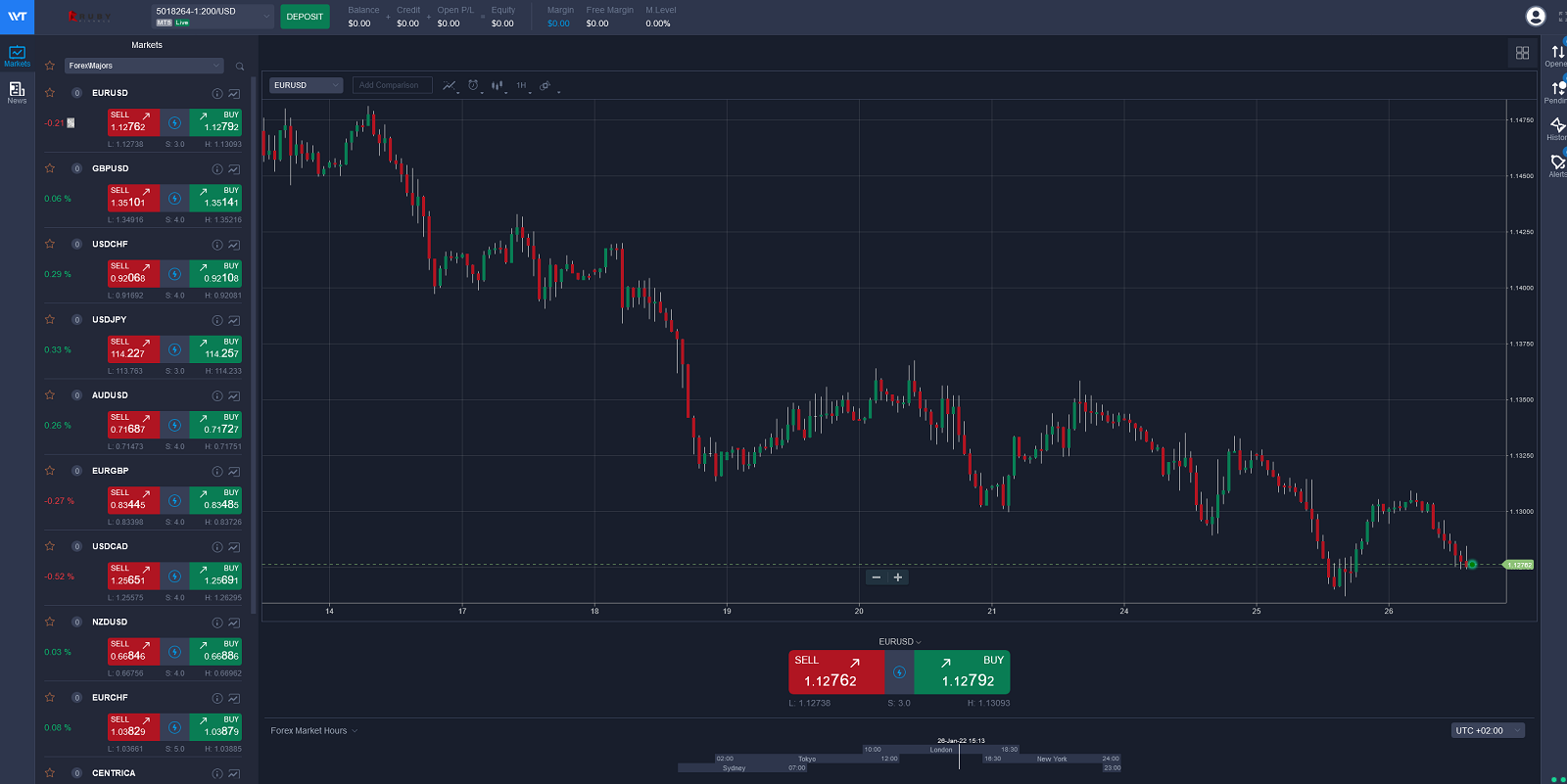 Although the platform has the basic functionalities for placing orders, customizing charts and application of technical indicators, it lacks the more advanced features found in the most widely used trading platforms in the industry, MetaTrader 4 (MT4) and MetaTrader 5 (MT5). These platforms have established themselves as industry standard because they offer a wide range of features, including a variety of options for customization, multiple account usage, designing and implementing custom scripts for automated trading and backtesting trade strategies.
It is noteworthy that on RubyFinance's website there are links to download remote access applications. Scammers often take advantage of the inexperience of their victims and convince them to install such software, supposedly to help them with account creation, depositing money and trading software management.
RUBYFINANCE TRADING CONDITIONS
RubyFiance claims to offer five types of trading accounts with minimum deposits ranging from EUR 250 to EUR 50,000.  By comparison, many genuine, regulated brokers allow you to start trading with amounts around 100 USD.
The descriptions of the trading accounts lack any specificity – it is only stated that the spreads are "floating" and the trading conditions are "standard". In the web trading platform we see a spread of 3 pips for the benchmark currency pair EUR/USD. This is double the usual average levels at legitimate brokers.
The text of the terms and conditions states that "the company charges brokerage fees or commissions for executing trades", but nowhere is the amount of these fees specified.
Leverage only becomes clear after account registration – 1:200. This is a level that cannot be seen with regulated brokers. High leverage creates the opportunity for more significant profit, but correspondingly increases the risk of sudden and excessive losses. All leading regulators therefore restrict leverage for retail traders. The European Securities and Markets Authority (ESMA) and accordingly all EU regulators limit leverage to 1:30 for major currency pairs and even lower levels for more volatile assets.  The same rules are followed by the UK's FCA.
RubyFiance also claims to offer various bonuses to its customers. All leading regulators prohibit brokers from using bonuses, promotions and similar practices.
RUBYFINANCE DEPOSIT/WITHDRAW METHODS AND FEES
The text of RubyFinance's Terms and Conditions states that the available payment methods for deposit and withdrawal are bank transfer, credit/debit cards and crypto wallets. In the deposit menu itself, however, the only available option is cryptocurrencies:
Scammers prefer cryptocurrencies because these transactions are not subject to refunds. While there are some legitimate brokers that accept Bitcoin, they do so alongside other transparent payment methods such as credit/debit card, bank transfer or popular e-wallets like PayPal, Neteller or Sofort.
RubyFinance claims that it does not charge deposit and withdrawal fees. However, the Terms and Conditions state that withdrawals can only be made through the same bank account and credit card, and in the same fiat currency as the deposit. Since credit cards and fiat currencies cannot be used for deposit, it is not actually clear what conditions apply.
If the account has received any deposit, the withdrawal of funds is allowed only after fulfilling high requirements for minimum traded volume – 25 times the bonus amount plus the deposit. Scammers routinely use such clauses to block any withdrawal requests.
HOW DOES THE SCAM WORK
Fake brokers are a type of scam that has spread especially rapidly in recent years, aided by the excitement surrounding cryptocurrencies. People looking for ways to make money online can very easily come across one of the many scam websites of this type. Scammers are very skilled at convincing people to invest – first small amounts of a few hundred dollars, and then larger sums of money. Some of the scam schemes are quite elaborate and even use trading software to convince victims that their money is actually being invested and even racking up profits.
But when you ask to withdraw those winnings, or even your deposit, you'll find it's impossible – you'll be told that a sudden change in the market has wiped out all your money, or that you have to meet impossible minimum trading volume requirements and pay huge fees and commissions hidden in the terms and conditions. Fraudsters can also simply disappear because they use fake names and offshore shell companies for their operations.
WHAT TO DO WHEN SCAMMED
If you find yourself scammed, the first thing you should do is notify the financial authorities in your country about the scammers' activities, and spread the word online to warn other potential victims.
Your options for getting your money back are limited. If credit or debit cards were used for the transactions to the scammers, you have the option to request a chargeback. Companies like Visa and MasterCard now allow such requests to be made up to 540 days after the transaction. But keep in mind that if you have provided proof of your identity to the fraudsters, they may dispute that the transaction was voluntary. In addition, fraudsters typically use cryptocurrencies and shady e-wallets that do not allow refunds.
Victims of scams are often targeted by another type of online fraudsters who promise that their money can be refunded for an upfront fee. Under no circumstances should you trust such offers.