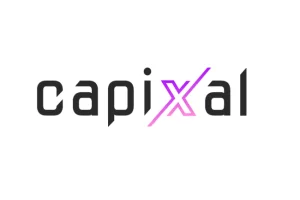 RECOMMENDED FOREX BROKERS
Don't put all your eggs in one basket. Open trading accounts with at least two brokers.
If you want to trade both profitably and safely, you should definitely choose a licensed broker you can trust. Capixal is one such company – licensed by the well-known Cypriot regulator CySEC, the broker presents clients with the opportunity to trade various assets on a functional, established platform, and provides many well-organized educational materials that would most certainly be of use both to less experienced customers, and to seasoned traders who want to remain up to date with current market trends. While the fact that the broker does not charge withdrawal and deposit fees is a huge plus, many clients might be turned off by some relatively big trading expenses. We could not help but think that there are much more affordable brokers out there who could offer you a larger variety of trading platforms and more innovative services (such as copy trading opportunities, for example), varied trading instruments and better customer support.
Capixal REGULATION AND SAFETY OF FUNDS
Capixal is regulated by CySEC as IFC Investments Cyprus Ltd– which means that they are legitimate and free to offer services in all EEA countries according to the Markets in Financial Instruments Directive.
Furthermore, Capixal is also registered by multiple other European regulatory bodies such as the supervisory authorities of Sweden, Norway, Spain, Italy, Malta, Denmark, etc. All of these details make Capixal a reliable, well-regulated broker which, in reality, is probably the first and most important thing you should care about. A license serves as proof that you will be treated fairly and in accordance with many laws because licensed brokers have to answer to strict financial authorities. CySEC is actually one of the most merciless regulators in the world that requires that brokers under its jurisdictions maintain high standards and offer good services to clients.
All CySEC-regulated brokers must maintain capital of at least €730 000 to prove their financial stability. However, that sum can be much bigger for brokers with more clients. Additionally, all licensed companies are asked to participate in compensation schemes which ensures that in case the broker becomes insolvent, their clients could receive compensation of up to €20 000 depending on the size of their investment. Negative balance protection is a provided to all retail clients – this means that your losses cannot exceed the amount of money in your account. Finally, all client deposits must be kept in segregated accounts which not only proves that the broker would not be able to reinvest your money elsewhere but also speeds up withdrawals.
The only way to trade securely and be sure that your money is being handled properly is to choose a licensed broker. Capixal is one such broker so don't hesitate to open an account with them if you think that their offer suits your needs.
Capixal TRADING SOFTWARE
Capixal uses the well-known MetaTrader 4 – both the desktop and web versions of the software are available. You would also be able to get access to the broker's own mobile trading app.
Since its introduction in 2006, MT4 has become somewhat of a gold standard in the trading world. Up until recently, it was the platform with the largest number of clients – before it got surpassed by the newer MT5. Still, many traders swear by MT4 and would not give it up for anything in the world. The idea behind MT4 was to create software which could optimize forex trading as much as possible – and MT4 did that swiftly with its intuitive interface and the many features it offers. Not only would you get access to preprogrammed Expert Advisors who track the markets and trade automatically but you would also be able to develop custom scripts for trading bots and indicators with the MQL4 language. VPSs that keep trading bots operating at all times could be purchased -and if you open a Platinum account with Capixal, those could be free. You could set up signals for prices going above or below a certain level and subscribe to those set by other people for a small monthly fee. Finally, you will get access to a huge trading community where you would be able to exchange strategies with other traders.
Check out Capixal's MT4 terminal below:
As mentioned, the broker also offers their own app available for Android and iOS. The app was mostly developed as a way to trade conveniently on the go from your mobile device and not so much for advanced charting and analysis. Still, it gives access to 60+ analysis tools and CFDs on 350+ assets which is still more than great for a mobile app.
Capixal TRADING CONDITIONS
We have to admit we were not too impressed with the trading conditions offered by Capixal. The broker offers the choice between three account types – Silver, Gold and Platinum. However, if you don't deposit or withdraw any funds from a live account you have set up with Capixal within 21 calendar days, your account would be transferred to Bronze. This means bigger trading costs  and no chance to trade as a professional client. It was not, however, what would lead to these bigger trading costs – wider spreads, additional fees and commissions or something else entirely.
You would be able to trade forex, cryptocurrencies, commodities, stocks (such as Tesla, Berkshire Hathaway, Beyond Meat, HP, JP Morgan Chase, Spotify, and much more), and popular indexes.
The minimum deposit the broker asks for is $250 – which is more of an upper limit for most legitimate brokers but still acceptable. You would still have to keep in mind that some established brokers like XM and FXTM would be more than happy to set up an account for as little as $5.
The leverage offered by Capixal is in line with EU leverage restrictions for retail clients – 1:30 on major currency pairs, 1:20 on minor currency pairs, major indices and gold, 1:10 on non-major indices and all other commodities, 1:5 on indices, and 1:2 on cryptocurrencies. However, the broker leaves you the option to get access to leverage as high as 1:200 if you qualify as a professional client – to do that, you would have to meet two of the following three standard requirements: 1. to have a financial portfolio is estimated at €500,000 or more, have worked in the financial sector for at least one year in a position dealing with trading, or to have executed transactions of significant size on the relevant markets – at least 10 transaction per quarter for the past year. If you become a professional client, the broker is also willing to offer you lower spreads, exclusive education materials and access to trading contests. You would, however, lose some of the protections you would have as a retail client – the negative balance protection, for example.
As for spreads, we were far from impressed with the broker's offer. Capixal offers spreads of around 3 pips on Silver accounts, 2.5 pips on Gold accounts and 2 pips on Platinum accounts. They do not charge any commissions – those are added to the spread. We would consider a spread of around 1.5 pips as average, and there are many brokers – like OctaFX, for example – who are ready to offer you zero commission accounts with spreads starting from as little as 1 pip. So we would not consider Capixal's offer a particularly cost-effective one.
Capixal DEPOSIT/WITHDRAWAL METHODS AND FEES
The broker accepts deposits made via Visa/MasterCard, bank transfer, and Skrill. Capixal themselves do not charge any deposit or withdrawal fees which is quite good. The only occasion on which you would be asked to pay a withdrawal fee is if you use wire transfer and withdraw less than €50 – in such cases, you would be asked to pay a fee of €15.
The broker charges some quite hefty inactivity fees. After 30 days of no trading activity, your account will be considered Inactive. The first fee, however, comes on the 61th day of no trading activity – then you will be charged $100 for the two months you have not used your account. The fee only becomes bigger with time so we suggest you don't open an account with this broker if you are not planning on trading regularly – at some point, you will be charged $500 per month.
Other than that, the broker has some quite standard rollover fees which are thoroughly explained in tables available on the website.
BOTTOM LINE
Although Capixal is certainly a thoroughly regulated broker aiming to provide clients with good software and enough trading opportunities, there are simply elements of the broker's offer we were not quite satisfied with. We were not impressed with the pretty much absent customer support, wide spreads, huge inactivity fees, and lack of initiative for innovation – we believe these are things that would turn many traders off. However, if you are not particularly interested in more flashy offers and are completely fine with just trading securely without having to worry about additional commissions and fees on deposits and withdrawals, Capixal might be an option worth checking out.