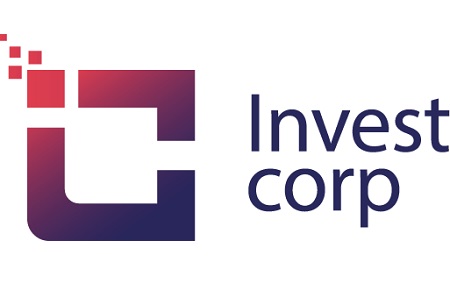 Beware! InvestCorp is an offshore broker! Your investment may be at risk.
RECOMMENDED FOREX BROKERS
Don't put all your eggs in one basket. Open trading accounts with at least two brokers.
InvestCorp is supposed to be a forex broker, but we don't have any good reasons to trust it with our money. At the time of writing this review, the website is clearly unfinished – all subpages are blank and even basic information is missing. However, the available evidence is enough to conclude that we are dealing with yet another fraudulent scheme. Should the InvestCorp website acquire a more convincing appearance in the future, it will not change the fact that it is not a licensed and regulated broker.
INVESTCORP REGULATION AND SAFETY OF FUNDS
The only specific information that can be found on the homepage of the website is the statement that InvestCorp is owned by Sailor Consulting LLC. This company is based in St. Vincent and the Grenadines (SVG), an offshore zone with no brokerage regulations in place.
This means that InvestCorp is not subject to any scrutiny, and that the client has no guarantees about the security of their funds. In fact, there is no guarantee that InvestCorp offers the services it claims at all.  The local Financial Services Authority  expressly warns that it does not license brokers and does not supervise the activities of International Business Companies engaged in such activities.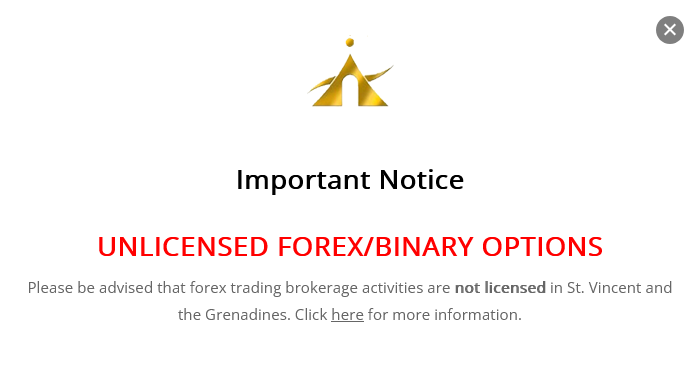 Some large brokerage firms set up offshore subsidiaries, including in SVG. The aim is to be able to compete successfully in unregulated emerging markets in Asia and Africa. But these companies want to maintain a good brand name, which is why they provide guarantees and transparency even for clients of their unregulated divisions. This cannot be said of InvestCorp, which is simply an unknown and unregulated company. The risks associated with trusting such a shady broker are not justified.
Depending on your location, it is advisable to choose a company that is regulated by an institution such as Commodity Futures Trading Commission (CFTC) in US, Australian Securities and Exchanges Commission (ASIC), UK's Financial Conduct Authority (FCA) or some EU regulator like Cyprus Securities and Exchange Commission (CySEC).
Clients of these brokers receive protections such as negative balance protection and segregation of the client's funds from the broker's funds.  In the EU and the UK, brokers must also participate in guarantee schemes that cover a certain amount of the trader's investment if the broker becomes insolvent. These guarantees amount to up to 20 000 EUR in the EU and 85 000 GBP in the UK. However, the likelihood of such a bankruptcy is low because regulators also have significant net capital requirements that companies must maintain – EUR 730 000 in UK and Cyprus, AUD 1000 000 in Australia and at least 20 million USD in the United States.
INVESTCORP TRADING SOFTWARE
Although the InvestCorp website is almost completely empty of information and functionality, it is still possible to register an account and log in to the Client portal. There we find a link to a web-based platform of the kind we have seen with many fake brokers. Here's what it looks like:
This platform has the basic functionalities for displaying technical indicators and placing orders, but cannot be compared with the capabilities of the software used by legitimate brokers. The most widely used platforms in the industry are MetaTrader 4 (MT4) and MetaTrader 5 (MT5). These platforms have established themselves as industry standard because they offer a wide range of features, including a variety of options for customization, multiple account usage, designing and implementing custom scripts for automated trading and backtesting trade strategies.
The presence of a trading platform does not make this website any more legitimate and does not guarantee that this alleged broker offers real trading. Many scammers have trading software to fool their victims that their money is being invested.
INVESTCORP TRADING CONDITIONS
Due to the lack of any information or legal documentation on the website, we can only comment on the fragmentary information about the trading conditions that we find in the client portal. Legitimate brokers usually offer different types of trading accounts suitable for investors with different preferences, and provide detailed descriptions of trading parameters – minimum deposit, order execution method, tradable financial instruments, leverage, spread, commissions.
In the trading platform we see a spread of 3 pips for the benchmark currency pair EUR/USD. This is an extremely uncompetitive and disadvantageous level. Rarely will you see a genuine broker offer a spread above 1.5 pips.
The set leverage level is 1:200. Regulated brokers do not offer such levels to retail traders as trading with high leverage carries risks of sudden and excessive losses. A maximum leverage of 1:30 is allowed in the European Union and the United Kingdom and 1:50 in the United States.
The deposit menu in the client portal allows deposit only with bitcoin, with a minimum amount of 1 BTC. At the time of writing this review, this equates to over 30,000 USD. There is a separate deposit menu in the trading platform where the minimum amount is 1,000 USD. In comparison, many leading brands in the industry allow you to start trading with token amounts of and under 100 USD.
INVESTCORP DEPOSIT/WITHDRAW METHODS AND FEES
As mentioned, InvestCorp accepts only bitcoin as a payment method. This is typical of financial scammers. Cryptocurrencies are their payment method of choice because they allow for a high degree of anonymity and at the same time do not allow for refunds.
Legitimate brokers typically offer clients a wide choice of transparent payment methods, including bank transfer, credit/debit cards and established e-wallets such as Sofort, Skrill, or iDeal. If you are interested in licensed brokers that also accept cryptocurrencies as a means of payment, take a look at this list.
Since InvestCorp does not provide proper legal documentation, it is unclear what traps the fraudsters may have set. Typically, fake brokers make withdrawing money impossible through huge fees and impossible-to-fulfill traded volume conditions.
HOW DOES THE SCAM WORK
Stories of people getting rich from cryptocurrencies tempt many to try their luck in the financial markets. But you have to be very careful not to fall into the clutches of the many scammers lurking in the online space. These scammers only pose as brokers and lure you in with promises to take on the confusing aspects of investing for you.
If you make contact with such scammers they will first convince you to give them a small initial sum of a few hundred dollars. They may even fool you for a while that your investment is generating incredible profits to convince you to give them a larger amount. But your money won't really be invested. And when you try to withdraw your supposed profits or even your deposit, you will find that it is impossible.
The scammers may tell you that all your investments have been lost by a sudden change in the market. Or they'll point you to clauses hidden in their Terms and Conditions that say withdrawing your money is only possible after you meet impossibly high minimum trading volume requirements. And they can simply disappear because these scam sites hide behind fake names and offshore companies that are not subject to rules and regulations.
WHAT TO DO WHEN SCAMMED
If you find yourself a victim of scammers, you should inform the relevant authorities in your country and spread the word online to warn other potential victims. However, the chances of getting your money back are not high.
If you used a credit/debit card for the transactions, you could ask for a chargeback. However, such requests can be disputed if you have provided the fraudsters with proof of identity such as a copy of an ID. Under no circumstances should you trust people on the internet who claim they can recover your money for an upfront fee. These too are certainly scammers.