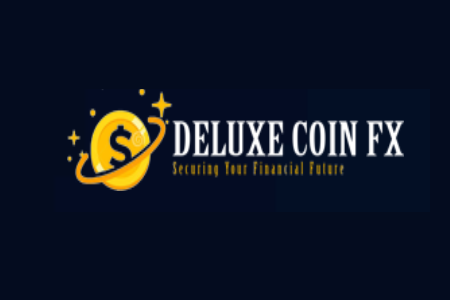 Beware! DeluxeCoinFX.com is an offshore broker! Your investment may be at risk.
RECOMMENDED FOREX BROKERS
Don't put all your eggs in one basket. Open trading accounts with at least two brokers.
Now here is a broker that does little to cover its scammer tracks. DeluxeCoinFX.com's website is a manifestation of the essence of any scammer broker: rushed cover-ups, odd and confused claims, an appalling website, and even worse trading/payment conditions. And all this is well exemplified in the terrible website.
We registered very easily, and we soon redirected to a user area. The registration process itself demanded only one name, a pass and an email, revealing that just about anyone can open an account here and get stolen from.
The worst part was not the terrible user area design, but the total lack of a trading software.
The website may speak of trading conditions, spreads, leverages, assets, and the like, but in reality what ever the site offers is fake and misleading. There are no trading conditions applicable here.
DELUXECOINFX.COM REGULATION AND SAFETY OF FUNDS
In the legal docs we are told that "By registering as a Customer You covenant, represent, and warrant that (under the Applicable Law and law of the country of Your residence)" This means that the broker tries to convince users that it it their responsibility to get regulated, which is so out of touch with the reality of these businesses. The user has no responsibilities to the broker, but the other way around.
Further down the legal docs we are told the broker is adherent to the laws of Saint Vincent and the Grenadines, which is basically saying that the firm is not licnesed. This Caribbean nation does not have an FX regulator, so it matters not if DeluxeCoinFX.com is located there or not.
Here is a very scammer-like clause:
Effective here is a provision that states the broker can literally change its business model and services at any time without warning. This can lead to some devastating effects on the user.
There are a ton of further shady clauses, including a margin requirement that changes without notice that must be completed in order to process withdraw, as well as a plethora of undisclosed fees, as well as a couple of indemnification cluase to keep the broker in check and out of the gazee of the law.
There is also an FCA warning, which is the last deal. This broker is completely unregulated and a risk to all.
Unless you wish to throw your money away for no reason , there is absolutely no incentive for investing in unlicensed brokers. In fact, you would be doing them a big favor by funding their further fraudulent projects. If you wish to trade real FX and CFD with regulated brokers, looks no further that those that are regulated, especially in well known locations such as Europe, the UK, the US, or Australia. The regulators there are pedantic to a ridiculous degree and will do everything in their power to uphold the rights of the user and the integrity of the market industry. It is within their power to penalize brokers and demand client compensation, as well as to set industry standards and introduce new rules and regulation.
DELUXECOINFX.COM TRADING SOFTWARE
There is no trading software used here. The user area has a bunch of third part charts, and third part chart elements scatter around. The site has no links to a software.
Instead of a trading software, this firm presents three separate packages that are all false promises of profit.

A 3% daily profit on a $100 minimum deposit not only seems like a steal but is also completely unrealistic, and raises a whole heap of question, of which the most important one is concerned with the origin of these funds. The user is seemingly investing into thin air, and that's precisely where these promised profits are coming from. Nowhere.
DELUXECOINFX.COM DEPOSIT/WITHDRAW METHODS AND FEES
From the user area we learn that only BTC deposit are available. Please be ware that crypto-based payments are untraceable with unlicensed brokers, therefore making it even easier to steal deposits than any other payment method.
The minimum deposit requirement is 0.002 BTC, or around $60 at the time of writing this. Even though the minimum for an investment package is $100 for package, the client can invest as low as $60; how he activate the packages we don't know, and neither should he proceed with it!
The withdrawal area also offers only a crypto-based payment method, whihc measn that clients will probably never see their investments back.
As we already mentioned above, there are fees and commissions, yet probably none of them are connected to payments, even though we cannot be entirely sure of anything here.
It goes without saying that all investments here are at a risk and any interactions with DeluxeCoinFX.com should be avoided.
HOW DOES THE SCAM WORK
Getting scammed usually happens without you knowing it. It's a deceivingly simple process that owes its success precisely because it seems so avoidable.
First, there is the matter of getting in contact with the broker which happens in one of two ways. Either it contacts you, or you it. If it calls, it means that somewhere in your net journey you accidently left a phone number or an email address. Or you were persuaded by the broker to contact it, which is why many scammer brokerage sites looks so appealing.
The hardest thing to achieve, for a fraudster, is to convince a user to invest an initial deposit. Prior to this a certain level of trust must be built, centered around a false sense of rapport. The broker will fake an interest in the user and in the process talk about market and profit opportunities, as well as investment choices. It's all a part of a retaining strategy that will keep the user invested for at least a couple of thousand dollars, on average, until, eventually, he realizes the scammer pit he has fallen in.
When this happens, the broker will seize all contact with the user, and might even block the client from the website. It will go to great lengths not to return a single penny of the user's money.
WHAT TO DO IF SCAMMED
The first thing you should do it to file for a charge back. That's if you have invested by means of a credit or debit card. MasterCard and VISA have a chargeback period of 540 days giving users more than enough time to try to get their money back.
Wire transfer deposits are not as easy to acquire, and the best advice we can give you is to set up a reimbursement strategy with the bank leading the transactions. Most banks have strategies put in motion when these circumstances are met. Furthermore, if scammed via a wire transfer, it's best to change your bank account user name and password.
Unfortunately, all crypto deposits are most surely lost for good. These transactions are untraceable and therefore once they reach the scammer end it all depends on the fraudsters if you see your money back or not.
Lastly, do not trust recovery agents or agencies. These are either separate scammers trying to get a hold of any leftovers, or can even be an extension of the brokerage scam.