Beware! Tradon.pro is an offshore broker! Your investment may be at risk.
RECOMMENDED FOREX BROKERS
Don't put all your eggs in one basket. Open trading accounts with at least two brokers.
It was easy to determine that Tradon.pro is not the trustworthy forex broker it portrays itself to be, because it's just a new version of a scam we've encountered before – Tradon.io. But even if you're not familiar with the previous reincarnations of this fraudulent scheme, fact checking quickly reveals that it wouldn't be a good idea to trust your money to Tradon.pro.
TRADON.PRO REGULATION AND SAFETY OF FUNDS
Tradon.pro claims that a company called  Ingenue Consulting Llc is behind the website. We are not sure if this is correct because the Terms and Conditions and other legal documentation do not actually mention this or any other legal entity name.
But even if this company is a real owner, this does not guarantee any security or transparency of the trader, because it is registered in an unregulated offshore zone –  Saint Vincent and the Grenadines (SVG). As soon as you open the website of the local Financial Services Authority  you see a warning that the institution does not license forex and other types of brokers and does not supervise the activities of International Business Companies engaged in such activities.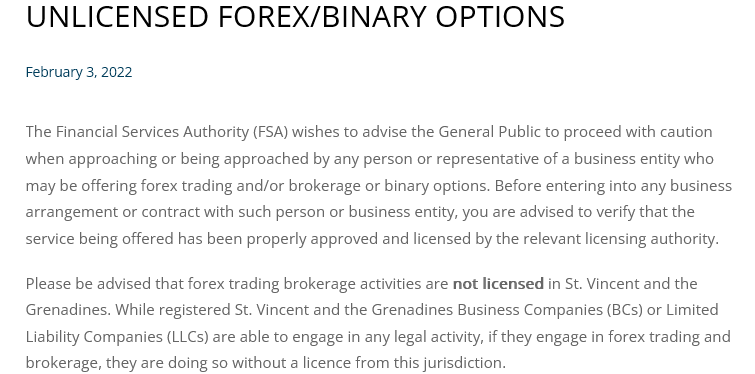 Some large brokerage firms set up offshore subsidiaries, including in SVG. But these companies want to maintain a good brand name, which is why they provide guarantees and transparency even for clients of their unregulated divisions. This cannot be said of the Tradon.pro, which is simply an unregulated company that may or may not offer the services it claims. Tradon.pro has been blacklisted by the Italian financial regulator, CONSOB, confirming our suspicion that we are dealing with fraudsters and not just an unregulated offshore broker.
You should only trust legitimate brokers operating in one of the established financial centres like the UK, EU, USA or Australia. There, the activities of brokers are controlled by powerful regulatory bodies such as UK's Financial Conduct Authority (FCA), Cyprus Securities and Exchange Commission (CySEC), Commodity Futures Trading Commission (CFTC) in US or Australian Securities and Exchanges Commission (ASIC). Clients of these brokers receive protections such as negative balance protection and segregation of the client's funds from the broker's funds.
In the EU and the UK, brokers must also participate in guarantee schemes that cover a certain amount of the trader's investment if the broker becomes insolvent. These guarantees amount to up to 20 000 EUR in the EU and 85 000 GBP in the UK. However, the likelihood of such a bankruptcy is low because regulators also have significant net capital requirements that companies must maintain – EUR 730 000 in UK and Cyprus, AUD 1000 000 in Australia and at least 20 million USD in the United States.
TRADON.PRO TRADING SOFTWARE
Tradon.pro uses fairly limited web-based trading software called WebTrader. But upon opening the platform, we see a message that Tradon.pro does not actually have a license from the software developer:
Probably because of this, basic platform features like interactive graphics were not working. While these types of web platforms generally have the most basic functionality for making trades, they cannot compare to the advanced software used by legitimate brokers.
The most widely used platforms in the industry are MetaTrader 4 (MT4) and MetaTrader 5 (MT5). These platforms have established themselves as industry standard because they offer a wide range of features, including a variety of options for customization, multiple account usage, designing and implementing custom scripts for automated trading and backtesting trade strategies.
The presence of a trading platform does not make this website any more legitimate and does not guarantee that this alleged broker offers real trading. Many scammers have trading software to fool their victims that their money is being invested.
TRADON.PRO TRADING CONDITIONS
Tradon.pro claims to offer three types of trading accounts giving access to 1,700 tradable instruments. However, the account descriptions are sketchy and include only the most basic parameters.
The minimum deposit is 250 EUR. For a much lower amount you could use the services of a licensed broker, including some of the industry's leading brands.
Tradon.pro promises a spread between 0 pips and 1.3 pips, but in the trading platform we see a far more unprofitable level of 3 pips for the benchmark currency pair EUR/USD.
The leverage offered is between 1:100 and 1:300. High leverage creates the opportunity for more significant profit, but correspondingly increases the risk of sudden and excessive losses. All leading regulators therefore restrict leverage for retail traders. A maximum leverage of 1:30 is allowed in the European Union, the United Kingdom and Australia, and 1:50 in the United States.
Tradon.pro also allegedly provides generous bonuses. Regulated brokers are prohibited from using bonuses and promotions to attract clients. Fraudsters often use bonuses to bind their victims to extremely unfavourable terms.
TRADON.PRO DEPOSIT/WITHDRAW METHODS AND FEES
According to the main page of the website, as well as the Terms and Conditions, Tradon.pro accepts bank transfer and credit cards as deposit and withdrawal methods. However, in the deposit menu itself we see cryptocurrencies – the favorite payment method of scammers because they do not allow refunds. While there are some legitimate brokers that accept digital currencies like Bitcoin, they do so alongside other transparent payment methods such as credit/debit card, bank transfer or popular e-wallets like Skrill,  PayPal or Sofort.
The clauses in the Terms and Conditions are also typical of financial fraudsters. It is specified that any money not directly deposited, including any profits from trading, is not considered to be the client's money and cannot be withdrawn by default. If the account has received a bonus, withdrawal of money is allowed after meeting high requirements for minimum traded volume – 30 times the amount of the bonus plus the deposit.
HOW DOES THE SCAM WORK
Many people are looking for ways to make money passively, but do not have the necessary knowledge to invest in the financial markets themselves. This makes them a target for the many online scammers posing as brokers. If you come across some of them and give them your contacts, you will be contacted by skilled scam artists who will assure you that they can take on the incomprehensible aspects of investing for you. You will only be required to invest and take profits.
But when you try to collect even just a fraction of your money, it will turn out to be impossible. Your supposed profits will suddenly evaporate, or you'll find that you have to meet impossible traded volume requirements first. Fraudsters often insert huge withdrawal fees into client agreements amounting to 10%, 20% or even more. You won't be able to hold scammers accountable because they hide behind fake names and shell-companies offshore. Scammers also typically use non-refundable payment methods.
WHAT TO DO WHEN SCAMMED
First of all, you should be very careful not to fall straight into the clutches of other scammers. Another common scam is to promise money recoveries from fake brokers for an upfront fee.
If you used a credit or debit card for the transactions, you can charge a chargeback. Visa and MasterCard have a long period in which they allow such requests – 540 days. But keep in mind that fraudsters can dispute if you have provided them with a copy of your ID and proof of address. It would also be helpful if you alerted the authorities in your country and other people online to the activities of the scammers.