Beware! Baxia is an offshore broker! Your investment may be at risk.
RECOMMENDED FOREX BROKERS
Don't put all your eggs in one basket. Open trading accounts with at least two brokers.
The people behind Baxia have made an effort to make this website at least on the surface look like a credible, albeit offshore broker. Closer inspection, however, quickly unravels this facade. Baxia is actively trying to deceive us and has common traits with other fake brokers we have encountered. We have no good reason to believe Baxia's claims and trust them with our money.
BAXIA REGULATION AND SAFETY OF FUNDS
Baxia draws much attention to its alleged use of technical infrastructure in New York and London. This should suggest that this broker operates in two leading financial centers where some of the strictest financial regulations are in place.
But this is refuted right on the home page of the website, where it is claimed that there are two offshore companies behind Baxia – Seychelles-based Baxia Global Limited and Bahamas-based Baxia Limited.
We did find Baxia Global Limited in the  Financial Services Authority of Seychelles database, but Baxia Limited is not listed among the companies registered by the Securities Commission of The Bahamas. There are two sets of Terms and Conditions on the website, one for the Seychelles company and one for the Bahamas company, but the latter does not open. It is noticeable that the Terms and Conditions for the Seychelles company are marked as "draft".
These suspicious inconsistencies and registration in Seychelles are argument enough to avoid Baxia. After all, the only requirement for brokers in Seychelles is to maintain a minimum capital of just 50,000 USD. By comparison, in the UK and the EU the requirement is 730,000 EUR and in the US 20,000,000 USD.
But Baxia is actually even more problematic. On the account registration form, we must agree to Terms and Conditions that are completely different from the document on the homepage of the website. From these Terms and Conditions, it is clear that a company called Fidappoint Secretarial Limited, based in the Marshall Islands – an offshore zone with even lower standards than the Seychelles – is actually behind Baxia.
These Terms and Conditions claim that the Baxia is regulated by the Republic of Marshall Islands Financial Services Authority – but no such institution exists. The Marshall Islands have no financial regulator at all. It is clear from this that we should not believe anything on the Baxia website.
You should only trust legitimate brokers operating in one of the established financial centres like the UK, EU, USA or Australia. There, the activities of brokers are controlled by powerful regulatory bodies such as UK's Financial Conduct Authority (FCA), Cyprus Securities and Exchange Commission (CySEC), Commodity Futures Trading Commission (CFTC) in US or Australian Securities and Exchanges Commission (ASIC). Clients of these brokers receive protections such as negative balance protection and segregation of the client's funds from the broker's funds.
In the EU and the UK, brokers must also participate in guarantee schemes that cover a certain amount of the trader's investment if the broker becomes insolvent. These guarantees amount to up to 20 000 EUR in the EU and 85 000 GBP in the UK.
BAXIA TRADING SOFTWARE
Baxia claims to offer the MetaTrader 4 (MT4) and MetaTrader 5 (MT5) platforms – the most popular trading software among traders worldwide. Registering with Baxia does not automatically generate a trading account, and even the Demo account requires identity verification. Because of this, we were unable to examine what parameters are set in the trading platforms. However, the registration information on the MT4 platform confirms that Baxia is based in the Marshall Islands.
The MT5 platform, on the other hand, is not even registered in the name of the Baxia, but in the name of Admiral Markets. This is a legitimate broker operating in Europe. So Baxia turns out to be one of many fake brokers illegally using the demo version of Admiral Markets' MT5 platform. Other such examples are Dacland and CMV Capitals.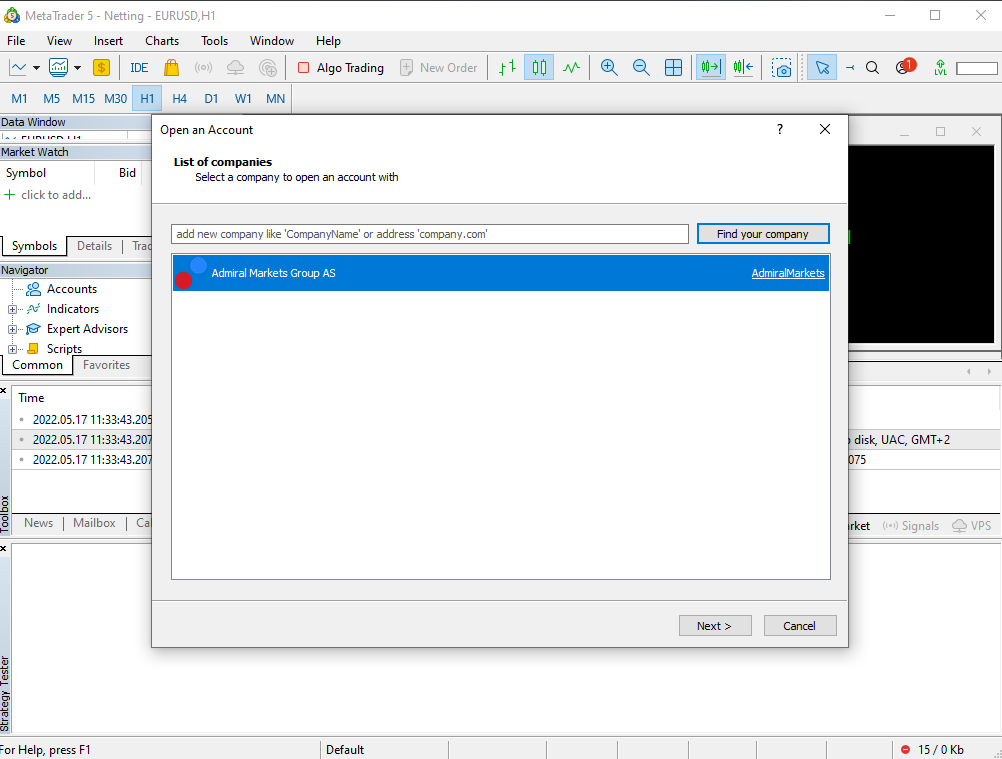 There's no reason to take chances with shady websites like Baxia when there are plenty of legitimate brokers offering the opportunity to use MT4 and MT5. These platforms have established themselves as industry standard because they offer a wide range of features, including a variety of options for customization, multiple account usage, designing and implementing custom scripts for automated trading and backtesting trade strategies.
BAXIA TRADING CONDITIONS
The trading conditions described on the Baxia website are fairly standard. But it is a necessary disclaimer that there is no reason to believe that Baxia offers real trading.
Two types of trading accounts are described – BxStandard and BxZero. The first one offers a spread of 1-1.2 pips without additional commissions, and the second one – a raw spread and a commission of 7 USD per standard lot traded. If Baxia was a genuine broker, these would be competitive enough terms, but it is not.
According to the FAQ section, the maximum available leverage is up to 1:500. High leverage creates the opportunity for more significant profit, but correspondingly increases the risk of sudden and excessive losses. All leading regulators therefore restrict leverage for retail traders. The FCA, like EU regulators, limits leverage to 1:30 for trading in major currency pairs and even lower levels for more volatile assets. The same rules currently apply to Australia. In the US, the maximum limit is slightly higher at 1:50.
There is no mention of bonuses on the website or in the Terms and Conditions for the Seychelles-based company. But the actual Terms and Conditions for the Marshall Islands-based company state that Baxia offers various bonuses and promotions. This too is a practice prohibited to regulated brokers.
The minimum deposit is only 50 USD – but you should know that for an equivalent low amount you could open an account with a licensed broker.
BAXIA DEPOSIT/WITHDRAW METHODS AND FEES
Baxia claims to accept credit cards, bank transfer and the e-providers Skrill and Neteller  as payment methods. But the deposit menu was not available without account verification. This type of financial scammers usually advertise conventional payment methods, but in reality only use cryptocurrencies, which do not allow refunds.
Baxia  specifies withdrawal fees of 1 USD when using e-payments and 20 USD when using wire transfer. But it's unlikely the scammers will let you withdraw your money back. In the Terms and Conditions we find a clause typical for scammers, according to which the account holder must meet the minimum traded volume requirements if he received a bonus, otherwise he is not entitled to withdraw. These requirements are not specified by Baxia, but are usually extremely high and virtually impossible to meet.
HOW DOES THE SCAM WORK
Many people are looking for ways to make money passively, but do not have the necessary knowledge to invest in the financial markets themselves. This makes them a target for the many online scammers posing as brokers. If you come across some of them and give them your contacts, you will be contacted by skilled scam artists who will assure you that they can take on the incomprehensible aspects of investing for you. You will only be required to invest and take profits.
But when you try to collect even just a fraction of your money, it will turn out to be impossible. Your supposed profits will suddenly evaporate, or you'll find that you have to meet impossible traded volume requirements first. Fraudsters often insert huge withdrawal fees into client agreements amounting to 10%, 20% or even more. You won't be able to hold scammers accountable because they hide behind fake names and shell-companies offshore. Scammers also typically use non-refundable payment methods.
WHAT TO DO WHEN SCAMMED
First of all, you should be very careful not to fall straight into the clutches of other scammers. Another common scam is to promise money recoveries from fake brokers for an upfront fee.
If you used a credit or debit card for the transactions, you can charge a chargeback. Visa and MasterCard have a long period in which they allow such requests – 540 days. But keep in mind that fraudsters can dispute if you have provided them with a copy of your ID and proof of address. It would also be helpful if you alerted the authorities in your country and other people online to the activities of the scammers.