Beware! Investmentsglobal.com is an offshore broker! Your investment may be at risk.
RECOMMENDED FOREX BROKERS
Don't put all your eggs in one basket. Open trading accounts with at least two brokers.
Investmentsglobal.com promises many things – "seamless trading experience and different assets to choose from", "an environment where every client has a dedicated account manager who will guide them through the whole journey", reliability, etc. However, the broker fails to deliver on those promises – read our review to learn why investing with this broker is an incredibly bad idea.
Investmentsglobal.com REGULATION AND SAFETY OF FUNDS
Investmentsglobal.com has not provided any address on the website – only an email and a phone number. They have also not mentioned anything about licenses which means that they are most probably not licensed – a regulated broker would always make sure to mention all their hard-earned licenses to prove that they are reliable and you could trust them.
If we trust Investmentsglobal.com's Terms and Conditions, the broker is governed by the laws of St. Vincent and the Grenadines.
This does not make the broker appear more reliable in any way – St. Vincent and the Grenadines is a popular location among scammers. The local financial authority of the country does not regulate or supervise forex brokers or impose any laws in the sphere of forex trading. This means that there are no requirements to be met and that no strict authority is making sure that you are being treated fairly. Moreover, offshore companies are not subjected to transaction reporting requirements – which makes money transferred to such offshore locations untraceable. If all of this sounds like a perfect setup for a scam it is because it is.
If you choose to work with a broker regulated in the UK, the EU, or Australia, the situation will be completely different. The activities of such brokers are closely monitored by reputable authorities like the UK's FCA, Cyprus's CySEC, and Australia's ASIC – those regulators are there to make sure that the broker is conducting business in a transparent, legal manner. There are also many protections for clients of such brokers – for example, you could never lose more money than you have in your account because of the Negative Balance Protection Policy. Licensed brokers are obligated to prove their financial stability by maintaining a capital of at least €730 000 in the UK and the EU, and A$1 million in Australia – but in case that against all odds one of them goes bankrupt, you will be entitled to compensation (at least if you are a client of an EU or UK broker since compensation funds do not exist in Australia). The size of that compensation could be up to £85 000 in the UK and €20 000 in the EU. Finally, client funds are always kept in segregated bank accounts – which promotes transparency and proves that the broker would not be able to reinvest your money elsewhere, and speeds up withdrawals.
Investmentsglobal.com TRADING SOFTWARE
Investmentsglobal.com offers a well-functioning web-based platform: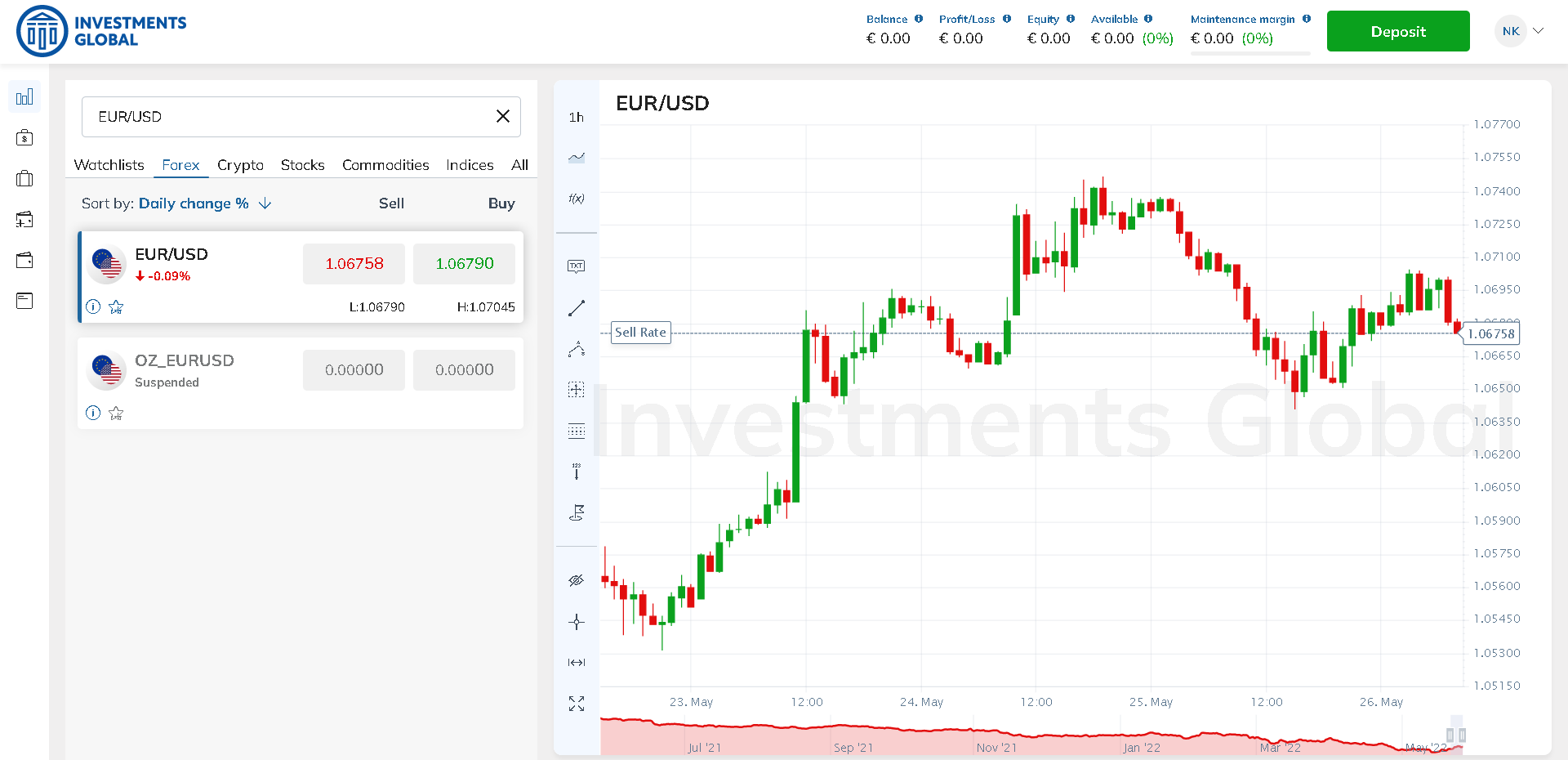 However, this broker is surely a scam – a decent platform does not change that. And besides, there are better options if you are looking for a highly efficient trading platform that is still accessible – give MetaTrader 4 or MetaTrader 5 a try. Both platforms come with an abundance of indicators, chart types, and timeframes, as well as with many additional tools and features – Expert Advisors that track markets and trade in accordance with an algorithm, VPSs, the chance to develop your own trading bots and indicators or to set signals, a Strategy Tester, a market for add-ons, and much more. These are two great options if you are looking for a smooth trading experience – more than enough reliable brokers offer one or both of these platforms.
Investmentsglobal.com TRADING CONDITIONS
Investmentsglobal.com asks offers trading conditions that are by no means great. The spread we got on the broker's platform was over 3 pips – 3.2 pips on EURUSD in fact – which is definitely not in line with what the broker had promised on the website (around 1.6 pips). Such a wide spread would probably not result in great profits for you – the only one who will be profiting is the broker since this means you would be paying them $30+ for every 100 000 currency units you trade. The average spread you would find throughout the industry is around 1.5 pips – but there are some established brokers who can offer even lower rates.
Our leverage on forex majors was set to 1:100 by default – a fact we were not particularly happy with. You should always be careful with your leverage settings and avoid trading with leverage higher than you could handle. Trading with 1:100, for example, would mean that you are making 100 times bigger offers which subsequently could lead to decent profits. However, bigger losses are just as likely – so be careful with those settings, especially if you are a beginner. Such spreads also mean that Investmentsglobal.com could not be licensed in many stricter jurisdictions – US brokers are only allowed to offer leverage of up to 1:50 and those in the UK, EU, and Australia are not allowed to go higher than 1:30 – at least if you are a retail client, and not a professional.
What sort of minimum deposit does this broker ask for in order to make you their client and have you pay huge fees, and put you at risk of losing a lot of money? As much as $250 which is far too much these days – trading is more affordable than ever with brokers asking for as little as $10 in order to open an account.
Investmentsglobal.com DEPOSIT/WITHDRAWAL METHODS AND FEES
We were not able to deposit with Investmentsglobal.com or even see which deposit methods we had at our disposal before contacting the broker and requesting payment details. If we believe the website – and such fraudulent brokers are rarely very reliable – we would have to assume that you could deposit via wire transfer or use a credit/debit card or some electronic payment solutions. However, the broker mentioned that "withdrawals from your account are available solely through Crypto Asset Transfers". This is unusual – brokers are obligated to transfer money to you in the same way you have deposited it. We cannot be sure what sort of payments this broker accepts – but depositing with them is surely an awful idea, even more so if it turns out that Investmentsglobal.com only accepts crypto deposits. All crypto transactions are irreversible by default so only use this payment method if you are 100% sure you can trust your broker.
An additional problem is that Investmentsglobal.com does not allow chargebacks – if you have agreed to the broker's Terms and Conditions, you have also agreed to not ask for such. In case you do, the broker will not only terminate the agreement but also "take any further action which (they) see as appropriate".
No legitimate broker would ever make you agree to not ask for chargebacks – but these scammers probably expect that many of their clients might take such actions at some point which is why they have created this clause.
There is a dormant account fee – after just 30 days of no trading activity, you would have to pay $99. This fee comes way too fast and is much bigger than what legitimate brokers would usually ask of you.
Investmentsglobal.com offers bonuses – the only problem is that in order to withdraw those or any profits that were the result of a bonus, you would have to reach a crazy turnover (20 000 the amount of the bonus).
So if you have received just $100 as a bonus, you would have to reach a turnover of 20 000 000 currency units in order to withdraw the bonus or any profits related to it. The problem is that nobody could tell if your profits were a result of a bonus or of your own deposits – that is why legitimate brokers usually do not make such distinctions. Scammers use such clauses as a means of preventing you from withdrawing your money too soon – after all, they would want to rob you as much as possible before you figure out something is wrong. Denying you access to your profits is a good way to do that.
HOW DOES THE SCAM WORK?
Such scams are rarely very imaginative – they usually follow the same pattern but still manage to trick a lot of people. This is mostly the result of people's desire for fast, easy profits – something only a scammer can promise you – and poor fact-checking. Always read all terms carefully, and check license information – you should be completely sure you can trust your broker before depositing with them. Getting acquainted with how scams work is also a vital step if you want to avoid fraud.
It all starts with you seeing some sort of ad on the Internet for the broker's website. You have surely heard of people getting rich by trading, or maybe you just get tempted by the promise of making profits with relatively little effort – scam brokers rarely mention the risks of trading, especially with zero knowledge, or provide you with educational material that could actually help you trade successfully. All you need to do, according to them, is deposit a certain amount of money, and you will see profits soon enough.
But you don't even need to deposit to set the scam in motion – you just need to provide the scammers with your phone number and e-mail address. After that, they will not leave you alone before you deposit. And such people are well-versed in the art of smooth-talking – they are usually quite convincing and will persuade you to transfer the money in no time. Once you have deposited though, they will keep asking you for bigger and bigger deposits. And you will gladly invest more – because at this point you are probably turning a profit. However, once you try to withdraw those profits, matters will get complicated. The scammer will make up reasons why this is impossible – additional taxes or certain clauses in the Terms and Conditions, often related to bonuses. At some point, you will start figuring out something is wrong – but the scammers will be long-gone with your money by then.
WHAT TO DO WHEN SCAMMED?
Be advised that such stories rarely end with the client recovering their lost money – however, there are still some things you could do to recover it. More importantly, there are some things you could do to prevent further scams.
The first thing you should do is change all your banking passwords to make sure the scammers would not be able to get access to any more of your money. If you have installed any sort of remote access software and given scammers permission to access your computer, make sure to get rid of everything such people had you install. They probably claimed that installing such programs is necessary so they could help you but the truth is they just wanted access to your banking systems.
If you have deposited via Visa or MasterCard, ask your card provider for help – chargebacks are possible within 540 days. Notify the responsible authorities and make sure to share your story with other people – online, and in your circle of acquaintances. The more people know about this type of scam, the fewer people will become victims of scammers in the future.
Finally, don't trust any company or person claiming they could recover your money for a fee – such "recovery agents" run another type of scam aimed at desperate people who have fallen victims to scam brokers. Sometimes those "agents" are the same people that robbed you in the first place.