Beware! ProfitFX Pro is an offshore broker! Your investment may be at risk.
RECOMMENDED FOREX BROKERS
Don't put all your eggs in one basket. Open trading accounts with at least two brokers.
The ProfitFX Pro website greets us with the claim that this is а "renowned STP/ECN broker founded in 2012", which has gained global recognition for its brand by providing a world class trading environment to the investors.
The first obvious problem is that we have never heard of this supposed leading global brand. The second is that this website completely lacks the attributes and functionality required of a forex broker. The third is that we have come across at least two other scam websites using an identical logo and branding – profitfx.uk and profitfxmarkets.com. On top of all this, ProfitFX Pro has been blacklisted by financial regulators.
This leaves no room for doubt that ProfitFX Pro is not a genuine broker but a fraud. Let's take a detailed look at how to recognize this scam.
PROFITFX PRO REGULATION AND SAFETY OF FUNDS
When you visit the website of a legitimate broker you can expect to find clear and detailed information about the company that owns and operates it, where it is based and what regulatory regimes it is subject to. Licensed financial services providers are also required to provide a comprehensive set of legal documentation.
All of this is completely missing from the ProfitFX Pro website. We do not know who we are dealing with, nor what the terms of the deal are. It would be an unjustifiable mistake to put our money on the line under such circumstances.
The only identifying information on the website is a UK contact address.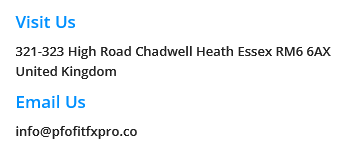 But this address is undoubtedly fake. The UK is a highly regulated jurisdiction where only duly licensed brokers can offer such financial services. But in the database of the local regulator, the Financial Conduct Authority (FCA), we did not find a licence, but a warning that ProfitFX Pro is an unauthorised website:
Under no circumstances should you trust your money to such anonymous websites full of false and contradictory information. Instead, you can turn to one of the many companies that really work under the supervision of respected regulatory bodies like the FCA or Cyprus Securities and Exchange Commission (CySEC). As their customer you will enjoy a number of guarantees including negative balance protection and guarantee for your funds if the broker goes bankrupt, which goes up to EUR 20,000 in EU and 85,000 GBP in the UK. Regulations in the UK and EU include some important measures designed to improve investor protection and promote market integrity and transparency, such as transaction reporting. Regulated brokers are also required to segregate their operational funds from the client's money.
PROFITFX PRO TRADING SOFTWARE
ProfitFX Pro claims to offer MetaTrader 5 (MT5), the most widely used advanced trading platform by brokers and traders worldwide. But we find no evidence whatsoever that ProfitFX Pro actually has MT5 or any other trading software. The website lacks links to download an installation file for the platform. At the time of writing this review, it was not possible to register a new account – all we find on the website is an option to log into an existing account. This could be a result of regulators' attention, or it could mean that scammers prefer to self-select their potential victims by "fishing" on social networks.
In any case, it would be a wiser choice to use the services of a licensed broker, most of which offer MT5 or the still very popular MT4. These platforms have established themselves as leaders because they offer a wide range of features, including a wide variety of options for customization, multiple account usage, designing and implementing custom scripts for automated trading and backtesting trade strategies.
PROFITFX PRO TRADING CONDITIONS
ProfitFX Pro has neither the legal authorisation nor the technical capacity to offer forex and CFD trading. In fact, we can be quite certain that the trading offered by ProfitFX Pro is fictitious. In that sense, the parameters of that trading as set out on the website have no real significance beyond providing further evidence of the fraudulent nature of ProfitFX Pro.

The first such evidence is the claim that alongside currencies, commodities and indices, the ProfitFX Pro offers cryptocurrency trading. Many brokers offer such trading, but not those licensed in the UK. The FCA prohibits brokers from offering crypto derivatives trading to retail traders.
Brokers in the UK, like those in the EU, are also prohibited from offering leverage above 1:30. But the ProfitFX Pro claims to offer leverage of 1:200. Regulated brokers do not offer such levels to retail traders as trading with high leverage carries risks of sudden and excessive losses.
ProfitFX Pro promises low spreads, but we have no way of verifying that this is true, nor do we have any reason to trust ProfitFX Pro.
PROFITFX PRO DEPOSIT/WITHDRAW METHODS AND FEES
The website provides absolutely no information on payment methods and fees for deposits and withdrawals. Scammers of this type usually direct their victims to cryptocurrency transactions that do not allow refunds and chargebacks.
Legitimate brokers typically offer clients a wide choice of transparent payment methods, including bank transfer, credit/debit cards and established e-wallets such as Sofort, PayPal, or Skrill.
Since ProfitFX Pro does not provide proper legal documentation, it is unclear what traps the fraudsters may have set. Typically, fake brokers make withdrawing money impossible through huge fees and impossible-to-fulfill traded volume conditions.
HOW DOES THE SCAM WORK
While browsing the interwebs there is a significant chance you will come across comments, videos, social media pages that promise easy ways to passively make money. If you follow the links you will be taken to websites claiming to be legitimate brokers or investment firms. And if you take the next step and make contact with the people behind these websites, you will be contacted by slick and experienced scammers who will lure you in with promises of easy profits. For a while they will convince you that your investment is generating impressive returns and you need to pour in even more money to make sure you don't miss out on this once in a lifetime opportunity
However, the attitude towards you will be changed if you want to withdraw your money. Suddenly, it will turn out that your investment makes losses and you even owe money to the fake broker for unexpected fees and expenses. They will show you clauses hidden in the Terms and Conditions, according to which you can only withdraw money after you have traded an impossible minimum volume, or that you will have to pay withdrawal fees of 20%, 30% or even more. When you try to hold them accountable you will find they are using fake names and shell companies in shady offshore jurisdictions without any regulatory oversight.
WHAT TO DO WHEN SCAMMED
Your options to recover your money are limited. If credit/debit cards were used for the transactions, you have the possibility to request a chargeback. But most scammers insist that you send them proof of identity and address with which they can dispute that the transactions were legitimate. Fraudsters also predominantly use cryptocurrencies, where refunds are impossible.
You should also be aware that there are many scammers who offer to recover your money for an upfront fee. You should not trust such offers. It is better to contact the relevant authorities in your country and warn them about the activities of the scammers.