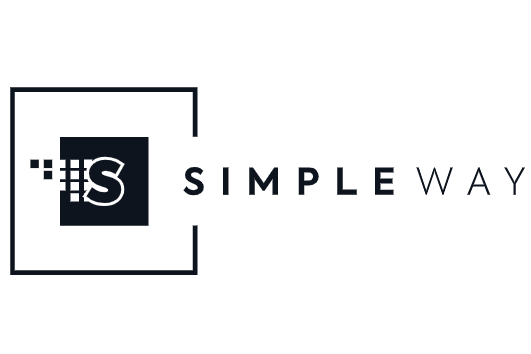 Beware! Simpleway.world is an offshore broker! Your investment may be at risk.
RECOMMENDED FOREX BROKERS
Don't put all your eggs in one basket. Open trading accounts with at least two brokers.
Simpleway.world is the new domain of a well-known scam broker with many faces and domains. It is not uncommon amongst scam brokers to change names and domains as soon as someone starts getting suspicious – but such changes are rarely untraceable. Read the review below to learn more about the scheme itself and how to stay safe from such brokers.
Simpleway.world REGULATION AND SAFETY OF FUNDS
Simpleway.world is a broker who can only be reached via email – you will not be able to find any sort of phone number on their website. The company behind the broker is supposedly registered at an address in the Commonwealth of Dominica – that information can be found in the footer – but the section stating that was obviously a screenshot from another website. Moreover, the fact that a broker is registered in this specific country does not make them any more reliable in the slightest. In Dominica, forex trading is not considered a separate line of business which is why forex brokers are not formally regulated and no laws in the sphere of forex trading are imposed.
However, the regulatory body of a country where forex trading is strictly regulated and the activities of forex brokers monitored closely – the Spanish Comision Nacional del Mercado de Valores (CNMV) – has noticed Simpleway.world. The financial authority has recently issued a warning on this broker and mentioned a few of the domains these scammers are using.

Consider this warning before deciding to invest with Simpleway.world – a respected authority believes this broker to be nothing more than an insolent scam.
Working with a broker licensed in the UK, the EU, and Australia is a much safer affair because it provides access to countless protections and means that you can rely on a certain degree of safety and transparency. Such brokers maintain a high standard of service and are obligated to follow many laws and procedures. For example, all such brokers have to maintain a minimum capital of €730 000 in the UK and the EU, and A$1 million in Australia – this is done because brokers should prove that they are financially stable and would be able to survive in volatile market conditions. Client funds are always kept separate from the broker's own – this is done to ensure that client money and broker money cannot mix and that if the broker goes bankrupt your money would still be safe in a separate account. Negative balance protection is provided – this basically means that the losses you can suffer as a retail trader can never exceed the amount of capital you have in your account.
Simpleway.world TRADING SOFTWARE
Simpleway.world offers access to a generic web-based trading platform: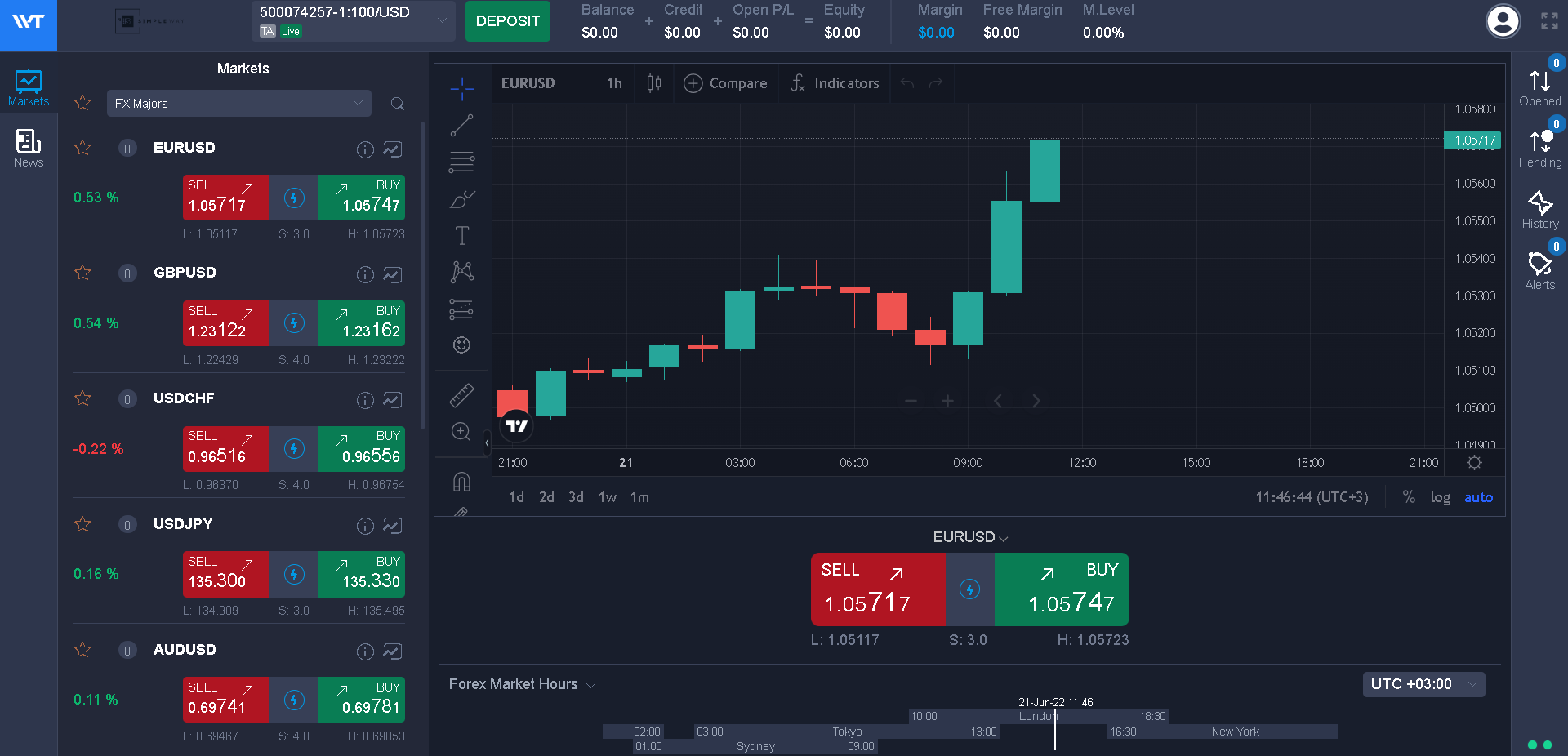 Such platforms are indeed pretty accessible and offer access to some decent charting and analysis tools – however, the opportunities they offer are quite limited. Moreover, a platform alone, however good it might be, is no reason to do business with scammers.
We would recommend that you start trading on a more robust, functional trading platform like MetaTrader 4 or MetaTrader 5. Both of these platforms offer a huge variety of indicators, timeframes, chart types, and order execution types as well as some useful additional features such as Expert Advisors that track markets and trade automatically, VPSs you could purchase to keep your trading bots operating at all times, a Strategy Tester, the chance to set signals or subscribe to those set by successful traders, a market for additional trading apps, etc.
Simpleway.world TRADING CONDITIONS
Simpleway.world does not exactly offer the most impressive trading environment.
If you want to start trading with this broker, you would have to trade with spreads of 3 pips on EURUSD – which is twice the number most brokers try to stick to. Such a spread means that for every lot you trade, you would have to pay $30 to the broker. This is quite a lot of money considering how affordable some of the most reputable brokers in the industry are and what low prices they charge.
The leverage the broker offers goes up to 1:100. This might not sound like that much but is actually pretty high considering the leverage restrictions that exist in many jurisdictions. The maximum leverage retail clients of UK, EU, and Australian brokers can trade with is 1:30 – such restrictions exist because trading with higher leverage can lead to enormous losses if you do not have the experience and knowledge to handle such instruments yet. However, if you are not a novice trader, there are better brokers who can offer a relatively high leverage rate.
To open an account with Simpleway.world, you would have to invest at least $250 – and many legitimate brokers with many licenses who offer amazing conditions would open an account for as little as $5.
Simpleway.world DEPOSIT/WITHDRAWAL METHODS AND FEES
Simpleway.world claimed falsely that we would be able to deposit via wire transfer or with a credit or debit card – two secure payment methods that do not offer the cover of anonymity. However, our only deposit option turned out to be Bitcoin. Cryptocurrencies themselves are an innovative, imaginative technology – we would like to point out that there is nothing wrong with crypto itself. However, scammers often prefer such payments because they are completely anonymous and irreversible by default – which means that if you have already deposited with this fraudulent broker, you would have no way of tracking down your payment or retrieving your money. Prevention is key here – do not deposit with Simpleway.world under any circumstances.
Simpleway.world offers bonuses – which is a red flag. If a scammer offers some sort of promotion, be sure to read the relevant Terms and Conditions carefully – there might be some reasons for concern. This also turned out to be the case here.
Simpleway.world asks you to reach an enormous turnover – 25 times the bonus plus your deposit – in order to withdraw anything from an account that has been credited with a bonus. This means that the broker is essentially denying you access to your own deposits and profits – which is not something a legitimate broker would do. Scam brokers often change their turnover requirements – so only expect to see this number grow. The broker will keep denying withdrawal requests for as long as possible because of this exact clause – and will disappear with your money the moment they decide that you have probably figured out that you have been scammed.
HOW DOES THE SCAM WORK?
Such scams are more common than you think and trick thousands of people into investing with fraudulent brokers who exist with the sole purpose to rob you. The best thing you can do to avoid them is check registers, research matters carefully, and have a general idea about how scam brokers operate.
Such brokers usually promise immense, fast profits – slow, gradual, and informed rarely seems to be the way for them. You take one look at a broker's website and decide that it looks decent and legitimate and that all the promises and claims must be true. Such scammers often try to convince you that they are legitimate in various ways – they lie about being regulated, provide fake legal documents, and divert your attention with unbelievable offers. You decide to try your luck and open an account – providing the scammers with your phone number and email in the process.
After that you would not be left alone before you make a deposit – you receive dozens of calls and emails from smooth-talking scammers whose very job is to prey on unsuspecting people who are trying to turn a quick profit. And once you have deposited, they will keep asking you for more and more money – which you would gladly invest because, at that point, you might even be turning a decent profit. However, when you try to withdraw your profits, you will quickly see that you have been fooled. Different reasons why withdrawing is impossible will appear – additional taxes, minimum withdrawal limits, and previously unmentioned clauses in the Terms and Conditions.
At some point, you understand you are being scammed – but by the time you reach this point, the scammers will already be long gone.
WHAT TO DO WHEN SCAMMED?
Unfortunately, the chances of you tracking down the scammers and retrieving your money are not good.
You can, however, avoid additional problems and losses of money by changing your banking details and passwords, and removing all software they have asked you to install – this just provides them with easy access to your computer and all of your passwords.
Don't trust any recovery agents promising to retrieve your money for a fee – this is just another type of scam, often conducted by the same people who initially robbed you.
If you have used Visa or MasterCard to deposit, there is a chance that you might be able to get a chargeback – both card providers allow chargebacks within 540 days of the transaction. Reversing wire transfers and payments made in crypto, on the other hand, is impossible – only use these payment solutions with trusted brokers.
Finally, make sure to notify the responsible authorities and share your story with as many people as possible – this way, others will know how to avoid such scams and stay away from them.