Beware! Allpips is an offshore broker! Your investment may be at risk.
RECOMMENDED FOREX BROKERS
Don't put all your eggs in one basket. Open trading accounts with at least two brokers.
From the start Allpips did not seem quite like a full broker. It was way too simple and lacked a proper structure although it did advertise trading conditions. It was not until we opened an account that we realized that Allpips was a part of a bigger picture, a big broker by the name of AdroFX.
The registration process leads us to a different broker, the same AdroFX.club, which puts the existence of Allpips into question. To make matters even more complicated, once we opened an account we were led to the web trader called Allpips web trader, meaning that we were once again redirected. But then again, the user area is under the AdroFX.club URL.
We can only describe this situation as Allpips being some sort of hybrid intermediary to AdroFX.club. However, the review will definitely focus on AdroFX. We also reviewed this broker a while back, so this review is a checkup on how things have developed since then, for there were promises made to be kept.
From the aforementioned web trader we were given a low number of tradeable assets: forex currency pairs, indexes, shares, some cryptocurrencies, and spot silver.
We opened a Standard account with the web trader and got a EUR/USD spread of 0.8 pips. We are aware that there are 2 other account types to this web trader which offer different trading conditions. The leverage cap for the standard account is 1:100, and 1:500 for the other to accounts: Allpips Fiat and Allpips Cent.
REGULATION AND SAFETY OF FUNDS
It seems that AdroFX is the main brand around which Allpips has been founded. However, Allpips might be a subsidiary, but it works in tandem with AdroFX, as if the two form a whole. In other words, one cannot function without the other. We cannot say that we have seen anything like this before, and we don't find anything revolutionary about it. In fact, it confuses and raises questions that are not for the users to answer. Clients want a straightforward FX broker, and not an amalgamation of companies.
Anyway, the legitimacy of AdroFX will be discussed next, since it is the main broker here.
AdroFX is actually regulated by the Vanuatu Financial Services Commission (VFSC), something that we remember not being the case when we last reviewed it. Back then, it still awaited approval from the country. The VFSC is a good and stable offshore regulator, but remains in the shadow of mainland regulators.
The other subsidiary of AdroFX is one based in Saint Vincent and the Grenadines, with a registration with the local (FSA) Financial Services Authority. This means that the broker is incorporated there as a firm, but it not licensed as a broker because the country does not have an FX regulator.
The last one is an entity regulated by the business Services of Saint Lucia Act. As far as we know, Saint Lucia does not have an FX broker regulator, and so this services act serves no purpose. Actually, it may indicate that the company is incorporated there, which is should considering that the main affiliate is regulated in Vanuatu.
Thanks to the Vanuatu license, we must conclude that this broker is legit. Otherwise, it behaves pretty much like most offshore brokers out there. It's obvious that the license is still minty, and there is a long road ahead of AdroFX.
TRADING SOFTWARE
For a regulated broker we sure were disappointed by the simple and very limited web trader offered here.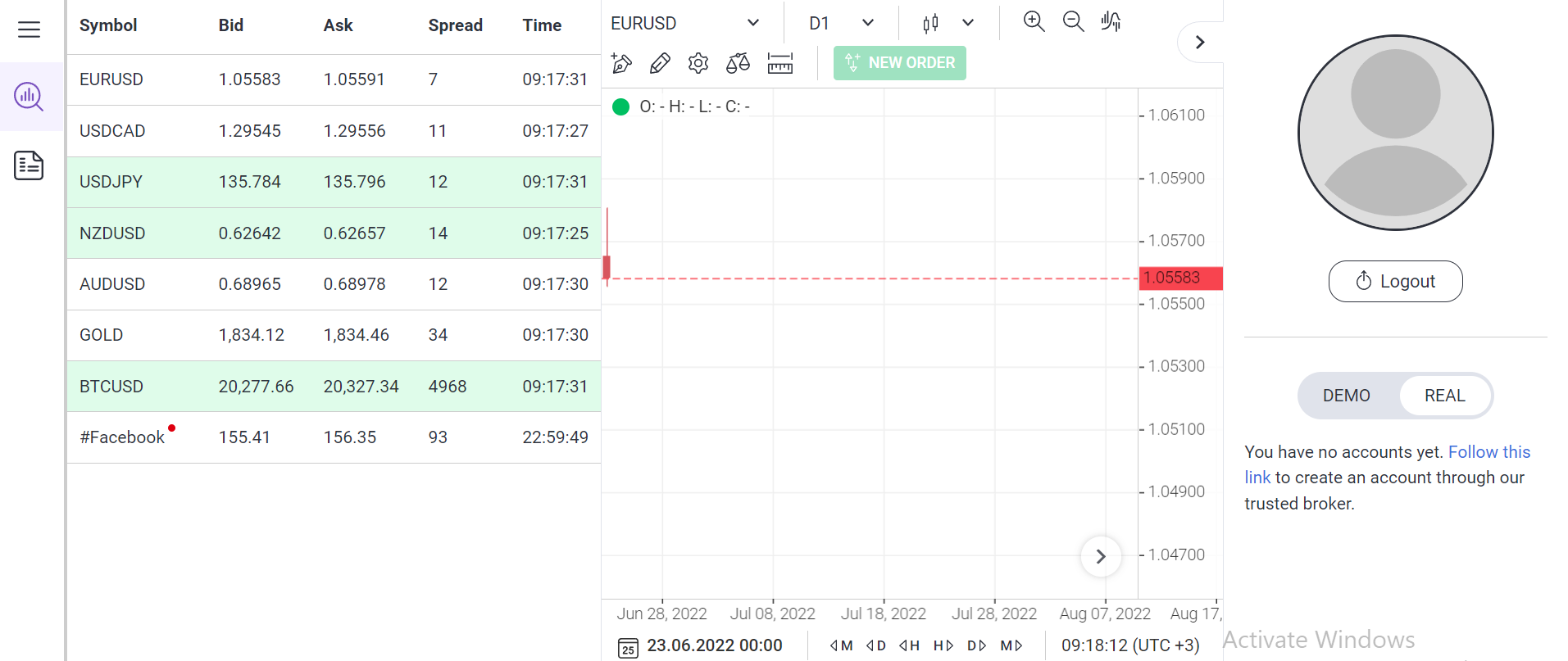 We have never seen this one before, and we haven't missed anything either. It's far too inadequate, in terms of lacking features and options, to be taken seriously. This one can be a great starting tool, useful for the first couple of hours.
We must also mention that there is an MT4 available here, eventhough the situation with it is far more complicated than we wished it to be. Moreover, the install file itself was shady and our firewall warned us against it. But we ended up opening it anyway.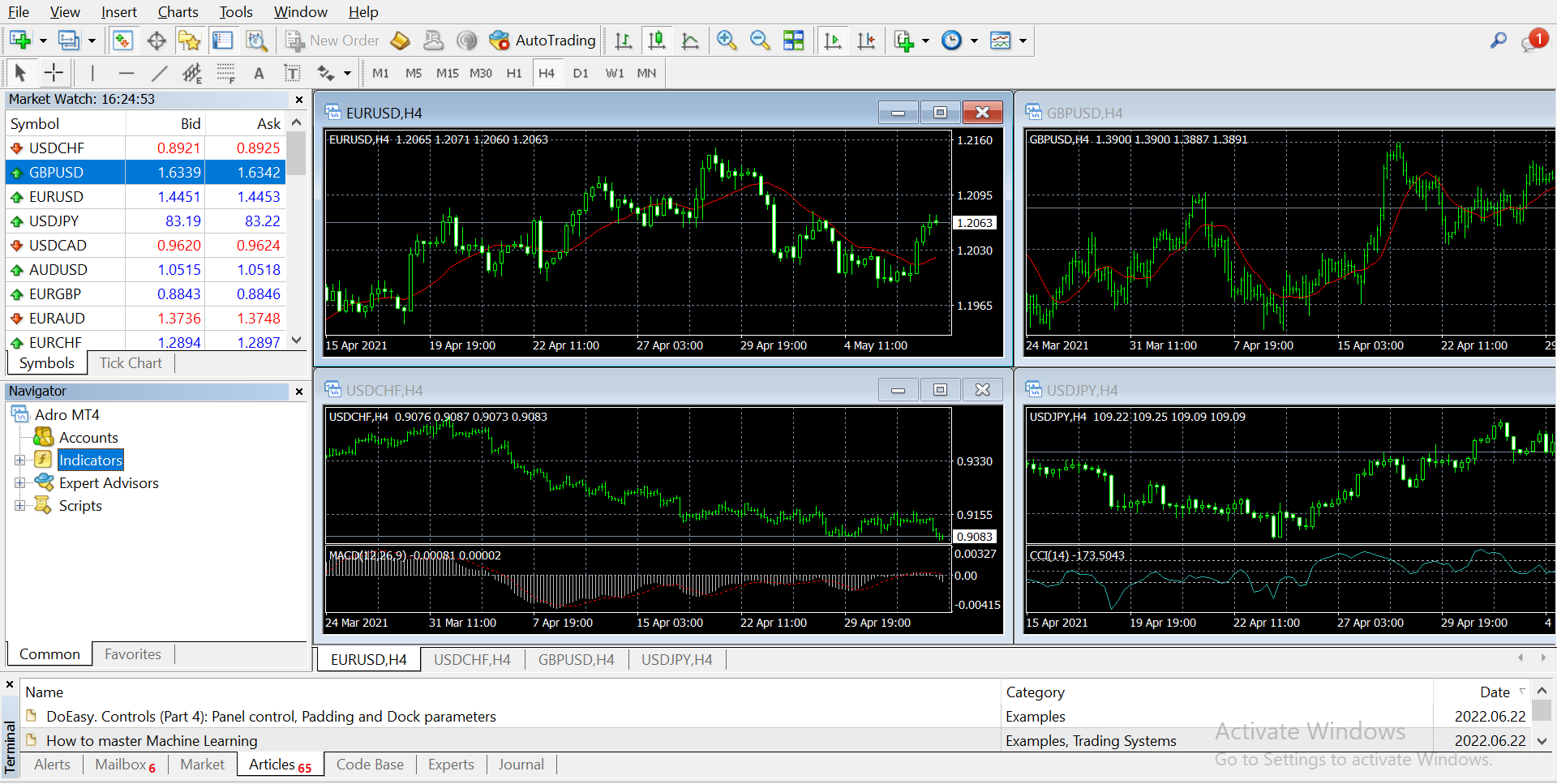 The situation with the MT4 is contradictory. Once we opened an account, we were led to believe that we had to also open a separate one for the MT4, considering that the website holds a whole section dedicated to MT4 accounts. But in reality, we were able to open both the MT4 and web trader at the same time, with live accounts at that.
As far as we're concerned what the website claims about the various MT4 accounts is completely false. As far as we could tell, users can open different accounts only with the web trader. The MT4 offers only 1 live account and one demo.
Moreover, the MT4 itself, when we opened it, was stagnant and unresponsive. We don't know if that was because of us, or that it usually just sits there without anyone being able to use it.
DEPOSIT/WITHDRAW METHODS AND FEE
The first major thing to point out is that the account base currencies are based on digital currencies; users can open an account either in BTC or ETH.
From the client portal we learn that the depositing methods are credit cards, debit cards, bank transfer, some popular e-wallets (Skrill, PayRedeem, Payeer, and PerfectMoney), and a couple of crypto wallets.
The withdrawal area offers the same payment methods plus a couple of added options. At this point it's good to remind users that anti-money laundering rules are still a very important framework, and offering different withdrawal methods is essentially breaking them.
The minimum deposit requirement is no clear. It's either $100 as indicated by the account details, or $200 as seen in the payment details section, or it may actually be $25. It's either one of these, or none.
All deposits are processed within the hour.
Visa and Mastercard are charged 1.99% each; bank fees are issue by the banks themselves; BTC withdrawalas are charged 1.9%+ 0.00006 BTC; Ethereum transactions are charged 1%+ 0.006 ETH; PayRedeem charges 6%; Payyer charges 0.5%; PerfectMoney attaches a 1.99% fee; Skwill charges 1%.
All withdrawal requests are said to take up to 24 hours to process. This may mean 2 working days tops.
Turning back to our previous review of AdroFX, we find that not much has changed in terms of services delivery. Yes, the broker is now legit, but what good is that if it barely covers the main requirement for a license? There are far better brokers out there!