Beware! Markets Bank is an offshore broker! Your investment may be at risk.
RECOMMENDED FOREX BROKERS
Don't put all your eggs in one basket. Open trading accounts with at least two brokers.
Markets Bank claims to be a well-established broker whose services are aimed at novice traders. There is a grain of truth in this – Markets Bank is indeed aimed at people with no experience in financial trading. But the reason for this is that inexperienced people may not realize in time that this website is actually a scam. Let's take a detailed look at what are the signs that it would be a mistake to trust your money to Markets Bank.
MARKETS BANK REGULATION AND SAFETY OF FUNDS
In the homepage of the website we see the statement that "Markets Bank brand is authorized in various jurisdictions around the world and is a reputable Forex & CFDs online brokerage". Experience shows that such claims should be taken with a large grain of salt and carefully verified.
The owner of the website is listed as the company Tech-Stat Solutions LTD, allegedly based in the United Kingdom.
In regulated jurisdictions such as the UK, it is not open to anyone to offer brokerage services. To do so, a company must be duly licensed by the relevant regulatory body, the Financial Conduct Authority (FCA). But Tech-Stat Solutions LTD is not among the authorised entities.
A search of general company registers in the United Kingdom shows that there is a newly incorporated company by that name. However, it is not a licensed provider of financial services but has stated that it operates in the advertising agency field. It is not clear whether this company has anything to do with Markets Bank's website. But there is no doubt that this is not a licensed broker.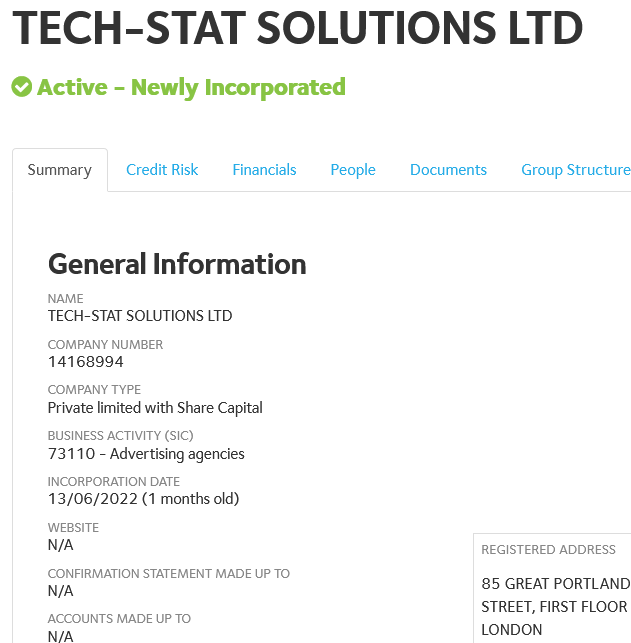 The Terms and Conditions and other legal documentation on the website don't actually mention a company name. In the Terms and Conditions we also find the contradictory statement that the applicable law is in fact that of Hungary:
Such inconsistencies are typical of fraudulent websites, which are often carelessly cobbled together from ready-made elements of previous scam projects. A check with the relevant regulators predictably shows that Markets Bank is not licensed in Hungary either.
If you want to trade on financial markets without being scammed, you can turn to some of the legitimate brokers that actually operate from established financial hubs like the UK. These brokers have to meet stringent requirements for financial stability and transparency of operations imposed by the Financial Conduct Authority (FCA). They must provide clients with negative balance protection and to participate in a guarantee fund that covers up to GBP 85,000 of a client's investment should the broker go into insolvency. These brokers are also required to keep their clients' money segregated from their own operating funds in separate bank accounts.
MARKETS BANK TRADING SOFTWARE
Markets Bank claims to offer an award-winning trading platform, which on the website is illustrated with stock images of typical web-based software. However, we have not been able to confirm whether this is correct as Markets Bank does not offer new account registration functionality. There is only a menu on the website to log into an existing registration.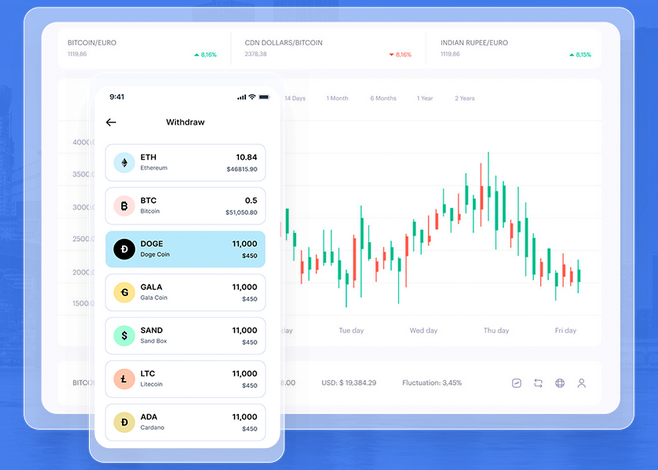 Fake brokers often rely on attracting potential victims by spamming social networks, online forums and YouTube comment sections rather than people who happen to stumble upon their websites. It should also be stressed that the presence of any trading software does not mean that this trading is real.
Legitimate brokers offer clients a wide selection of trading software, including desktop, mobile apps and web-based platforms. The most widely used platforms in the industry are MetaTrader 4 (MT4) and MetaTrader 5 (MT5). These platforms have established themselves as industry standard because they offer a wide range of features, including a variety of options for customization, multiple account usage, designing and implementing custom scripts for automated trading and backtesting trade strategies.
MARKETS BANK TRADING CONDITIONS
Markets Bank's website promises a "huge selection of tradable instruments", but gives absolutely no information on what these instruments are and what the trading parameters are. When you visit the website of a legitimate broker you will find proposals for different types of trading accounts suitable for investors with different preferences, as well as detailed descriptions of trading parameters – minimum deposit, order execution method, tradable financial instruments, leverage, spread, swap, commissions.
The descriptions of the Markets Bank account types specify a single parameter – an absurdly high minimum deposit of 10,000 USD. By comparison, most legitimate brokers allow you to start trading with amounts as low as 100 USD or even just 1 USD.
Markets Bank claims to offer a generous deposit bonus, a practice that is completely prohibited for licensed brokers in the UK or EU.
MARKETS BANK DEPOSIT/WITHDRAW METHODS AND FEES
Markets Bank claims that deposits and withdrawals can be made by wire transfer or credit card. We had no way of confirming this, but it struck us that the domain of the account login subpage is "crypto wallet". Fake brokers typically direct potential victims to cryptocurrency transactions because they do not allow refunds to be requested.

While there are some legitimate brokers that accept digital currencies like Bitcoin, they do so alongside other transparent payment methods such as credit/debit card, bank transfer or popular e-wallets like PayPal, Sofort or GiroPay.
Markets Bank states that it charges a significant fee of 5% when withdrawing via credit card and up to 25 USD via wire transfer. Added to this is the strange condition that the amount withdrawn by card cannot exceed the amount of the deposit, i.e. it cannot include potential profits. Genuine brokers place no such restrictions and rarely charge transaction fees.
If the account has received from the above-mentioned bonuses, the withdrawal becomes virtually impossible. In order to withdraw the money, the customer must have traded one standard lot of 100,000 currency units for every 1 USD bonus.
HOW DOES THE SCAM WORK
Unfortunately, the internet is full of scammers. In the age of cryptocurrencies, many of them pretend to be brokers and take advantage of people's desire to get rich easily through financial instruments they don't really understand.
Fake brokerage sites lure you in with promises to take on all the difficult and confusing aspects of investing for you. If you make contact with such sites, they will first convince you to make a small, "risk-free" investment of a few hundred dollars. Experienced scammers will then begin to persuade you to "invest" more and more money, and will even deceive you into believing that your initial investment is generating incredible profits.
But you will never see those profits or the money you deposited. These scammers hide behind fake names and offshore shell companies that are not subject to oversight and regulations like regulated brokers. They use cryptocurrencies or other shady payment methods that make refunding money difficult or often impossible. The terms and conditions of these sites are riddled with pitfalls that block withdrawals with impossible-to-fulfill conditions for minimum traded volume and extremely high fees reaching 10, 20 or more percent of the amount.
WHAT TO DO WHEN SCAMMED
If you find yourself in such a situation, you should be very careful not to fall into the clutches of other fraudsters while trying to recover your money. Offers from people on the internet who promise to get you your money back from scammers for an upfront fee are also one hundred percent scammers.
If you used a credit or debit card for the transactions to the scammers, there is some chance you can get your money back by requesting a chargeback. Visa and MasterCard allow this to be done within 540 days. But such a claim can be challenged if you have provided the scammers with documents such as a copy of your ID and proof of address.