Beware! Тheactivetraders.com is an offshore broker! Your investment may be at risk.
RECOMMENDED FOREX BROKERS
Don't put all your eggs in one basket. Open trading accounts with at least two brokers.
Тheactivetraders.com is just another insolent scam that has nothing to show for its brave promises. This company is not licensed and has been blacklisted by a reputable EU authority – this proves with complete certainty that we are dealing with a scam. The trading conditions are not in line with the regulations in the country where the broker is supposedly based and the trading platform they offer is horrible. Do not trade with this broker if you do not want to suffer huge losses.
Тheactivetraders.com REGULATION AND SAFETY OF FUNDS
Тheactivetraders.com is a broker who claims to be based in the UK while at the same time being guided by the laws of Dominica.
However, in order to be UK-based, a broker must be licensed by one of the strictest financial authorities in the world – the FCA. When we checked the FCA register, we did not find any data on a broker with this name.
Dominican laws, on the other hand, do not consider forex trading as a separate line of business – as a result, there are practically no laws in the sphere. If a broker is based in this country, this basically means that they are unsupervised.
An additional problem we had with this broker is that the Italian regulator CONSOB has recently blacklisted it because it believes Тheactivetraders.com to be a scam. You should take such warnings extremely seriously – if a regulator like CONSOB believes a broker to be a scam, they most probably are.
Only work with a licensed broker if you want to ensure your own smooth trading experience. Companies regulated in the UK, the EU, and Australia are obligated to answer to some of the strictest authorities in the world, maintain a high standard of service, conduct business in a fair and transparent manner, and meet many requirements before obtaining a license. All regulated brokers are obligated to prove their financial stability first – they must maintain a minimum capital of €730 000 in the UK and the EU, and A$1 million in Australia. In addition to that, they have to keep client money separate from their own funds in segregated bank accounts. This proves that your money will not mix with that of the broker – you will not lose it if the broker becomes insolvent, and you can be sure that the broker is not using it for its own financial operations. Negative balance protection is ensured for all retail traders – you can never lose more money than you have in your account.
Because of all of these protections, and because of the high level of governmental supervision, trading with a licensed broker is a much safer endeavor than turning to anonymous scammers.
Тheactivetraders.com TRADING SOFTWARE
Тheactivetraders.com offers something that can barely be called a trading platform: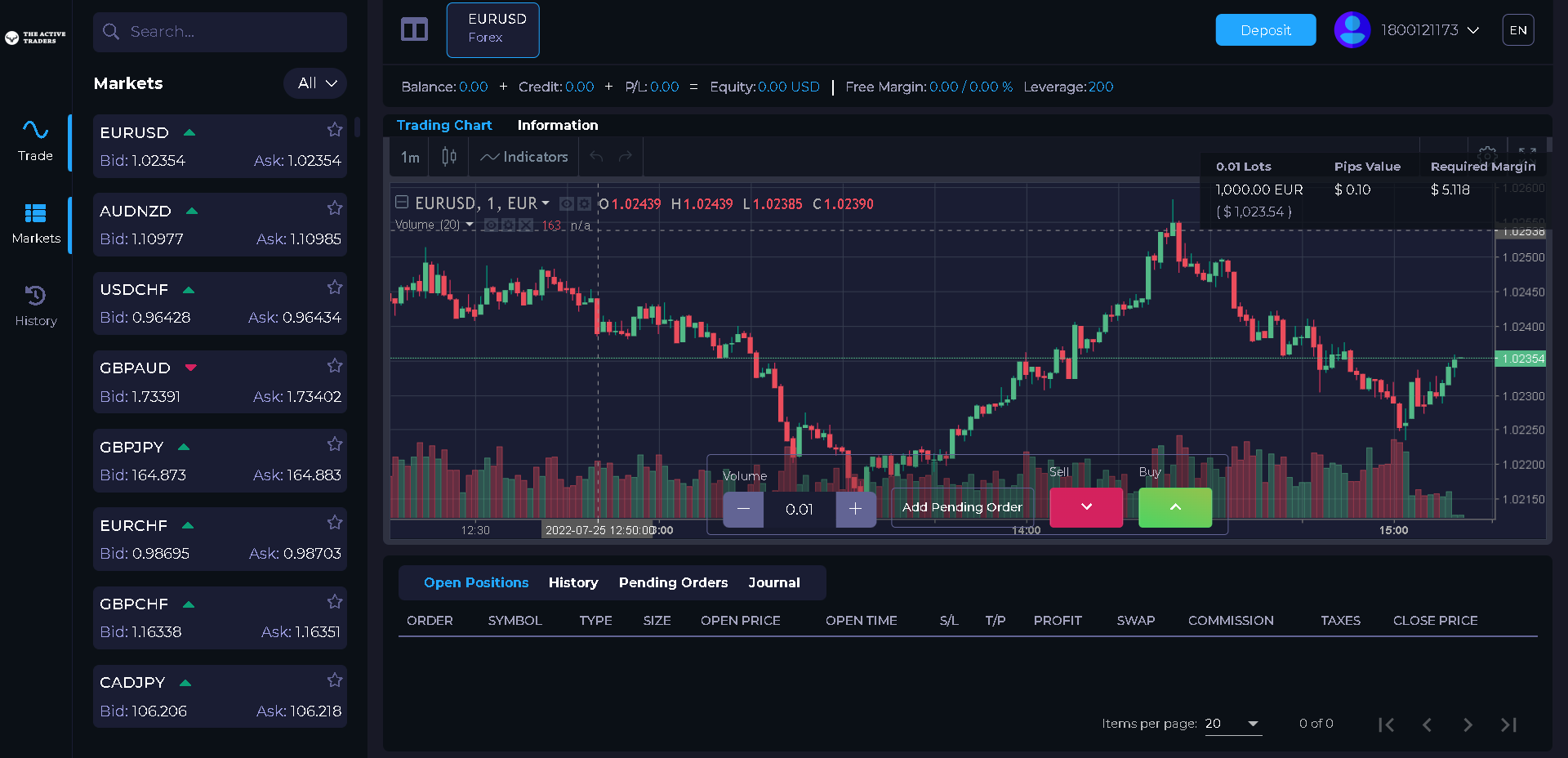 Such a market-tracking chart can easily be found on the Internet – completely for free. You would be able to place an order, yes, but that is pretty much everything you will be able to do.
Such rudimentary software cannot be compared to the advanced opportunities platforms like MetaTrader 4 and MetaTrader 5 offer. Both of these platforms are not only accessible even for complete beginners but also highly efficient. They offer many useful charting and analysis tools, features such as Expert Advisors, a Strategy Tester, trading signals, a market for add-ons, and VPS. There are many reliable brokers who offer one or both of these platforms – so do not hesitate to turn to one of them.
Тheactivetraders.com TRADING CONDITIONS
Тheactivetraders.com is nothing to write home about when it comes to trading conditions. The broker did not provide us with a comprehensive account type description – so we are forced to conclude that there is only one type of account. To become a client of Тheactivetraders.com, you would have to invest at least $200 – which is far more than what most legitimate brokers would ask of you. You can easily find a broker these days who would open an account for as little as $10.
The leverage this broker offers is 1:1000 on forex majors – and no UK, EU, or Australian broker can offer such enormously high leverage rates. The maximum leverage brokers in these jurisdictions can offer is up to 1:30 on the least volatile asset, forex majors. Trading with high leverage could result both in enormous profits and in huge losses – which is why you should always be careful with your settings and only trade with leverage you are completely sure you can handle.
Тheactivetraders.com DEPOSIT/WITHDRAWAL METHODS AND FEES
Тheactivetraders.com only accepts deposits straight from your Bitcoin wallet to theirs. This is bothersome because it is only scammers who would urge you to deposit in crypto and provide no alternative whatsoever. The reason why crypto is a preferred payment method for such companies is that all crypto transactions are both anonymous and irreversible – which completely destroys all of your chances of getting a chargeback once you discover you have been scammed. Only use this payment method with reliable people and organizations.
HOW DOES THE SCAM WORK?
Such scams are not only becoming more frequent but they are also surprisingly effective – which is why the first and most important step if you want to protect yourself from them, is to understand how they work.
You stumble upon a broker on the Internet – that broker promises to make you a rich, successful trader in no time. You are curious to see what forex brokers are all about – after all, you have heard stories of people becoming rich by trading – and provide the scammers with your phone number and email. After that, you would not be left alone before you have deposited – these people are seasoned scammers and will convince you to transfer money in no time.
This will not be enough though – the broker will keep asking for more and more money, and since scammers often manipulate profits and platforms, you might even be happy to invest because you would be thinking that you are turning a profit.
Once you try to withdraw, however, the problems will start – the broker will start denying withdrawals because of certain clauses in the Terms and Conditions, because of previously unmentioned fees and taxes, etc. At this point, you will find out that there is something wrong going on – but the scammers will be long-gone with your money before you can do anything.
WHAT TO DO WHEN SCAMMED?
Do not get desperate and do not employ any so-called "recovery agencies" that promise to track down the scammers and retrieve your money for a fee – this is just another type of scam.
What you should do is notify the responsible authorities in your country and contact your bank to let them know that you have been scammed. Change all your banking passwords and remove all remote access software the scammers had you install under false pretenses – they only wanted access to your computer and your banking systems.
If you have deposited with a Visa or MasterCard card, you might be able to retrieve your money – both card providers allow chargebacks within 540 days of the transaction so contact your card issuer as soon as possible.
Finally, make sure to share your story with as many people as possible to let them know that such scams exist and how they work. This way, others can avoid losing their money in the future.