Beware! Stellar-Trade.com is an offshore broker! Your investment may be at risk.
RECOMMENDED FOREX BROKERS
Don't put all your eggs in one basket. Open trading accounts with at least two brokers.
Stellar-Trade.com is a really odd broker, that we needed some time to crack but not because it posed any regulatory difficulties, but because it offers some weirs trading and payment conditions that shouldn't work together, and in reality do not, and would not have if Stellar-Trade.com was a legit entity.
The easy registration lead us in seconds to the depositing area, revealing just what the broker is all about. It's rushing to steal from users! We moved on to one of the strangest web traders, where only cryptocurrencies were made available tradeable assets. This makes Stellar-Trade.com a crypto-only broker, which in our book makes it even more suspicious.
The leverage was not capped; users can change it to whatever they want, which to us seemed like an error, or a very illicit feature of the web trader. The website claims the leverage is capped at 1:3, which seems logical considering that only cryptocurrencies are available to trade.
STELLAR-TRADE.COM REGULATION AND SAFETY OF FUNDS
The broker is allegedly registered in the UK and follows the local UK laws. This is what a section in the terms and conditions states, and as you might imagine it's completely false. In the UK no broker can pass undetected by the FCA and get away with it, and considering that Stellar-Trade.com is not licensed by the FCA, it also isn't legit in the UK as a result.
At one point though, we are told that the firm is actually regulated by FinCEN, the Financial Crimes Enforcement Bureau (FinCEN), a division of the United States Treasury Department. Its main purpose is to combat illicit activities, not regulate brokers. Another completely unnecessary and misleading statement; not to mention that the US the the most severe of all FX locations.
Furthermore, the legal docs pull out a classic move by proclaiming that only those users that can establish a binding contract with their local laws and regulation can access the broker, which is false to the core; it's the broker that must adhere to local regulations.
Last but not least, we are told that the corporate headquarters of the company is in Zurich. But as most locations, a broker must abide by the local FX regulation, which in this case is the Swiss Financial Market Supervisory Authority (FINMA). As you might have already guessed, the broker in not regulated by it.
Make up your mind Stellar-Trade.com! This broker is unregulated!
Always aim to invest in regulated brokers, and not illicit ones. It may not be easy to distinguish them from one another, but there is a way to make the process much easier. The crucial point is to check the legitimacy of the broker's regulatory or registration claim. If nothing's there, you close the site and move on to any European, UK, US, or Australian broker, or any other with a legal status. Being regulated is not just encompassed in a simple permission to offer FX trading service. It comes with a ton of responsibilities, most of which are concerned with the way the broker treats its users. Misconduct on the side of the broker either results in financial penalties or in total closures of the brokerage website in question.
STELLAR-TRADE.COM TRADING SOFTWARE
It is a rare occasion when we come across web trader that we've never seen before, but here we are. This software is a first for us, and let's hope it's the last, because it's one oof the worst thus far. It' a complete mess, without any real direction or flow, and a considerable lack of features both advanced and basic.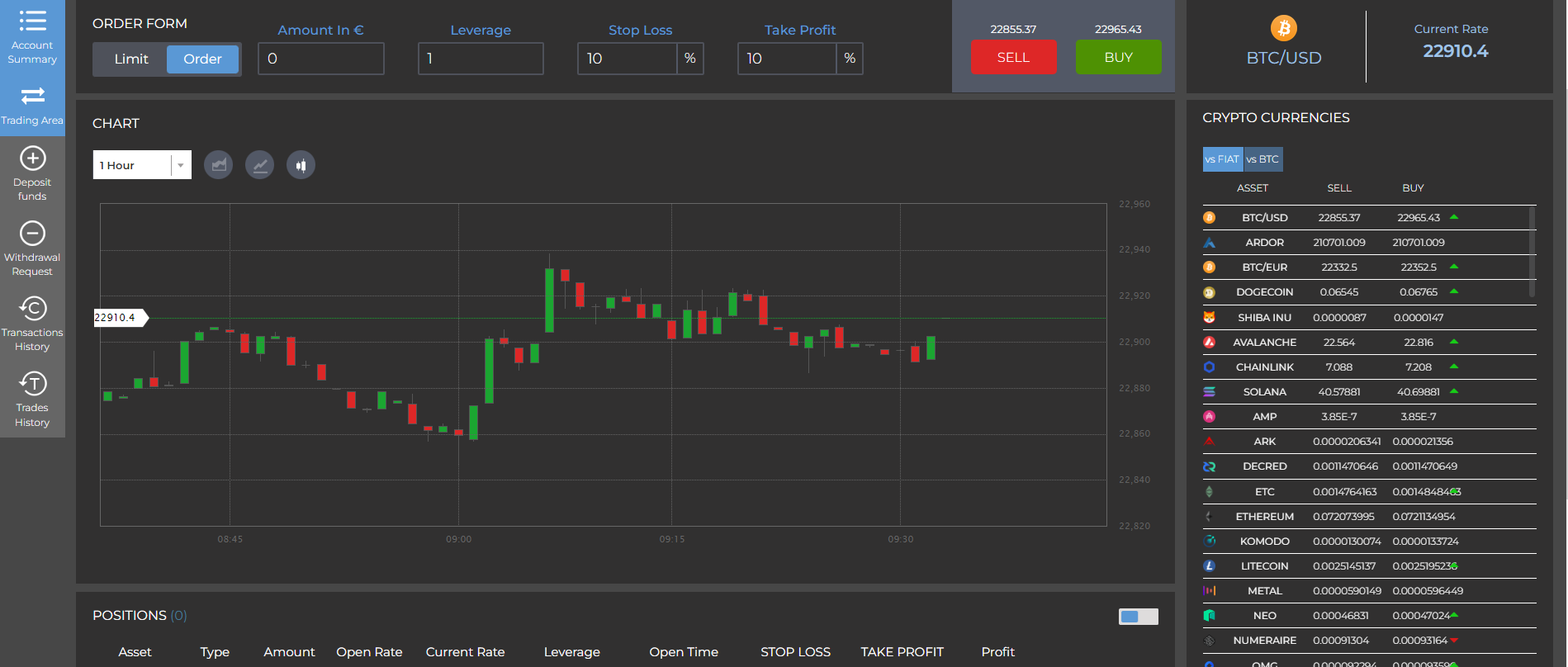 Moreover, the web trader is somewhat unresponsive, and glitchy at certain points.
STELLAR-TRADE.COM DEPOSIT/WITHDRAW METHODS AND FEES
From the user area, client can invest only be means of credit and debit cards, however they must wait for a representative of the firm to contact them to finalize the deposit. We were able to get by with just $1, while there was no minimum deposit on the site.
According to the terms and conditions, the withdrawal fees are $50 for wire transfer, $35 for credit and debit cards withdrawals, and $25 for e-wallets. There is also a 10% charge if the user has not completed a 200 turnover of the initial deposit. The minimum withdrawal for bank is $25o, and $100 for cards.
And yet, we revealed that deposits are processed through credit and debit cards, and not the other methods mentioned, meaning that the firm has no concept of anti money laundering laws, proving once again that Stellar-Trade.com is after one thing: users' funds.
HOW DOES THE SCAM WORK
Scammers use a couple of tricks that make up a big scheme that has not changed since its inception, meaning that it's fairly easy to avoid it.
The fraud starts when the broker contacts the user, who has unknowingly provided his or her contact details in the past through some seemingly innocent channel.
Communicating with the broker might seem like a pleasant experience as the other side sweettalks its way to your wallet. The reason why most frauds target non-trading audiences is because they are more susceptible to this kind of verbal manipulation. Otherwise, users might start receiving emails with unbelievable good investment deals, none of which are actually lucrative.
The tipping point is the first deposit that scammers are so eager to sell. After this first investment, the user has fallen into the clutches of the fraudster. Either he will be pushed to invest more by false promises of further "profit", or the client will want to get back his initial deposit, a request to which he is told that further investments are needed.
On whichever side of the coin you the user is, she will most likely never be able to withdrawal. All withdrawal requests will be denied for a plethora of equally ludicrous reasons.
WHAT TO DO IF SCAMMED
Once scammed, your safest bet is a chargeback. Contact your credit or debit card company and move on from there. It's good to know that MasterCard and VISA have a chargeback period of 540 days.
Bank investments are more difficult to reimburse but not impossible. Most banks have some sort of strategy for dealing with lost capital, so the client's best bet is to contact her corresponding bank and proceed from there according to the bank's plan of action. We also recommend that users change their bank account username and password if defrauded.
As for crypto investments, it is unfortunate to say but there is no real way of getting lost money back through these channels. All crypto investments are untraceable, and there is no telling where the investor's funds will end up.
Don't trust recovery agents or agencies. These are either independent scammer looking to charge users "service fees", or extensions of illicit broker schemes.