Beware! Covey-fx.com is an offshore broker! Your investment may be at risk.
RECOMMENDED FOREX BROKERS
Don't put all your eggs in one basket. Open trading accounts with at least two brokers.
Covey-fx.com is not really a broker – it is just a bad-looking homepage that provides no essential information about potential trading conditions, and no legal documentation. This broker seems to be targeting Chinese customers – the confirmation e-mail we received was mostly in Chinese, as were some paragraphs on the website. However, they claim to be a UK broker "providing more than 50 major currency pairs, precious metals, international crude oil, and other financial and financial derivatives". That is definitely not true – stay away from this broker, otherwise you will surely get robbed.
Covey-fx.com REGULATION AND SAFETY OF FUNDS
Covey-fx.com claims to be a UK broker with offices in Hong Kong and Singapore. Considering that this broker's whole website consists only of one extremely ugly-looking homepage that barely contained any information, we had huge doubts that the broker has managed to obtain a license from strict regulators such as the UK's Financial Conduct Authority (FCA) or Hong Kong's Securities and Futures Commission (SFC). We decided to give the broker the benefit of the doubt and checked various registers for a broker with this name (we would have checked for a company name but were not provided with one). Unsurprisingly, we found zero records of such brokers existing or being licensed by the already-mentioned authorities.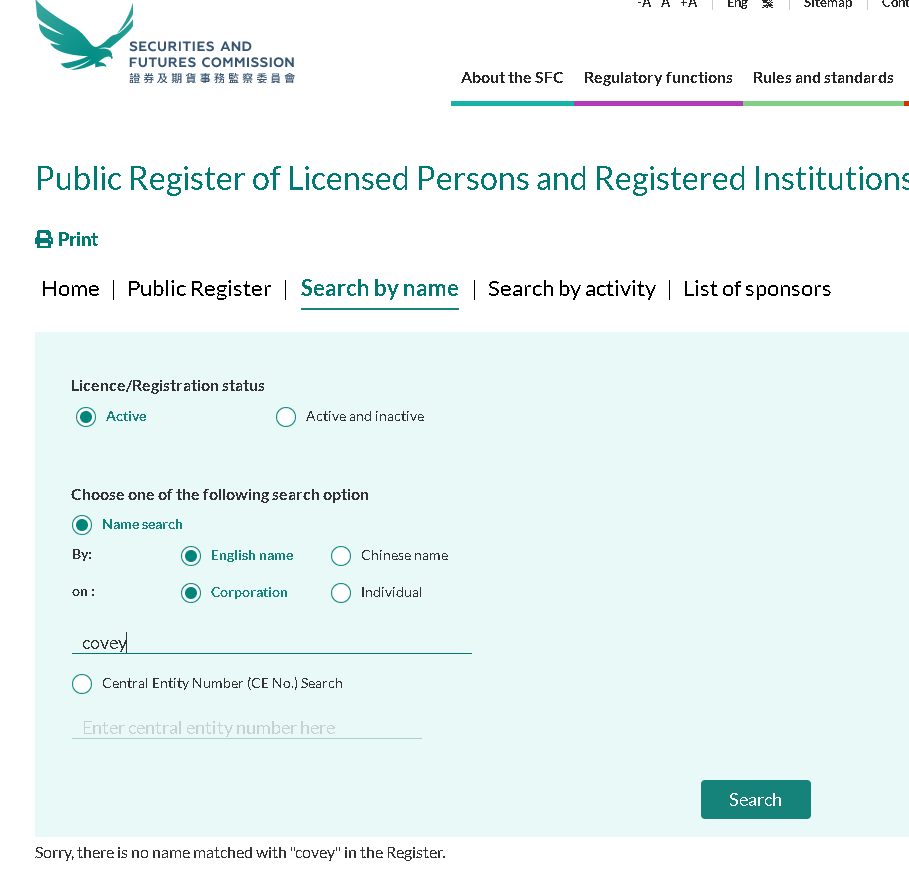 This automatically means that Covey-fx.com might pose a huge danger – investing with unlicensed, anonymous brokers is pretty much the worst thing you could do. With such brokers, you would not have any guarantees – you would not know how your money is being handled and by whom, and in what way the broker is actually conducting business. All sorts of illegal activities might be taking place behind your back.
UK-regulated brokers, for example, are a much better, safer choice. Such brokers are obligated to meet a ton of requirements if they want to start offering services – like maintaining a minimum capital of €730 000 in order to prove their financial stability or keeping client money in segregated bank accounts to prove that your deposits would not mix with their own funds. Such brokers also provide funds for the Financial Services Compensation Scheme (FSCS) – so in case one of them goes bankrupt, each of their clients could receive compensation of up to £85 000. Negative balance protection is also ensured – that means you can never lose more money than you have in your account.
Covey-fx.com TRADING SOFTWARE
Covey-fx.com did not allow us to log into their client area – the website just malfunctioned and would not let us in. However, we were able to download an installation file – supposedly for the leading trading platform MetaTrader 4 – from the broker's website. The only problem was that the software was not from a verified publisher – for example, from its creators MetaQuotes. That is why we were reluctant to install it and see if the broker could actually offer MT4 – after all, all sorts of treats might be lurking inside such installation files.
Check out some brokers who can actually offer MT4. This platform has been a favorite to many traders for decades and, knowing how user-friendly and functional it is, it is easy to see why. MT4 offers not only a full charting and analysis package but also additional features such as Expert Advisors that track markets and trade automatically, a Strategy Tester, and the opportunity to set signals for prices going up or down or to subscribe to those set by other traders, a market for add-ons that could improve your trading experience, and much more.
Covey-fx.com TRADING CONDITIONS
We cannot say absolutely anything about the trading conditions Covey-fx.com's offers – that is not something the broker went into detail about on its website. Since we were not allowed to log in, we were also unable to learn something about those ourselves. No legitimate broker would keep you in the dark about vital elements of its offer in such a way – which once again goes to show that we are not really dealing with a legitimate broker.
Trading has become more affordable than ever these days – there are plenty of established, reliable brokers who offer amazing conditions and would be willing to open a trading account for a very small amount of money. Here is a list of such companies – some of them would even be willing to make you their client for as little as $10.
Covey-fx.com DEPOSIT/WITHDRAWAL METHODS AND FEES
Since we were unable to log into Covey-fx.com, we were also not able to see which payment methods the broker accepts. That is not something they mentioned on the website either. However, we strongly advise you to not deposit with this broker – they are obviously running a scam and whatever money you deposit with them will be at risk. However, if you have already deposited with a Visa or a MasterCard card, you might have the chance to retrieve your money – such payments can be reversed within 540 days.
We cannot say anything specific about additional fees either – the broker did not provide us with any sort of legal documentation which is a huge red flag on its own. You never know what clever ways such scam brokers will find in order to rob you through random additional fees and clauses in the Terms and Conditions. Always make sure to read those Terms and Conditions carefully and demand that the broker provide you with such if they have not (although that is not something a legitimate broker would allow).
HOW DOES THE SCAM WORK?
It is vital to know how such scams work – this will also mean that you know how to avoid them.
One day, while you are casually browsing, you stumble upon an ad for a broker's website. You think to yourself that earning a little extra sounds nice, especially since you have heard of people trading professionally. You take a look at the broker's website and want to see what they have to offer so you register. Once you have provided the scammers with a phone number and an email, they won't leave you alone before you deposit – keep in mind, that these are experienced scammers and they surely will manage to convince you. And if you have transferred money once, you will have to do it again and again – and you will readily do so since at this point you might even be turning a profit.
However, when you try to withdraw those profits, reasons, why this is impossible, will appear – additional taxes, unfulfilled clauses in the Terms and Conditions, etc. At some point, you will figure out something is wrong – but the scammers will be long-gone at this point – with your money, of course.
WHAT TO DO WHEN SCAMMED?
The first thing you should do is change all your banking passwords and information you have given the scammers access to. If you have installed any remote access software, make sure to remove it. Scammers often claim that they will provide you with technical support or with help while trading if you install an app like TradingView or AnyDesk – but all they want is access to your computer and your banking systems.
If you have deposited with Visa or MasterCard, ask for a chargeback as soon as possible – both card providers have a policy that allows chargebacks within 540 days. If you have deposited in any other way, the chances of retrieving your money are much slimmer – but still, make sure to contact your bank to see if something could be done.
Notify the responsible authorities, and share your story with others – online, or in your acquaintance circle. This way, they will know to avoid scams like the one you fell victim to.
Finally, don't trust anyone who calls themselves a "recovery agent" and promises to retrieve your money for a small fee – this is just another type of scam targeting desperate victims.