Beware! Swift-coin is an offshore broker! Your investment may be at risk.
RECOMMENDED FOREX BROKERS
Don't put all your eggs in one basket. Open trading accounts with at least two brokers.
Swift-coin presents itself as a well-established, innovative broker operating in some of the leading global financial hubs. But actually this website is a scam that can only fool people without any experience in trading the financial markets. Fact checking quickly exposes the brazen lies of the Swift-coin that it holds multiple licences.
SWIFT-COIN REGULATION AND SAFETY OF FUNDS
The first thing to look for in a forex broker's website is which legal entity runs it, where it is based and what regulatory oversight it is subject to. Licensed companies are also required to provide a comprehensive set of legal documentation.
On the Swift-coin website one can read an unlikely story that this was a company founded in Switzerland which then expanded its business to the UK and US.
These are jurisdictions with extremely high regulatory requirements for financial services providers. To operate legally there, a company must have the appropriate licences.
We see images of supposed licences on the Swift-coin website, but they are obviously fake. Some of these licences are from non-existent institutions such as the "European Cryptocurrency Board" using the abbreviation and logo of the European Central Bank.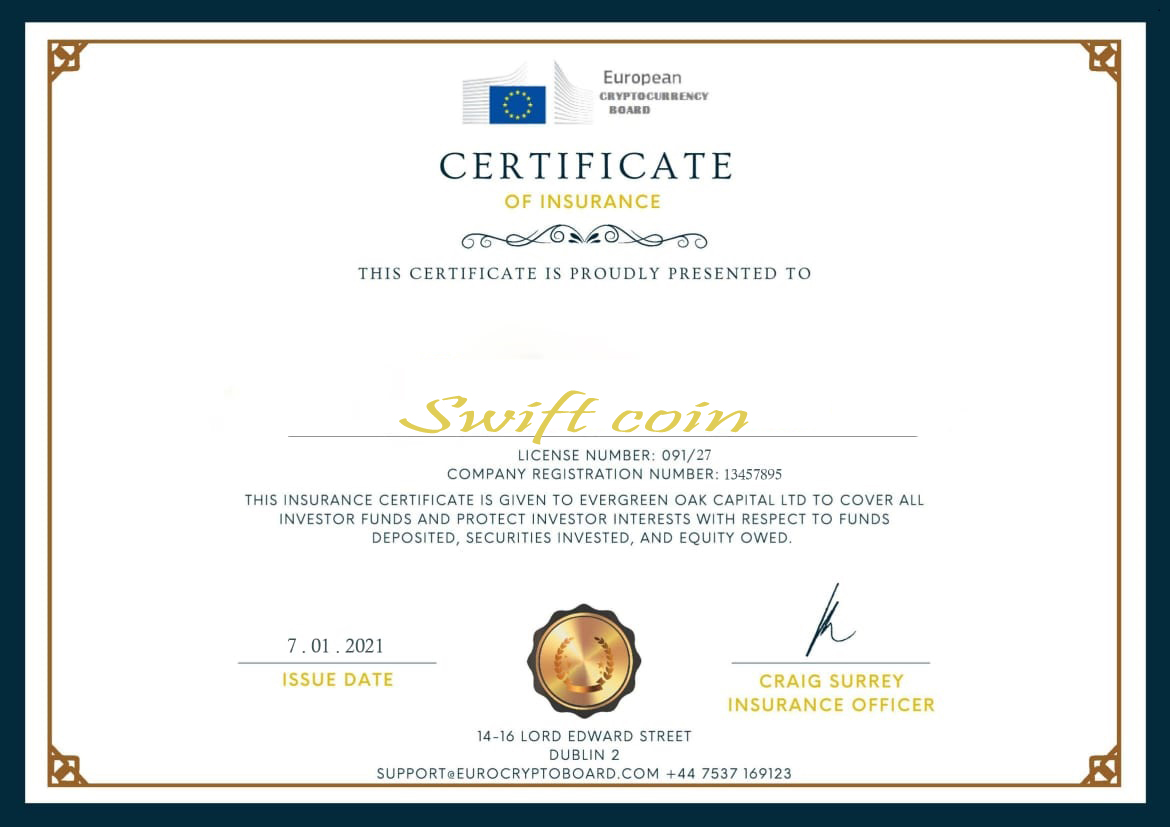 In other cases, the institution exists but the name is again misspelt – for example, Swift Financial Market Supervisory Authority instead of Swiss Financial Market Supervisory Authority.
A check of the registers of the actual regulators shows that there is no licensed broker with that name anywhere.
When choosing a broker through which to invest in the financial markets, you should not only make sure that all the information required by law is available, but also that this information is true. Always check that the company is indeed on the records of the specified regulator and that the domain used is among those officially approved for the particular broker. Such scrutiny shows that the Swift-coin are undoubtedly scammers.
You should only trust legitimate brokers operating in one of the established financial centres like the UK, EU, USA or Australia. There, the activities of brokers are controlled by powerful regulatory bodies such as the UK's Financial Conduct Authority (FCA), Cyprus Securities and Exchange Commission (CySEC), Commodity Futures Trading Commission (CFTC) in US. Clients of these brokers receive protections such as negative balance protection and segregation of the client's funds from the broker's funds.
In the EU and the UK, brokers must also participate in guarantee schemes that cover a certain amount of the trader's investment if the broker becomes insolvent. These guarantees amount to up to 20 000 EUR in the EU and 85 000 GBP in the UK. However, the likelihood of such a bankruptcy is low because regulators also have significant net capital requirements that companies must maintain – EUR 730 000 in UK and Cyprus and at least 20 million USD in the United States.
SWIFT-COIN TRADING SOFTWARE
We see stock images of trading platforms on the Swift-coin website, but nowhere does it specify what software this alleged broker uses. After registering an account, it is made clear that the answer is – none. Swift-coin does not have the technological capacity to offer trading in financial instruments.
Legitimate brokers offer clients a wide selection of trading software, including desktop, mobile apps and web-based platforms. The most widely used platforms in the industry are MetaTrader 4 (MT4) and MetaTrader 5 (MT5). These platforms have established themselves as industry standard because they offer a wide range of features, including a variety of options for customization, multiple account usage, designing and implementing custom scripts for automated trading and backtesting trade strategies.
SWIFT-COIN TRADING CONDITIONS
When you visit the website of a legitimate broker you will find proposals for different types of trading accounts suitable for investors with different preferences, as well as detailed descriptions of trading parameters – minimum deposit, order execution method, tradable financial instruments, leverage, spread, swap, commissions, etc.
All we find on the Swift-coin website is a list of "investment plans" promising guaranteed returns. No genuine broker will or could promise you guaranteed returns. In fact, licensed companies are required to warn their clients that most investors lose money when trading financial instruments.
The minimum "investment" in Swift-coin is 250 USD – an amount for which you could open a starter account with almost any licensed broker and start trading for real. In fact, most of the leading brands in the industry have a much lower minimum deposit.
SWIFT-COIN DEPOSIT/WITHDRAW METHODS AND FEES
It came as absolutely no surprise that the Swift-coin only allows cryptocurrency deposits. Financial scammers prefer transactions with digital currencies because they allow them a degree of anonymity, while at the same time not allowing the defrauded person to ask for a refund or chargeback.
Legitimate brokers typically offer clients a wide choice of transparent payment methods, including bank transfer, credit/debit cards and established e-wallets such as Skrill, Neteller Sofort or GiroPay. If you are interested in licensed brokers that also accept cryptocurrencies as a means of payment, take a look at this list
The Swift-coin's terms and conditions do not meet the standards for this type of legal documentation and do not provide specific information. It is therefore unclear what hidden fees and other traps the fraudsters may have set.
HOW DOES THE SCAM WORK
Many people have a desire to invest in the financial markets but lack the necessary knowledge and experience. This makes them a potential victim of the many internet scammers posing as brokers and investment intermediaries. These types of scams have exploded alongside the cryptocurrency boom.
If you trust such a website and give them your personal information, you will be contacted by experienced scammers who will entice you with promises of easy profits. The scammers usually offer to take over all aspects of investing for you, sometimes even prompting you to install remote access software on your personal computer. After investing an initial low amount, they will convince you that you are already making incredible profits and urge you to invest more.
But you will never get the promised profits, nor will you be able to get your money back. If you want to withdraw funds from your account, you will find that you have suddenly lost everything in the market, or that you have to meet impossibly high traded volume requirements, or that you have to pay huge fees. It is also possible that fraudsters simply disappear because they hide behind fake names and shell companies in offshore areas that are not subject to any control and regulation.
WHAT TO DO WHEN SCAMMED
One of the few options to get at least some of your money back in such a situation is to ask for a chargeback. But this is only possible if you have used a credit or debit card for the transaction. Scammers typically use cryptocurrencies or dubious e-wallets that make it impossible to get your money back.
Under no circumstances should you trust people and websites that promise to magically refund your lost money for an upfront fee. This is also a well established scam. You may even fall victim to the same scammers again.