Beware! SR Trade Forex is an offshore broker! Your investment may be at risk.
RECOMMENDED FOREX BROKERS
Don't put all your eggs in one basket. Open trading accounts with at least two brokers.
SR Trade Forex would not be our first choice when looking for a reliable broker – in fact, this broker would not appear anywhere in our list of choices. It is more than clear that this is a scam company – they provide contradictory information on subjects such as location and trading conditions and use another broker's trading terminal. Moreover, a reputable financial authority has recently issued a warning on SR Trade Forex – which proves for a fact that we are not dealing with a legitimate broker. If you would like to not get robbed while investing, we would recommend that you avoid this broker altogether.
SR Trade Forex REGULATION AND SAFETY OF FUNDS
At first, SR Trade Forex claimed to be a UK-based broker and did provide a UK address. However, the address that can be found in their contact information is not in this country at all – the broker seems to be based in St. Vincent and the Grenadines instead. This makes SR Trade Forex an offshore broker. The problem here is the following – the financial regulator of St. Vincent and the Grenadines only monitors the banking sector and does not supervise forex brokers at all. This means that such brokers are not obligated to meet any requirements or follow any specific laws. They are also not obligated to report financial transactions which does not exactly improve transparency.
What was even more bothersome was that this broker tries to present itself as a UK one – and UK brokers are some of the best in the world due to the strict regulations that exist in the sphere of forex trading. Companies licensed in the UK,  as well as in the EU, or Australia are under the supervision of strict authorities and are expected to maintain a high standard of service. Transparency and fair treatment are a must if you are a broker who wants to get and keep a license. Brokers have to prove their financial stability by maintaining a capital of at least €730 000 in the UK and the EU, and A$1 million in Australia. Negative balance protection is mandatory – this prevents you from losing more money than you have in your account. Client funds are kept in segregated accounts – this proves that the broker would not be able to use your investment for their own financial operations – by mistake or knowingly – and speeds up withdrawals. Finally, EU and UK brokers also participate in compensation funds – if a licensed broker goes bankrupt, each of their clients could receive a compensation of up to €20 000 in the EU and £85 000 in the UK.
When we checked the database of the UK financial regulator, the FCA, we quickly established that SR Trade Forex is not authorized to offer financial services. The regulator has even recently issued a warning stating that this company might pose a danger to your investment.
Our advise is to take this warning seriously and avoid SR Trade Forex altogether.
SR Trade Forex TRADING SOFTWARE
SR Trade Forex seems to offer one of the best trading platforms out there – the well-known MetaTrader 5: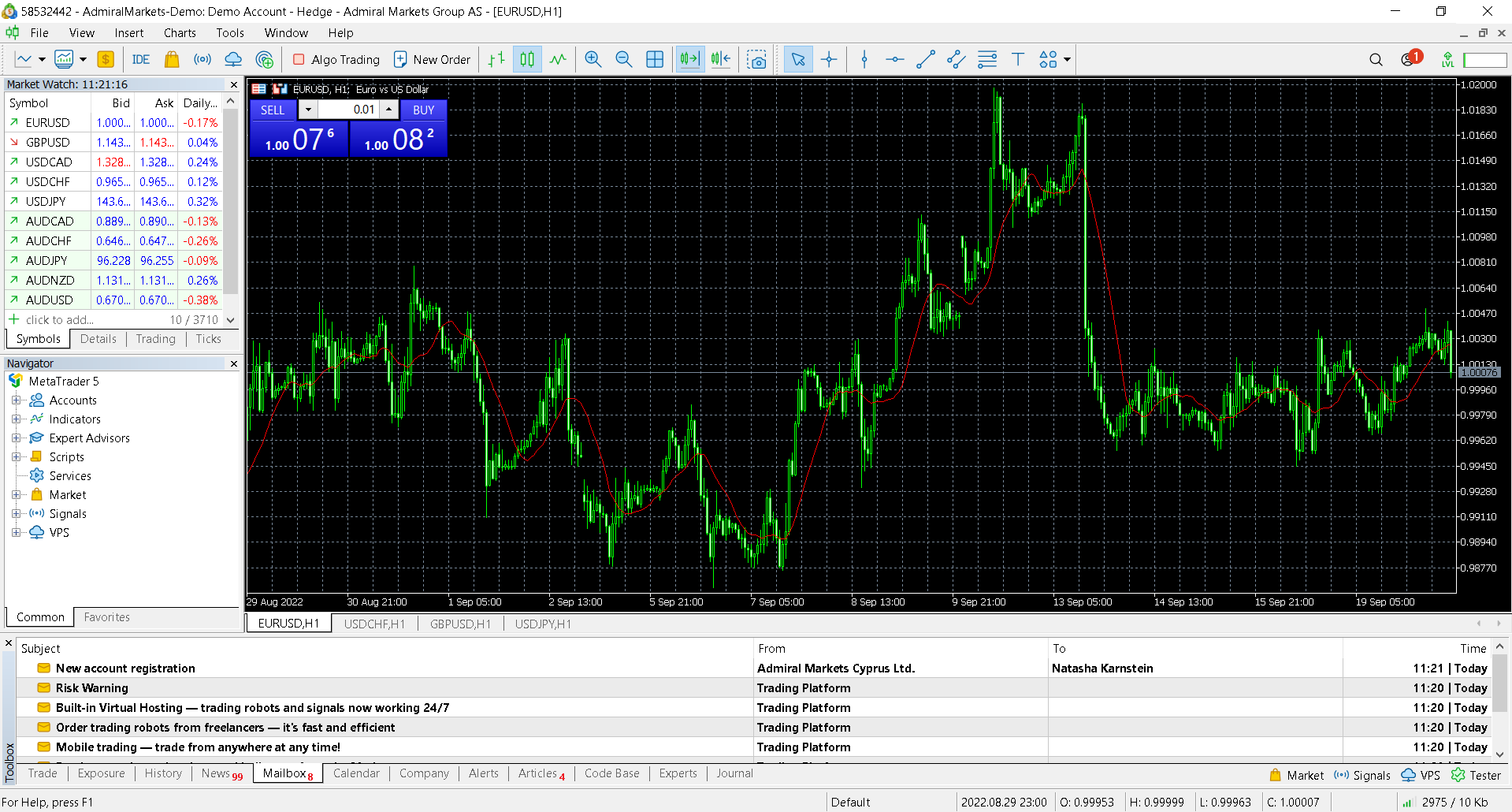 We quickly established, however, that this is not the broker's own trading terminal. This terminal belonged to another broker altogether – the established Cyprus-regulated Admiral Markets. As far as we can tell, SR Trade Forex and Admiral Markets were in no way related – this means that the main character of this review simply chose to use another company's terminal and try to convince you that it actually owns some sort of trading software. The reality is different since the terminal and the license for it belong to a different broker entirely.
MT5 is indeed a great platform to trade on – but you should choose one of the licensed brokers that provide access to it. The software offers useful features such as preprogrammed Expert Advisors that trade in accordance with an algorithm, multi-threaded Strategy Testers and the chance to export charts, signals you could set for prices going up or down, a community chat, a built-in calendar, hedging and netting options on the software's newest updates as well as many other great features. Platforms like the one pictured above look like playthings compared to MT5.
SR Trade Forex TRADING CONDITIONS
SR Trade Forex seems to offer relatively good trading conditions – this is quite affordable broker with the minimum deposit required being just $100. The spread we got on the platform was just 0.6 pips (on EURUSD) – but it is worth keeping in mind that this broker is using another company's trading terminal. That being said, we are not sure how reliable those amazing results are.
The maximum leverage SR Trade Forex offers is 1:500 – which proves once again that they could not be based in the UK since the maximum rates brokers in this country are allowed to offer is 1:30 on forex majors (to retail clients). Any broker offering higher rates is probably running a scam. We urge you to always be careful with your leverage setting – trading with leverage higher than you could handle could lead to bigger profits and to bigger losses alike.
If you would like to trade affordably, make sure to check out our list of brokers offering Micro accounts.
SR Trade Forex DEPOSIT AND WITHDRAWAL METHODS AND FEES
SR Trade Forex only accepts deposits made via wire transfer or in the cryptocurrency Tether. The common thing between these payment methods is that they are irreversible – all crypto transactions go into a ledger that cannot be changed or tainted at a later point and while bank wire transfers can technically be reversed such things mostly happen in case of technical mistakes. Crypto transactions are also anonymous which means that you would not be able to track down your payment either. The harsh reality is that if you have already deposited with this broker the chances of retrieving your money are quite slim. That is why we urge you not to deposit with them for your own safety.
HOW DOES THE SCAM WORK?
Read the following paragraphs carefully – such scams have become quite the industry in recent years which is why it is important to know how they work in order to protect yourself from them.
It all starts innocently enough – you see an ad on the Internet for a broker who promises you fast, secure returns and entry into a life of luxury. Maybe you have heard about people earning a month's pay by trading – so you decide to check out the website, and set up an account. After all, there is no harm in seeing what the company has to offer – and those promises are often extremely attractive. The moment you give the scammers your phone number or email, they will constantly be trying to get in touch with you and make you invest. Keep in mind that these are professional scammers so they can be very convincing. Once you have made your first deposit – and if they don't run off with your money immediately – the scammers will ask you for bigger and bigger deposits. And you will gladly transfer this money since you will probably be turning a profit – on a manipulated platform.
Once you try to withdraw, however, you will run into trouble – the broker will make up reasons why this cannot happen – be it additional taxes, or shady clauses in the Terms and Conditions. At some point, you will figure out something is wrong – but the broker will be long-gone by then. Don't count on them returning any of your calls.
WHAT TO DO WHEN SCAMMED?
Keep in mind that, sadly, there is not a big chance of you getting your money back. There are, however, some things you can do – and hope for the best.
Firstly, change all the passwords and banking details you have given the scammers access to. If you have given them remote access to your computer, remove the software immediately.
If you have deposited using Visa or MasterCard, file for a chargeback – both card providers try to fight scams and allow such chargebacks within 540 days. Retrieving money if you have used a wire transfer, or an electronic payment solution is much harder – but still, contact your bank or payment method provider to see if anything can be done.
Notify authorities, and share your story online and in your acquaintance circle – this way, more people will know about such scams and try to stay away from them.
Finally, don't trust any "recovery agents" promising to hunt down the scammers and retrieve your money for a fee – this is just another type of scam.