Beware! Swych Corp is an offshore broker! Your investment may be at risk.
RECOMMENDED FOREX BROKERS
Don't put all your eggs in one basket. Open trading accounts with at least two brokers.
Swych Corp is presented as a modern investment broker with a high-end platform and licenses from Cyprus and Mauritius. Upon research, however, we found out that the broker is lying and that it's just another anonymous website pretending to be a Forex brokerage. Swych Corp is a scam, and we'll prove it in the following review.
Swych Corp Regulation And Safety Of Funds
As mentioned, Swych Corp says that it's a broker headquartered in Austria and licensed in Cyprus, which can't be true. Legit brokers headquartered in Austria are regulated by the local regulator FMA and can obtain passporting rights to offer their services in CySEC-administered jurisdictions if they want to. It's impossible to have an Austrian address and a CySEC license at the same time!
But most importantly, in this case, the CySEC license 663/08 is fake – no entity is registered with this number in Cyprus. That being the case, it becomes obvious that Swych Corp is lying by pretending to be a regulated entity. The so-called brokerage simply creates a false sense of security to entice people into its fraudulent scheme. That's a scam!
And if you still doubt it, we should inform you that the Austrian regulator FMA single-handedly exposed Swych Corp as an unlicensed and practically fraudulent business. The authority issued a warning against the broker, stating that it's not authorised to carry out banking transactions or any other trading or investment services in Austria. Brokers with warnings on their backs are scams, and you should avoid them!
Stay away from Swych Corp, and if you are still into trading, you may as well check our lists with brokers – the high-rated ones are adequately regulated and secure. For instance, (Cyprus) brokers and FCA (Britain) brokers have been proven safe because both authorities impose tight restrictions to ensure the safety of clients' funds. The mandatory regulations include client account segregation, risk-reducing measures like leverage restrictions, negative balance protection, and increased capital requirements to license a broker (€730 000). But most notably, both CySEC and FCA brokers are covered by deposit insurance funds – clients of Cyprus brokers can claim up to €20,000 in compensation, while UK protections are up to £85 000 per person! On the other hand, trading with fishy unregulated brokers will leave unprotected and vulnerable to fraud, so it's never recommended to trust your money with such entities.
Now, have a look at the FMA warning against Swych Corp: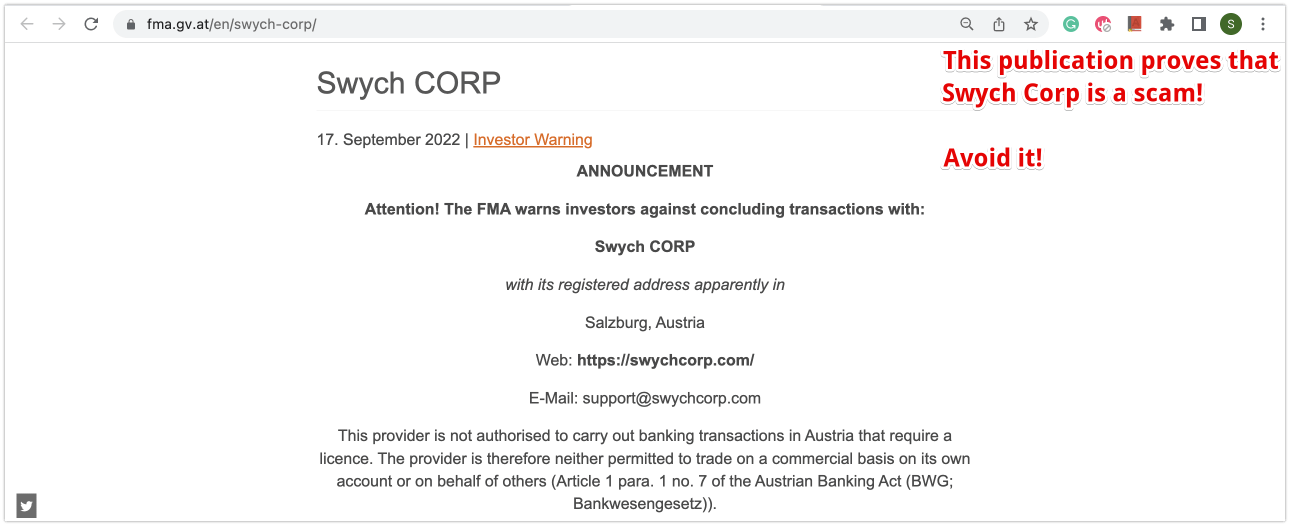 Swych Corp Trading Software
Swych Corp's advanced software is actually a deficient Webtrader that cannot offer anything sophisticated. The platform is nice-looking, but it doesn't even show the actual spreads – if you look at the screenshot below, you'll see that Buy and Sell are separated into different panels, which suggests fraud and price manipulation.
That said, we'll remind you that Swych Corp is an officially exposed scam and won't waste your time with the broker's inferior software. Instead, we'd like to present our lists with MetaTrader 4 brokers and MetaTrader 5 brokers. The firms with the highest ratings are fully licensed and secure, so choosing one of them over Swych Corp is highly recommended. We endorse them as both MT4 and MT5 are the best platforms for Forex trading, packed with numerous advanced features such as automated trading and analytical tools, reliable indicators, a strategy tester and an in-built marketplace with thousands of Forex apps. Trading with MT brokers is a good option, but it's a must to choose regulated firms only, as markets are currently overcrowded with scammers!
Swych Corp Trading Conditions
The trading conditions are not good. The trading instruments are 256 from several different classes, including Forex, Indices, Metals, Commodities, Crypto and Stocks – certainly not enough, as Swych Corp's legit competitors usually offer thousands of instruments.
The trading costs are actually unknown! As already explained, the Buy and Sell buttons on the platform are located in different panels, so it's impossible to make a correct assessment! It seems that spreads are low, but as already mentioned, the platform is prone to price manipulation, and we cannot really say what the actual spreads are.
The trading risks are high as leverage is fixed at 1:100 for all trading instruments, but the broker states that the level can be increased to 1:500. 1:100 alone is dangerous, but it's also prohibited by the Cyprus CySEC, which instantly shows that Swych Corp cannot be regulated in Cyprus. It's a pure scam!
Swych Corp Deposit/Withdraw Methods And Fees
The minimum deposit is $150, which is not much, but bear in mind that many brokers will let you open an account for as little as $5, so Swych Corp's requirement isn't competitive anyway!
The funding methods are cryptocurrencies only, which is a red flag nonetheless. Crypto transactions cannot be reversed, so whenever things get ugly, you'll have absolutely no chance of recovering your money. It's always a warning sign if a broker does not accept standard funding methods like Credit/Debit cards, Skrill or Neteller.
As for withdrawals and fees, the brokerage does not impose any requirements or restrictions, but even if it did, the information provided would be useless. As already mentioned several times, Swych Corp is an exposed scam, so it's unlikely that any withdrawals will ever take place!
How Does The Scam Work
Forex scams are not as sophisticated as you might think. The scheme usually consists of a fraudulent website and a scam call centre called a boiler room. Scammers pay little attention to excellence and create scrappy websites as they focus on contacting as many people as possible, and for that reason, their websites are usually substandard and ignorant. And to find victims, scammers use social media, Discord groups, Telegram chats, fraudulent ads, and most notably, they interact with hackers to buy people's details. What usually happens is that you may receive an unsolicited phone call or a chat on social media by scammers who promote get-rich-quick schemes, guaranteed earnings, bonuses etc.
But the worst part of the scheme unveils after the first deposit. Clients will be fooled with fictitious profits, followed by promises for even more gains and requests for more deposits. In the worst case, victims will deposit again, but if they want to withdraw, they will not be allowed to. In a typical trick, scammers say that clients should pay taxes in advance if they want their money back. If this happens, the fraud becomes more than evident, and victims usually realise they've been scammed.
What To Do If Scammed
Inform the authorities first – call the police, contact other regulators and agencies and report what happened. Also, deactivate your cards ASAP and call your bank to inform them about what happened. They'll give you instructions.
Unfortunately, if you deposited cryptocurrencies, there is not much you can do as these transactions are irreversible. If you used your bank card, you'd at least have the chance to file for a chargeback. However, keep in mind that scam recovery agencies are flooding the market, so you need to be cautious while trying to get your money back.
And lastly, consider sharing your experience to help protect others; we'll appreciate it!