Beware! Gts Financial is an offshore broker! Your investment may be at risk.
RECOMMENDED FOREX BROKERS
Don't put all your eggs in one basket. Open trading accounts with at least two brokers.
The most important thing to know about Gts Financial is that it is not the established and regulated forex broker it claims to be. This website is first and foremost a reminder of the importance of doing careful fact checking before putting your money on the line. Let's take a detailed look at why it is in your best interest to stay away from Gts Financial.
GTS FINANCIAL REGULATION AND SAFETY OF FUNDS
The first thing to look for in a forex broker's website is which legal entity runs it, where it is based and what regulatory oversight it is subject to. Licensed companies are also required to provide a comprehensive set of legal documentation.
The website confidently claims that it is owned and operated by Gts Financial Llc, a company based and licensed in the United States.

But right on the home page we see an obvious problem. Gts Financial claims to be authorised and regulated by the US Securities and Exchange Commission. But it's not the regulator in charge of forex and CFD brokers.
To operate as this type of broker in the United States, a company must be registered with the Commodity Futures Trading Commission (CFTC) and to be a member of the National Futures Association (NFA). Gts Financial Llc is not listed among the members of the NFA.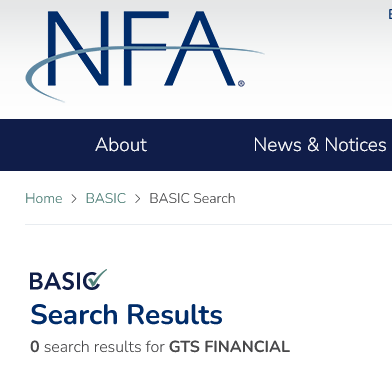 There is a company with that name in the US, but it is an investment advisor, not an authorised broker. Furthermore, the company operates under a different domain name, gtsfinancial.com. It appears that Gts Financial is using the name and details of this company illegally, which is common in online financial scams.
When choosing a broker through which to invest in the financial markets, you should not only make sure that all the information required by law is available, but also that this information is true. Always check that the company is indeed on the records of the specified regulator and that the domain used is among those officially approved for the particular broker.
Only trust your money to companies that you can confirm are licensed by a reputable regulatory institution such as CFTC in the US, Australian Securities and Exchanges Commission (ASIC), UK's Financial Conduct Authority (FCA) or some EU regulator like Cyprus Securities and Exchange Commission (CySEC).
Clients of these brokers receive protections such as negative balance protection and segregation of the client's funds from the broker's funds.  In the EU and the UK, brokers must also participate in guarantee schemes that cover a certain amount of the trader's investment if the broker becomes insolvent. These guarantees amount to up to 20 000 EUR in the EU and 85 000 GBP in the UK. However, the likelihood of such a bankruptcy is low because regulators also have significant net capital requirements that companies must maintain – EUR 730 000 in UK and Cyprus, AUD 1000 000 in Australia and at least 20 million USD in the United States.
GTS FINANCIAL TRADING SOFTWARE
The Gts Financial website promises advanced trading software and specifically mentions MetaTrader 4 (MT4) and MetaTrader 5 (MT5), the two most popular platforms among brokers and traders worldwide. But nowhere are there links to download these or other trading software.

There is no form to register a new account, only to log in to an existing one. This means that registering an account requires sending a request via the contact form. This is not standard practice at all and is typical of scammers who attract potential victims by spamming social networks and online forums. Genuine brokers allow easy Demo account registration for new clients.
There are more than enough licensed brokers offering clients the MT4 experience and/or the newer version of the software MT5. These platforms have established themselves as industry standard because they offer a wide range of features, including a variety of options for customization, multiple account usage, designing and implementing custom scripts for automated trading and backtesting trade strategies.
GTS FINANCIAL TRADING CONDITIONS
When you visit the website of a legitimate broker you will find proposals for different types of trading accounts suitable for investors with different preferences, as well as detailed descriptions of trading parameters – minimum deposit, order execution method, tradable financial instruments, leverage, spread, swap, commissions, etc.
There is no such information on the Gts Financial website. Only a minimum deposit of 25 EUR is indicated on the homepage. There are many licensed brokers who invite beginner traders to open an account with a very low minimum deposit. Any of them would be a better choice than this fishy website.
On the website we find a forex trades calculator which suggests that Gts Financial offers leverage between 1:100 and 1:200.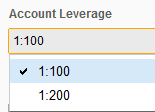 Regulated brokers do not offer such levels to retail traders as trading with high leverage carries risks of sudden and excessive losses. A maximum leverage of 1:30 is allowed in the European Union and the United Kingdom and 1:50 in the United States.
GTS FINANCIAL DEPOSIT/WITHDRAW METHODS AND FEES
The complete lack of information on the website also affects available payment methods and transaction fees. Again, these are aspects for which legitimate brokers provide clear and detailed information.
Legitimate brokers typically offer clients a wide choice of transparent payment methods, including bank transfer, credit/debit cards and established e-wallets such as PayPal, Skrill, Neteller and QIWI. Scammers usually  prefer cryptocurrencies because these transactions are not subject to refunds.
The Terms and Conditions of Gts Financial do not specify withdrawal conditions and fees. But experience has shown that with this type of scammers you are always in for unpleasant surprises in the form of hidden fees and predatory terms that are designed to block withdrawal requests.
HOW DOES THE SCAM WORK
The idea of passive income is increasingly attractive to more and more people. The Internet gives the impression that making money through investments in the financial markets is more accessible than ever to non-experts. But the online space is full of scammers who lure inexperienced wannabe traders through flashy advertisements and fake testimonials from satisfied clients. However, these fake brokers don't really invest the money you give them – even though they very confidently assure you that you are generating great profits and should invest even more.
But when you try to withdraw some of your supposed winnings or deposit, it turns out to be impossible. Scammers will tell you that a sudden change in the market has wiped out all your money, or point you to vague clauses in the Terms and Conditions that require a huge minimum volume traded. The victim of such a scam may also be surprised with hidden fees and taxes amounting to tens of percentages of their funds.
Holding fraudsters accountable is difficult because they operate through offshore companies that are uncontrolled and unregulated. In addition, scammers require that you provide them with a copy of your ID and proof of address so that they can claim that all transactions were voluntary and agreed upon by both parties.
WHAT TO DO WHEN SCAMMED
First of all, you should know that there is another kind of scammers who prey on victims of fake brokers. They claim they can refund your money for an upfront fee. The most realistic option to get at least some of your money back is to request a chargeback, but this is only possible if you used a credit or debit card for the transactions. Scammers usually insist on using cryptocurrencies, direct bank transfers or shady online payment platforms where refunds are impossible.